A Roundabout Route to the Market
Amidst the digital banking trend, the strategy of state financial services companies expand the conventional way. Their goal is the same: efficiency, and bolstering the reach of their services.
Edition : 25 January 2021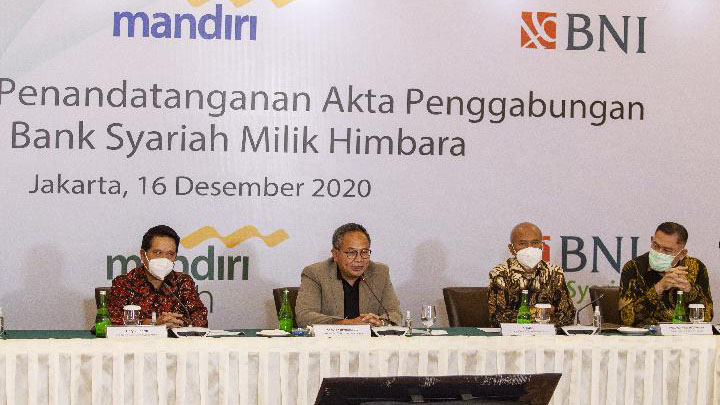 FINALLY, Dwi Istriari was able to reopen her snacks stall in August last year. At that time, she just received presidential aid worth Rp2.4 million through Permodalan Nasional Madani (PNM).
Prior to this, her business—which started in 2013—grinded to a halt since the start of the Covid-19 pandemic. Her limited capital slowly diminished as no money was coming in. Orders for community or general meetings dried up. "There were hardly any orders coming in," Dwi said on Friday, January 22.
In the past three years, Dwi has borrowed capital through the PNM program Fostering Prosperous Family Finances (Mekaar) in order to keep her small business going. Mekaar provides capital on a group basis of women from lower economic strata who own micro enterprises. The capital lending is given to those who aim to start a business, or want to expand what they already have.
Every day, Dwi sells home-made cookies, puddings, and soya snacks in front of her house in the Bantul Regency, Yogyakarta. Her snacks are also bought by people who resell it. Before the pandemic, Dwi earned profits of between Rp100,000 and Rp150,000 a day.
W251bGwsIjIwMjEtMDItMjYgMjM6MTY6MDQiXQ
Dwi, 38, was introduced to PNM Mekaar through her neighbor right at the time when she needed additional capital. At that time, she borrowed Rp2 million, which she could pay back in weekly installments of Rp50,000 for a year. Currently, Dwi is applying to borrow Rp4 million with 50 payback installments of Rp100,000 in a span of a year.
The credit, Dwi said, has helped her business. Most importantly, she continued, is that no collateral was needed to access the lending. "I thought about borrowing from a bank, but being a small business, I have no collateral," she said.
Dwi's represents the situation in which millions of micro, small and mid-sized enterprises are in: most of them do not have access to formal financing. The ministry for cooperatives and small and medium enterprises estimates that 23 million people are in this category, which makes up for over one-third of the total micro, small, and mid-sized businesses (MSMEs) listed until 2018.
Not all MSME business owners live in rural regions: many are urban residents who cannot access conventional banks because they cannot fulfill all the requirements, from administrative to risk assessment. In short: they are not deemed bankable.
Because so many people have problems in accessing loans, the government has developed a number of supporting programs. In order to facilitate credit for this sector, the government has provided support from interest subsidies to guarantee fees. Between 2015 and 2020, the total allocation for interest subsidy support has reached Rp47 trillion.
The program to finance micro businesses started in 2017 with some Rp8 trillion through Pusat Investasi Pemerintah (Government Investment Center), which cooperates with a number of non-banking financial institutions as fund providers. Since last year, PNM has been one of the executing bodies of this program through PNM Mekaar.
In some countries, digital banking regulation has been directed towards answering these big dilemmas. The Monetary Authority of Singapore (MSA), for example, has two types of digital banking licenses: the digital full bank (DFB) and the digital wholesale bank (DWB). Those with DFB licenses are in the retail and corporate segments, while the DWB licenses are for those in non-retail, especially small businesses. In Malaysia while there is only one type of license, digital banking permits are also issued to service people who until now have had limited or no access to banking services.
As regulation for digital banking in Indonesia is still unclear, a different strategy is used by state-owned companies. Led by the ministry for state-owned enterprises (SOEs), two significant plans for major corporate actions in the financial services sector are being prepared by a number of large state-owned companies. One is the formation of a SOE holding company to finance ultra-micro and MSME businesses, and the merger of state-owned sharia (Islamic) banks. Those two business plans have the same orientation: providing access to capital which is more efficient and affordable for the mid to lower strata of the market.
The formation of the SOE holding to finance small and mid-sized businesses will involve Bank Rakyat Indonesia (BRI), Permodalan Nasional Madani, and Pegadaian. State-Owned Enterprises Minister Erick Thohir has mentioned this plan in February 2020. Then, in December, Erick reiterated that this plan would be realized this year.
This synergy is aimed at funding cost efficiency among the holding members. Erick gave an example: costs that PNM must bear to have enough funds to provide capital could reach up to 9 percent, three times more than BRI's cost of only 3 percent.
With lower funding costs, Erick continued, interest for borrowers can be kept low. With the same goal, this synergy is important so that business expansions are affordable, and can develop towards cooperation for a one-data platform which could reach a national level for MSME data. "Then entrepreneurs can climb up the ladder, so that we don't just have the same players. This is what we want to improve," said Erick in his office on Thursday, January 21. He expressed hope that BRI could be the mother ship for MSME and ultra-micro entrepreneurs.
Merging state-owned sharia banks has the same goal. Involving Bank Syariah Mandiri, Bank BRI Syariah, and BNI Syariah, the merger is expected to be made official on February 1. Hery Gunardi, Chairman of the Project Management Office for SOE Sharia Banks' Integration and Improvement, said that currently he awaits permits from the Financial Services Authority (OJK) and the Ministry for Justice and Human Rights for Bank Syariah Indonesia, the new name of the merger.
Until December 2020, Bank Mandiri Syariah's assets were Rp126.91 trillion, up 13.02 percent from the same period in 2019. BNI Syariah's assets were also up 23.2 percent in the third quarter of 2020 to Rp54 trillion. Meanwhile, BRI Syariah's assets as of October 2020 was 56.55 percent higher compared to the same period the previous year.
The sharia banks' merger, Hery said, is aimed at improving sharia's economic and financial ecosystem, and at the same time it was a strategic step for developing the halal (permissible in Islamic law) industry in Indonesia. Hery, who is also the chief executive officer of Bank Syariah Mandiri, said the merger would also give his company the opportunity to be more competitive.
On the other hand, Hery is optimistic that this new sharia bank will be able to improve its services for all segments of its customers, from MSMEs until corporate ones. "This merger will provide complete sharia financial services and solutions under one roof, for a variety of segments and customers' needs," said Hery on Friday, January 22.
AISHA SHAIDRA