This Is Our Opportunity to Raise Capital
In the midst of a flurry of activities to procure and distribute Covid-19 vaccines, State-Owned Enterprises Minister Erick Thohir has additional responsibility of overseeing the establishment of a sovereign wealth fund (SWF) and the selection of the fund's board members. The government is confident that the fund will help restore the national economy.
Edition : Monday, January 25, 2021
THE workload of State-Owned Enterprises (SOEs) Minister Erick Thohir, 50, has increased since the start of the pandemic. Between his busy schedules of hunting for the Covid-19 vaccines around the world to the distribution of a vaccine to all corners of the country alongside the health minister, Erick is involved in the team tasked to establish a foreign investment management agency or a sovereign wealth fund (SWF). As of now, the selection committee has selected potential professionals for the supervisory board and the recruitment of the directors is underway. In addition, Erick has also promoted the SWF to foreign investors.
After spending a month screening 218 applicants for three professional positions in the supervisory board, the selection committee chaired by Finance Minister Sri Mulyani and with members comprising Eric Thohir, Deputy Finance Minister Suahasil Nazara, Deputy SOEs Minister Kartika Wirjoatmodjo and independent member Chatib Basri proposed six names to President Joko Widodo. The President picked—and the House of Representatives subsequently approved—three, namely Yozua Makes, Darwin Cyril Noerhadi and Haryanto Sahari. "The SWF is an extraordinary breakthrough and the professionals are ready to contribute and make sure that it is managed professionally and transparently," said Erick during a special interview with Tempo last Friday, January 22.
The agency, now dubbed Indonesian Investment Authority, has been given a special mandate to manage government investments in line with the omnibus Job Creation Law. The government is optimistic that the agency will help breathe life back into the national economy this year through investment and infrastructure development such as toll road and airport constructions. "It will be domestic investments so they will be linked to domestic development activities," Erick added.
To Tempo reporters, Erick explained several points regarding the SWF, from the selection process of the three professional supervisory board members, investment plans, to the ongoing selection of candidates for the board of directors. The former owner of the Italian football club, Inter Milan, also touched upon the Covid-19 vaccine procurement.
W251bGwsIjIwMjEtMDUtMTEgMTY6Mzg6MDciXQ
How did the selection of the three professionals for the SWF supervisory board go?
The selection committee filtered about 100 candidates out of 218 applicants and the number was further reduced to 28. We interviewed them one by one. We all became hunched over from sitting too long as the interviews ran from 7am till 12 midnight.

How will the duties be divided between the supervisory board members from the government side and the professional side?
Job descriptions will be formulated and announced in due course. The professional board members have different backgrounds. Pak Yozua Makes has a legal background whereas Pak Cyril and Pak Haryanto are from the capital market. Pak Haryanto also has auditing experience.
How did the President select these three members?
We shortlisted six after interviewing 28. So those six were the ones we proposed to the President. If you ask who they are, I'm afraid I can't answer that. The bottom line is that the President chose three out of the six.
Did the President consult with the committee before deciding on the three?
Yes, we were summoned. He asked about the 28 candidates and why we chose six out of them. After he read the biodata of the six, he said, 'Wow they are great,' and asked us about each candidate. He was very meticulous. The meeting lasted about three hours.
Did he explain to the committee why he chose the three?
He announced his decision at the open meeting. He said, 'We'll prepare the letter. I've also done further checks (on the candidates).'
Did the candidates register themselves or were some of them chosen by the selection committee?
They registered in line with the regulation (the government regulation regarding investment management institution). What made us question was the fact that were many applications from professionals. They said, 'This is a remarkable initiative for Indonesia.' An SWF model like this is already present in other countries like India and Egypt. Other forms of SWF such as Temasek and GIC (Government of Singapore Investment Corporation) have even been existent since the 70s. We are lagging far behind. So, the SWF is a breakthrough so extraordinary that professionals are ready to contribute and make sure that it is managed professionally and transparently.
Does the selection process use a score system or based on recommendations from officials?
There's no recommendation. Like a job auction. Everything is transparent, I tell you.
Is it true that one was recommended by a minister?
No one was recommended by nobody. Everyone followed an open selection. The selection committee is very transparent.
Did anyone try to slot in candidates?
Yes, for sure.
How?
As soon as the registration closed, someone asked, 'Oh, is it already closed? Can't you let someone in?' If the process is not professional from the start, it will not give good results. After we narrowed down the candidate list to six, we asked foreign investors to read it. They didn't cross out names, you see. They said it was okay. It doesn't mean we are controlled by them. But it is important for us to gain their trust by showing them that Indonesia has a lot of professionals and that they are selected professionally.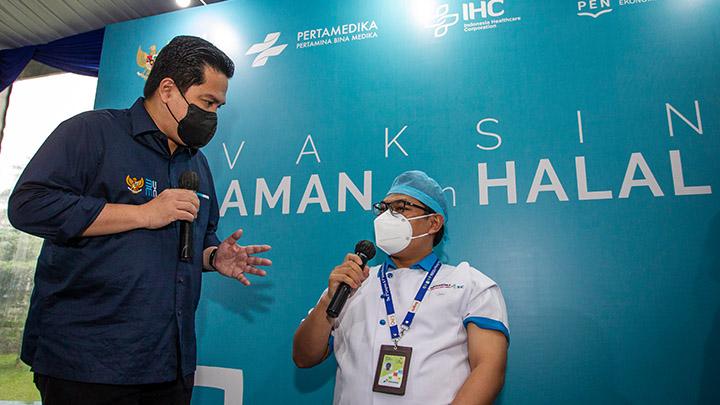 SOEs Minister Erick Thohir (left) talks with a participant in the Covid-19 vaccination for health care workers in the Pertamina Central Hospital (RSPP), Jakarta, January 19. Antara/Dhemas Reviyanto
As the SOEs minister and a member of the selection team, what do you think of the capability of the three?
Pak Haryanto is a very senior professional having worked in PricewaterhouseCoopers and he's well known in the (capital) market. You'd better check with the market about what they think of him. Pak Cyril was in the stock exchange. I guess his track record to this date has been spotless. Pak Yozua Makes is experienced in investment. Many sides value his investments. I think the six names we proposed to the President are highly qualified individuals.
How long did it take from the start till you got the shortlist of six?
About a month.
Some candidate names for the board of directors have been widely circulated, among others being Pandu Sjahrir, Arief Budiman and Arsjad Rasjid. How many candidates has the supervisory board chosen?
We are currently focusing on the chief executive officer position. There are already around 30 candidates for this post. Out of 30, we saw several promising ones who could become CEO or directors. But the problem is that five of them have full time positions. So, selected candidates must resign from their current jobs within a few months. Frankly, that is quite challenging.
Is it true that some names were personally proposed to the supervisory board?
None. We use several professional headhunting companies. The entire process is transparent.
What kind of CEO are you looking for?
The first requirement is that he or she must have an international exposure. That is imperative. Second, he or she must have been a CEO. That is also important. We don't want an instant CEO. We are not confident to appoint a director as a CEO. Third, he or she must have a financial background in the investment field. Fourth, we also want further experience, for example, in the Corruption Eradication Commission, the Financial Transaction Reports and Analysis Center, taxation or others. But that will be Ibu Sri Mulyani's domain as the chair.
Are there already strong candidates?
Not yet, because the problem is even if there are, it's not certain whether they will be able to join.
Is it true that Pandu Sjahrir, a nephew of Maritime Affairs and Investment Coordinating Minister Luhut Binsar Pandjaitan, is a strong candidate?
No, not yet. Is Pak Pandu Sjahrir among the shortlisted 30? Yes. So are Pak Arsjad Rasjid and Arief Budiman.
Must the CEO position be filled by an Indonesian citizen?
According to the rules, yes. Well, it's not easy indeed. If you look at other countries such as Malaysia, Singapore, India, they have many global CEOs. That is the reality we face.
When will the board of directors be announced?
We still need time, of course. We will have a meeting tomorrow night (Saturday, January 23).

Will CEO and director candidates be shortlisted in the meeting?
This is still an initial phase. We just determined the shortlisted number.

What distinguishes the SWF from other similar institutions such as Sarana Multi Infrastruktur and the government's non-budget funding schemes?
I certainly can't answer questions about matters under others' domain. What I can say is that the SWF is big in size and assets with the initial capital alone totaling US$5 billion. We want
to do it because we get back US$15 billion after we deposited US$5 billion. So, the total asset will be US$20 billion. The composition is more or less like that. That's why many friendly countries like United Arab Emirates, Japan and the United States are interested. Not only G-to-G (government to government) investment, now pension funds in Canada and Europe are also interested.
How big will the assets be?
One of them is the SOE assets including those of the state-owned infrastructure companies which are currently building many toll roads. We will only enjoy returns from the investment in toll roads in about eight years. This fits with SWF investment capitals which could run for 10 to 20 years. Completed toll roads are already generating revenues. The SWF is good for us and also for state-owned infrastructure enterprises as the latter have been debt-ridden as of now. This is an opportunity to get relief from debt burdens and raise capital to rebuild our economy.
Have prospective investors already been committed to invest?
It's all signed on the dotted line. The supervisory board members have just been named officially and the appointment of directors are still underway but we already have an investment commitment for US$9.5 billion. That's a positive sign.
Where will the US$9.5 billion come from?
It's not proper to disclose the details. But the media mentioned US$4 billion from the Japan Bank for International Cooperation and US$2 billion from the US International Development Finance Cooperation, right?
What are the conditions put forward by potential investors?
They want the fund to be managed professionally and transparently. That's why from the beginning they proposed to appoint three professionals to the supervisory board besides members from the government. The SWF must also have strong assets. But it doesn't mean we don't consider public interest in our decision making. After all, that's the most important thing. We give them the rights to management the funds, maybe for 20 years. After that, back to us again.
Can you show us the investment commitment letter?
Oh, we can't show the paper. Because the money hasn't come yet. Wait till it comes.
Besides in toll roads, will the SWF also invest in airports?
We haven't decided on airports. The airport sector is now open to partnership with other parties. That is not something strange as long as such partnerships fulfill three criteria. First, they must continue to give maximum or even better services to the public. Second, they must not burden the state financially. Last but not least, they must produce good results. Proper management will give good results. The airport in Jeddah and the Gatwick Airport in London are openly managed. We are also shifting towards that approach.
Why is the SWF investing in projects that are already generating revenues?
Toll roads are no longer owned by SOE alone. Many are now owned by private companies. The primary duty of a SOE is to act as a locomotive of the development, and once a given project is up and running, it divests its assets elsewhere. That's the fact of life for SOEs. Some are corporations while others are tasked to act as stabilizers.
What sets Indonesia Investment Authority apart from most SWFs?
The funds of most SWFs are invested in a myriad of ventures, even overseas. But IIA's funds are locked in for domestic investments only so that they are linked to domestic development projects. It is different from, for instance, Temasek and GIC, which invest everywhere. That is not wrong. Perhaps one day we will also have a SWF like that.
How will it ensure that the public's rights are protected?
It is clearly stipulated in the SWF articles to guarantee protection for the public. For example, a private company that manages a given toll road may not arbitrarily set toll fares. The government still holds the authority via the BPJT (the toll road management agency). The government will also have capital in the SWF and the government will still be the decision maker in project implementations.
As regards the vaccine procurement, why were SOEs at the forefront of it?
Bio Farma is for sure a vaccine company and a partner of the health ministry. So, it wasn't like companies suddenly appeared. The Covid cases were rising at the time so the health minister decided to focus on the cases. We have trade relation with China and United Arab Emirates. After discussions, we decided take two approaches. Another one is G-to-G efforts launched by the foreign minister. So, the government saw multiple approaches that could work in tandem. That's why we went looking for vaccines carrying an official letter from the President. We contacted our friends in the US and Europe around June-July but got no response. Maybe we are not a priority country. We went to London as Oxford was starting to work with AstraZeneca. I also asked Pak Nadiem Makarim (Education and Cultural Affairs Minister) to contact Oxford, not for vaccine but for education cooperation. I also visited BP in London to discuss renewable energy. I met with their minister, discussed our defense industry, or Scorpio tank in particular. We went in from there.
---
Erick Thohir
Place and Date of Birth: Jakarta, May 30, 1970
Education: Bachelor of Communication, Glendale Community College, California, US (1990); Master of Business Administration, National University, California (1993)
Career: Founder and President Commissioner, Mahaka Group (1992-2019), Director, Visi Media Asia (2011-2013), Chief Executive Officer (CEO), ANTV (2014-2019), CEO, Lativi Media Karya (TVOne, 2007-2010), CEO, Intermedia Capital (2013-2019), Chairman, Satria Muda Basketball Club (1999-2019), President, FC Internazionale (2013-2018), Director, Oxford United FC (2018-2019), Minister of State-Owned Enterprises (2019-present)
Organization: Chairman, Indonesian Olympic Committee (2015-2019), Chair, Asian Games Organizing Committee (2018), Chair, Joko Widodo-Ma'ruf Amin National Campaign Team (2018-2019), Member, International Olympic Committee (2019-present), Member. International Basketball Federation Council (2014-present
---
Regarding the plan to involve the private sector in vaccine procurement and distribution, how is it progressing?
All the decisions rest with the health minister. For free vaccine distribution, he has already said that he would involve SOEs and the private sector as the health ministry alone cannot provide cold chain storage. I think the private sector will also be involved in the independent vaccination scheme, but not as importers. But the decision is up to the health minister because we are in a pandemic.
Is it true that when you were hunting vaccines abroad, you and your team used a private jet belonging to Andi Syamsuddin Arsyad alias Haji Isam?
Yes, correct. I don't own a private jet but I don't look at private jets as mere luxury. We sometimes need it when carrying out our duties for route and time efficiency. I don't mean to be immodest or arrogant. When I need to do that (to rent a jet), I pay from my own pocket. You can check my financial statements. During 2019, I used private jet once or twice, not for a luxury ride but because I need to finish my work (fast). And I don't rent from one source only. Maybe during 2018, I used private jets five times. I have the receipts and I will definitely include them in my report. Go ahead and check with the BPK (the Supreme Audit Agency), BPKP (the Finance and Development Supervisory Agency) or PPATK (the Financial Transaction Reports and Analysis Center).
When you rent Haji Isam's plane, did you contact him personally?
No. My team did.