An Omen from Rantau Nangka
Heavy rainfall on January 11 to 15 inundated 10 out of 13 regencies and cities in South Kalimantan. But the rain was not the only reason for the flooding. The loss of forest density impacts Barito watershed area's ability to resist floods.
Edition : Monday, February 1, 2021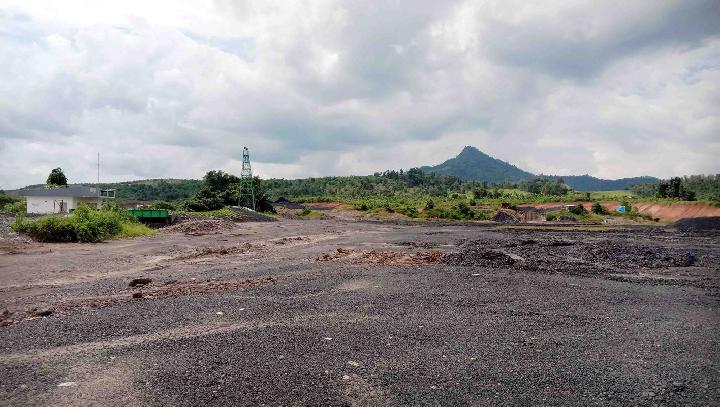 SUPRIATNA, a resident of Sungai Langsat village, Simpang Empat subdistrict, Banjar Regency in South Kalimantan, had already received warnings for the upcoming flood. On Monday, January 11, his relative in Rantau Nangka, Sungai Pinang subdistrict some 30 kilometers north of Sungai Langsat, had told him about the possibility of floods hitting the southern regions. As expected, the water of Riam Kiwa River kept rising and entered his house up to knee-high. But it was easy come, easy go, and the water quickly subsided.
Two days later, however, heavy rain fell while residents were asleep. Supriatna and some 200 other people were in disarray when, once more, the Riam Kiwa River overflowed. Its water kept rising as rain continued to fall until midday the following day. Around 100 residents chose to evacuate to the Sungai Langsat Elementary School building, which is located on a higher place. At that time, brownish yellow water had already submerged Supriatna's house, with only its roof sticking out.

Mustafa, resident of Mangkauk village, Pengaron subdistrict, suffered the same fate as Supriatna. Residing by the Riam Kiwa River, some 34 kilometers east of Sungai Langsat, the water at Mustafa's house reached almost two meters since January 13, lasting for a week. "This has been the biggest flood ever. It rained for one full day, and then water from Mount Meratus started coming," said Mustafa. "Usually flood doesn't last for a week. Usually it's gone in two days," Supriatna noted.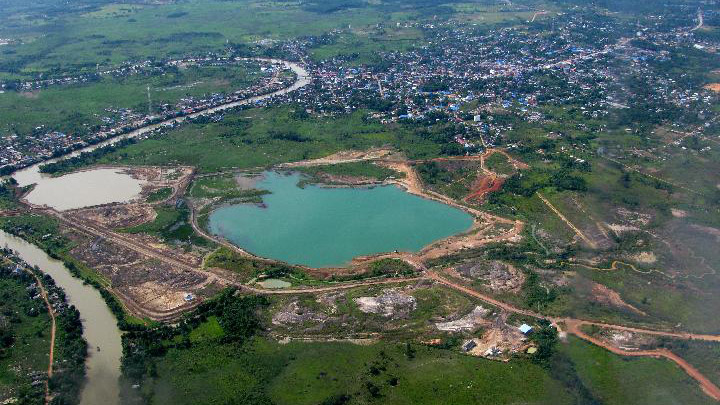 Environmental damage as a result of coal mining in South Kalimantan, seen in 2010. Tempo/Arif Zulkifli
According to data from the National Disaster Mitigation Agency (BNPB), the floods in South Kalimantan between January 11 and 15 submerged 10 out of the province's 13 regencies and cities. Until Sunday, January 17, 24,379 houses were flooded, 39,549 residents evacuated, and 13 people died. Analysis from the Barito Watershed Management and Protected Forest Agency showed that heavy rains caused the water of Riam Kiwa River to overflow and submerge areas from the Pengaron subdistrict until Banjarmasin, the province capital which is located at the mouth of the Barito River.
W251bGwsIjIwMjEtMDUtMTEgMTg6MTM6MTQiXQ
Supriatna believes that the coal mines and land conversion play a part in this major flooding. He pointed to the murky water mixed with yellow clay mud. "That's clearly from the coal mines. The ground can no longer absorb water. Everything is destroyed. Probably the bare forests have caused this huge flood," he said. Mustafa also suggested that the presence of coal mines at Rantau Nangka, Rantau Bakula, and Sungai Pinang villages has contributed to this flooding disaster.

When Tempo visited Rantau Bakula in the Sungai Pinang subdistrict, it was clear that the lake that used to be a mining hole had not been reclaimed. On January 25, Tempo saw abandoned mounds of coal in the site. The mining hole, as big as a football field, has formed a lake filled with water. This mine is located on the Coal Contract to Work (PKP2B) land concession owned by Baramarta, a company owned by the Banjar Regency administration.
Zubairi, head of Baramarta's Mining Production and Supervision, admitted that there is still a so-called void point—a hole that used to be a mine—at the company's concession area. Baramarta has a concession area of 2,600 hectares which includes Rantau Bakula and Rantau Nangka villages in Sungai Pinang subdistrict, Banjar Regency. "There will indeed be five void points there, which we will turn into a retention basin for water reserve," he said.
Baramarta has yet to fully reclaim the mining holes, as there is still potential for coal mining. Zubairi rejected accusations that the mining area has contributed to the floods. He pointed out that there are more mining activities located north of the area. "Up north there are more mines. We are not upstream at the river," he said. He further said that the water coming from upstream was already brownish prior to reaching the Baramarta concession area.
Indeed, Baramarta is not the only mining company at Sungai Pinang. According to data from Forest Watch Indonesia (FWI), Sungai Pinang and neighboring subdistrict Sambung Makmur have at least four holders of License for Utilization of Timber from Plantation (IUPHHK-HT), covering 39,000 hectares of forest. At least there are 14 mines with an area covering over 7,000 hectares of land. According to the South Kalimantan Indonesian Forum for Environment (Walhi), Kalimantan has License for Utilization of Timber (IUPHHK) permits for natural forests measuring 234,492.77 hectares, IUPHHK-HT for 567,865.51 hectares, mining licenses for 1,219,461.21 hectares, and oil palm plantations for 620,081.90 hectares.
Kisworo Dwi Cahyono, South Kalimantan Walhi Executive Director, assessed that the current floods are the result of damaged lands. South Kalimantan, he said, has a forest area of some 3.7 million hectares. From that, about 50 percent have already been licensed for extractive industries. "Thirty-three percent for mining, and 17 percent for oil palm plantations. And then there are the Industrial Forest Plantation (HTI) and logging concessions (HPH)," he said. He called the current floods an ecological disaster.
Environment and Forestry Minister Siti Nurbaya did not answer Tempo's questions on the function transfer of land as a contributor to the big floods. She also did not answer Tempo's telephone calls. On her Twitter account on Tuesday, January 12, Siti said the floods at the Riam Kiwa, Kurau, and Barabai water catchment area (DTA) were due to extreme rainfall. "The main reason was a weather anomaly with very high rainfall," she said. Some 2.08 billion cubic meters of water entered the Barito River, compared to the normal level of 238 million cubic meters. Siti admitted that forest area in the Barito watershed area has gone down by 62.8 percent in the period of 1990-2019. The biggest reduction occurred in the 1990-2000 period, amounting to 55.5 percent.
Arie Rompas, Greenpeace Indonesia's Forest Campaign Officer, said the change of land use and deforestation are factors in the current floods. Arie, better known as Rio, pointed out that from 2001 until 2019, the Barito watershed area (DAS) has lost forest density of some 304,223 hectares. There is significant land degradation that has reduced the environmental support system. "Thus, when there is high rainfall, the land can no longer absorb sufficient water, resulting in floods in almost all regions of South Kalimantan," said Rio on Thursday, January 28.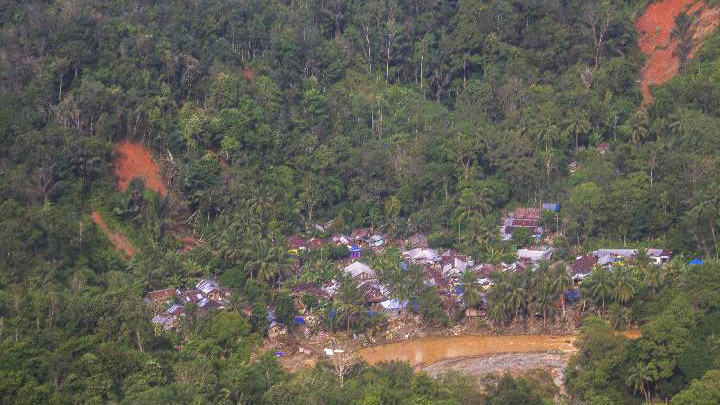 Meratus Mountain slopes in Hulu Sungai Tengah Regency, South Kalimantan, where landslides visibly occurred, January 24. Antara/Bayu Pratama S.
This loss of forest density, Rio continued, impacts Barito DAS' ability to resist floods. When forests have been cut, its function as water absorber will disappear. Oil palm plantations, meanwhile, do not have water absorption functions. While holes left by mining can be used for water reserve points, the overflowing water caused by high rainfall will flow into the river. Sediments from mining holes also cause rivers to become shallower. Rio asked that the government not to dodge its responsibilities with the argument that the concessions were issued by the previous administrations. "If these permits impact the environment, then they should be evaluated. This is part of corrective measures," he said.
Hanifah Dwi Nirwana, Head of South Kalimantan's Environment Office, blamed the heavy rainfalls as the main culprit for the floods. However, she did admit that the Barito DAS sedimentation and the ocean's ebb and flow are also contributing factors. Hanifah said that environmental regulations need to be improved, including the loss of forest in the Barito DAS, with only 39.9 percent left. "There are several critical points, even though there are already huge restorative efforts. This is a crucial momentum for us to do an overall evaluation," she said.
ABDUL MANAN, DINI PRAMITA, DIANANTA P. SUMEDI (SAMARINDA)