Government Shouldn't Be a Stumbling Block
Having been appointed as the new minister for tourism and creative economy on December 23, Sandiaga Uno must now shoulder the responsibility of reviving the pandemic-hit tourism and creative economy industries. Amid the social restriction measures that continue to paralyze the two sectors, Sandiaga must strategize to work through a backlog of work that awaits him. His ministry must also adjust the foreign visitor target with the government's Covid-19 response strategies.
Edition : Monday, February 1, 2021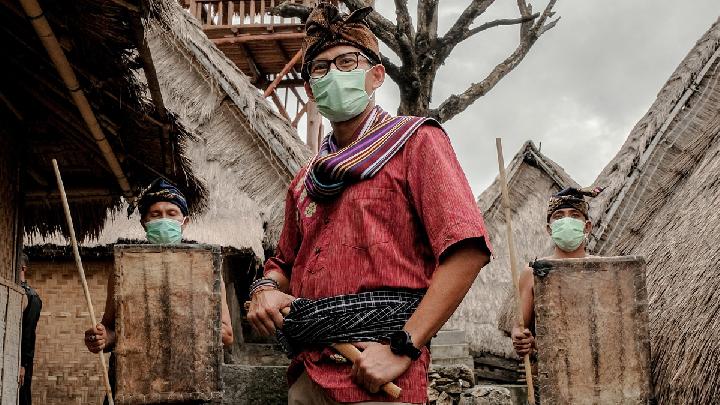 SANDIAGA Salahuddin Uno had just been confirmed of recovering from Covid-19 when he got a call from the Palace on December 22. In less than two hours after he received the negative polymerase chain reaction (PCR) swab result, President Joko Widodo asked him to lead one of the ministries in the latest cabinet reshuffle. "After I received the call, I made an istikhara prayer (a prayer seeking God's guidance) and subsequently made the decision to assist Pak Jokowi," Sandi, 51, recounted during a special video interview with Tempo on January 13.
He put on a white shirt—as advised by the Palace—initially paired with the brown trousers; however, his wife, Nur Asia, reminded that the white and brown set looked like the Gerindra uniform. He changed into a pair of black trousers and headed to the palace. Only upon arriving there, did he learn that he was chosen to head the tourism and creative economy ministry. Sandiaga, who is also the chair of the United Indonesian Volunteers against Covid-19 for the past seven months, did not have a clue that he would be replacing Wishnutama Kusubandio.
Sandiaga inherited tons of work, particularly the challenging job of bringing the tourism and the creative economy industries back to life amid government's extension of the ban on foreign tourists until February 8 to stem the rising Covid cases. He must also restore public's faith in domestic air travel following the crash of a Sriwijaya airplane in early January. On top of that, he is also responsible for overseeing the development of five super-priority destinations to be completed within this year. "That is the task given by Pak Jokowi," said Sandi as he is familiarly called.
Accompanied by Deputy for Marketing Nia Nicaya and Deputy for Tourism Destination and Infrastructure Development Hari Santosa Sungkari, Sandiaga spoke to Tempo. He explained about the strategies to revive the tourism sector and restore 17 creative economic sub-sectors. He also talked about his appointment as the minister. His deputies helped supplemented some of his answers.


W251bGwsIjIwMjEtMDYtMjUgMDg6MDA6NTgiXQ
Please tell us how the process of your appointment went.
Since the end of the 2019 presidential election, I've always partaken in discussions about how we can develop this country further into a more prosperous and just nation. That was before the Covid-19. Long story short, we agree that in order to progress into such a nation, we must unite. So, I and Pak Prabowo (Prabowo Subianto, General Chariman of the Gerindra Party—Sandiaga's running mate in the 2019 presidential election—Ed.) decided to support Pak Jokowi and Pak Ma'ruf Amin. My desire was to assist them from outside the administration.
What did you do at that time?
Then the Covid-19 came and changed everything. It was a game changer. I said that we must focus on the health aspects and manage the pandemic as a priority to be able to restore our economy. I've been active in the United Indonesian Volunteers against Covid-19 and I also have several empowerment programs for MSMEs (micro, small and medium enterprises). As I went through the hardest experience, that is Covid, in the two weeks of recuperation, I contemplated, reflected, mediated, thinking that to face this immense trial, we need a holistic strategy. We must not be divided. After I received the call, I prayed. After that I made the decision to assist Pak Jokowi.
So, this is a spiritual decision, not a political one? Because, based on political calculations, your supporters believe that you stand a bigger chance in the 2024 presidential election if you stay outside the government.
Before I got Covid, Pak Prabowo said, 'Here's another request, San. What do you think?' I said, 'Pak, I'd rather keep on assisting the government from outside.' I told him that all the MSMEs were going under. There were around 64 million MSMEs that were affected. I could help by sharing my experience when I was laid off, by giving motivation. Pak Prabowo said, 'Okay, that's that, then. I will tell (the President).' So, this decision was totally unpolitical, and starting this moment, I have to work.
When you were called to the Palace, which ministerial position did you imagine you would be given?
Frankly speaking, I didn't think about the portfolio. I had just recovered from Covid. I was swab-tested in the morning and the negative result came back at 12pm. I did a noon prayer supplemented with an istikhara prayer at the last. Finally, at 1:30pm, the palace asked me to come wearing a white shirt. Only at the palace, was I informed of the portfolio. I was given the job of revitalizing the tourism and creative economy sectors.
How did Prabowo react?
From the Palace, I went straight to Pak Prabowo. I told him about my duties at the Kemenparekraf (the tourism and creative economy ministry). He wished me well. From there I went to my parents' house to inform them.
Is it true that your appointment was not unexpected as you've been meeting President Jokowi frequently since April last year to give input regarding the national and global economies?
Actually, I've been quite close to the President since he was still the mayor of Solo. We've had a pretty good relationship and later he became the Jakarta governor and then President. I have a great deal of respect for him. Whenever I'm invited, I always conveyed my view as someone outside the system.
What did you usually convey to him?
About the Covid-19 situation, the economy, and so on. I also informed him when I initiated the United Indonesian Volunteers against Covid-19. I thanked him for his volunteers who joined forces with this initiative. I saw with my own eyes how badly people's livelihoods had been affected. We must give social assistance but I suggested to him to give cash, if possible, not sembako (basic commodities). When I asked people if they wanted sembako or cash, they said they wanted both (chuckles)...
Do you also give input regarding tourism?
I never discussed specifically about tourism.
Is it true that not everyone in Gerindra is happy about your appointment because they think that you are a strong successor of Prabowo?
In Gerindra, I'm not in the executive board. I'm in the advisory council. So, I'm not active in the party's operational activities. After Pak Prabowo, I also reported my appointment to the party's Secretary-General Pak Ahmad Muzani and Executive Chairman Pak Sufmi Dasco Ahmad. We had dinner, chitchatted, also with other friends at Gerindra. Everything seemed just fine. It's true many Gerindra cadres have problems adapting themselves to the Covid situation but I'm sure that in our shared optimism, Gerindra is solid. I don't want to talk about politics as I'm now a minister. But I hope since this is the President's decision and since Gerindra is in the Indonesia Forward coalition, the party should support the President's decision 100 percent.
Facing the collapse of the tourism sector due to the pandemic, what issues have been mapped and should be resolved urgently?
In the coming three months, we need to focus on supporting government's initiatives to increase public's compliance with the health protocols to break the chain of infection, and help relieve public's burden amid the pandemic and economic decline. It is not limited to the provision of hotel rooms for health care workers, medical teams, people without symptoms, but also food supply for medical professionals. The grants Pak Wishnutama fought for should be appreciated. We will take further steps to expand and multiply them and continue the programs including the one to provide assistance to micro workers in the tourism and creative sectors.
What is the next program?
The international tourist target needs to be adjusted with government's Covid-19 response strategies. So should the domestic target. We've just extended the closure of our borders to foreign tourists and it will have impact on the targets we previously set. We will have to adapt, innovate and collaborate. We aim to focus on domestic tourists. Another task given by Pak Jokowi is to get the five super-priority destinations off the ground.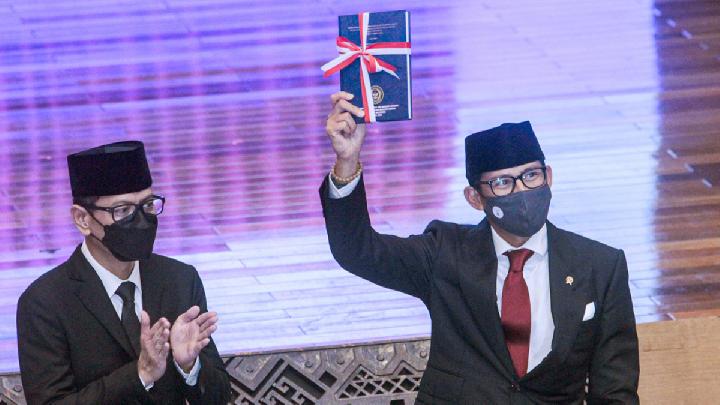 Tourism and Creative Economy Minister Sandiaga Salahuddin Uno (right) with his predecessor Wishnutama Kusubandio at the handover ceremony in the Sapta Pesona Building, Jakarta, December 23, 2020. TEMPO/Hilman Fathurrahman W
Which of them are already running?
I've visited Lake Toba (in North Sumatra) and Labuan Bajo (East Nusa Tenggara). The plan was to visit Borobudur (Central Java) but given the PPKM (public activity restrictions), we instead headed to Mandalika (West Nusa Tenggara) which was still relatively low-risk (in terms of the spread of coronavirus). I plan to visit Likupang (North Sulawesi) and finally to Borobudur. We will map what quick wins will look like. Pak President asked us to prepare a calendar of events, a list of products from the 17 creative economy sub-sectors, etc. As I said, there have to be the site, the sound, the taste, the smell, the feel we get from each visit to the five destinations. For instance, if we think of Bali, we think of nasi Bali (Balinese rice), for Yogya gudeg (stewed jackfruit), for Solo nasi liwet (spiced rice), Surabaya rawon (blackened beef soup). But what about Toba? Is it mi gomak (noodle in spicy coconut soup) or ombus-ombus (sweet sticky rice)? How about Labuan Bajo? Is it Labuan Bajo fish soup? We also need to prepare a good branding. Wonderful Indonesia is already well-known but what will we use for the super-priority destinations?
With the focus on the domestic sector, what is the target number of tourists under the current condition?
The numbers are risky, you see. If we mention it, it will become a reference for tourism and creative economy businesses; meanwhile, we are still in the pandemic. As regards international tourists, we definitely lost one month. For the local sector, given the Sriwijaya Air tragedy, at least we have to figure out how to promote the air transport sector. We have the target but we need to revise it under the circumstances. But what is interesting is that there are innovations precisely outside the five destinations, outside the special interest tourism such as sport, nature and culture, medical or yoga tourism.
Hari Sungkari: These destinations are not only in big cities but also reach the grassroots communities. I have until 2024 to develop 244 villages as tourist destinations. Out of the 244 villages, 150 are within the super-priority destinations. We hope to see economic development in these regions and it is in line with the tourism trend whereby many tourists travel for outdoor or special interest experience.
On the creative economy side, the pandemic has severely affected the music and film industries. Some turned to virtual concerts or livestreaming but the results are not maximal. What is the solution?
It is also hard for the 17 sub-sectors. Some show resilience, like e-sports for instance. What we need to do is to help these subsectors—from animation, film to music—transform. Some are able to survive adapting to strict and disciplined health protocols. Some have gone fully virtual like Konser 7 Ruang which I routinely participate in. We will continue to support them. We don't want a single subsector to lag behind. We have to find ways to facilitate the creative and tourism industries because we are a co-creator in the penta-helix which consists of government, businesses, public, academics and media. The government shouldn't be a stumbling block instead. We need to come up with an approach through which we can deregulate and provide ease of doing business in the creative economic sector.
As regards of the development of Komodo National Park in East Nusa Tenggara, how will you respond to the grievances of the locals facing eviction threats?
I've been to Labuan Bajo many times, perhaps already seven times. There weren't any development yet during my visit in early 2000. I saw the development in Labuan Bajo myself. I met and discussed with village chiefs and creative business owners there. One had his business gone belly up since the pandemic and needed collateral-free soft loans to rebuild the business as tourists began to arrive again. Some whispered and then blurted that there was so much trash there. The development of Labuan Bajo should have involved the locals more and should be sustainable.
The tourism sector has been seen as contributing to the rise of Covid cases especially after the holidays. On the other hand, the sector also plays an important role in driving the economy. How will you tackle this?
The data points I got from Pak Jokowi showed that the health protocol compliance rate had significantly dropped in the past three months. That is inversely proportional to the rise in daily Covid cases. So, I always advocate the need to promote and enforce health and CHSE (cleanliness, health, safety and environment protection) protocols. We must always coordinate. We must obey leaders from health perspective.
Do you agree with the government's rationale that long holidays or collective day-offs are a significant variable in boosting tourism activities?
I saw that it (the trend) has changed but I need to look at the data. Tourism is no longer driven by collective day-offs or that kind of things because nowadays people can work while on vacation, workcation as it is called. I observe the new trends of personalized, customized, localized and small group travels. So, we really need to think about collective day-offs. I'm still a new kid on the block so I don't want to rock the boat. But in my opinion millennials don't really check the calendar for holidays and plan their travels three months in advance. They are more spontaneous.
Nia Niscaya: With Covid-19, it seems the lines between living, playing, leisure time and working have become fused because people can be anywhere. Our job is to urge people, if they choose to travel, to be wise travelers by following the health protocols. Then, in terms of timing, we will encourage them not to travel during weekends, year-end or school holidays to avoid congestions at the tourist destinations.
How are discussions on travel bubble progressing?
I've had talks with Health Minister Budi Gunadi Sadikin. If we want the readiest candidate, well, I would say it's Bali. Then perhaps we see which countries might give the biggest impact, for example Australia. New Zealand had it (with Australia) and it was quite successful. This concept is highly dependent on our health policies and the health minister wants us to first prioritize the Covid management. So, we haven't had further discussions on that.
---

SANDIAGA SALAHUDDIN UNO | Place and Date of Birth: Pekanbaru, Riau, June 28, 1969 | Education: Bachelor of Business Administration, Wichita State University, US (1990); Master of Business Administration, George Washington University, US (1992); PhD in Management, Pelita Harapan University (2020) | Career: Founder, Recapital Advisors (1997), Founder and Chief Executive Officer, Saratoga Investama Sedaya (1998, 2004-2015), Deputy Governor of Jakarta, (October 2017-August 2018), Minister of Tourism and Creative Economy (since December 2020) | Organization: Chair, Indonesian Young Entrepreneurs Association (2005-2008); Chair, Permanent Committee for Micro, Small and Medium Businesses, Indonesian Chamber of Commerce (2004-2010); Chair, Indonesian Swimming Association (2013-2016); Member, Advisory Council, Gerindra Party (2015-2019); Deputy Chair, Advisory Council, Gerindra Party (2020-2025)