Dirty Narcotics Officers
Officers from the National Narcotics Agency are accused of stealing money belonging to a suspect in a narcotics case. There appears to have been an effort to engineer their confiscation.
Edition : Monday, February 1, 2021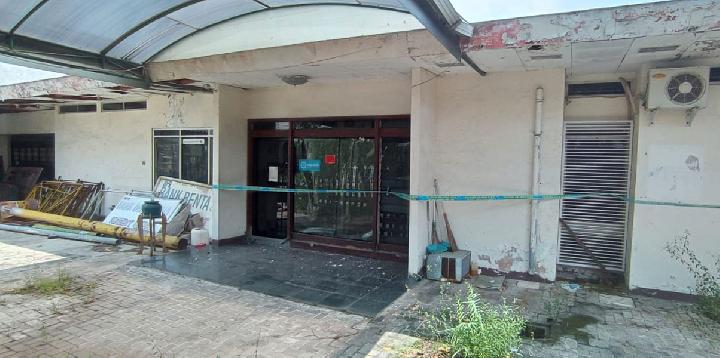 BLUE tape cordons off the front porch of the Multindo Money Changer office on Jalan Manyar Kertoarjo in Surabaya, East Java. The tape bears the logo of the National Narcotics Agency (BNN) and reads "Do Not Cross." The entrance to the steel fence is locked, and the front door is shut. "My client's money was taken from that office by officers," said Jhon Siregar, a lawyer working for Handayani—the owner of the money changer—on Tuesday, January 26.
A joint team from the BNN headquarters and Central Java BNN Provincial (BNNP) office arrested Handayani at her office on October 21, 2020. The operation was led by Sr. Comr. Hesti Cahyasari, while the team consisted of Sr. Comr. Basuki Effendy, Sr. Adj. Comr. Wiyoto, and four other personnel. They were criminal investigators of BNN's Directorate for Money Laundering under the Deputy for Eradication. "She (Handayani) is suspected of committing a money laundering crime connected to a drug ring," said Brig. Gen. Sulistyo Pudjo, Chief of BNN's Public Relations and Protocol Bureau.
Handayani, 52, has been accused of holding and laundering money from the criminal network of Cristian Jaya Kusuma alias Sancai, a drug dealer currently incarcerated at the Batu Prison in Nusakambangan, Central Java. The Semarang District Court sentenced Cristian to five years imprisonment after finding him guilty of laundering funds through various means which originated from the proceeds of drug sales. He was also given a 15-year sentence for masterminding drug sales in Central Java and South Kalimantan in 2018.
Handayani's arrest was one of the outcomes of an investigation conducted by the BNN and Central Java BNNP into Cristian's network since 2017. The BNN also arrested over a dozen accomplices of the 36-year-old man in a number of regions up to 2020. When Handayani was arrested, investigators confiscated assets, deposits, bank accounts, and stacks of cash in various foreign currencies amounting to Rp28 billion. She is being detained in a prison in Semarang, Central Java. "Confiscations took place at several locations," said Sulistyo.
W251bGwsIjIwMjEtMDUtMTEgMTg6NDc6MzgiXQ
According to one law enforcement official who investigated Cristian's network, some bank accounts belonging to Handayani received flows of funds from Cristian's henchmen. In one account, Rp23.8 billion was received from Frans Wijaya from May 28, 2014 to September 29, 2016. Frans also transfered a total of Rp13.5 billion over 278 transactions from October 11, 2014 to May 26, 2017 to another Handayani's account.
Just like Cristian, Frans comes from South Kalimantan. His current whereabouts is unknown and he is declared to be a fugitive. He is suspected of being an accomplice of Cristian and Fredi Pratama alias Miming. Cristian and Fredi are old friends. According to court testimony from a number of Cristian's henchmen Fredi often supplies methamphetamine to Cristian's network from his hideout in Thailand. Handayani was connected to Cristian's network through Frans.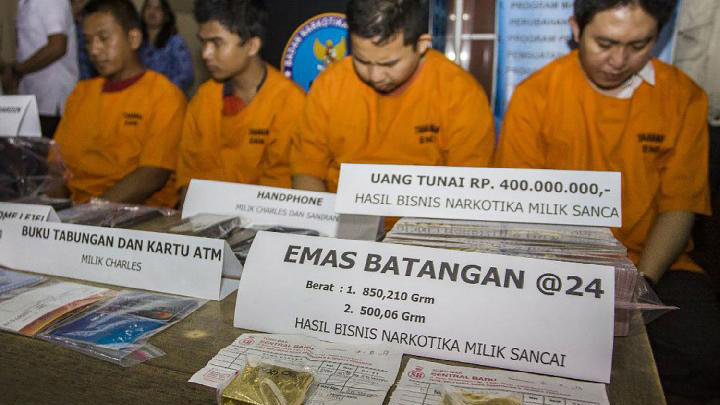 Suspects and pieces of evidence during the announcement of the drug and money laundering case in which implicates former Purworejo prison warden, at the BNN office in Jakarta, January 17, 2018. Antara/Galih Pradipta
Jhon Siregar denied that Handayani is involved in Cristian's network. According to him, his client does not know Cristian, and the foreign exchange business run by Handayani is a purely legitimate business enterprise. "Anyone wanting to exchange funds is served here. It is not possible to look into the sources of those funds," he said.
Handayani is now questioning the confiscation of her foreign currencies by Hesti and the other investigators. Those funds should have been recorded as evidence, but are not listed in the confiscation records. Those funds are worth billions of rupiah. "Handayani's arrest looks like an extortion ploy," said Jhon.
The indication of this, according to Jhon, is that BNN's team had asked to keep a portion of those funds which should have been entered into evidence. Because Handayani declined to do so, Jhon continued, investigators stole his client's funds. Through Jhon, Handayani reported this suspected theft to a number of law enforcement institutions, including to the BNN, on December 21, 2020.
It appears that the BNN has responded to her complaint. In a letter dated January 12, 2021, the anti-narcotics agency rotated a number of mid-level officers. Senior Comr. Hesti, Sr. Comr. Basuki, and Sr. Adj. Comr. Wiyoto were demoted to officers without any official position in BNN's Directorate of Public Participation under the Deputy for Social Empowerment.
Brigadier Gen. Sulistyo Pudjo said that their institution has received Handayani's report. He said that the BNN has decided to respond to it. "It has been followed up on internally. At present it is in the preliminary investigation stage," he said.
***
TRAVELING in two automobiles, a joint team from the BNN headquarters and Central Java BNNP entered the courtyard of the Multindo Money Changer office in Surabaya at around 1pm on Wednesday, October 21, 2020. This team led by Sr. Comr. Hesti Cahyasari went straight into the building and rounded up all of their employees.
They searched the entire office. Hartono, the coordinator for the security guards working there, said that the search ended at around 5pm. Hartono and the other security guards were asked to witness the search and seizure. Hartono also watched as investigators questioned Handayani and some staff members.
At the end of the raid, investigators confiscated various foreign currencies in cash which were kept at the office. "There was a lot. I forgot the exact amount," said Hartono.
Reny Yuki Safitri, a worker at Multindo, learned of the raid after returning from her lunch break at around 1:30pm. As she entered the office yard on a motorcycle, a man approached her and ordered her to enter the office. "That officer asked me to hand over my cellular phone and purse," said Reny.
Inside she saw her boss, Handayani, seated in a central room, was surrounded by BNN personnel. Handayani looked dejected. Reny did not say anything to Handayani because a BNN officer asked her to go to another room to be questioned. "I was asked about various things. I said that I did not know because for sure I didn't understand anything about what was going on," she said.
One BNN officer asked Reny where the closed-circuit television (CCTV) recordings were kept. After showing the location of the CCTV server, she was asked to leave the room. Before leaving the room, she saw the joint BNN team asked Handayani to open the office safe. Handayani took stacks of foreign currency out of the safe. "It is worth billions of rupiah," she said.
The investigators, according to Reny, put that money in a cardboard box. She watched as officers took it away, along with other evidence, such as laptops, cellular phones, bank account books, and a stack of transaction documents, all of which was loaded into a car. The officers took Handayani, Reny, a driver, and some other associates to the BNN East Java office for further questioning.
Afterwards, Handayani and her family took issue with that search. Hendi, Handayani's younger brother, examined the CCTV server two days after the raid. He discovered that cables around the server had been disconnected, including the Internet connection. He suspects that BNN personnel disconnected the network so that the CCTV recordings could not be accessed. "The cameras which point at the safe and the central room were covered up with duct tape by the officers," he said.
The cameras, according to Hendi, had recorded the activity of Handayani and two investigators in the room with the safe. One of them was Hesti. As team leader she asked other personnel to cover the camera lens with black duct tape. "We are wondering why that camera needed to be covered up," said Hendi.
Hendi thinks the recordings are important because they will give some idea about how much money was confiscated during the search. They do not know the exact amount because investigators have never given them any confiscation notice. "We have not received anything so far," he said.
Jhon Siregar estimates that the total amount taken comes to Rp12 billion. This includes US$22,000, S$735,000, HK$350,000, and 170,000 Yen. Jhon said that Handayani suspects that some of those funds disappeared because that foreign currency was not listed in the confiscation record. She declined to sign that document.
Handayani claimed that during the investigation Hesti and other officers asked for some of the funds which were confiscated. She said that Hesti asked for S$200,000. There was still S$400,000 which was promised would be returned. "In fact, that S$400,000 was in the hands of other investigators," said Jhon.
Handayani also purportedly asked the team of investigators to return Rp500 million which had been confiscated. Jhon said that those particular funds were not from the money changer business, but separate funds for medical treatment for his client's mother. "Hesti agreed, but on the condition that Rp200 million be given to investigators," said Jhon.
Handayani did not accept that offer. She also accused the team of investigators of embezzling Rp2.3 billion from her family bank account.
Hesti did not respond to an interview request sent by Tempo through the BNN Public Relations and Protocol Bureau as of Saturday, January 30. She also did not respond to telephone calls. Basuki Effendy and Wiyoto, who are also accused of stealing evidence, did not respond to interview requests.
Brigadier Gen. Sulistyo Pudjo assured that the BNN Inspectorate has assigned a team of internal supervisors to look into the matter. "This is not only for the Handayani case. The Inspectorate is supervising other legal processes," he said.
He disagreed that the team of investigators was careless when confiscating evidence in the Handayani case. According to him, the confiscation was done based on the decision made by the Surabaya District Court on October 26, 2020. "We had enough evidence to bring Handayani up on charges," he said.
RIKY FERDIANTO, LINDA TRIANITA, NUR HADI (SURABAYA)