Indonesia's Corruption Perceptions Index Deteriorates
The main reason for the corruption perception index' slump is global investors' doubts over the government's stance on fighting corruption.
Edition : Monday, February 1, 2021
TRANSPARENCY International's survey shows that Indonesia's Corruption Perceptions Index (CPI)—a corruption condition indicator—has worsened in 2020. Out of 180 countries, Indonesia perches at 102, nose-diving from 85 in 2019. Indonesia's CPI also went down three points to 37, out of a maximum of 100.
Transparency International Indonesia Secretary-General J. Danang Widoyoko said that the main reason for the index' slump is global investors' doubts over the government's stance on fighting corruption. "The biggest contributor towards Indonesia's CPI decline is the global business perception on corruption in Indonesia," said Danang on Thursday, January 28. These doubts were fueled further by the weakening of the Corruption Eradication Commission (KPK) through the KPK Law revision two years ago.
Transparency International's research was conducted between January and October 2020 to measure public's perception towards nine indicators, including the quality of democracy and freedom of speech. Clinching top position this year are New Zealand and Denmark with scores of 88. Singapore is in third place with 85. The average global score is 43.

Transparency International Indonesia researcher Wawan Suyatmiko said that Indonesia's scores and rank are the same with those of Gambia, a small country in West Africa. This year, Indonesia was beaten by Timor-Leste, whose CPI reached 40. Indonesia Corruption Watch researcher Kurnia Ramadhana said Indonesia's CPI deterioration shows that the government does not have a clear orientation on corruption eradication policies.
Presidential expert staffer Donny Gahral Adian claimed that the government is committed to improve the CPI. He denied that the KPK had been weakened. "As we all know, two ministers have just been arrested by the KPK," said Donny. Recently two members of President Joko Widodo's cabinet have been arrested by the KPK, namely Marine and Fisheries Minister Edhy Prabowo, and Social Affairs Minister Juliari Peter Batubara.
W251bGwsIjIwMjEtMDUtMTEgMTc6MDI6NDIiXQ
---
Education Minister Rejects Hijab Coercion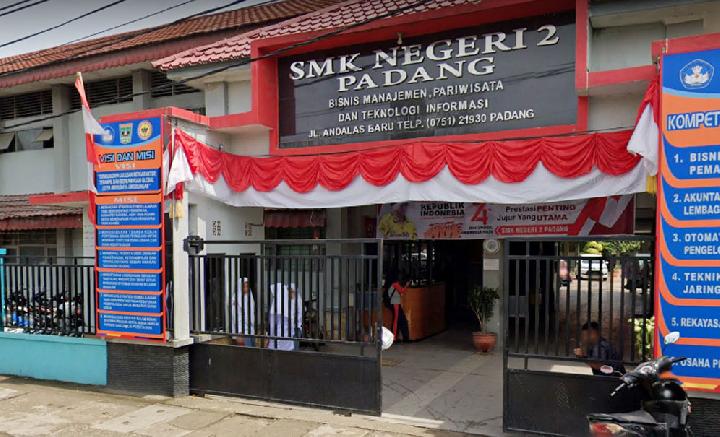 State Vocational School No. 2, Padang, West Sumatra. Google photo
EDUCATION and Culture Minister Nadiem Makarim has asked regional administrations to give sanctions to those parties who have coerced a pupil from State Vocational Secondary School 2 (SMKN 2) in Padang, West Sumatra, to wear a hijab (head scarf). "This may involve dismissal from their positions," Nadiem said in a video uploaded on Instagram on Sunday, January 24.
He said that intolerance towards diversity should not occur. Regulations that force students to wear clothing according to a certain religion should not be allowed, the minister said.
Parents of Jeni Cahyani Hia, an SMKN 2 Padang student, were summoned by the school because she refused to wear the hijab, which the school said was part of its uniform. SMKN 2 Headmaster Rusmadi apologized after the incident became public news. "I am ready to be dismissed if I was indeed wrong, but please look on a broader scope and see all the things that we do," he said.