News of a Coup at Gunung Gede
It is said that Presidential Chief of Staff Moeldoko intended to take over leadership of the Democrat Party. He is suspected of involving Muhammad Nazaruddin, a former corruption case convict, to lobby regional party officials. Susilo Bambang Yudhoyono is monitoring the counter-offensive measures against Moeldoko.
Edition : 8 February 2021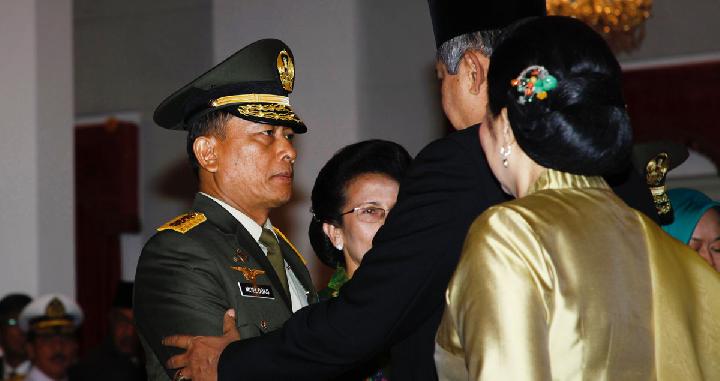 WEARING a brown, short-sleeved batik shirt, Susilo Bambang Yudhoyono, Chairman of the Democrat Party's High Council, listened intently to Agus Harimurti Yudhoyono's presentation at his personal library in Puri Cikeas, Bogor, West Java, on Sunday, January 31. Agus, who is the general chairman of the Democrat Party, explained that there is an effort to take over party leadership being carried out by some party cadres, and is suspected of involving Presidential Chief of Staff Moeldoko.
According to Agus, his father agreed that the effort to take over Democrat Party leadership is no longer just an internal issue. This is because it now involves Moeldoko, Commander of the Indonesian Military (TNI) during Yudhoyono's presidential administration. "With Moeldoko's involvement, this movement is a form of intervention from external parties which are endangering the sovereignty and reputation of the Democrat (Party)," said Agus in a written interview with Tempo on Friday, February 5.
Several Democrat Party elites attended the meeting which lasted about three hours. They included: Democrat Party Secretary-General Teuku Riefky Harsya; Deputy General Chairman Edhie Baskoro Yudhoyono; Head of the General Election Campaign Body Andi Arief; Head of the Organization, Cadres, and Membership Management Body Herman Khaeron; and former minister of youth and sports during the Yudhoyono era, Andi Mallarangeng.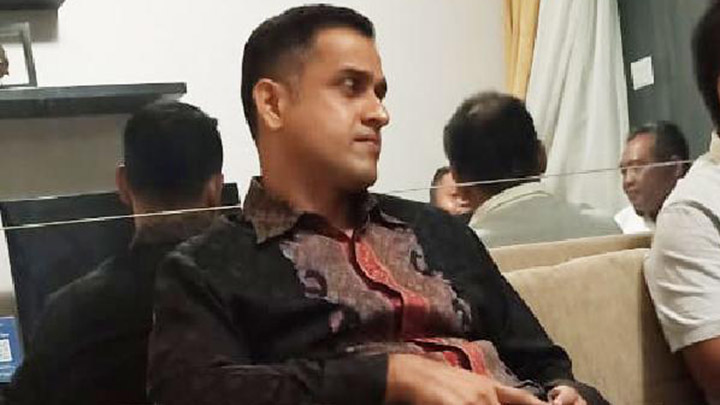 Former Democrat General Treasurer, M. Nazaruddin, in a meeting at the Aston Rasuna Hotel, Kuningan, Jakarta. Special Photo
W251bGwsIjIwMjEtMDItMjYgMjM6NDM6MDgiXQ
Two people who attended this meeting said that after hearing Agus' presentation, Yudhoyono said that he did not like outside involvement to interfere in party matters. Moreover, it was said that Moeldoko was dropping the names of "Pak Lurah"—a reference to President Joko Widodo—and other officials. However, Yudhoyono is not convinced that Jokowi is aware of the planned coup against the leadership of Agus, his eldest son. He suggested that Democrat Party officials send a letter to the President in order to find out.
The same sources said that Yudhoyono said that he will not appear in public to comment this matter. He does not want to be seen as going up against President Jokowi. Yudhoyono said that he would personally settle this matter if he was still the party general chairman. He has left the matter to Agus, including the holding of a press conference about this issue.
Yudhoyono then asked Agus to draft a statement for the press conference in order to avoid any accusatory words which would lead to legal trouble. He added a few words, such as the phrase "presumption of innocence." It was agreed in this meeting that Agus did not need to mention anyone involved in the Democrat Party leadership coup attempt by name.
At the end of the meeting, said the two sources, Yudhoyono asked his staff to show a draft of a tweet for his Twitter account to those present at the meeting. "For anyone who holds political power, regardless at what level, (there are) many political ways which are more moral and civilized. There are three groups of people: the good, the bad, and the ugly. If you cannot be the good, don't become the ugly." This tweet was uploaded to Yudhoyono's Twitter account at 8:43pm on Sunday, January 31.
A day later, at the office of the Democrat Party in Jalan Proklamasi, Menteng, Central Jakarta, Agus Yudhoyono held a press conference to clarify the attempt to take over the position of the party general chairman. "There is a political movement which is directed at an attempt to forcibly take over leadership of the Democrat Party," said Agus.
***
LANDING at Soekarno-Hatta Airport in Tangerang, Banten, on Wednesday, January 27, nine chairpersons of Democrat Party branches at the regency level in South Kalimantan were met by Alamsah, a former party chairman of that province. He took his colleagues to the Garuda Restaurant in Menteng, Central Jakarta. After eating, the group headed to the Aston Rasuna Hotel in Kuningan, South Jakarta.
Some of those in this group were Democrat Party's Tanah Bumbu Chairman Roni Reza, Balangan Chairman Samsudinnor, Barabai Hulu Sungai Tengah Chairman Yofie Rachmani, and Hulu Sungai Utara Chairman Apandi. "We stayed there," said Samsudinnor when contacted on Friday, February 5. Alamsah did not respond to questions Tempo sent to his cellular phone.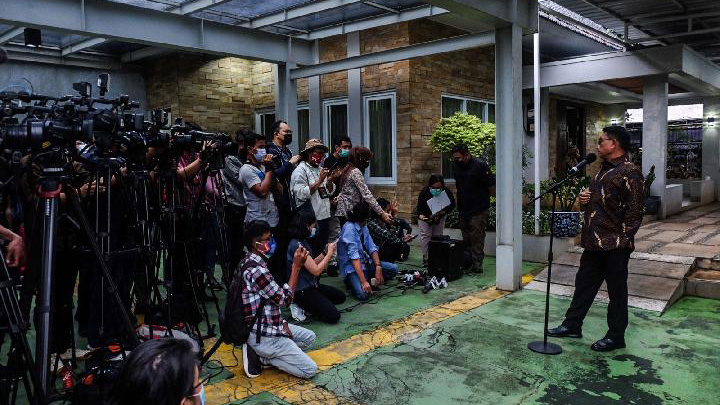 Presidential Chief of Staff Moeldoko delivers a press statement at his residence in the Menteng area, Jakarta, February 3, 2021. Tempo/Hilman Fathurrahman W
An internal Democrat Party document detailing the questioning of Yofie Rachmani obtained by Tempo noted that regional party officials had come to Jakarta because former deputy general chairman Jhoni Allen Marbun had promised that they would receive assistance for the natural disasters which had occurred in South Kalimantan. However, at the Aston Hotel, in Room 2805, they were instead introduced to former general treasurer Muhammad Nazaruddin, a former convict in the Athlete Dormitory project bribery case.
According to Yofie, as written in that document, Jhoni said there was a need to replace Agus Harimurti with Moeldoko. One consideration for doing so was that Agus is deemed to not be fully capable of leading the party. His rank at the time of his retirement from the military was major, lower than Moeldoko, a former TNI commander with the rank of general. Nazaruddin, said Yofie, said that 260 province and regency/city party officials support the holding an extraordinary congress. The two said this leadership replacement was needed to strengthen the party's position in getting votes, from number five to number two.
Jhoni Allen then took those regional party officials to Room 2809. Moeldoko, according to the questioning document, was waiting there. Yofie said that Moeldoko asked them to support an extraordinary congress (KLB) and to vote for him as general chairman. He also said that the planned extraordinary congress had the approval of "Pak Lurah" and was agreed to by the Minister of Justice and Human Rights. Yofie said that Moeldoko had voiced his desire to lead the Democrat Party to Susilo Bambang Yudhoyono (SBY) once he was no longer the TNI commander. "He said SBY asked me to be patient," said Yofie, as written in that questioning document.
The meeting with Moeldoko at the Aston Hotel lasted until around midnight. The Democrat Party officials were asked to sign a duty-stamped letter agreeing to the holding of an extraordinary congress. They were given Rp30 million. Of that, Rp5 million, according to Yofie's questioning document, was taken by Jhoni Allen. They were promised Rp75 million after the holding of the extraordinary congress.
When asked for his response, Yofie Rachmani was reluctant to comment. "I have explained the matter to the central party officials," he said. Samsudinnor was also reluctant to comment.
Moeldoko verified meeting with Democrat Party politicians at his home in Menteng and at the Aston Rasuna Hotel. "I came on an invitation to have coffee," he said, on February 3. However, he denied those meetings were about a planned extraordinary congress or to raise support to run as a candidate for Democrat Party general chairman. "Those on the inside have that right. I am an outsider who has nothing to do with the matter." Minister of Justice and Human Rights Yasonna Laoly denied knowing of such a plan. "I know nothing about that."
The following day, some regional party officials reported the meeting to central party officials. They also sent photos of Nazaruddin and the room which was used for the meeting. Rachland Nashidik, a Democrat Party politician, said that central party officials then questioned eight people who attended that meeting. One of them, Democrat Party's Tanah Bumbu Chairman Roni Reza, was reluctant to comment. This questioning lasted from Thursday afternoon on January 28 to early Friday morning on January 29. From their testimony, according to Rachland, Moeldoko is suspected of intending to use the Democrat Party as a means to run as a presidential candidate.
Raising support to hold an extraordinary congress was also done at the provincial level. Southeast Sulawesi Democrat Party Chairman Muhammad Endang said that Jhoni Allen Marbun asked to meet with him in mid-January. The two met at the Bellagio Residence Apartment in Mega Kuningan. According to Endang, Nazaruddin attended that meeting. "I came because Bang Jhoni is a senior party figure," he said. Endang said that the meeting has been reported to Democrat Party General Chairman Agus Harimurti Yudhoyono.
Democrat Party Deputy Secretary-General Agust Jovan Latuconsina said that Agus Yudhoyono first heard about efforts to raise support for the holding of an extraordinary congress on January 22. "When we were climbing Gunung (Mount) Gede, he received a report of an attempt to raise support among regional party officials," he said on February 4. Agus, said Jovan, began holding lengthy meetings starting on January 26, up until the time he read the report on the questioning of the eight regional party officials from South Kalimantan who met with Moeldoko.
Jhoni Allen did not respond to messages and telephone calls from Tempo, and so did Nazaruddin. Nazaruddin's younger brother, Muhammad Nasir, did not respond to questions from Tempo about the involvement of his older brother in an effort to take over leadership of the Democrat Party.
***
AT the yard of his home in Jalan Terusan Lembang, Menteng, Central Jakarta, the Presidential Chief of Staff Moeldoko expressed his confusion regarding the accusation of intending to take over leadership of the Democrat Party, on Wednesday, February 3. "Who am I? In the Democrat Party there is SBY and his son AHY (Agus Harimurti Yudhoyono), who were chosen by acclamation," Moeldoko told reporters. He added that he never spoke about any plan to run as a presidential candidate through the Democrat Party. "If anyone there (Democrat Party) made such a thing happen, thank God," he said.
Two government officials said that before the holding of the press conference, which took place an hour later than scheduled, Moeldoko was summoned by President Joko Widodo. In that meeting, Jokowi purportedly asked Moeldoko to resolve the commotion with the Democrat Party. Presidential spokesperson Fadjroel Rachman has not yet responded to Tempo's request to confirm that story, and neither has Moeldoko. However, during the press conference, Moeldoko said that he had not discussed that matter with the President. Previously, Moeldoko had asked that the Democrat Party not to make spurious accusations. "Let's not have the (Presidential) Palace or Pak Jokowi be disturbed even the slightest by this matter."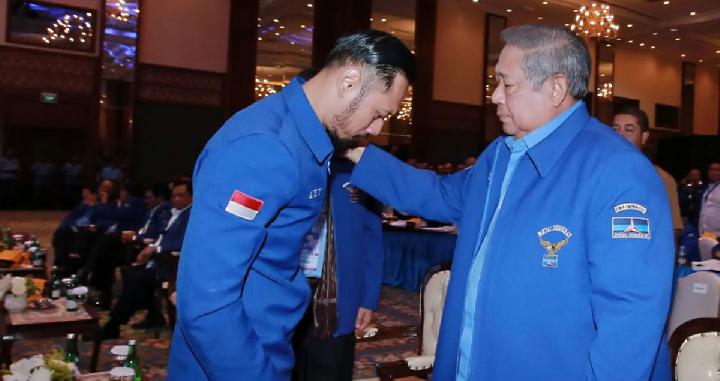 Agus Harimurti Yudhoyono (left) and Susilo Bambang Yudhoyono at the 5th Democrat Party Congress in Jakarta. Special Photo
That same day, Susilo Bambang Yudhoyono held another meeting at his home. Agus Harimurti and other officials who came explained the developments which had occurred since the press conference two days earlier. Agust Jovan Latuconsina said that the meeting was in accordance with party regulations because it was held to discuss matters of strategic importance. "Many matters were discussed," he said on Thursday, February 4.
Two Democrat Party politicians who attended the meeting said that Yudhoyono asked Agus about what measures had been taken. He asked Agus to reconcile with internal party circles. One meeting participant said that the plan to take over party leadership was like to cherish a snake in one's bosom. This is because Moeldoko was appointed TNI commander by Yudhoyono.
Yudhoyono, according to the same source, told a story which occurred while he was still president. At that time, Moeldoko had come to meet him at Puri Cikeas. Moeldoko, said that source, repeating Yudhoyono's words, was sitting on a red sofa. Moeldoko then told Yudhoyono that he would be loyal and never betray him.
HUSSEIN ABRI DONGORAN, DEVY ERNIS, BUDIARTI UTAMI PUTRI