Loyalty Letters to the Cikeas Party
Some regional Democrat Party officials are signing letters stating their loyalty to Agus Yudhoyono. Others are dissatisfied with Agus' leadership.
Edition : 8 February 2021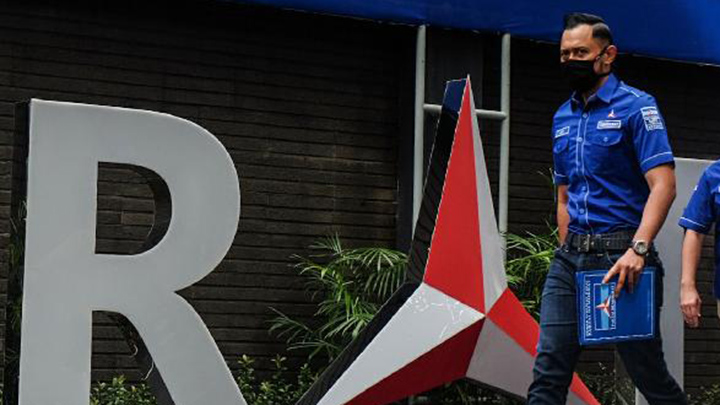 SIGNING a duty-stamped letter, Heri Sebayang, Chairman of the Democrat Party in Yogyakarta, stated his loyalty to General Chairman Agus Harimurti Yudhoyono. In that letter, Heri also promised to oppose any backstabbing and insubordination within the party. The letter was sent by mail to Jakarta on Saturday, January 30. "The letter of loyalty was our initiative and there was no instruction to do so from the general chairman," said Heri in Yogyakarta on Thursday, February 4.
The Chairman of the Democrat Party of Bali, I Made Mudarta, also sent a letter of loyalty on Friday, January 29. Both Made Mudarta and Heri Sebayang said that rumors of a takeover of the position of the general chairman had been circulating two weeks before Agus announced the existence of an attempt to unseat him on Monday, February 1. They claimed that those letters were written based on their own initiative.
Agus' position in the Democrat Party was challenged when a number of senior party cadres raised support among regional party officials to hold an extraordinary congress. The of Presidential Chief of Staff Moeldoko is said to be involved in this attempt and planned to take over the position of general chairman. Moeldoko said that he has met with some Democrat Party cadres for coffee, but denied preparing for an extraordinary congress to take Agus' position.
Support from regional party officials for the eldest son of Susilo Bambang Yudhoyono was also seen in the "Ketua DPD Demokrat" (regional Democrat leaders) WhatsApp group to which Heri and Mudarta belong. After Agus held a press conference, the group was flooded with photos of Democrat Party chairpersons in the provinces, accompanied by words of support for Agus. According to Heri, Agus is also a member of that group but he did not respond to the messages sent there by his cadres.
W251bGwsIjIwMjEtMDItMjYgMjM6MTE6MjQiXQ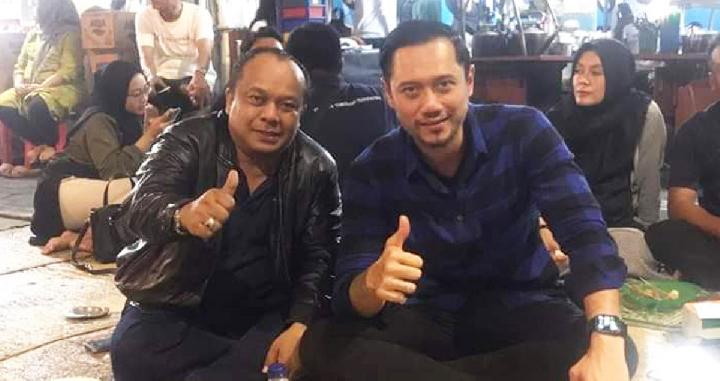 Yogyakarta Democrat Party Chairman Heri Sebayang (left) with Democrat Party General Chairman Agus Harimurti Yudhoyono, August 2020. twitter.com/@herisby70
Mudarta said that he has been in communication with all of the Democrat Party regional and branch officials in Bali. He said that they were never called on to hold an extraordinary congress, like what has happened to party officials in South Kalimantan. Democrat Party Chairman of Semarang, Wahyoe Winarto, said that central party officials conveyed the information about a meeting of South Kalimantan party officials with some senior cadres three days before Agus held a press conference. "We were asked to remain solid," said Wahyoe.
Through a written interview with Tempo, Agus said that plans to replace him were first heard in mid-January. For the past two weeks some regional party officials have been reporting to the central party officials regarding the secret meetings. Agus claimed that he immediately neutralized this movement and assured that regional party cadres were solid in their support, sending letters of loyalty to his leadership. "They emphatically rejected the planned coup," said that retired military officer with the rank of major.
Despite this claim of solid support, ripples of internal conflict have occured within the party. Senior Democrat Party politician Ahmad Yahya said that there is dissatisfaction among regional party officials regarding Agus' leadership. This is because central party officials are collecting funds from each member of the party faction who sits on Regional Legislative Councils (DPRD). It is considered that this policy is burdening party cadres in the provinces.
Some regional party officials have admitted such funds are being collected. Central Java Democrat Party Chairman Rinto Subekti said that contributions from regional and branch party officials to the central party office in Jakarta are voluntary. He cited that most recently such donations were used to help the victims of natural disasters. In Yogyakarta, donations from cadres have been used to fund the party's operations and programs. Heri Sebayang said that the collected funds are to be used to purchase basic food items for the poor, for donations to special events, and for spraying disinfectant during the Covid-19 pandemic.
In addition to the matter of contributions, some regional party officials are questioning the party's cadre development. Paulus Papa Resi, Deputy Chairman of East Nusa Tenggara Democrat Party's Organization, Membership and Cadres Management Body, thinks that the party administration is dominated by the family of Susilo Bambang Yudhoyono. As a result, it looks like a family-based party. "Everyone must listen to what is said at Cikeas," said Paulus. Cikeas refers to the area where Yudhoyono's personal residence is located in Bogor, West Java.
Miel Teftae, Democrat Party Treasurer in the South Central Timor Regency, criticized how Agus Harimurti selected candidates for regional head positions. According to him, Democrat Party cadres often fail to compete with politicians from outside the party in obtaining recommendation letters. Even so, Miel said that an extraordinary congress to replace Agus is not needed. Paulus Papa Resi said that he supports the holding of such a congress as long as it is in line with the party's statutes and bylaws.
Senior Democrat Party politician Max Sopacua considers that Agus' leadership has been problematic since the party congress to choose the general chairman in Jakarta on March 15, 2020. According to Max, who attended that event, the congress only lasted a few hours. Previously such events required at least two days.
Max considers that the rules of order at the 2020 congress did not give other cadres a chance to run against Agus. The organizing committee asked candidates to attach letters of support from at least 35 percent of regional officials. Max, who was the organizing committee chairman at the party's extraordinary congress in Bali in 2013, said that the condition for support is usually just 10 percent. "It is not possible that other cadres can become candidates with such a condition," he said. Agus was chosen by acclamation at the 2020 congress.
After being chosen, Agus put together a group of officials dominated by young politicians. Max, who has been a deputy general chairman and member of the high council, was among those who were sidelined. According to him, since becoming general chairman, Agus has never sat down and talked with senior party cadres who have been eliminated from party leadership.
Agus did not deny that there is turbulence inside the party. He claimed that he is trying to develop a party structure which involves both young and senior cadres. He said that some cadres feel that he is not ready to lead the party. Many of them are disappointed with party decisions, including the selection of candidates to run in regional head elections, which is often not in line with regional aspirations. "This is the reality of politics and democracy in our country," said Agus.
RAYMUNDUS RIKANG, DEWI NURITA (JAKARTA), SHINTA MAHARANI (YOGYAKARTA), JAMAL A. NASHR (SEMARANG), JOHANES SEO (KUPANG), ADINDA ZAHRA (MEDAN), MADE ARGAWA (BALI)