I'm Not a Magician
Garuda Indonesia CEO Irfan Setiaputra inherited a plethora of problems when he joined the national flag carrier last year. Now, if he is not exploring maneuvers to turn the financially-distressed company around amid dwindling number of passengers or taking care of the thorny plane rental contract, Irfan shepherds Garuda as a pivotal airline in distributing Covid-19 vaccines. Armed with extensive experience in leading various companies, Irfan Setiaputra pulls out all the stops to restore Garuda Indonesia's image as a bona fide airline.
Edition : Monday, February 15, 2021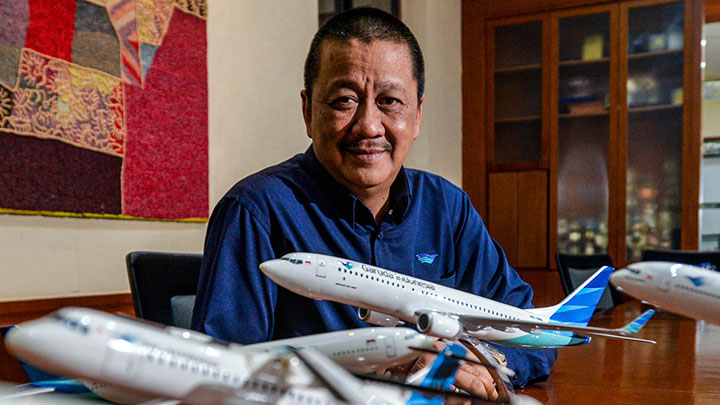 AS he steers the national flag carrier Garuda Indonesia through the devastating effects of the pandemic, Irfan Setiaputra faces another major problem, a knotty negotiation with Nordic Aviation Capital on the cessation of the aircraft lease contract that ended up with him making a unilateral decision. "We grounded and returned the planes. I decided it unilaterally. 'See you in court,'" said Irfan during a special interview with Tempo in his office on Wednesday, February 10.
Garuda signed an aircraft lease agreement with Nordic Aviation Capital in 2012 for 12 Bombardier planes and the deal is supposed to run until 2027. Irfan said the Bombardier CRJ1000 NextGen manufactured by Canada-based Bombardier Aerospace—popular with commuter airlines—had a small luggage capacity thus making it unsuitable for Indonesia where passengers were not used to commuting by plane. In addition, Bombardier is also currently under investigation by the Serious Fraud Office (SFO), United Kingdom's anti-graft agency, for suspected bribery in its aircraft sale to Garuda.
Irfan, 56, had just joined Garuda less than two months earlier when the pandemic hit the aviation industry early last year. The plunge in the number of passengers pushed Garuda into dire straits. Irfan had to take several drastic measures, from deferred salaries to laying off thousands of employees. He even went down to the airport himself and got his hands dirty to promote Garuda.
Speaking to Tempo's Mahardika Satria Hadi, Nur Alfiyah and Yohanes Paskalis, Irfan explained various matters, from Garuda's condition, his response strategy to the pandemic's impact on the airline to Garuda's role in the Covid-19 vaccine distribution. He was furious and pounded the table several times when he talked about the Bombardier lease matter.
W251bGwsIjIwMjEtMDUtMTEgMTg6NDA6MzgiXQ
The previous management left behind a host of problems, one of them being the Bombardier aircraft lease. Why did you decide to end the contract?
This CRJ model particularly isn't just suitable (for us). This type of aircraft is usually used for commuter flights. That's why its luggage compartments are small. The problem is commuting by air is not common in Indonesia. We've looked around and found that we would continue to suffer losses into the next few years. Then why continue? So, I said it had to be ended, even more so after the SFO in the UK issued a statement about Bombardier's suspected involvement in bribery. I told the board of directors and also reported to the state-owned enterprises (SOEs) minister (Erick Thohir). 'Pak Minister, letting the losses continue partly constitutes corruption. We need to make tough decisions'.
How did the negotiations with Nordic Aviation Capital go?
I met and negotiated with them. They proposed increase (in our payables) instead of reduction.
How did you react to that?
I told them that Garuda wanted to respect the agreed commitment. The problem is we didn't have cash. I explained the situation openly that if we continued (the lease), we would continue to lose. They proposed a discount for the total we owe. I countered back and asked for a higher discount. They countered back but instead of increasing the discount, they reduced it.
What is the number they proposed?
It is far more than the losses we are facing. I also checked with several institutions. Can I do this (end the contract) without being blamed one day? The answer was yes. My justification was to cut losses, not to eliminate them because we will still face losses. In the end, I said, 'That's it. That's our position.' We grounded and returned the planes. I made a unilateral decision. 'See you in court.'
What are the remaining rental fees Garuda owes according to the contract?
It's calculated to be US$3 million per month. If we continue, we'll lose more. The total losses will come from rental fees plus operating loss. The contract says we must pay. For sure, this constitutes a default. But, yes, I ended it and there will be consequences.
You said that Garuda could save US$220 million if the Bombardier lease is ended. How did you arrive at that number?
That is the total loss at the end of the contract in 2027.
Besides the above 12 units, how about the fate of the other six CRJ1000 planes bought with the funding from Export Development Canada?
They are on financial lease whereas the 12 units are on operating lease. So, we just have to deal with the bank. We submit a proposal, calculate how much we still need to pay, pay a certain amount and it's considered done. If they complaint, well, they can take (the planes) back. We don't want to pay anymore. I've been negotiating for five months. I told Pak Erick several times, 'I'm not a bad guy.' We must pay a trillion rupiah to the lessor every month. We only have so many passengers, the planes are not taking off but we have to keep on paying whatever the costs.
Did you discuss Garuda's decision on the lease with Erick Thohir from the beginning?
Yes, I did.
Did you two also discuss other options?
Pak Erick only asked me to be cost efficient. We presented several possibilities. Regardless of what stances shareholders take, this is the board of director's decision. We explained the situation and the negotiation process. But I didn't tell them how I was insulted in the process. I am paid to clean up the problems which also included being insulted. I joined the company, accepted the conditions and set out to do my job. I also handle the pandemic alongside my colleagues in Garuda.
A monthly cost-saving effort from aircraft including renegotiating the lease has amounted to US$12 million, which is hoped to increase to US$15million. Besides CRJ1000, will the lease evaluation also target other types of aircraft?
Yes, it will. Coincidentally, other planes are compatible with our needs. It's just that they haven't been flown. But that's about cost. The majority of our fleet—almost 120 units—is leased. We have six units CRJ1000 on the financial lease scheme. There are several Airbus 200, 300 and Boeing 737 planes that already became ours.
How many planes are still in operation as of today?
There are 142 airplanes. Actually, they all are classified to be in operation but since the passenger count has not rebounded, we haven't flown some of the planes.
You are leading Garuda Indonesia just as when the business slowed down at the height of the Covid-19 pandemic. How badly has Garuda been affected by the pandemic?
The pandemic has battered us. The aviation industry is the worst hit as we are a mobility-driven industry. When the mobility is highly restricted, people avoid going out of their homes, going to malls and so on, not to mention flying. Second, this is also a capital-intensive industry with millions of dollars in revenues but with a single digit profitability. It happens to all airlines around the world with a few earning low double-digit profits.
What about Garuda Indonesia?
Garuda is in a normal condition with a low single digit, (chuckles)...The problem that we're facing is almost 90-percent dive in the number of passengers within a relatively short period of time.
When did this sharp decline in the number of passengers occurred?
The record decline occurred ahead of last year's Lebaran (end of fasting month celebration), before the large-scale social restrictions. The homecoming exodus was prohibited that time. Everybody was confused not knowing what to do. There wasn't the rapid test requirement etc. in place. We didn't know either how to respond.
How severe was the decline that time?
In a normal condition, we operate from 450 to 500 flights a day with around 50,000 passengers. During the worst period, there were only 10 to 12 flights a day. Ahead of the Christmas and New Year holidays, it went up again to 300 flights with around 25,000 passengers a day. You can compare the magnitude. But the number dipped again in January to 140-160 flights.
Was it due to the public activity restrictions (PPKM)?
It's rather difficult to determine the main cause but there seem to be three factors. First, traditionally January is a low season globally. There are no holidays and people seldom travel in January. Second, there is the PPKM though we don't see it as a limitation. We see that the PPKM makes sure only healthy people fly for the common good. Third, the Sriwijaya Air tragedy.
The Sriwijaya crash has a huge impact?
As regards flying, it's not about whether a passenger needs to fly or not. One definitely needs to fly. But we've observed throughout the pandemic that flying now takes faith, confidence.
You said that the first batch of a bridge loan amounting to Rp1 trillion was disbursed last week. What improvements will be made with the loan?
The Rp1 trillion is the first batch of the total Rp8.5-trillion loan via seven years bonds. The money will be used for future operational needs mainly to pay state-owned vendors, particularly Pertamina.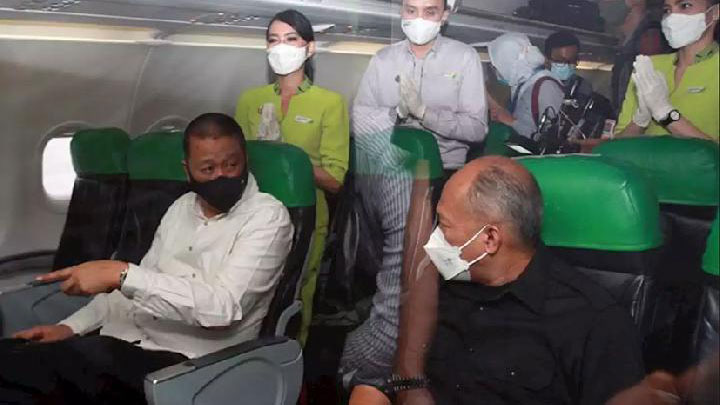 Garuda Indonesia CEO Irfan Setiaputra (left) during the inspection of Christmas and New Year 2021 holiday season flight preparedness at Terminal 3 building, Soekarno-Hatta Airport, Tangerang, Banten, December 23, 2020. Antara/Muhammad Iqbal
Why focus on the SOEs?
We have a lot of debts to these SOEs, particularly Pertamina for jet fuels throughout 2020. The debts have been restructured. We are very grateful that Pertamina has been very supportive of us in a tight spot.
How much did Garuda owe to Pertamina during 2020?
It's huge, for sure. I'm embarrassed to say it. If you ask Pertamina, they would say, 'It's insane!' It's in the trillions.
What breakthroughs have you prepared to keep Garuda afloat?
The majority of our expenses are fixed with several variables such as jet fuels. Most non-fuel expenses are fixed. That's what we've been working on in the past few months.
What are these expenses?
The two fixed expenses are plane leases and human resources. We managed to negotiate the leases and, thank God, could reduce the cost by US$12 million a month. In the near future, we might be able to increase it (saving) to US$15 million. It means US$180 million a year and it is quite a significant saving. It means if the passenger count would rebound to the pre-pandemic level, we would have profited more than Rp2 trillion.
How about the human resources expenses?
It was rather tricky since they are our fellow employees. It's an unpleasant situation for all parties. We don't want any social implications either, even more so because we are an SOE. But we must take necessary measures. In the course of the process, we issued regulations to make sure that their rights are fulfilled.
So, the management finally decided to terminate work contracts?
People always focus on contract (termination). Many don't know that I have 50 percent of my salary deferred since April last year. We had to do pay cuts for all the employees and delayed the payments until the end of December 2020. For sure we will pay as soon as the conditions improve. We project this year's revenues to be half of 2019's in a normal condition. We made nearly US$3 billion that time. So, our targeted revenues for this year is US$1.5 billion.
Pay cuts for all levels of staff?
Of course not. The directors got the largest cut of 50 percent. I only enjoyed a full salary just one or two months. The lower the position, the smaller the cut. How come you should have your pay cut if your salary is only Rp5 million? We must not be cruel.
Are there other employee arrangements?
We had to terminate the contracts of those on fixed-term contracts. We sped up the completion of their contracts and paid out all our obligations. We also offered early retirement schemes.
How many in total?
There were more than 1,500 in total consisting of non-permanent employees and early retirements. Perhaps around 2,000 at the end of last year.
How many employees does Garuda have currently?
Around 6,000. Of course, we continue to look at other options. In the near future, we hope to save costs on aircraft lease, human resources, and other small expenditures worth US$20 million a month compared to the 2019 costs.
When you first joined Garuda as chief executive officer, what kind of backlog did you have to cleared up?
When Pak Erick asked me (to join Garuda), one of the points he said to me during the discussion was, 'Please turn Garuda around to make it a company the public take pride in.' I've held on to that message since I took the helm over a year ago. But I'm not a magician. During my first introduction with my Garuda colleagues, I told them that I'm not an airlines expert, I haven't gone to any aviation school nor worked in the airline industry. But one thing I truly understand is what air travelers want and their habits because I've been on planes since I was two months old. So, I challenged everyone, 'Is there anyone who's flown more often than me?'
What have you done so far to boost Garuda's revenues?
We added cargo flights. We are transforming two Airbus planes into hybrid freighters with the capacity to carry freight up to 50 tons. Hopefully, we can already use them for cargo operations next month.
Only two planes?
Yes, for the time being but many passenger planes have recently been used for cargo too. We transported vaccines several times. We also used an Airbus to ship fish from Manado (North Sulawesi) and Makassar (South Sulawesi). Another aircraft was used for transporting mangosteen from Padang (West Sumatra) to Guangzhou (China), up to 32 tons each flight, while several other planes were chartered to transport health equipment at the start of the pandemic.
What is Garuda's role in the Covid-19 vaccine distribution?
Vaccines are for common interest, you see. I said it had to be Garuda to take care of transporting the vaccines. We don't calculate profits (for this). We've also made the most use of Citilink. I don't want Garuda to just sit around and wait for orders in a situation like this.
Did you communicate with the SOEs minister or the health minister?
I've always been communicating with Pak Ones (Honesti Basyir, CEO of Bio Farma), Pak Erick, Pak Tiko (Kartika Wirjoatmodjo, Deputy SOEs Minister), and also Pak Budi (Gunadi Sadikin) both before and after he became health minister. I talk to everyone of course. Well, it's only fitting for Garuda to be in charge of transporting the vaccines as we are the national flag carrier.
To how many regions has Garuda brought the vaccines?
To 15 or 16 cities. We follow the existing routes. We are committed to sending them anywhere. Only Garuda has the license and the certificate to carry pharmaceuticals like vaccines.
---
IRFAN SETIAPUTRA | Place and Date of Birth: Jakarta, October 24, 1964 | Education: Bachelor of Information Technology, Bandung Institute of Technology | Career: Bank Niaga, Jakarta (1989-1996); Account Manager & Team Leader, Banking Industry IBM Indonesia, Jakarta (1996-2000); Managing Director, Linknet Internet Access (2000-2002); Country Manager/Managing Director, Cisco Systems Indonesia (2002-2009); CEO, Industri Telekomunikasi Indonesia (2009-2012); CEO, Titan Mining Indonesia (2012-2014); CEO, Cipta Kridatama (2014-2017); Chief Operating Officer, ABM Investama (2015-2017); CEO, Reswara Minergi Hartama (2017); CEO, Sigfox Indonesia- Kirana Solusi Utama (2019-2020)