Bring On the Charges
Former Pelabuhan Indonesia II chief executive officer Richard Joost Lino asked investigators at the Corruption Eradication Commission and Attorney General's Office to complete work on the investigations being conducted on him. Lino's wife and children have turned over their bank records to the AGO.
Edition : Monday, February 15, 2021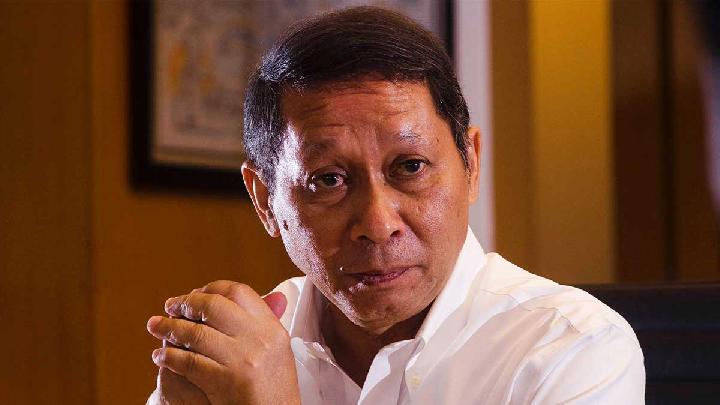 AS a suspect for five years, former chief executive officer (CEO) of Pelabuhan Indonesia (Pelindo) II, Richard Joost Lino, wants to obtain legal certainty as soon as possible. He said that he has turned over all evidence to the Corruption Eradication Commission (KPK). He claimed that he has given the data from his laptop and cellular phone to the Attorney General's Office (AGO), which is handling another case he is accused of being involved in. "They can see it," said the 67-year-old man to Linda Trianita from Tempo at his residence in Pejaten, South Jakarta, on Tuesday, February 9. He insists that he is innocent.
How many times has the KPK questioned you regarding the corruption case for the procurement of three quay container crane (QCC) twinlifts for Pelindo II?
The first questioning was in early 2016. I came with a suitcase in hand because I was ready to be detained. As it turned out, during that questioning I was only asked about my personal data, my family, and if I was familiar with the case or not. The second questioning took place in early 2020. I was not questioned by investigators, but by an auditor from the Supreme Audit Agency (BPK). I explained everything during 12 hours of questioning. A year has passed, but there still has not been any news.
Why do you hope that the criminal investigation can be completed?
If they think I am guilty, quickly file charges against me, take me to court. But if not, I have the right to ask them to drop this case. This is regulated in the new KPK Law. This is a state violation of human rights.
The KPK is still having trouble calculating state losses in that project. What do you have to say about that?
W251bGwsIjIwMjEtMDUtMTEgMDU6MzE6MTQiXQ
This KPK is showboating. They spoke too soon, already claiming that I am guilty. In the end they don't have anything.
You have been a suspect with the KPK for five years. What have you done to obtain legal certainty?
I submitted a letter to the KPK's board of supervisors requesting legal protection and certainty. They replied to that letter in November 2020. Their reply was disappointing. They said that the matter was still being investigated.
Who else have you written?
I also sent a letter to the Ombudsman. They acted, asking the BPK and others about it. But there has not been any reply until now. I have written to the National Commission on Human Rights. I thought that if one's human rights were violated like this, they would stand up for them. It wasn't any different. They said that now there is KPK's board of supervisors. This confused me. Where am I supposed to report this in this country?
It is said that your case is one of the reasons why the KPK Law was revised. What do you have to say about that?
Everyone has said that. However, up to now there has not been any news about my legal status.
What about your questioning at the AGO on the case of the contract extension in JICT?
I was questioned four times in October and November 2020. This case started with a special committee in the House of Representatives. People thought I had taken money with ease. That's how people in this country think. 'There was a big contract. How could he has not have taken any?' I never took a single dollar from the contracts signed for Pelindo II.
The JICT contract extension was considered to have resulted in trillions of rupiah in state losses. Is that true?
I told the AGO last November, that not a single procedure was violated. From the outset, I wrote and asked for the advice of the Finance and Development Supervisory Agency (BPKP). As for the legal aspects, I asked the deputy attorney general for civil law and state administrative law
Why did you extend that contract?
We carried out all of the suggestions from the BPKP and the AGO. After the negotiation process was firm, I took it back to the BPKP and asked that be rechecked. The conclusion was that if it was extended it would bring a profit of US$202 million. So I made the extension papers, which I also took to the of state-owned enterprises ministry. It was considered to be a good offer
Is it true that the AGO investigated suspected gratuities in the Pelindo II and JICT contract extension through your wife and children?
My wife has lost eight kilograms over this. She was questioned last January. My daughter has been questioned as well. She didn't come twice because of an operation and because of catching Covid-19. My son is in Turkey, so he cannot yet answer the summons for questioning. My wife and kids have turned over all of their bank account information to the AGO.
What else have investigators asked for?
The AGO also asked for my cellular phone and laptop. I gave them those too. I was happy to do that. They have search other places as well. I am also happy about that, because they can get the data there, to clarify whether or not I received any money. They can see it. If I did anything unusual, it will surely be there in the data.