Waste Management Problem Solver
The waste processing system of gather-transport-dump at the final disposal site must be replaced with processing at its source. Waste management can be a driving force for economic growth.
Edition : Monday, February 22, 2021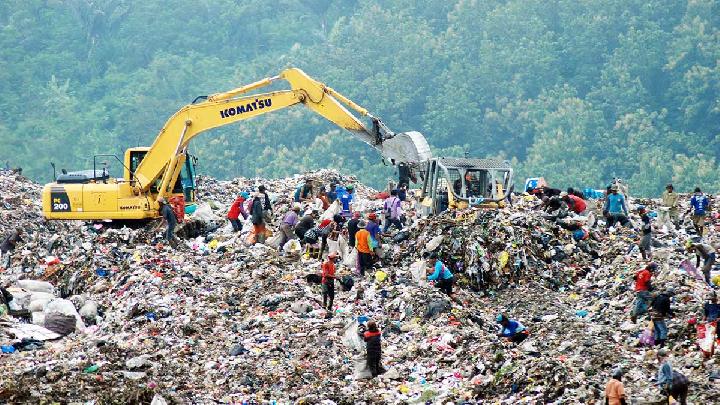 BADIAT halted cutting the grass to feed his goats on the Cireundeu village in Leuwigajah, Cimahi, West Java. He pointed to the valley on the other side of the hill, when asked about the waste final disposal site (TPA) in Leuwigajah. "On the other side of this hill is where the waste avalanche took place," Badiat told Tempo on Sunday, February 14.
The 'waste avalanche' he referred to was the incident where a pile of waste of 60 meters high and 200 meters wide crumbled on February 21, 2005, killing 157 people. There was heavy rain on that day and suddenly, around 2am, the pile of rubbish collapsed with a loud bang, burying Pojok and Cilimus, two neighboring villages of Cireundeu. Both villages are no longer on the map now.
Due to this tragedy the Leuwigajah TPA, where waste from the city of Bandung, the Bandung Regency, and Cimahi are gathered, was shut down. The only thing left from the facilities is a small, two-storey building which looked abandoned. The building, formerly housing the facilities' office and guard post, appear like an ugly reminder of waste management in that area. The date of the accident has been commemorated as the National Waste Awareness Day.
The Leuwigajah TPA, measuring 10 hectares, was built as an open dumping facility—the most primitive waste system—in 1982 to 1983. There was no waste processing facility, and rubbish is merely piled up. Leachate—contaminated liquid that comes out of piled waste—is also left unprocessed, and seeps through everywhere. Methane gas resulting from biochemical reactions is not channeled elsewhere and is trapped in the pile, and it can explode and catch on fire at any time. The waste mountain is also not solidified, and in danger of causing landslides.
W251bGwsIjIwMjEtMDUtMTEgMDU6MDc6MTkiXQ
Due to the bad conditions above, Law No. 18/2008 regarding waste management requires local administrations to shut down all open-dumping TPAs at the latest by 2013. However, eight years after that deadline, there are still open dumping TPAs operational. Data from the environment and forestry ministry shows that out of the 123 TPAs in Indonesia in 2020, 33 are still using the open dumping process, 32 are controlled landfills, 28 are sanitary landfills, and the rest are unspecified.
Prima Mayaningtyas, Chief of West Java's Environmental Services Office, said that it was not easy to specify sanitary landfill TPAs. Several technical requirements must be fulfilled, from the slope of the area until matching the space allotment within the regional spatial plan. "The process of deciding on an area for the waste processing and final disposal site takes a long time," said Prima when contacted on Monday, February 15.
Also, Prima said, the sustainability of a controlled landfill facility is 15 years at the most. She gave the example of the Sarimukti Regional Integrated Waste Processing Location (TPST) at the Sarimukti village, Cipatat, West Bandung Regency, West Java, which replaced the Leuwigajah TPA. The 25-hectare TPA on the grounds of state-owned forestry firm Perum Perhutani has a life shelf ending at 2018. Prima admitted that she has already acquired an extension permit to use forest area until 2025. "Expansion is no longer possible because that would mean cutting down forests," she said about the TPST that receives 1,957 tons of waste a day.
David Sutasurya, Executive Director of green organization Yaksa Pelestari Bumi Berkelanjutan, said that regional administrations are unable to shut down open dumping TPAs because rubbish arriving there is already mixed, making the sanitary landfill method too expensive. "Among other to process the leachate," said David via WhatsApp on Thursday, February 18. "This is why many open dumping TPAs cannot be changed. Even sanitary landfill TPAs would finally become open dumping ones."
The worrisome part, David said, is that the Waste Management Law is not paired with consistent law enforcement. "Until now, there are no regional administrative heads that have received sanctions," he said.
A more fundamental reason, David continued, is that the central government does not support regional administrations through coaching, national regulations, and sufficient financial support. He said that regional governments need additional regulations and support in order to manage waste in a segregated way, and with a high rate of recycling.
Mohamad Bijaksana Junerosano, founder and Chief Executive Officer (CEO) of Waste4Change—a company providing responsible waste management—agrees that there is no coaching for regional administrations. "In order to manage TPAs, regional governments are left without supervision and enforcement," said this graduate of Bandung Institute of Technology's Environmental Engineering program study. "Turning TPA into sanitary landfills has not been successful because regional administrations do not have expert capacities," said Junerosano.
Junerosano pointed to the government's sluggishness in giving implementation procedures (juklak) and technical procedures (juknis) for shutting down open dumping TPAs. The government regulates the execution of waste infrastructure and facilities in managing waste through Public Works Ministerial Regulation No. 03/PRT/M/2013. "Law No. 18/2008 required that open dumping PTAs had to shut down at the latest by 2013. Meanwhile, the juklak and juknis for that were only issued in 2013," explained Junerosano.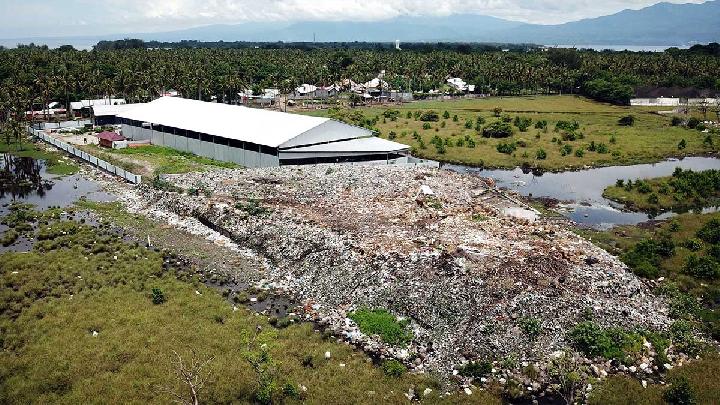 A huge mound of trash at the integrated waste management site (TPST) in Gili Trawangan, West Nusa Tenggara, February 15. Abdul Latief Apriaman
The absence of coaching has also resulted in the stalling of the integrated waste management facilities able to process 50 cubic meters of trash per day at the Gili Indah village, Pemenang, Gili Trawangan, West Nusa Tenggara. Construction of the TPST had a price tag of Rp14.318 billion on a land measuring 2,500 square meters. Building was started in 2018 and was finished within a year, and then the public works and housing ministry handed it over to the North Lombok Regency administration on January 5, 2020.
Cahyo Kurniawan, activist from the Gili Trawangan Environmental Awareness People's Front, said the TPST had been operational in the beginning of 2020. However, it did not perform optimally. The volume of waste coming in and the TPST's ability to sort rubbish was not in proportion. "It takes a long time to even process a cart of 250 kilograms, resulting in long waiting lines for waste carriers," said Cahyo on February 15.
He further said that the TPST does not work properly due to a faulty design. "The conveyor is only 20 meters long, not in proportion to the waste conditions," said Cahyo, adding that Gili Trawangan produces waste of between 13 and 20 tons a day, depending on the season.
Ika Sri Rejeki, Chief of the West Nusa Tenggara Settlement Infrastructure Agency, dismissed that there was a flaw in the design of the Gili Trawangan TPST. She pointed out that the design was in accordance to what the North Lombok Regency administration had requested. "This is not an excuse to not operate the TPST. Now it's up to the regional administration. Many regional administrations ask for it, but they cannot manage it because they have no budget for it," said Ika when contacted on February 15. "It could actually be managed with a retribution pattern."
Zaldy Rahardian, Chief of North Lombok Regency's Environmental, Housing, and Settlement Services, blamed the Covid-19 pandemic for the stalled TPST. He said that in early 2020, his department went to observe the TPST to compile concepts for personnel and equipment needs. "When Covid came in March, everything went quiet. There was no budget, and it wasn't possible to go to Gili," he said. Training for new employees was done between December 2020 and January this year. TPST's operation, Zaldy explained, needs 22 people, including non-governmental organizations' activists.
The Gili Trawangan TPST is not the only waste processing facility which has stalled. The construction of the Lulut Nambo Regional Waste Processing and Final Disposal Site (TPPAS) in Lulut village in Kelapanunggal subdictrict, and Nambo village in Citeureup subdistrict, Bogor Regency, West Java, are also halted because Jabar Bersih Lestari, which won the tender to build the facilities, is unable to do so because of financial problems. "They should have been operational in 2020, but they did not perform," said Prima Mayaningtias.
Prima said that this problem was resolved by revising the contract. Also, Jasa Sarana—a subsidiary of the West Java Provincial Administration which controls Jabar Bersih Lestari's shares—was asked to take over all the shares so it could become a partner. Prima said this was faster than repeating the tender process from scratch. If all goes well, the Lulut Nambo TPPAS construction is set to be completed by the end of this year. "At the latest in December," she said.
Bogor Regent Ade Yasin admitted that he did not know why the US$46-million project is halted. "We hope it will become operational soon, because rubbish in our region is piling up," said Ade at the regency office on February 15. According to the regent, the daily processing of 2,800 tons of trash cannot be solely put on the shoulders of Galuga TPA. "It's not just our trash that goes to Galuga, but also that of the city of Bogor. So, we put our hopes on the Lulut Nambo TPPAS," Ade said.
Waste management that relies on TPA, Junerosano said, should be abandoned because of its high costs. Waste4Change research in 2019 showed that the city of Balikpapan in East Kalimantan spent operational costs of Rp422,145 per ton, which totals Rp71.97 billion to process 170,487 tons of trash a year. The city of Surabaya, meanwhile, spends Rp779,438 to process a ton of waste, or Rp639.64 billion to process 820,649 tons of waste annually. The waste fund from Balikpapan's Regional budget is Rp68.88 billion, while Surabaya's is Rp370.34 billion.
Waste4Change research also found that 64 percent of regency/city administrations that took part in its survey fund their waste processing from its regional budget and waste retribution. However, levy gathering is still done the conventional way, so only around 30 percent of the full potential is accrued. Junerosano believes that waste producers should be required to pay retributions in accordance to the volume of their waste. He did a simulation where low-income people pay Ro500 for each bag of trash, while higher-income residents pay Rp3,000. According to analysis done by the United Nations Environment Program and International Solid Waste Association in 2015, Junerosano added, waste processing costs in Indonesia amounted to between Rp750 and Rp1,750 for each kilogram.
Junerosano said that waste processing methods must change, it should no longer be gather-transport-dump at the TPA, but rather the inverted pyramid approach of reducing rubbish at its source. Junerosano gave an example that more than 50 percent of household rubbish is organic and could be turned into compost, and another 20 percent is inorganic trash that recyclable. "So only 30 percent is sent to the TPA," Junerosano said. The government, he added, could start by requiring trash sorting, and for everyone to take part in a waste bank
The environment and forestry ministry said that waste processing contributes to the economy through a circular economy, and waste as an energy source. In the press conference for the National Waste Awareness Day, done online on February 18, Director-General for Waste, Waste Products and Toxic Material Management Rosa Vivien Ratnawati said this sector will be the driving force for economic development. "Waste as basic material for the economy is a new phase in Indonesian waste management. We leave behind the paradigm that waste is merely gather-transport-dump," she said.
DODY HIDAYAT, AHMAD FIKRI (BANDUNG), ABDUL LATIEF APRIAMAN (GILI TRAWANGAN), M.A MURTADHO (CIBINONG)