Stimulus Modest Welcoming
Bank Indonesia and the Financial Services Authority relax the provisions for motor vehicle ownership loans. Players in the financial industry are not bold as to boast their performance will immediately spur.
Edition : Monday, February 22, 2021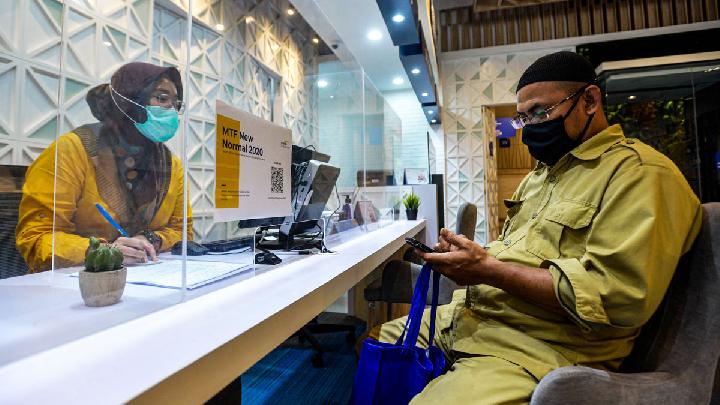 THE plan is clearer last Thursday, February 18. That afternoon, after the Bank Indonesia (BI) Board of Governors meeting, BI Governor Perry Warjiyo announced a policy to relax the provisions for down payments for motor vehicle credit or financing. "To be at least zero percent for all types of new motor vehicles," said Perry in a press conference that was held virtually.
This new policy will become effective from March 1 to December 31. "To encourage credit growth in the automotive sector, while still paying attention to the principles of prudence and risk management," said Perry.
On the same day, the Financial Services Authority (OJK) also announced that the risk-weighted credit for motor vehicle had been lowered to 50 percent from previously 100 percent. Banks that meet the criteria of risk profile 1 and 2—namely banks that are considered to have a very low probability of loss and apply adequate risk management—can provide loans for motor vehicle with a zero percent down payment.
Similar easing is implemented for the non-bank financial industry, providing financing for motor vehicle ownership. The risk-weighted financing for motor vehicle was reduced to 25 to 50 percent from 37.5 to 75 percent originally. Financing companies that meet certain health level criteria are also allowed to apply a zero percent down payment policy. The risk-weighted assets for financing to companies that have a vehicle ownership program (COP) are calculated at zero percent.
W251bGwsIjIwMjEtMDUtMTEgMTc6Mjg6MTAiXQ
Member of the OJK Board of Commissioners, Heru Kristiyana, said that the easing of this policy was part of a stimulus to support financial sector recovery and people's purchasing power. "We are thinking of ways to keep the real sector afloat, improve banking, and ultimately improve credit growth this year," said Heru in a press conference on February 18.
A week earlier, the plan to relax the motor vehicle credit and financing regulations surfaced when the government said it would provide a luxury goods sales tax discount for four-wheeled motor vehicles on February 11. The government will bear the tax rate cuts in stages for nine months, starting from March to November, through an incentive program for businesses in spending allocation of the 2021 National Economic Recovery.
At that time, Coordinating Minister for the Economy Airlangga Hartarto revealed that this fiscal incentive needed to be supported by a revision of the motor vehicle purchase credit policy. "With incentives, the consumption of middle-upper income people will increase, including the utilization of the automotive industry. Economic growth in the first quarter of this year would also be boosted," said Airlangga.
•••
THE plan to relax the regulations on credit and financing of motor vehicle ownership had actually been decided at the periodic meeting of the Financial System Stability Committee I on Wednesday, January 27. This virtual meeting was attended by Finance Minister Sri Mulyani Indrawati, BI Governor Perry Warjiyo, Chairman of the Board of Commissioners of the OJK, Wimboh Santoso, and Chief Executive of the Deposit Insurance Corporation Lana Soelistianingsih.
The meeting resulted in an Integrated Policy Package for Improving Business Financing to promote economic recovery. It is called a package because it contains a variety of cross-sectoral policies, from fiscal, monetary, macro-prudential, payment systems, to saving guarantees. In the package, BI emphasized that it would continue with accommodative policies by maintaining motor vehicle loans' relaxation. The OJK also confirmed that it would encourage the intermediation function, among others by reducing the weight of motor vehicle credit risk. The property and health sectors are prepared to receive the same relaxation of financing rules.
From the survey on demand and supply of bank financing in January, Bank Indonesia estimated that additional household financing in the next three to six months would still be limited. Most household respondents (90.9 percent) had no plans to apply for financing. Even so, vehicle ownership loans are the second biggest main goal after the multipurpose loans that respondents plan in the next few months. BI also noted that banks will still be the main choice for households to obtain financing.
It seems that the non-bank financial institution industry does not want to be hasty with the various incentives rolled out by the government, Bank Indonesia, and the OJK. Chairman of the Indonesian Financial Services Association (APPI), Suwandi Wiratno, admitted that any relief would have a positive impact. "But I can't guess (the impact) because the market will determine it," said Suwandi on February 18.
Suwandi reminded of the people's purchasing power factor that would greatly determine the financing performance in the future. In addition, the financing performance depends on the ability of financing companies to finance. On the other hand, the finance industry must also strive to prevent a sharp increase in the non-performing loan. The APPI noted that last year's financing dropped by 18 percent. As of December, the figure for restructuring of the multi-finance industry has reached Rp189.96 trillion or around 48.52 percent of total financing.
Chief Executive Officer (CEO) of Mandiri Tunas Finance Harjanto Tjitohardjojo said his company was also still reviewing plans to follow up on various OJK policies. Evaluation still needed to be done because prospective debtors still had to pay various rates for making vehicle documents, such as vehicle registration certificates and vehicle owner documents. In line with Suwandi, Harjanto said that his company still needed to prepare mitigation against the risk of unilateral cancellation transactions or consumers discontinuing installments. "With a zero percent down payment, we must ensure the ability of consumers to take financing," said Harjanto, February 19.
Financing firm Astra Credit Companies has not prepared a specific scenario to respond to a number of new policies in the motor vehicle financing segment. EVP Corporate Communication & Strategic Management of Astra Credit Companies Arifianto Soendoro said the government, BI and OJK policies could have a positive effect on automotive sales as well as providing new opportunities for the finance industry, which experienced a significant decline in sales figures in 2020. "But we'll see in the next three months," said Arifianto.
BCA Finance CEO Roni Haslim shared the same remark. He ensured that the financing industry would have a positive impact from the increasing number of new vehicle demands. "Only how much, I can't predict it," he said. Even so, according to him, BCA Finance would take advantage of Bank Central Asia's birthday at the end of February to roll out various special offers to attract new car buyers. One of them would be in the form of reduced interest.
In the near future, the OJK plans to write to banks and financial institutions to implement these new policies. OJK Deputy Commissioner for Public Relations and Logistics, Anto Prabowo, believed that the easing of the policy would be the first step so that credit and financing could start to grow in the first quarter of 2021 and produced multiple effects for national economic recovery. "We must be optimistic with measured considerations," he said.
AISHA SHAIDRA