I Can't be Bribed
Since his recent appointment as the Naritime Affairs and Fisheries Minister, Sakti Wahyu Trenggono has already annulled three regulations on lobster larvae export and the use of trawl issued by his predecessor, Edhy Prabowo, who was arrested in the lobster larvae export graft case. The former deputy minister of defense with extensive experience in telecommunication is in the process of issuing regulations to ban the export of lobster larvae and the use of cantrang or trawl to prevent overfishing and ecological destruction. Given the task by the President to improve the welfare of fishermen, Trenggono is trying to steer the farmers toward fish farming which he believes will bring prosperity to the country's small-scale fishers. He also vowed not to repeat the mistakes of his predecessor.
Edition : Monday, March 1, 2021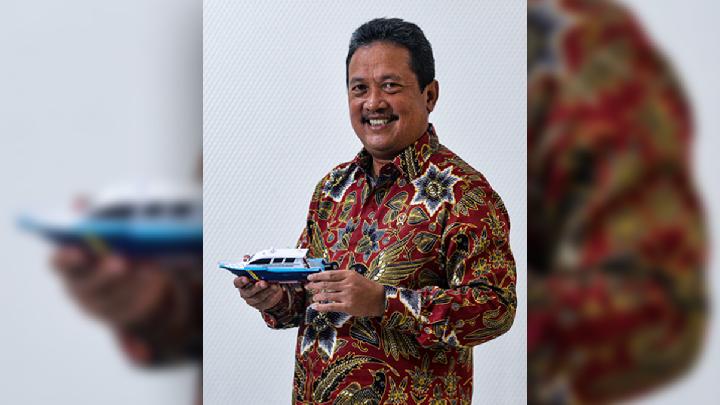 SAKTI Wahyu Trenggono was the deputy minister of defense before the lobster larvae graft case surfaced last November, 25. The scandal changed the course of his career when President Joko Widodo appointed him to replaced Edhy Prabowo, former maritime affairs and fisheries minister, following the latter's surprise arrest by the anti-corruption agency that rocked the nation.
Trenggono said Jokowi gave him a specific message when he was sworn in for the post. "He basically asked to improve communication with fishermen. I translated it as the mandate to improve fishermen's welfare," Trenggono, 58, said in a special interview with Tempo that took place at his office on February 19.
Before he plunged himself into the political arena, Trenggono was an entrepreneur active in the telecommunication sector. He joined the Jokowi-Jusuf Kalla campaign team in the 2014 presidential election. Later he sat on the transition team led by Rini Soemarno after Jokowi's win. Five years later, Trenggono—nicked named Raja Menara or the King of Tower—was entrusted to be the treasurer of Jokowi-Ma'ruf Amin's national campaign team.
Speaking to Wahyu Dyatmika, Mahardika Satria Hadi, Abdul Manan, and Khairul Anam from Tempo, Trenggono explained how the bribery scandal that brought down Edhy Prabowo prompted him to quickly suspend the larvae export. He is drafting a ministerial regulation to replace cantrang or trawl with a more environment-friendly fishing equipment. Trenggono is also preparing a breakthrough strategy to boost non-tax revenues (PNBP) from fish catches.
W251bGwsIjIwMjEtMDQtMjMgMTg6MTM6NTUiXQ
The lobster export scandal has tarnished the image of the ministry of maritime affairs and fisheries (KKP). How will you restore it now that you've taken over the helm?
I will definitely ban the lobster larvae export. The lobster larvae are the national resource that should be cultivated locally until they reach the consumable size which will give us added value. I don't know up to how much the lobster larvae were sold. The practice enriched the buying countries only. If they are locally cultivated, their value increases from tens to hundreds of percent in just one year.
The lobster larvae export is regulated via the Maritime Affairs and Fisheries Ministerial Regulation No. 12/2020 regarding lobster, mud crab and soft-shell crab management within the Indonesian waters. Have you prepared a substitute regulation?
Everything is in the process. Ministerial regulations cannot stand alone. They have to be promulgated and submitted to the coordinating minister and so on. But for sure, the lobster larvae export will never be allowed again.
How do you enforce it in the field?
We will seek assistance from the National Police to prevent it (the export). What we will allow is the fish farming because it gives us high added value.
Besides the constraints in regulation formulation, what other obstacles do you face in stopping the export?
No significant obstacles at the moment. It means internally everyone follows the minister's policies. Those who are already used to the export are not happy for sure. But as far as I'm concerned, we should favor cultivation if it benefits the nation more.
Who are bothered by the export ban?
Well, the bosses (business owners).
Have they made any move to protest your policy?
Not yet.
What about the countries that usually import the seeds?
Not yet either, but we are building a model to make sure that larvae from a given area—for example larvae caught in Banyuwangi (East Java)—is certified accordingly. If they are transferred, the location must be recorded. The aim is to prevent smuggling. For example, if they are smuggled to Singapore, we can take diplomatic route through the foreign minister to stop it. Without the certificate of origin, who issued the permit, we will not let it through.
Your policy is a 180-degree turn from your predecessor's. What is the rationale?
It's alright as long as it is for the interest of the people.
How much resistance to the ban are you anticipating?
I don't think people would protest against the fish farming policy. I am trying to protect it, you see. Those who protest on behalf of the fishermen who can't earn, fish farming can help solve their problems. It's okay for fishermen to take (lobster larvae for fish farming). Lobster larvae previously bought to export can now be used for cultivation. No problem. No one will disturb them.
When will the export ban be issued?
If I could do it yesterday, I would have done it yesterday (chuckles).
What kind of improvements did President Jokowi ask you to make when he swore you in as the fisheries minister?
He basically asked to improve communication with fishermen. I translate it as a mandate to improve their welfare. Lobster larvae cultivation can improve their welfare. Imagine, waiting for a year can multiply the value from Rp10,000 to Rp600,000 to 800,000 per kilogram.

What is the ministry's lobster farming program look like?
Besides the export ban, we will promote lobster farming. We will also assist farmers to set up communication with importing countries, the largest being China. This afternoon, I paid a courtesy call on the Chinese ambassador and had discussion. One of the topics was the lobster export. It will be a business-to-business cooperation but we will keep watch on it. Otherwise, they will take from the countries that previously bought lobster larvae from us.
You've been mapping the problems surrounding the maritime and fishery affairs for the past two months. Besides the lobster larvae ban, what other improvements in the governance have you made?
Our sea is six million square kilometers wide and has huge economic potentials. But in my opinion, from the state's point of view, we haven't enjoyed significant benefits from the marine biota. For example, more or less Rp224 trillion worth of marine resources were taken from the sea last year. But of that, the state only received Rp595 billion. The annual budget for this ministry with almost 13,000 employees alone amounted to Rp6.5 trillion. With the PNBP of Rp595 billion, it's hard to develop, let alone improve the welfare of fishermen. That is my concern.
How much does the low PNBP affect fishermen's welfare?
Quite frankly, I couldn't say that fishermen have welfare. But my welfare benchmark is that they have savings, old age benefits, higher welfare standards, healthier and cleaner villages to live in. That's my definition of welfare.
What is your strategy to raise the PNBP from fish catches?
The article 33 of the 1945 Constitution provides the ground for increased PNBP. Almost all the spaces within Indonesia's territory which have natural resources must contribute to the state. For example, through oil and gas, mining and forestry. If I'm not wrong, the PNBP from nickel is 10 percent, gold and coal 5 percent. The value of the annual fish catches from the sea is Rp224 trillion. If the PNBP from fisheries is 5 percent, it's already Rp12 trillion. Increased PNBP means, for example, shipping licenses must be free and the license issuance process should be transparent, meaning they should be issued online.
Former minister, Edhy Prabowo, issued the Ministerial Regulation No. 59 in 2020 regarding fishing routes and fishing equipment within Indonesia's fishing zone as well as in the open sea. How will you take care of it?
It was issued in November 2020 and I put it in hold when I took over (the maritime affairs ministry). So, it can't be enforced.
Will you also replace it with a new regulation?
Yes. I will replace three regulations namely the Regulations No. 58 and 59 regarding the fishing equipment and No. 12 regarding lobster.
Why?
Based on ecological and economic considerations. If we consider only the ecological side, economy will die. If we think about the economy only, overfishing and overexploitation will kill our marine ecosystems. Meanwhile, the population continues to grow. So, there should be a balance. That's why we promote fish farming. My hope is to see increased farming in the next 25 years while reducing overfishing in the sea to protect our marine ecosystems.
How did fishermen react to the trawl ban?
Fishermen in Tegal (Central Java) are aware and ready to switch. But those in Rembang (Central Java) haven't.
Did you communicate with them?
Those in Tegal are mostly investors. It's easy to engage them in dialog. Others are more difficult.
What's the difference between your ban on the use of trawl and the regulation issued by former minister Susi Pudjiastuti?
What's the difference? Trawl is banned, that's it. Are there trawl A or trawl B? No trawl, period. They have to switch to more environment-friendly nets.
Has the trawl replacement for small-scale fishermen been done?
Not yet. We prioritize the large-scale ones because they are the worst. Small fishermen fish within 12 nautical miles maximum. They are afraid to go beyond that as waves can overturn small boats. That's why we focus on large fishermen or their investors, so to speak.
Given the huge number of boats in the regions, how will the government facilitate the switch for all fishermen?
We don't help the investors, of course. They are rich and they should not seek government's help to replace their trawl. We help traditional fishermen who use 5GT (gross tonnage) boats. Indeed, there are many.
What kind of assistance is the government giving to small fishers for the switch?
We give more eco-friendly fishing equipment and push them to shift towards cultivation. It's not easy, you see, to push them to fish farming.
Can the government cover the trawl replacement expenses for all small-scale fishers?
Of course, we can. If we don't have the money and let them idle, they will eventually become incapacitated (chuckles). Then we push them towards fish farming. That's why we must help small fishers because they lack the ability. Large ones must replace on their own. The bottom line is no trawl is allowed. There will be no tolerance or compromise. This is about the ecosystem that needs to be protected.
As regards the ecosystem, do the mangrove forests fall within the maritime affairs ministry's jurisdiction?
The mangrove forests in the open shoreline are in our jurisdiction but those behind the areas are under the forestry and environment ministry (KLHK).
What about the coral reefs?
We are lobbying to include them under our watch as they exist in the open sea. As of now they are under the KLHK.
Why should they be in your ministry's jurisdiction?
Because they are in the open sea. If companies want to lay submarine cables, they must ask for our permission. If companies want to drill (oil) they must also ask for our permission. They can't drill if there are coral reefs in the area. Coral reefs take over 100 years to form. The carbon absorption of a hectare of coral reefs equals to that of a 10,000-hectare forest.
Will you still ban foreign-flagged fishing boats from entering our waters?
Of course! Otherwise, alas, our fish will be finished! We are already facing overfishing. Foreign ships are welcome but not for fishing.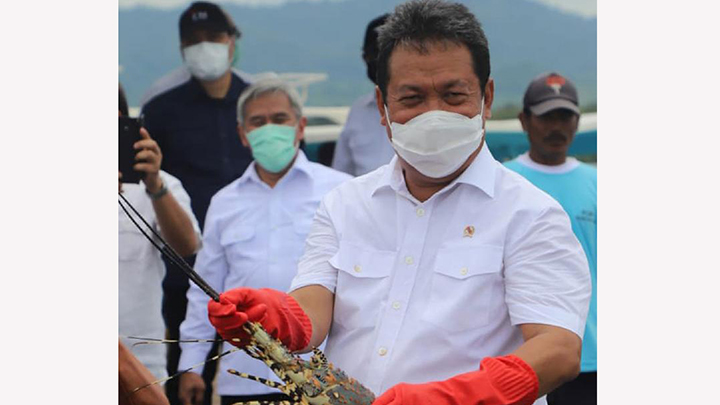 Minister of Maritime Affairs and Fisheries Sakti Wahyu Trenggono in Bulelelng, Bali, in January. Maritime Affairs and Fisheries Ministry Doc.
Then for what purpose?
For the industry, such as fish processing. Like Egypt. They developed integrated fish farming using over 1,000-hectare area. Starting from seeding, breeding, processing till export.
Is there such a model in Indonesia?
Japfa Comfeed has it. So does Bali Seafood International but not in a giant scale like in Egypt.
Is there already a specific location appointed for foreign industrial vessels?
We plan, among others, Ambon, and Bitung. I'm considering the southern part of Java or Sumatra. That is the Indian Ocean region. It has huge potential and not many activities there yet. So far, people swarm the Arafura and Natuna waters.
How many foreign vessels have reportedly entered the Indonesian waters?
The total foreign vessels caught in 2020 was 100. For this year, nine ships have been seized as of this month.
Where do these ships belong to?
They are mixed, from China, Vietnam, Myanmar, Philippines, and Malaysia.
Former minister Susi had the policy of sinking illegal foreign fishing vessels. How about you?
(Sighs...) Oh dear. That's Mbak Susi's trademark. If she said 'sink it', I'd say we don't really have to.
If sinking (illegal) ships is not your solution, how will you penalize the vessels stealing our fish?
Seize them and hand them over to the prosecution. As soon as the final verdict is out, we report it to the finance ministry. Vessels are now piling up and we will eventually have to sink the ones that can't be salvaged. But it's a more subtle approach. We don't need to create uproar. Drowning them with explosives also damages the marine ecosystems. We do it slowly and let the remains become artificial reefs (laughs).
The rate of fish theft by foreign vessels is still high. Do you have other specific means to bring it down?
We need to keep patrolling around the boundaries of the exclusive economic zone. We have three patrol authorities namely the maritime security agency, the navy and KKP's marine and fishery resources surveillance directorate.
Given such expansive waters, are you optimistic that the surveillance will be optimal?
Frankly, our logistics and facilities are inadequate. We have the technology that can monitor ships real time. Even when we detect foreign vessels in our waters, we can't always drive them out fast enough due to the limited surveillance ships we have.
Even though you don't belong to a political party, there can be a lot of lobbying from parties for their interests in the maritime affairs ministry. How do you ward off such political interventions?
I'm a simple person. We told them that everyone must follow the rules. We have to dialog, of course. This is about Merah Putih (the national flag of Indonesia). I can't be bribed, you see. How much they want to bribe me?
What about the reciprocity politics or the friendship factor?
Well, find other ways to reciprocate. You tell them not to violate the rules. That's all. But humans are never perfect. That's why the role of media is important to keep all of us in check.
When you left the deputy defense minister post, did you have a chance to talk to Defense Minister Prabowo Subianto?
As usual. Nothing special. All is okay. We still maintain a good communication until today.
Did he tell you to continue with the programs or policies of Edhy Prabowo who was Gerindra's (Prabowo's political party) deputy chair?
Nope.
---

SAKTI WAHYU TRENGGONO
• Place and Date of Birth: Semarang, November 3, 1962 • Education: Bachelor of Engineering, Bandung Institute of Technology (1986), Master of Management, Bandung Institute of Technology (2006) | Career: Astra Group (1986-1995), Director, Parent Unit of Village Cooperatives (1995-1997), Chief Executive Officer, Solusindo Kreasi Pratama (2000-2009), President Commissioner, Teknologi Riset Global Investama (2010-2016), Commissioner, Tower Bersama (2009-2019), Commissioner, Merdeka Copper Gold (2018-2019), Deputy Minister of Defense (October 2019-December 2020), Minister of Maritime Affairs and Fisheries (since December 2020) • Organization: Member, MBA School Council, School of Business Management ITB (2004-now), Chair, Telecommunication Tower Infrastructure Developers' Association (2005-2016)