Jiwasraya Supervisor's Fear
The Attorney General's Office still has not named any new suspect in the Asuransi Jiwasraya investment funds scandal. For quite a while now, the Financial Services Authority has detected foul play in Jiwasraya's asset placement, but no firm action was ever taken.
Edition : Monday, March 1, 2021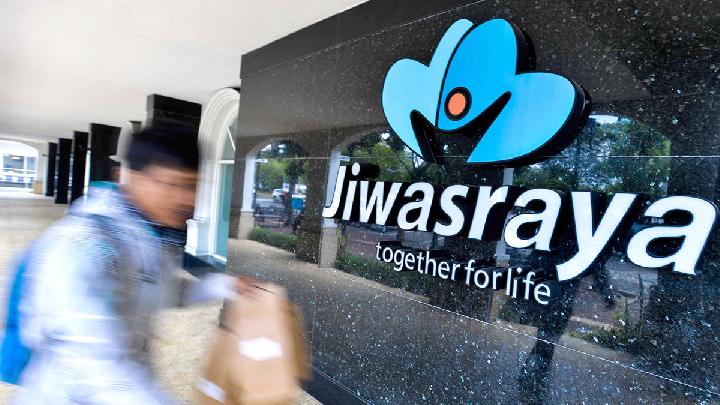 AT the end of 2016, Sujanto, the Investment Management Director of the Financial Services Authority's (OJK) Capital Market Supervision Department, took a call from an unlisted number. The man on the other end of the line introduced himself as Erry Firmansyah, former chief executive officer (CEO) of the Indonesia Stock Exchange (IDX).
Erry said he had just spoken to Sujanto's boss: Fakhri Hilmi, the OJK's head of capital market supervision at the time. Erry said it was Fakhri Hilmi who asked him to contact Sujanto.
Erry requested to meet Sujanto to talk about the mutual fund ownership limits of several investment management companies. A few days later, the two men met at the OJK building in Jakarta. Erry came with Joko Hartono Tirto, the Director of Maxima Integra. Joko told Sujanto that he frequently helped Erry during his stints in state-owned enterprises.
Just as it was written in the examination file, Sujanto retold how the meeting went to investigators of Attorney General's Office (AGO) on July 7, 2020. He was giving statements as a witness for the Asuransi Jiwasraya scandal, which the AGO had been investigating since December 2019.
W251bGwsIjIwMjEtMDQtMjIgMDU6Mzk6NDUiXQ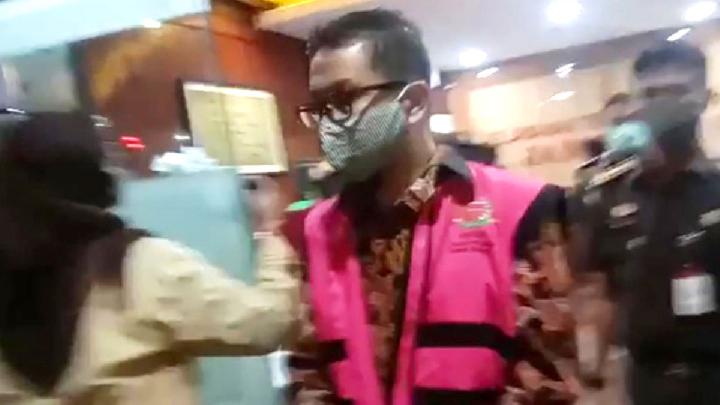 Fakhri Hilmi, Chair of Capital Market Supervision Department of the Financial Services Authority for January 2014-2017, at the Attorney General's Office. Wilda/detik.com
Joko's lawyer, Soesilo Ari Wibowo, confirmed that his client met Sujanto. "My client was there with Pak Erry at that meeting," Soesilo said on Saturday, February 27.
According to Soesilo, the meeting with OJK officials was to resolve a problem that was plaguing a number of investment management firms. At that time, 11 companies that were managing Asuransi Jiwasraya's investment funds were detected to have owned more securities than they were allowed to. Erry was suspected of helping investment managers to 'tame' the OJK. "The goal at that time was just to consult," said Soesilo.
Those 11 fund managers are suspected of violating OJK Regulation No. 23/2016, which limits the maximum ownership of securities in conventional mutual funds at 10 percent of each product's net asset value. The maximum securities ownership for sharia mutual funds is capped at 20 percent. This rule was made to prevent stock market turbulence when investment managers sell all of their mutual funds at the same time.
Later on, the AGO said that Jiwasraya trusted its funds in 13 investment management firms. The companies are PAN Arcadia Capital, OSO Manajemen Investasi, Pinnacle Persada Investama, Millenium Capital Management, Prospera Asset Manajemen, MNC Asset Management, Maybank Asset Management, GAP Capital, Jasa Capital Asset Management, Corfina Capital, Treasure Fund Investama, Sinarmas Asset Management, and Pool Advista Asset Management.
The 13 firms allegedly created special mutual fund products for Jiwasraya to invest in. The mutual funds' management was done by purchasing high-risk shares. When share prices plummeted, Jiwasraya's investment was gone. This led to a default, and Jiwasraya failed to pay claims to 17,000 policyholders of the JS Saving Plan. According to the Supreme Audit Agency's (BPK) calculation, the state loss that the case incurred was Rp12.1 trillion.
The Jiwasraya case arrived at the hands of the AGO in December 2019. Investigators at the deputy attorney general for special crimes indicated that the Jiwasraya directors had conspired with the 13 fund managers when making the investment decisions to securities and mutual funds.
The AGO then named eight people as suspects in the case. Most of them had been tried at the Jakarta Corruption Court. Jiwasraya former CEO Hendrisman Rahim and the company's head of Investment and Finance Division Syahmirwan were given life sentences. Meanwhile, its former finance director Hary Prasetyo was sentenced to 20 years in prison and given a fine of Rp1 billion.
Life sentences were also given to Hanson International CEO Benny Tjokrosaputro, Trada Alam Mineral chief commissioner Heru Hidayat, and Joko Hartono Tirto. "With the approval from the directors, the 13 investment management firms created a mutual fund product (for Asuransi Jiwasraya), and the product's portfolio was controlled by Benny and Heru through Joko Hartono and Pieter Rasiman," the AGO's Chief of Legal Information Center, Leonard Eben Ezer Simanjuntak, said on February 20.
In court, Benny claimed that he was a victim of the Jiwasraya conspiracy. He also accused investigators of fabricating the examination. Reading out his plea, Heru Hidayat denied enjoying Jiwasraya's money. "I am only a commoner who, with all my effort and hard work, was running a business," he pleaded.
Meanwhile, Himalaya's Energi Perkasa Director Pieter Rasiman and OJK's former capital market supervision chair Fakhri Hilmi are still being tried at the Jakarta Corruption Court. When he was arrested last October, Fakhri was the OJK's deputy commissioner for capital market supervision. Investigators suspected that Fakhri knew about the wrongdoings in managing Jiwasraya investment fund in 2016, but allowed the practice to occur.
Fakhri's lawyer, Luhut Marihot Parulian Pangaribuan, denied the allegations. He said that his client had responded properly to the Jiwasraya investment portfolio. "Within his authority, what my client did was provide guidance," he said.
•••
IN 2015, the OJK's e-monitoring system found violations by one of Jiwasraya's fund manager company, Millenium Capital Management. However, the OJK did not respond to it until October 2016, along with other violations committed by companies that managed Jiwasraya's investments.
The OJK wrote to 11 investment managers who were handling more mutual funds than the allowed amount for securities ownership. Before the investment managers came to see the OJK, Erry Firmansyah and Joko Hartono Tirto met Sujanto, the director of investment management at the OJK's capital market supervision department.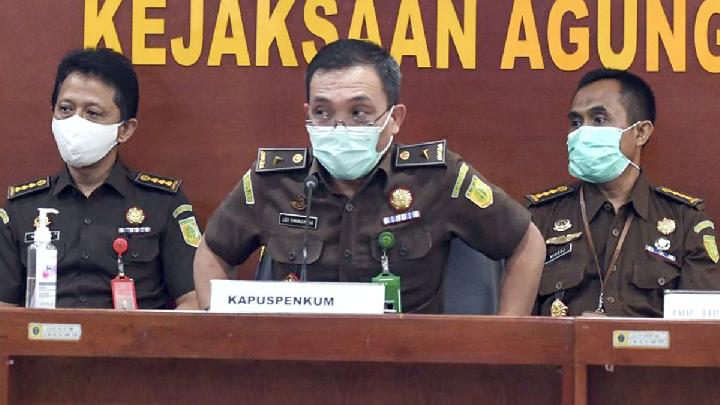 Chief of the Attorney General's Office Information Center, Leonard Eben Ezer Simanjuntak (center). Antara/Hafidz Mubarak A
Among the capital market community, the investment management directorate led by Sujanto is seen as a very strategic institution. It has the authority to issue permits for investment managers, provides guidance, supervises regulatory compliance, and gives legal reviews of capital market issues. It is also authorized to provide recommendations on audit results in the capital market.
For those reasons, Erry met Sujanto. To Tempo, Erry disclosed what went on in the meeting, but wanted it off the record. "I told everything to the investigators. It is unwise for me to say it again to the media. I do not want to interfere with the court process," he said on Saturday, February 27.
In his statement to investigators, Sujanto said that during the meeting Erry asked the OJK to give time to 11 companies that managed Jiwasraya investments to readjust their ownership of securities. According to Erry, Sujanto said that it was possible, as long as done according to the rules.
After meeting Erry and Joko, Sujanto reprimanded the investment managers, but the OJK did not punish them. The OJK has instead decided to carry out guidance, and asked the investment managers to readjust their mutual fund investments adhering to regulations.
According to the case files Tempo obtained, the investment managers ignored OJK's instruction. They repeated the violation, and the OJK found out about it in August 2017. Finally, in March 2018, it ordered the cancellation of the mutual fund product of one of the investment managers, Millenium Capital Management. A year later, the Asuransi Jiwasraya investment fund scandal became publicly known.
Tempo tried to contact Sujanto, calling the mobile phone number that he listed during the investigation. But it was inactive. It was still off on Saturday, February 27. Sujanto also had left his home in the Hankam (Defense and Security) Complex in Joglo Kembangan, West Jakarta. An old man who was at the house said Sujanto sold the place and moved to Bekasi, West Java, in 2008.
When asked about OJK's oversight in the Jiwasraya case, its Deputy Commissioner for Public Relations and Logistics, Anto Prabowo, said the regulator works not only by enforcing the law. The OJK, he said, is also tasked with fostering financial industry players, including capital market players. "Our fostering and guidance aim to create orderly, fair, and efficient capital market activities, and to protect investors and the public," he said in a written statement on Saturday, February 27.
Leonard Eben Ezer Simanjuntak said it can be ascertained that the 13 investment management firms had roles in the Jiwasraya scandal. The companies, he added, had also been named suspects.
After more than a year of investigation, the AGO has yet to name any new suspect. A source told Tempo that Fakhri is not the only OJK official who should be held accountable. There are other personnel who were neglectful in supervising the 13 investment management firms.
Leonard said that investigators continue to work to solve the case. The AGO, he said, will track down and drag everyone involved to court. "In upholding the law, we give everyone the same treatment."
RIKY FERDIANTO