A Sophisticated Vaccine for Infection
Based on dendritic cells, the Nusantara vaccine is deemed too sophisticated for use against the Covid-19 virus. In its country of origin, the dendritic cell-based vaccine is used for personalized cancer treatment.
Edition : Monday, March 1, 2021
YETTY Movieta Nency suddenly stopped talking despite previously being willing to explain about the Covid-19 vaccine that has completed its phase 1 clinical trial. The member of the Nusantara vaccine research team now refused to be interviewed, saying that her team has delivered enough clarification. "Central researchers advised that we do not need to accommodate additional interviews for now. Researchers are currently busy working on phase 1 report and need to focus on the phase 2 preparation," wrote Yetty in a WhatsApp message sent to Tempo on Tuesday, February 23.
The central researchers she referred to are her colleagues in the Health Ministry Research and Development Agency (Balitbangkes). The Balitbangkes is partnering with Rama Emerald Multi Sukses for clinical trial of the Nusantara vaccine. The agreement was signed on October 22 last year, witnessed by the health minister at that time, Terawan Agus Putranto. The Balitbangkes then also formed cooperation with Diponegoro University Medical Faculty/Dr Kariadi General Hospital, Semarang, Central Java, where Yetty works, to conduct phase 1 clinical trial.

When asked by journalist during a webinar on February 19, Balitbangkes Chair Slamet said that the phase 1 clinical trial is funded by his office. He did not elaborate on the amount. "The answer is, yes, we are funding the phase 1 (clinical trial)," he said.
Slamet affirmed that the funding is meant to support efforts to suppress the transmission of the coronavirus. Previously, Yetty said that the Nusantara vaccine had finished its phase 1 clinical trial. "Thank God, the side effect was minimal, it took a short while, and there was no need for further treatment," said Yetty on February 18.
The research team does not publish much information on the result of the vaccine's phase 1 clinical trial. Yetty only explained that 27 subjects or volunteers took part in that first clinical trial. During an interview with a national television, Yetty said that the clinical trial was already registered on Clinicaltrials.gov, the global clinical trial website operated by the National Library of Medicine of the United States. However, as of the latest update on January 27, neither the clinical trial's related publication or its results could be found on the site.

Muhammad Karyana, Head of Balitbangkes Research and Development Center for Health Resources and Services, did not respond to questions sent to his WhatsApp number. A phone call also went unanswered. Karyana only sent links and research journals on immunotherapy using dendritic cell-based vaccine. According to the Clinicaltrials.gov website, Karyana is both the principal investigator and contact person for a research project titled Dendritic Cell Vaccine to Prevent Covid-19.

Nusantara vaccine is one of the Covid-19 dendritic cell-based vaccines currently in development globally. Dendritic-cell vaccine is mainly used for immunotherapy in cancer treatment. One maker of the vaccine is Aivita Biomedical Inc headquartered in Irvine, California, US. Aivita Biomedical Inc licensed its dendritic cell-based Covid-19 vaccine, AV-COVID-19, to Rama Emerald Multi Sukses to be developed in Indonesia.
W251bGwsIjIwMjEtMDQtMjMgMTc6NTM6MTciXQ
Aivitabiomedical.com website reveals that the company, founded in 2016, is currently conducting phase 2 clinical trial for an ovarian cancer vaccine (AVOVA-1), phase II clinical trial for a glioblastoma brain cancer vaccine (AV-GBM-1), and phase 1B clinical trial for a melanoma skin cancer vaccine (AV-MEL-1). There is no information yet about commercialized vaccines from Aivita Biomedical Inc.
John Curtin School of Medical Research molecular biology expert of the Australian National University in Canberra, Ines Atmosukarto, said that she is curious about the rational and scientific explanation behind the decision by AV-COVID-19 or Nusantara vaccine development team to adopt the dendritic cell approach. "It has been proven that a vaccine directly injected to the arm is sufficient to induce an immune response," wrote Ines in an e-mail to Tempo, Friday, February 26.
The point being, Ines added, that dendritic-cell based vaccine replicates, on the outside, a process that commonly takes place inside the body. Ines, who is also the Chief Executive Officer/Chief Scientific Officer of Lipotek Pty Ltd, said that in the case of widely used Covid-19 vaccines today, upon delivery to the arm muscle, dendritic cells are the ones to first come to the site of injection. "So why do that in the laboratory?" she asked. "For cancers, this is necessary because the patient's dendritic cells are not optimal in carrying out the work. Therefore, they receive some 'help' in the laboratory."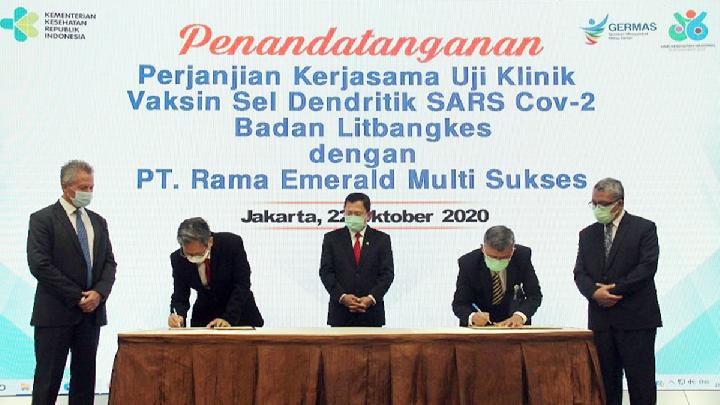 Cooperation agreement for clinical trials of a dendritic cell vaccine, between the Research and Development Agency of the Ministry of Health and Rama Emerald, as witnessed by Minister of Health Terawan, October 2020. litbang.kemkes.go.id
First found by Ralph Steinman in 1973 who was later awarded the Nobel Prize in Medicine in 2013 for the discovery, dendritic cells, Ines explained, are part of the innate immune system that constantly patrol the body to screen for intruders such as bacteria or virus. If they come across some, they would engulf them and dissolve the foreign objects into signature materials which are then presented on the cell surface. "The dendritic cells also produce cytokine which sends warning to the other parts of the immune system," said Ines.
Ines explained that the main purpose of dendritic cell-based vaccine is to induce immune response from the T-cells or T lymphocyte, a group of white blood cells playing a major role in cellular immunity. The T-cells would recognize cancer cells or virus-infected cells and destroy them. However, T-cells cannot prevent an infection. This is the job of antibody produced by the B-cells (B lymphocyte). "Because dendritic cell-based vaccines are meant to stimulate the T-cells, it is not clear whether this approach is optimal to trigger antibody production," said Ines.
Yetty Movieta Nency said that, based on a four-week observation, there was an increase of antibody in subjects of the phase 1 clinical trial. According to her, the Nusantara vaccine has minimum side effect because it was made using materials taken from a subject's body. "Foreign matters are different compared to those from the body. This is processed from our own blood, which is then re-entered," she said. Yetty also said that Nusantara vaccine will be relatively affordable due to minimal storage and distribution cost. "When it reaches mass production, a dose of Nusantara vaccine will be priced at around US$10."
Ines has doubts toward the claim, which implies that Nusantara vaccine is easy and low-cost to produce. Contrary to that, she mentioned that dendritic cell-based vaccine development is sophisticated, or in other words, complicated and expensive. According to Ines, dendritic cell-based vaccine requires a specialized laboratory subject to approval from the Food and Drug Monitoring Agency. The vaccine is personalized, or made individually. Other than that, Ines added, vaccine materials are also required, such as the SARS-CoV-2 spike protein, IL-4 cytokine, and GM-CSF, which do not come cheap. "A vial of cytokine costs hundreds of dollars. Do not forget that dendritic cells need to be stored at minus 70 degree Celsius."
About the promised affordability of Nusantara vaccine, Ines said that it might be possible if a certain party gives significant subsidy. She compared it to the price of Provenge (Sipuleucel-T) vaccine—the first commercial dendritic cell-based vaccine in the world for prostate cancer treatment, made by Dendreon Pharmaceuticals LLC—which reportedly reached US$93,000. "Interestingly, the company who developed Provenge went bankrupt in 2015 and was acquired by another company," said Ines.
Food and Drug Monitoring Agency Chair Penny K. Lukito said her institution is still evaluating the result of Nusantara vaccine phase 1 clinical trial. According to her, the vaccine still has a long way ahead of it. "It has to go through phase 1, 2, and 3. So, it is too early for any party to make claims regarding its efficacy and safety for now," said Penny when contacted on Friday, February 19.
DODY HIDAYAT, FRISKI RIANA, JAMAL A. NASHR (SEMARANG)