Loosening Criticism Curb
The Electronic Information and Transactions Law is being used to indict people for making public criticisms. The President asked his administration to study options for revising the law, not long after some criticisms of the government were made. There is more support to issue directives on interpreting the law rather than revising it.
Edition : Monday, March 1, 2021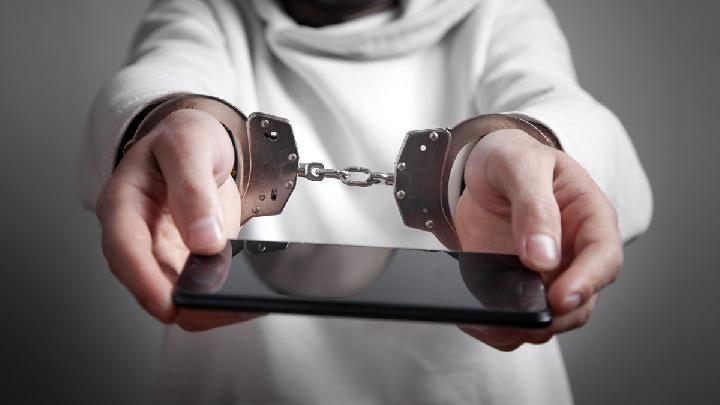 TWICE a week, Stella Monica, 25, goes to the headquarters of the East Java Police Department. She has been a suspect in a defamation case since October 5, 2020. Rather than face trial, she has been obligated to report in every Monday and Thursday. "I am afraid I could be detained any time I have to report in," she said when contacted on Wednesday, February 24.
In December 2019, Stella gave an account of her experience after stopping treatment at a beauty clinic in Surabaya, through her Instagram account. She complained about acne on her face after she stopped using the face cream and medicine given by that clinic. Not happy with their response to her complaint, she decided to stop getting treatments at that clinic. Stella's friends commented on her posting, which included the name of the clinic.
A month later, a lawyer for the clinic sent legal notice to Stella. She was asked to make an apology in the social media and newspapers for her social media comment about the clinic's services. She tried to negotiate with a representative of the clinic, but to no avail. She was unable to pay for newspaper ads because her family business has been suffering from the impact of the Covid-19 pandemic. A doctor from that clinic then reported Stella to the police. She was charged under Article 27 paragraph 3 of Law No. 19/2016 on electronic information and transactions (ITE).
President Joko Widodo (third from the right) giving directions at the Indonesian Military-National Police Leadership Meeting at the State Palace in Jakarta, February 15. BPMI/Setpres
W251bGwsIjIwMjEtMDQtMjIgMDY6MTE6MTUiXQ
In Karawang, West Java, Andi Hidayat, a factory worker, also became a defamation suspect on November 3 last year. About a month before that, a staff member of the factory reported Andi after his friend had uploaded a photo of them in front of a banner which read "victims of a unilateral layoff." While he has been active in fighting for workers' rights at his company, he did not know that the photo in question had been posted on Facebook. He first found out about it when the police summoned him for questioning.
Andi was questioned just once, on November 16. He was charged under Article 27 paragraph 3 of the ITE Law. There has been no further news from the police. He has been fired from his job. "With the suspect status, it is difficult for me to find new job," he said.
Vivi Nathalia Surja, 42, a resident of Cengkareng, West Jakarta, also had to face the defamation article in the ITE Law. This piano teacher wrote about her dispute with a sibling related to a debt. Her in-law objected to that writing, and reported Vivi to the police. On February 13, 2020, a panel of judges at the West Jakarta District Court sentenced Vivi one year imprisonment. Even so, she was not detained because she serving two years on probation.
In Surabaya, Anindya Shabrina Prasetiyo, a student at Narotama University, was reported to the police on an accusation of defamation under the ITE Law. This was because she wrote on Facebook about suspected sexual harassment she experienced when the police and public order officers disbanded a discussion at the Papua Dormitory which she was attending. During the confusion when the event was being disbanded, one officer purportedly groped her body while she was being dragged out of the discussion room.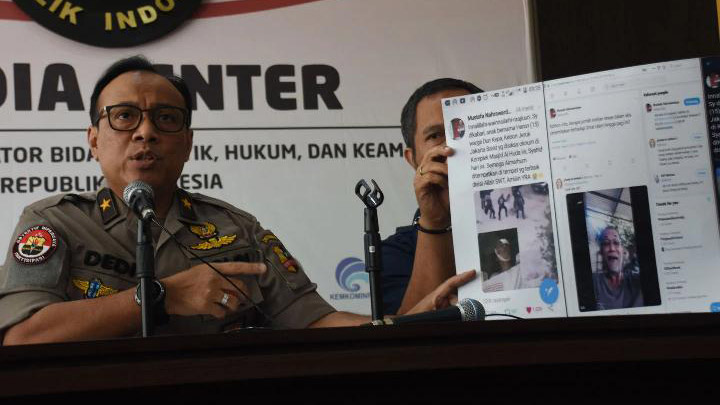 Brig. Gen. Dedi Prasetyo (left), Chief of the Public Information Bureau of the National Police's Public Relations Division, and Sr. Comr. Asep Safrudin, Deputy Director for Cybercrimes of the Criminal Investigation Department, present developments in cases of hate speech and hoax dissemination at the office of the Coordinating Ministry of Political, Legal and Security Affairs, Jakarta, May 28, 2019. Antara/Indrianto Eko Suwarso
Anindya reported this case to the Profession and Security Section of the Surabaya City Police Department. However, the police instead summoned her twice in a defamation case. Anindya refused to appear. She was named a suspect, while the suspected harassment she said she experienced has not been processed. "My (legal) status has been left hanging," she said.
Senior Comr. Johnny Edizon, Chief of the Surabaya Metropolitan Police Department, did not respond to messages sent by Tempo as of Saturday, February 27. Commissioner M. Akhyar, Chief of Public Relations at that police department, suggested Tempo to ask the chief of the criminal investigation unit about the continuation of Anindya's case. In November 2019, Sr. Adj. Comr. Sudamiran, Chief of the Criminal Investigation Unit at the Surabaya Metropolitan Police Department—currently assigned to the East Java Police Department—said that the defamation case involving Anindya is still being looked into. The police claimed that they have already investigated the sexually harassment against Anindya, but that suspicion was not proven.
***
THE number of people reporting one another under the Electronic Information and Transaction Law has drawn the attention of President Joko Widodo. In a meeting of the leaders of the Indonesian Military (TNI) and National Police on Monday, February 15, Jokowi said that he is looking closely at cases of citizens reporting one another to the police. According to Jokowi, each individual has the right to do so because there are legal bases to do so, such as the ITE Law. However, the President recognized that the legal process has not been completely fair and just.
Jokowi ordered the National Police Chief, Gen. Listyo Sigit Prabowo, to make official directives on interpreting the ITE Law, especially for articles which could have multiple interpretations. "If the ITE Law cannot provide a sense of justice, I will ask the DPR (House of Representatives) to jointly revise it, because this is where it originates," said Jokowi.
National Police Chief Gen. Listyo Sigit Prabowo sent out a circular related to the handling of ITE Law cases right after that meeting. Dated February 19, it contains 11 points, including an appeal to use virtual policing equipment to monitor for potential cybercrimes. Sigit also ordered his personnel to be more discerning when differentiating between criticisms, input, defamation and fake news.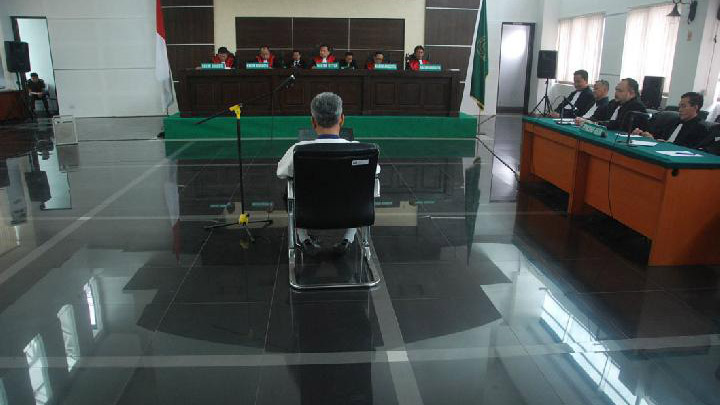 A court hearing for suspected violation of the ITE Law in Bandung, West Java. Tempo/Prima Mulia
As of Wednesday, February 24, a cyber patrol has sent 12 messages to social media accounts via direct message. Police Brig. Gen. Slamet Uliandi, Director of Cybercrimes at the Criminal Investigation Department, explained that the patrol team asked for the views of some experts before issuing warnings to account holders suspected of violating the ITE Law. The police would then send messages to the account owner mentioning content violations and ask that the messages be deleted. If these two warning messages are ignored, the police will summon the account holder to ask for a clarification. "Enforcement action is the final measure," said Slamet.
Two government officials familiar with the background to the revision of the ITE Law said that President Jokowi's speech in the TNI-Police leadership meeting was related to criticisms made by some public figures about the government, including economist Kwik Kian Gie and former vice president Jusuf Kalla. On February 6, on his Twitter account, Kwik said that he was afraid to voice his opinions because he was afraid that he would be likely be attacked by social media buzzers—a term given to social media influencers.
Kalla had responded to Jokowi's speech at the Ombudsman's Year-End Report event on February 8, in which he asked the public to actively criticize the government on how to improve services. "There are many questions. Like how to criticize the government without being summoned by the police like Kwik lamented?" said Kalla, Jokowi's former vice president. Those two sources said that Jokowi is closely following this public debate. After the TNI-Police leadership meeting, he ordered Coordinating Minister for Political, Legal and Security Affairs Mahfud Md. to study options to revise the Electronic Information and Transaction Law.
To carry out the President's order, Mahfud invited some officials to a meeting on Thursday, February 18. This meeting was attended by, among others, Minister of Justice and Human Rights Yasonna Hamonangan Laoly and Minister of Communication and Informatics Johnny G. Plate. A government official who knew what happened at that meeting said that Yasonna and Johnny explained that the current ITE Law is good and only needs directives on how to interpret it.
Yasonna had not responded to questions sent by Tempo as of Saturday, February 27. Johnny, through a WhatsApp message, replied, "An explanation has been given at the office of the Coordinating Ministry for Political, Legal and Security Affairs. Regarding the substance of the law, please ask the Minister of Justice and Human Rights." In a press conference held by the communication ministry, Johnny said he supports law enforcement agencies to make directives on the ITE Law interpretation. According to him, the law has been challenged in the Constitutional Court several times, and it has always been found to be constitutional. However, according to that National Democrat (NasDem) Party politician, there is still a possibility of revising the ITE Law if it is unable to bring justice to the public.
Presidential spokesman Fadjroel Rachman neither denied nor confirmed the background story to Jokowi wanting to revise the ITE Law, including criticism of the government by public figures. He said that the President had heard the criticisms and input from various parties before ordering the law be improved. "The President wants to uphold justice and bring about legal certainty for the public," said Fadjroel via a WhatsApp message.
During a meeting with coordinating ministers on Friday, February 19, Jokowi asked Mahfud about the progress regarding his order given four days earlier. Mahfud described his plan to put together two teams to study ways to change the law and make implementation directives. Jokowi was said to have approved to the idea.
On Monday, February 22, Mahfud held a meeting with the members of the ITE Law Revision Study Team. Two people who attended this meeting said that a motion to make interpretation directives had strengthened during this assembly. The idea was raised by, among others, the communication minister and member of his expert staff, Henri Subiakto. However, Henri denied being against the revisions and attempted to clarify the meaning of some catchall articles of the law, which are not considered to be at odds with the Constitution. A revision of the ITE Law, said Henri, is very open, for instance by improving the text of its articles to avoid multiple interpretations. "I am on the team which is revising it, so how could I say that it cannot be revised," he said.
During that meeting, Sugeng Purnomo, Deputy for Coordination for Law and Human Rights at the Ministry of Political, Legal and Security Affairs, asked that the possibility of revising the ITE Law be left open. He referred to some cases which have resulted on account of the ITE Law, including the case of Baiq Nuril Maknun, a teacher in West Nusa Tenggara who was sentenced for six months imprisonment for spreading a telephone conversation with her superior who had committed verbal abuse.
Mahfud agreed that those two teams work in parallel. The first team is led by Henri Subiakto, with the duty to formulate implementation directives for catchall articles in the ITE Law. The other team is headed by Widodo Ekatjahjana, Director-General of Laws and Legislation of the Ministry of Justice and Human Rights, and is responsible for studying the substance of the law in order to prepare revision options.
Mahfud said that the two teams were formed after taking into consideration the possibility of coming up with new results that cover two matters. The first is making implementation criteria. The second is studying the possibility of amending the law. "A revision is removing or adding words, or adding explanations to the law," he said. One official said that implementation directives on the ITE Law will be applied while waiting for the law revision process to be completed by the legislature.
Damar Juniarto, Executive Director of the Southeast Asia Freedom of Expression Network (SAFEnet), is urging the government to put a moratorium on cases related to the ITE Law. He believed the government should use the revision to plan to improve the overall substance of that law. "The ITE Law is one of the regulations which is obstructing civil freedoms in this country," he said.
RAYMUNDUS RIKANG, NUR HADI (SURABAYA)