Fees for the 8th Floor
Askrindo is implicated in another corruption allegation. The company's board of directors are suspected of collecting money from the fees for insurance sales agents.
Edition : Monday, March 8, 2021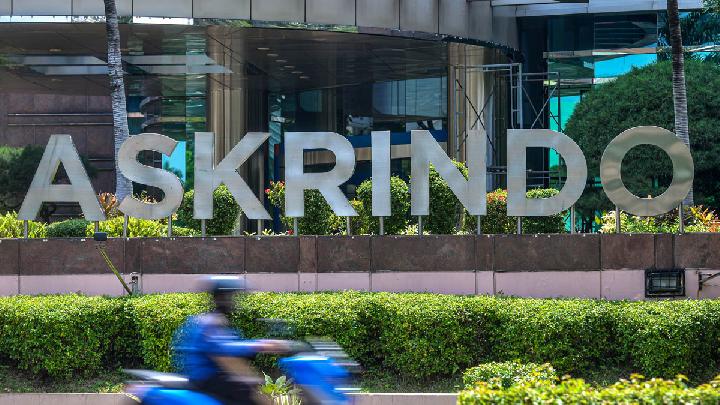 HIS social media accounts show how Anton Fadjar Siregar enjoys life outside of work. The retail operations director of Asuransi Kredit Indonesia, or Askrindo, posted photos of him playing soccer at his Instagram and Facebook. The 54-year-old also posted several photos of him with the Harley-Davidson community.
His love for big bikes was included in his State Officials Wealth Report (LHKPN). In 2017, when he was appointed as a member Askrindo's board of directors, the former head of BNI's small business division owned a 1998 Fat Boy Harley-Davidson motorcycle, worth Rp250 million. In his 2019 report, Anton listed two additional bikes, a Harley-Davidson FXR and a Springer, the total value was Rp425 million.
In his last LHKPN, Anton's wealth had increased to Rp7.85 billion, more than double from the Rp3.07 billion two years prior. The biggest additions to his assets were in the form of land and buildings that are now not only located in Medan in North Sumatra, but also in South Jakarta.
Anton's name came under the spotlight during the special purpose audit of Askrindo Mitra Utama (AMU), a subsidiary of Askrindo. The audit, which began in July last year, led to a suspected massive corruption at Askrindo, a state-owned insurance firm whose businesses rely on government subsidies for the people's business credit (KUR) program.
W251bGwsIjIwMjEtMDQtMjIgMDU6MzQ6NDgiXQ
In 2018, Askrindo's KUR guarantee yielded Rp1.6 trillion, higher than its general credit insurance's premium revenue of Rp1.4 trillion. In addition to the KUR, Askrindo also relies on state equity participation, which the company obtains quite frequently. In 2020, Askrindo, which now operates under the holding company for state-owned insurance and underwriting companies, Indonesia Financial Group, obtained Rp3 trillion worth of state equity participation. The money was used to raise credit guarantee portion and to support the Covid-19 national economic recovery program or PEN.
But Askrindo has been having problems in corporate governance. There are allegations of corruption. The directors are suspected of using AMU to collect fees from insurance agents. Most of the Rp155 billion fees that AMU got from Askrindo were allegedly distributed to several people working on the 8th floor of Graha Askrindo—the boardroom. Allegedly, the money also reached Askrindo's regional offices and branches outside Jakarta.
Anton Fadjar is suspected of being one of the people who got this money in 2019. The estimated number is US$538,000 or roughly Rp7.7 billion with the US dollar rate of Rp14,400. "One time, the money was handed over at the Al-Hidayah Mosque near the Tanah Kusir public cemetery (South Jakarta)," said an Askrindo official who is in the know of the investigation details of the case. He also read the report of Askrindo's audit committee and board of commissioners from December 22, 2020, a document that Tempo obtained.
Anton's name was not the only one mentioned in that document. A number of other directors as well as former members of the Askrindo board of directors were mentioned as well.
We contacted Anton on Wednesday, March 3. But he had not answered a number of questions related to these findings. "Please let me discuss it with the institution first, so that later it can be decided who is assigned to give answers," said Anton in a text message on March 5. The other Askrindo officials whose names were mentioned in the messy management of agent commission fees also stayed silent, declining to comment.
One thing for sure, the alleged corruption case report has been sent to Indonesia Financial Group, the government's representative as Askrindo's B series shareholder. Indonesia Financial Group's Chief Executive Officer (CEO) Robertus Bilitea declined to provide details on how his team was dealing with the situation. "We are now conducting a thorough audit using independent auditors," answered Robertus in Jakarta, Friday, March 5.
•••
AS, the company's financial statements audit for the 2019 financial year took very long to finalize, the suspicion of corruption in Askrindo became stronger. To date, PricewaterhouseCoopers still has not completed the audit. The reason behind it is because RSM International, a public accounting firm, which audited the financial statements of AMU, issued an opinion disclaimer over a Rp155 billion operating cost in 2019.
At the same time, Indonesia Financial Group received an anonymous letter stating a corruption allegation within AMU. It responded to the letter and opinion disclaimer by instructing Askrindo's Internal Audit Unit to conduct a special purpose audit. But the Internal Audit Unit found nothing. As of November 2020, the work unit had even asked for four time extensions.
Later, an audit from the Askrindo board of commissioners—conducted at the same time as the task force's special purpose audit since July 2020—discovered that several members of the work unit team had received payments of Rp12.5 million. The payment was allegedly given when the Internal Audit Unit held the audit kickoff meeting with AMU management on July 20, 2020. It was this audit committee review, encouraged by Askrindo's board of commissioners, that unveiled the backgrounds to the disclaimer and anonymous letter.
The source of the problem lies in Askrindo's insurance agent fees, which in 2019 amounted to Rp463 billion. About Rp195.9 billion of that fees was for AMU, a private insurance agent company which was acquired by Askrindo in 2014.
The company with an office at Puri Mutiara in Kemayoran, Central Jakarta, acted as the sales agent of its parent's insurance product. Despite its large commission from Askrindo, AMU only generated a profit of Rp8.98 billion in 2019.
The audit also highlighted AMU's operating costs of Rp155 billion. They looked into the company's three biggest operating costs as a sample test. The first is the production of housing finance liquidity facility (FLPP) a.k.a. the home ownership credit guarantees for people with low-income, bank guarantee contracts, and consumer credit guarantee products.
From the audit, it was discovered that the company only had a real operating cost of Rp52.4 billion. This means that when the commission income is deducted from the real operating costs and profits, there is still Rp134.57 billion left. But where did the money go?
An official with detailed knowledge of the audit said that the audit team found a flow of funds to directors of Askrindo in AMU's ledger. "There was a remark that said 'for 8th floor'," the source revealed. "It was a big amount." The 8th floor refers to the boardroom at Graha Askrindo in Kemayoran.
AMU is also suspected of recording fictitious production costs for overseas work trips, collaborating with travel agents.
At first glance, there are similarities to the corruption case that implicated former CEO of Asuransi Jasa Indonesia (Jasindo), Budi Tjahjono. When Jasindo's case came to light in 2017, Budi was its chief. In 2019, the court sentenced Budi to seven years in prison.
Looking at the fee refund method, the audit team looked into the existence of Penas Prima Utama, a company founded by retired Askrindo employees. Established in August 1, 2018 as stated in the company deed, Penas recorded an agent fee income of Rp267 billion from Askrindo in 2019.
A number of former Askrindo officials are listed as shareholders and members of the board of directors at Penas. Sulaeman, shareholder and commissioner of Penas, was the head of the finance and investment division at Askrindo. Puji Santoso, a shareholder and the director of Penas, was a former head of the operational risk control analysis section. Nyoman Sulendra, Penas shareholder, was the CEO of AMU. Four other former officials of Askrindo are also recorded as Penas shareholders and management: Abdul Rachman, Chumaedi, Agus Nugroho, and Legawa.
But because of Penas' status as a private entity, the audit was unable to reach the company, which operates in a shop-house on the 1st floor of Mega Glodok Kemayoran. On Thursday afternoon, March 4, Penas headquarters was among the very view establishments that stayed open at the mall's A9 Block. Two men were sitting in chairs outside the office door, which is on the same floor as many other small firms at the electronics and automotive center.
The audit only found a document of the cooperation agreement between Askrindo and Penas for the period January 2, 2020 to January 2, 2021. The agreement states that, for every 15 percent of the fee from the total premium for medium and small credit insurance and bank guarantee contracts, Penas only gets 2 percent. The rest will be used as cashback for Askrindo's branch offices. As for every 20 percent commission from the surety bond premium, Penas gets 5 percent and the rest is returned to the branch offices.
When contacted on March 5, Puji Santoso said he could not answer Tempo's question. He said he had to discuss it first with other administrators. But he stressed that Penas was a private company. "While AMU is a subsidiary of Askrindo, which all of its business is from Askrindo. Please clarify this," he said in a WhatsApp message.
Abdul Rachman, whose name is listed as a manager in the cooperation agreement document with Askrindo, said he had not worked at Penas for a long time. "I was in fact dismissed from Penas," he said. Abdul is a registered shareholder of Penas.
When Tempo called him at the number found in the cooperation contract document, Sulaeman claimed that he was neither a Penas administrator, nor a retiree of Askrindo.
Askrindo's CEO, appointed in July 2020, Dedi Sunardi, in written answer denied that sharing fees were included in the work agreement with Penas. "In every cooperation agreement with agents, including Penas, there is no agreement regarding the distribution of fee," he said on Saturday, March 6.
•••
BACK to the issue of fees for AMU, the audit team recorded an interview depicting something that happened in October 2019. Two Toyota Alphard cars were parked side by side at the parking lot of Al-Hidayah Mosque in Tanah Kusir. Anton Fadjar Siregar and Wahyu Wisambodo, the car owners, were looking at their drivers from the veranda of the mosque.
A bag from Wahyu's car was moved to Anton's. Once the transfer was completed, Anton and Wahyu enter the mosque to pray. Wahyu is no longer the finance director at AMU.
The audit discovered that on that day Wahyu gave US$160,000 in cash, which is around Rp2.3 billion, to Anton. Before that, Wahyu gave money to Firman Berahima, Askrindo's director of compliance and human resources from 2016 to 2020. But just days later, Firman asked Wahyu to hand the money over to Anton.
From April 2019 to July 2020, Anton allegedly received up to US$538,000 in kickback on agency commissions. He had returned US$250,000 to Wahyu after hearing that the KPK was investigating an alleged corruption in Askrindo, in October 2019. Later, he asked for the money back in March 2020.
During the audit clarification process, Anton admitted to receiving the money at the Al-Hidayah Mosque. But he said that the amount was US$180,000. He planned to use the money to 'deal with' the KPK. The scenario is dubbed as a deal between Anton and Firman Berahima.
Meanwhile, Firman is suspected to have received US$405,000 worth of kickbacks since April 2019. Again, Wahyu Wisambodo delivered the money. Firman, as stated in the audit document, allegedly accepted US$140,000 from Wahyu in April 2019. Firman is also suspected of asking Wahyu to deliver US$35,000 to his office in May in 2020.
The audit team recorded that, according to Wahyu, these actions were always reported to the president commissioner of AMU when they were summoned to the 8th floor of Graha Askrindo. The dollar bills were purchases from a money changer in Menteng, Central Jakarta.
From Wahyu's testimony to the audit team, it was discovered that it was Firman who allegedly arranged the agent commission kickback since early 2019. On February 2019, Askrindo sold the FLPP credit guarantee premium for a fee of 10 percent. Firman was allegedly instructed for the 10-percent fees to be split three ways, 3 percent for AMU, 4 percent for Firman, and 3 percent for regional leaders.
During the audit process, Anton also stated that Firman, Dwi Agus Sumarsono, and Muhammad Shaifie Zein visited him in March 2019. At the time, Dwi was the director of commercial operations at Askrindo. Shaifie, on the other hand, had been dismissed from his position as technical director of Askrindo. During the meeting, they discussed the plan for spending the FLPP commission fees. To the audit team, Anton said his three colleagues on the Askrindo board of directors convinced him that fees are a common trait in the insurance industry.
Anton said he returned some of the money he allegedly received, the amount was US$529,000 or around Rp7.6 billion. The dollar bills he returned are now wrapped inside a red plastic bag, sitting inside AMU's safe.
Firman, who is suspected of being the mastermind behind the agency commission and kickback distribution, had not responded to Tempo's request for clarification. A letter requesting an interview sent to the Jaminan Pembiayaan Askrindo Syariah's office in Central Jakarta has not been replied. The letter was addressed to Firman, who is still a commissioner at Askrindo Syariah, one of Askrindo's three subsidiaries.
Like Anton, Dwi Agus Sumarsono was also unwilling to comment. "Let me discuss it with the management first," said Dwi via WhatsApp on March 5. Shaifie did not reply to the instant messages, while Wahyu Wisambodo said he was sick when Tempo contacted him on March 4.
According to Robertus Bilitea, giving fees to insurance agents are allowed. There are three rules of governing insurance fees: Financial Services Authority Regulation (POJK) No. 69/POJK.05/2016 on the implementation of insurance companies, sharia insurance companies, reinsurance companies, and sharia reinsurance companies; POJK No. 70/POJK.05/2016 on the operation of insurance brokerage companies, reinsurance brokerage companies, and insurance loss appraisal companies; and the Finance Minister Regulation No. 124/PMK.010/2008 on credit insurance and suretyship business lines. "However, employees of insurance companies are forbidden from accepting fees," said Robertus. Only non-employee agents may accept them.
Someone with knowledge of the audit said that it was these clauses that motivated Askrindo management to 'take care of' AMU. "So that the fees can be extracted from AMU and returned to the management," said the source. The fact is, according to the initial audit, the people who worked hard to sell premiums to banks and financial institutions were Askrindo employees, not AMU.
Askrindo CEO Dedi Sunardi said that all employees at the company's marketing unit are in charge of marketing Askrindo's products. "As for AMU, it is just one of the agents with the cooperation agreement to market Askrindo's insurance products," Dedi said in a written answer on March 6.
According to Dedi, there are 341 insurance agents working with Askrindo. Thirty-eight of them are legal entities, including AMU. The remaining 303 individual agents are registered with the Indonesian General Insurance Association (AAUI).
On December 22, 2020, the audit documents that exposed the alleged corruption at Askrindo arrived at the desk of Kartika Wirjoatmodjo, the Deputy State-Owned Enterprises Minister. Kartika ensured that his ministry has had the Askrindo issue in its radar. "Our Financial and Development Supervisory Agency is conducting an investigative audit of it," he said via WhatsApp on March 5. "If we find solid indications of involvement, we will process it."
KHAIRUL ANAM, RETNO SULISTYOWATI, AISHA SAIDRA