50 Years On
Tempo magazine was born from an idea of independence. This has been no easy task to uphold.
Edition : Monday, March 8, 2021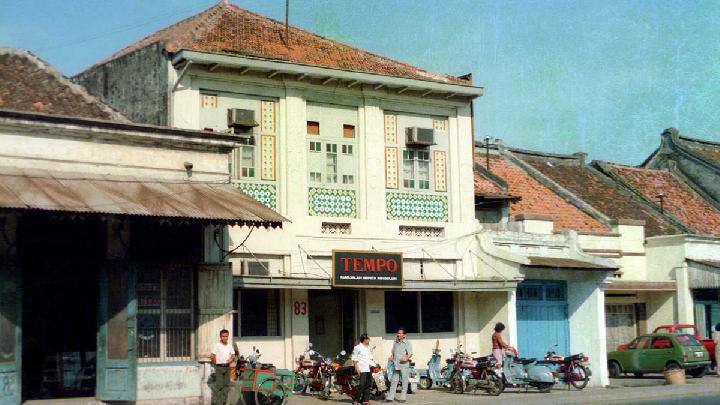 Tempo magazine was born from a notion of independence. This was not easy to uphold. And it has been the continual challenge of this media organization since the day of its inception in a rickety old building in the Senen Market area, Central Jakarta, in 1971. The years flew by. The quest became increasingly arduous. When the digital disruption descended, Tempo had to struggle to adapt. What is it like behind the scenes in Tempo's engine room?
---
THE Tempo investigative team scrutinizing the furtive ways of a company which obtained its business license to open an oil palm plantation in the Boven Digoel forest in Papua, stumbled on a breakthrough in November 2018. Team member Riky Ferdianto had managed to convince the owner of the permit-holding company to meet, who, similar to Riky, happened to hail from West Sumatra.
Riky and a colleague met the businessman at an office in Jalan Sudirman, Central Jakarta. As the conversation drew to a close, he called his staff to go get some cash. He put the money into a brown envelope and told Riky to take it. Riky refused, but the man insisted, spouting all manner of reasoning. One was: he considered Riky as his own little brother.
W251bGwsIjIwMjEtMDQtMjIgMDY6MDI6MDEiXQ
The man's cajoling was interrupted by the sundown call to prayer. Together, the three did the ritual prayer with the businessman acting as the imam. As they prepared to leave, Riky was taken aback when he found his bag felt heavier. Apparently, the businessman had covertly slipped the bulky envelope into his backpack. Riky took his leave as he returned the cash. An argument ensued as Riky walked towards the exit door, because the man was adamant he take the cash.
Not wishing for the scene to extend and turn ugly, Riky decided to just take the money. The two went back to the Tempo newsroom and reported the brown envelope to Investigation Desk Managing Editor Bagja Hidayat. "We opened the envelope, it contained Rp25 million," said Riky. The money was reported to the other editors at the editorial meeting, before it was sent to the Tempo secretariat to be returned to the businessman.
Tempo's resulting investigative report in collaboration with several other news publications on the oil palm plantation measuring 280,000 hectares appeared in the November 26-December 2, 2018, edition of the magazine. The name of the businessman's company appeared in the report. A few days after the bribe was sent back, Riky received a WhatsApp message from him. "Basically he conveyed how disappointed he was that the money was returned," said Riky.
Refusing bribery is one of the things that Riky and the Tempo news team have to handle regularly. This is one of the ways the newsroom upholds Tempo's core values regarding independence, integrity and adherence to journalistic ethics. Several of our journalists have seen bribery offers climbing into the realm of the fantastic, unfortunately inappropriate to dwell upon too much here.
Every news organization complies to and develops its own identity and set of core values. Tempo was weaned on this idea of maintaining independence from its very first edition, published on March 6, 1971. This principle allowed Tempo's journalists the freedom to nurture relationships with all manner of news sources, yet still maintain distance.
(L-R) Harjoko Trisnadi, Eric Samola, Ali Sadikin (Governor of Jakarta), Goenawan Mohamad, Ciputra, and colleagues at the anniversary of Tempo and the thanksgiving ceremony for the magazine's new office at the Senen Project, Jakarta, 1977. Tempo/ Eddy Herwanto
Independence is an important characteristic in Tempo's endeavor for the past half a century to gather information and serve the news. Chief Executive Officer of Tempo Inti Media Toriq Hadad said Tempo is a journalistic community which deemed that 'envelopes' and journalism cannot travel the same path. "If they accept it, this means (the journalist) has played foul, taking advantage of their relations with their news source," said this former Tempo magazine editor in chief.
This foundation of independence for Tempo was laid down in the introduction to its maiden edition, written by Goenawan Mohamad, the then editor-in-chief. Tempo, wrote Goenawan, does not adhere to journalism that supports any one side. The duty of the press is not to spread suspicion and abhorrence, rather to communicate mutual understanding. "The journalism of this magazine is not one to harangue and spread diatribe, nor will it aim to grovel or fawn in subservience," he wrote.
In celebration of 50 years of Tempo, the editorial team has created a special report we dubbed The Sauce in Our Kitchen, telling you the tales of Tempo behind the scenes. This report was compiled by Tempo's millennial reporters, most of whom joined the team in the last decade, to share the stories of this organization's identity they inherited from editorial teams who came before them.
Besides relaying the stories and experiences of editorial staff members, this special report hones into the specific things that formed Tempo and gave it its staying power for half a century. "We wanted to share our vision of what made Tempo and hopefully can become a sort of guide for others," said Tempo magazine Editor in Chief Wahyu Dhyatmika.
Tempo's inception was pioneered by a number of journalists hailing from various news organizations. They collaborated with several business people. Having sufficient resources and the acquaintanceship of the big and the powerful, Tempo journalists from the outset laid down the non-negotiable principle of independence. "The editorial team held special autonomy. The directors and shareholders could not intervene in editorial matters," said Harjoko Trisnadi, a former reporter of Djaja magazine, who was one of the founders of Tempo.
Tempo magazine also selected narrative as its special brand of journalism. It decided that reportage using a storytelling technique made for engaging and necessary reading. This was aided and abetted by the fact that some of the first batch of journalists had literary backgrounds. Tempo also chose this style of writing to avoid falling into the trap of using an Indonesian diction that was too straitlaced and formal.
Tempo magazine later on came to be identified with investigative journalism. The magazine time and again cracked open all manner of cases surrounding corruption, smuggling, human rights violations, human trafficking, art fraudulence, and environmental destruction. Prior to being shut down, once in 1982 and again in 1994, some Tempo journalists had indeed been several times involved in creating investigations and serving them up to the readers. But the investigative reportage rubric, as the main format for investigations, was only established after Tempo began to publish again in 1998.
Very few news organizations conduct investigative reporting because it is expensive, takes up much time, and holds many risks. Yet Tempo decided to stay on this onerous path with all the hazards. In the course of time, Tempo formed collaboration with many other news media and institutions which held the same commitment to investigative journalism.
One item that always grabbed public's attention whenever Tempo came out was its striking covers. The team of designers and illustrators work hard to visually interpret Tempo's cover story into something eye-catching and attractive. Praise and tirades come and go in turn, in response to Tempo covers which often instigate controversy.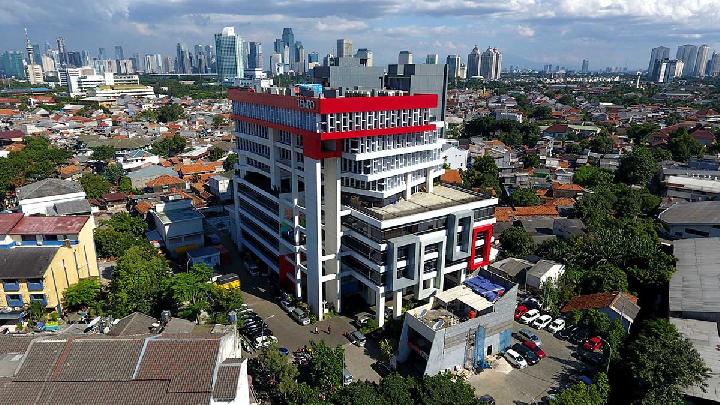 Tempo Media Group Building on Jalan Palmerah Barat, Grogol Utara, Kebayoran Lama, South Jakarta, Thursday, March 15, 2018. Tempo/Subekti
While known for its coverage on politics and the economy, Tempo also gives space to reportage on the arts. In fact, this magazine has often given over its cover story to artistic endeavor. Not only to reportage, Tempo also annually elects persons in the arts, including for cinema.
When the digital technology disruption descended on us all, and put into flux all conventional media organizations, Tempo also suffered the brunt end. The development of digital media was inevitable and Tempo had to rise to the challenge.
In fact, Tempo had its toes in digitalization for nearly three decades now. When publication of Tempo magazine was banned, the editorial team launched the Tempo Interaktif news website, as an alternative media in1996. Now Tempo continues to adapt to the demands of the rapidly changing digital frontier. "The digital transformation is of utmost importance, for Tempo's content to continue reaching out to the broadest digital audience out there," said Wahyu Dhyatmika.
Fifty years have passed. Many Tempo journalists have come and gone. But the values and its many trademark characteristics that make up Tempo lives on, and continues to be nurtured by the next generation of journalists. This is what makes Harjoko feels proud, that Tempo, which he and his colleagues founded together in an old building in the Senen Market complex, Central Jakarta, is still alive and kicking with its identity intact. "We made a very high price to keep independent, and to maintain the core values that Tempo holds so dear. Yet this is what has made us special, and we have to continue being courageous enough to maintain it," he said.
Dear Reader, 50 years is a fair length of time for this news organization. Much has happened and much more has yet to be learned. At this point, we would like to share some of the stories of this journey. We open the doors to our kitchen and invite you to take a peek at how our editorial staff cooks things up, from when Tempo first came out right up to the present moment.
Happy reading!
---
The 50 Years of Tempo Special Report Team
Team Leader: Iwan Kurniawan
Project Head: Gabriel Wahyu Titiyoga
Writers: Agung Sedayu, Gabriel Wahyu Titiyoga, Moyang Kasih Dewimerdeka, Nur Alfiyah, Raymundus Rikang, Riky Ferdianto
Editors: Bagja Hidayat, Iwan Kurniawan, Mustafa Silalahi, Nurdin Kalim, Sapto Yunus, Stefanus Teguh Pramono
English Editor: Luke Edward
Photo Research: Gunawan Wicaksono, Jati Mahatmaji, Ratih Purnama
Designers: Djunaedi, Munzir Fadly
Digital: Imam Riyadi, Rio Ari Seno, Riyan R Akbar