A Failed Lobby at the Cikeas Library
Susilo Bambang Yudhoyono got involved in facing the group which proposed the Democrat Party extraordinary congress. He asked his son to put up a fight.
Edition : Monday, March 15, 2021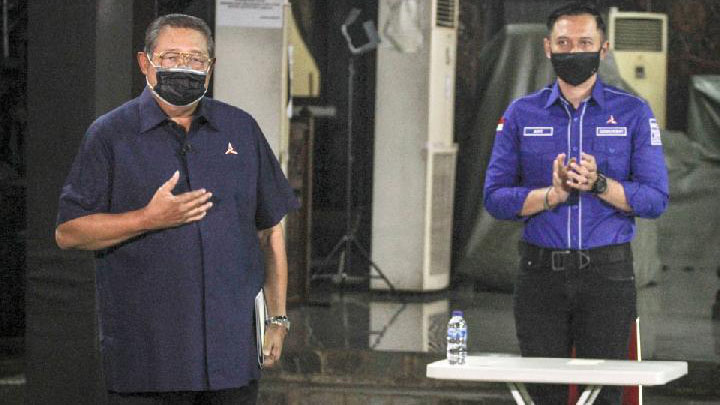 FROM the situation room in the headquarters of the Democrat Party at the Wisma Proklamasi in Jalan Proklamasi, Central Jakarta, General Chairman Agus Harimurti Yudhoyono monitored the extraordinary congress (KLB) taking place at The Hill Hotel & Resort in Sibolangit, Deli Serdang, North Sumatra, on March 5. While watching the television screen, he occasionally made video calls with his team in Sibolangit. "The general chairman is giving serious attention to the process of the sham congress in Deli Serdang," said Democrat Party Deputy Secretary-General Agust Jovan Latuconsina, on Friday, March 12.
Agus continued to watch the screen until about 3:30pm. At that point, Presidential Chief of Staff Moeldoko, speaking by phone, said that he had accepted being appointed general chairman of the Democrat Party for the 2021-2025 term, as decided at the congress in Deli Serdang. According to Jovan, the Democrat Party team suggested that Agus hold a press conference. Some top party officials and their legal team prepared a six-page statement.
Just before sundown, Agus held a press conference, accompanied by Secretary-General Teuku Riefky Harsya. He accused Moeldoko of going back on his previous word that he did not know about and was not involved in the congress. "What he had been saying has been denied by becoming Democrat Party general chairman through the sham KLB held in North Sumatra," said Agus.
At Puri Cikeas, Bogor, West Java, Democrat Party High Council Chairman Susilo Bambang Yudhoyono (SBY) was also monitoring the progress of the congress, which was being broadcast live by a national television station. A party official said that Yudhoyono was not surprised by this, as he had predicted that Moeldoko would make a move to take over the party. About three hours after his son Agus Yudhoyono held a press conference, Yudhoyono spoke to the public.
W251bGwsIjIwMjEtMDQtMjIgMDU6NTI6MzciXQ
Yudhoyono, who appointed Moeldoko commander of the Indonesian Military (TNI) in 2013, said that the man who was formerly under his command had acted dishonorably. He regretted giving that position to Moeldoko. "I ask God to forgive me for that mistake," said Yudhoyono.
***
AGUS Harimurti Yudhoyono received news of the holding of an extraordinary congress on the night of Wednesday, March 3. At the time, he was camping with West Java Democrat Party officials in Rahong, Pangalengan, Bandung. Agust Jovan Latuconsina, who was accompanying Agus, forwarded the information which he received from a central party official.
According to Jovan, Agus immediately instructed the acting chairman of the Democrat Party of North Sumatra, Herri Zulkarnain, to look into that news. Around midnight, Herri reported that an extraordinary congress was to be held at The Hill Hotel & Resort in Sibolangit, Deli Serdang. A member of Agus' team forwarded that information to Susilo Bambang Yudhoyono's personal assistant.
The following day, on the trip back to Jakarta, Agus sent a team to North Sumatra. He also asked party officials who are on the Legal Affairs Commission in the House of Representatives (DPR) to find out about the authorization of the congress in Deli Serdang. "The police, be it the at national headquarters or the regional police department, did not give any authorization for the holding of a KLB," said Hinca Pandjaitan, a member of the DPR's Legal Affairs Commission from the Democrat Party, on Thursday night, March 4.
That same day Agus wrote to Coordinating Minister for Political, Legal and Security Affairs Mahfud Md., Minister of Justice and Human Rights Yasonna Hamonangan Laoly, and the National Police chief. That letter, according to a high-ranking Democrat Party official familiar with its contents, said that a movement to take over the party has been underway since January 2021, sponsored by outside parties. Agus asked those three officials to prevent the holding of the congress in Deli Serdang.
On the night of Thursday, March 4, Democrat Party central officials and the high council held a meeting at Yudhoyono's residence in Cikeas. Three people who attended that meeting said that Agus reported that the congress in Deli Serdang was still going to be held. Agus had signed a letter appointing acting officials to replace the 34 heads of regency/city branches who would likely attend the event.
Those same three sources said that party officials agreed to take action to cancel the congress to be held the following day. This would be done by reporting the event as being against the law, to the Medan Police Department. Democrat officials would also lobby government officials dealing with political and legal issues in order to have the congress in Deli Serdang to be declared illegal.
Andi Alfian Mallarangeng, the Democrat Party's High Council Secretary, verified that meeting took place at Cikeas. He said that Yudhoyono asked Agus to anticipate and fight against that movement. "SBY was a former soldier. When there is a challenge he is ready to fight back," said Andi.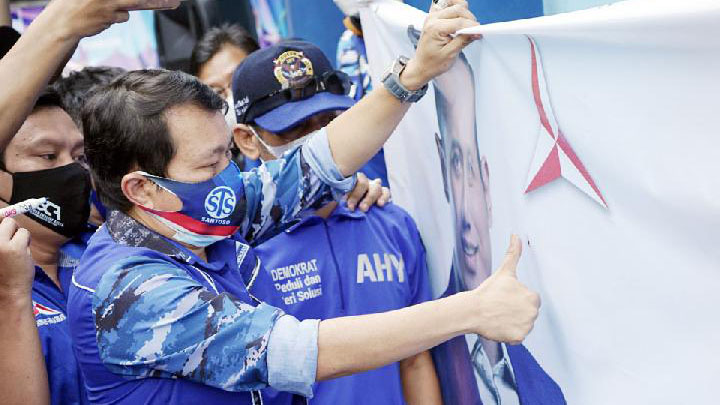 Santoso, Chairman of Democrat Party's Jakarta Regional Leadership Board, gives his thumbprint in blood, in a show of support and loyalty to the party's General Chairman Agus Harimurti Yudhoyono, in Jakarta, March 7. Tempo/Muhammad Hidayat
Efforts to thwart the holding of the congress had already begun when this opposing maneuver had been detected back at the end of January. On February 16, Yudhoyono met with Jhoni Allen Marbun, a DPR member from the Democrat Party who was one of those who came up with the idea to hold the extraordinary congress, at the former's personal library at Cikeas at around 2pm. Speaking to Tempo, Jhoni said that he had conveyed the complaints of regional party officials.
Jhoni asked Yudhoyono to make the Democrat Party more open so that cadres outside of the Yudhoyono family could lead the party. "He said to wait until the party was 25 years old," said Jhoni. This year the Democrat turns 20.
According to Jhoni, no agreement was reached during that hour-long meeting. Herzaky Mahendra Putra, Head of the Democrat Party Strategic Communication Body, said that Yudhoyono offered internal resolution of any issues. "However, as he left SBY's house, Jhoni was still supporting Moeldoko to become general chairman," said Herzaky.
Ten days after that meeting, on February 26, the Democrat Party dismissed Jhoni Allen and five other cadres deemed to be behind the congress. The party also dismissed Marzuki Alie, a former party secretary-general, for ethics violations. Two days later, it held a leadership meeting in Cikeas, attended by 34 province-level chairpersons. The guests in attendance pledged their loyalty to Agus Harimurti.
***
AFTER failing to stop the holding of the extraordinary congress in Deli Serdang, Agus Harimurti Yudhoyono focused on preventing party officials from shifting to Moeldoko. In addition to preparing legal arguments, according to some high-ranking party officials, Agus also visited several state institutions and political figures.
Accompanied by 34 regional leaders and high-ranking party officials, on Monday, March 8, Agus visited the offices of the ministry of justice and human rights; the General Elections Commission (KPU); and the coordinating ministry for political, legal and security affairs. Andi Alfian Mallarangeng said that the visits to those three institutions were made in response to the plan of Moeldoko's camp to submit the results of the congress to the justice ministry. "Let's not have the justice ministry receiving unbalanced information," said Andi.
At the justice ministry, the group was received by Director-General of General Legal Administration Cahyo Rahadian Muzhar. "Actually we wanted to meet the minister, but we understand that he is busy," said Herman Khaeron, Chairman of the Democrat Party's Organization, Cadres, and Membership Management Agency, who was a part of the visiting group.
One government official who is familiar with the meeting between Agus and Minister Mahfud Md. said that the former talked about the condition inside the party. Agus asked the government to take a neutral stance. Mahfud said that the government would refer to regulations, such as the Law on Political Parties as well as the Democrat Party statutes and bylaws which passed on the party's 2020 Congress.
It was also said that Agus Harimurti met President Joko Widodo at the Bogor Presidential Palace on Tuesday, March 9. Sjarifuddin Hasan, a member of the Democrat Party's High Council, said that he heard that information. However, he could not confirm it. "If they met, it is good. So (we can) give an official explanation," said Sjarifuddin. Presidential spokesperson Fadjroel Rachman did not respond to questions sent by Tempo.
Susilo Bambang Yudhoyono conducted his own maneuver by inviting seven former ministers from the first and second United Indonesia Cabinet on March 11. A former government official who suggested this meeting said that those former officials are to become spokespersons for Yudhoyono. Former coordinating minister for political, legal and security affairs Djoko Suyanto said that the meeting was not meant to talk about problems in the Democrat Party. That former TNI commander said that they were there out of sympathy for what Yudhoyono is going through.
Former cabinet secretary Dipo Alam, who attended that meeting, denied that there was an idea for spokespersons. "If I speak strongly on social media that is my initiative," said Dipo, who has frequently tweeted about Moeldoko's takeover of the Democrat Party.
BUDIARTI UTAMI PUTRI, RAYMUNDUS RIKANG, HUSSEIN ABRI DONGORAN