Former Commander's Maneuvers
Presidential Chief of Staff Moeldoko continues maneuvering to take over the Democrat Party. He once asked to become general chairman to Susilo Bambang Yudhoyono after he was no longer commander of the Indonesian Military. He is suspected of actively seeking the support of Democrat regional officials and cadres of other political parties. Some who are supportive of the current government administration have shown support for him on social media.
Edition : Monday, March 15, 2021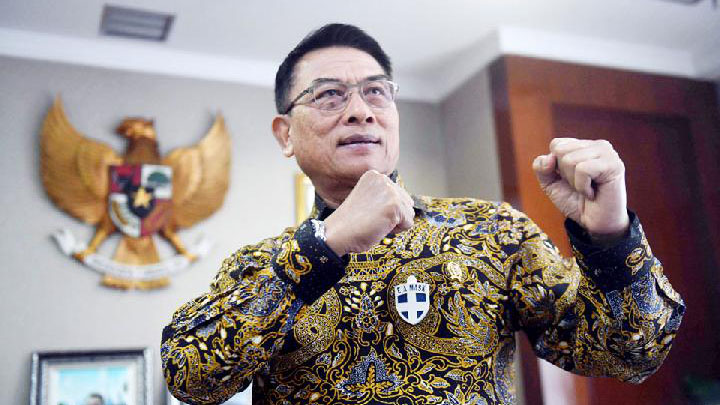 ON the afternoon of Wednesday, March 3, a meeting at the residence of Presidential Chief of Staff Moeldoko in Jalan Terusan Lembang, Menteng, Central Jakarta, was held to discuss the plan for a Democrat Party Extraordinary Congress (KLB). Over a dozen regional party officials supported the plan of their host to lead the party. "Pak Moeldoko said that he is ready. He said that he knows how to lead because he was once the commander of the TNI (Indonesian Military)," Rahman Dontili, Chairman of the Democrat Party in North Bolaang Mongondow, North Sulawesi, told Tempo about that meeting he attended at a hotel in South Jakarta, on Thursday, March 11.
According to Rahman, before stating that he was ready to do so, Moeldoko listened to the complaints of party cadres from the provinces. Attending this meeting were: House of Representatives (DPR) member Jhoni Allen Marbun; former deputy chairman of the Democrat Party Supervisors Commission, Darmizal; and former general treasurer Muhammad Nazaruddin, who had previously been convicted in a corruption case.
Rahman said that he supported the extraordinary congress because he was promised Rp100 million. Arriving in Jakarta on March 2, he went directly to the Bellagio Residence in Mega Kuningan, South Jakarta, the headquarters of Moeldoko's team. Once there he received Rp25 million in Rp50,000 bills in a brown bag from a woman with the initials MW. The rest was promised to be given after the congress was held in Deli Serdang, North Sumatra.
Arriving at the congress venue at The Hill Hotel & Resort on the night of Thursday, March 4, Rahman saw hundreds of participants, none of whom he recognized. Having been in the Democrat Party for 11 years, he claimed he could recognize officials from other regions. He also thought that it was unusual that there was no participant registration table at the meeting hall. When the voting was done, the room was not cleared of those who did not have voting rights. Anyone could leave or enter the room while Jhoni Allen was presiding over the event.
W251bGwsIjIwMjEtMDQtMjIgMDY6NTE6MDYiXQ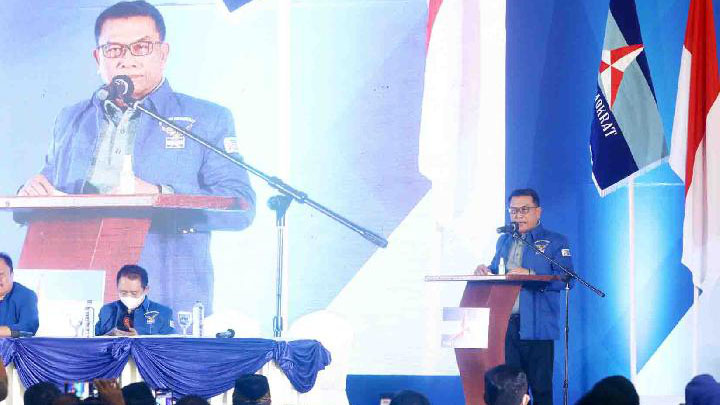 Moeldoko giving his speech at the Democrat Party's Extraordinary Congress in Deli Serdang, North Sumatra, March 5. Antara/Endi Ahmad
Gerald Piter Runtuthomas, Chairman of the Democrat Party for the City of Kotamobagu, North Sulawesi, who attended the event, also talked about an unusual aspect of the congress. According to him, congress participants were given bags bearing the Democrat Party logo, which contained a blue party jacket, congress ID card, and a binder containing the party's statutes and bylaws. However, nothing was being deliberated at this congress.
Opened at 2:50pm, the extraordinary congress lasted about an hour, and during that time, eight decisions were made. One of them was to appoint Moeldoko as party's general chairman for the 2021-2025 term. During the voting, Jhoni Allen Marbun asked supporters of Moeldoko and Marzuki Alie, a former party secretary-general, to stand up. Jhoni quickly said that there were more Moeldoko supporters. "The number of votes was not counted because we were immediately asked to sit back down," said Rahman Dontili.
Speaking by phone, Moeldoko said that he accepted the decision of the congress. He arrived at The Hill Hotel at 9:35pm. Wearing a blue Democrat Party jacket, he reiterated his acceptance. "This KLB is constitutional," he said. Darmizal, a Moeldoko supporter, said that he sent photos of the lively event at the congress to Moeldoko the night before it was held. "I said that many people were waiting for him," said Darmizal, adding that he has known Moeldoko since the time the latter was a lieutenant colonel.
On the day of the KLB, Moeldoko was said to have purchased a Garuda Indonesia Airlines ticket at Soekarno-Hatta Airport in Cengkareng, Banten, for a flight to Kualanamu, Medan, North Sumatra. According to a flight manifest obtained by Tempo, Moeldoko was scheduled to travel with someone named Taufik Ridha on flight number GA190 to Medan on March 5, then return to Jakarta on flight GA183 two days later. However, they never boarded those flights.
According to some news, Taufik once represented Moeldoko in declaring the nomination of that top graduate of the Military Academy Class of 1981 as a vice-presidential candidate in 2018. Taufik denied knowing Moeldoko and planning to travel to Medan. "I did not check in at Cengkareng that day and did not represent Moeldoko at any event," he said when contacted on March 12.
As it turned out, Moeldoko went to Deli Serdang on a chartered flight on an airplane with tail number N977JH from Halim Perdanakusuma Airport, East Jakarta. Some aviation websites indicate that the operator of that Cessna aircraft is Jhonlin Air Transport—a subsidiary owned by a coal businessman from South Kalimantan, Andi Syamsuddin Arsyad alias Haji Isam. The flightaware.com flight monitoring website recorded that aircraft N977JH flew to Medan on Friday, March 5, at 4pm, and that the trip took 124 minutes.
Moeldoko left Medan the following day at 6:12am, again on a chartered flight using the same airplane with registration number N977JH. Andi Syamsuddin Arsyad, owner of the Jhonlin Group, had not responded to an interview request as of Saturday, March 13. Amran Alimuddin, a lawyer who represented the Jhonlin Group in a news reporting dispute in 2020, said that he no longer represents that company.
Speaking to Tempo on March 10, Moeldoko denied he was maneuvering to take over the position of Democrat Party general chairman from Agus Harimurti Yudhoyono, who is the son of former President Susilo Bambang Yudhoyono. He denied putting up any money for the extraordinary congress. As for the airplane that he used, Moeldoko claimed that he was only hitching a ride with a friend who had chartered a flight to Medan. "I just tagged along," he said.
***
MOELDOKO came into contact with the Democrat Party a few years ago. Three party cadres from the Agus Harimurti Yudhoyono camp said that Moeldoko had once met Susilo Bambang Yudhoyono before the holding of the party's congress in Surabaya, East Java, in May 2015. At that time, he was still commander of the TNI, and had arrived dressed in his official military uniform. Speaking to that former superior officer of his, Moeldoko suggested that Marzuki Alie be given a chance to lead the party. It was said that Yudhoyono turned down the idea. Yudhoyono was later chosen as the general chairman by acclamation at the party's congress.
Marzuki said that he did not know about Moeldoko's meeting with Yudhoyono. However, he did verify that he spoke to Moeldoko about the condition of the Democrat Party, which at the time was deemed to be undemocratic. "I was looking for people trusted by SBY (Susilo Bambang Yudhoyono) because the communication space had been shut down," said Marzuki.
Those three sources also said that soon after retiring as TNI commander in 2015, Moeldoko again met with Yudhoyono. It was said that he was looking at the possibility of becoming the party's general chairman, but was again turned down by Yudhoyono. "He brought some folders, maybe his curriculum vitae," said Democrat Party High Council Secretary Andi Alfian Mallarangeng. However, Moeldoko denied that he was lobbying Yudhoyono to become general chairman. "I went to see him after retiring and was just there to ask for guidance," he said.
Moeldoko's plan to enter the Democrat Party remained up in the air. A former member of the Democrat Party Faction at the DPR said that he was approached by Jhoni Allen Marbun when he wanted to leave the party about three years ago. Jhoni asked this party cadre to stay, because according to him Moeldoko would soon be leading the Democrat Party.
After hitting a 'glass ceiling' with the Democrat Party, Moeldoko met former Golkar Party general chairman Jusuf Kalla, before the Golkar National Congress in Jakarta in 2019. It was said that he asked for Kalla's support so that he could run as a candidate for general chairman. Kalla verified Moeldoko's political maneuver. "Moeldoko did ask about Golkar and I told him the conditions to become a party official," said the former Vice President to Tempo.
Moeldoko's ambition to take control of the Democrat Party made the news on February 1. General Chairman Agus Harimurti Yudhoyono said that there was an official in the Presidential Palace who planned to unseat him through an extraordinary congress. The indication of this was that the official in question had met with party officials at the regency/city level and had asked for their support for him to preside over the party. Two days later, Moeldoko denied being involved in an internal party conflict. "I was just having coffee," he said.
However, a lawyer familiar with the recruitment model of the Democrat Party camp in Deli Serdang said that Moeldoko actively contacted regional politicians to become party official. He said that he heard a story from a colleague who is not a Democrat Party cadre that Moeldoko had contacted that person on the Telegram application and offered a position as a regional party official.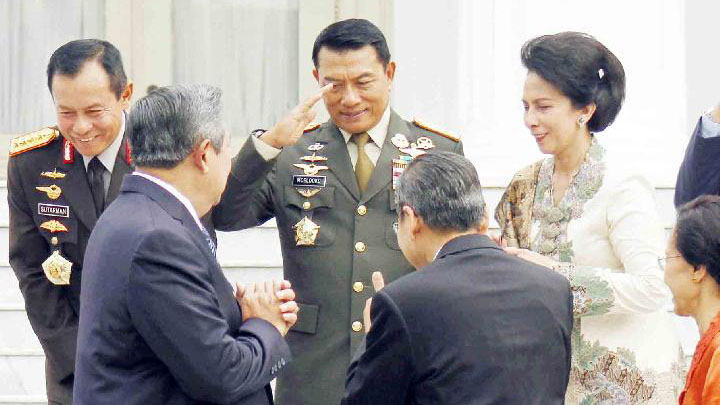 General Moeldoko (center) as Indonesian Military (TNI) Commander, salutes President Susilo Bambang Yudhoyono and Vice President Boediono at the Merdeka Palace in Jakarta, in Jakarta, October 2014. Tempo/Subekti
It is also suspected that the police were involved in Moeldoko's planned takeover. Benny Kabur Harman, Democrat Party Deputy General Chairman in the Agus Harimurti Yudhoyono camp, said that party officials in the regions were visited by police intelligence officers and were asked to support the outcome of the congress in Deli Serdang. Linggo Suryono, Executive Director of the Democrat Party in the Trenggalek Regency, East Java, said that he was telephoned by a police intelligence officer on March 8 who asked about data on the main party officials. "There was no intimidation. But why did they need the data for?" he said.
Inspector Gen. Argo Yuwono, the National Police Chief of Public Relations, said that they would check on the involvement of any personnel, and promised to punish any police officers found interfering in the Democrat Party conflict. Razman Nasution, a spokesman for the Deli Serdang version of Democrat Party leadership, asked that any suspected police involvement not be connected with their camp.
Support for Moeldoko has appeared on social media. Wijayanto, Director of the Media and Democracy Studies Center at the Institute of Economic, Social Studies and Development (LP3ES), said that the concept of a Democrat Party Extraordinary Congress was a hot topic on social media a week before the event was held. There were 181,000 chats which used the keyword "KLB." Based on Wijayanto's research, support for Moeldoko originated from accounts which to date have often supported government policies. They used hashtags such as #moeldokosavedemokrat. "It was shown that there was computer-based propaganda regarding the conflict in the Democrat Party," said Wijayanto.
***
ACCOMPANIED by Minister/State Secretary Pratikno, President Joko Widodo met with Coordinating Minister for Political, Legal and Security Affairs Mahfud Md. as well as Justice and Human Rights Minister Yasonna Hamonangan Laoly at the State Palace on the morning of Monday, March 8. During this meeting they discussed the conflict in the Democrat Party. "The President asked about how to resolve the conflict in the Democrat Party," said Mahfud to Tempo on March 12.
Mahfud and Yasonna explained to the President that some regulations can be used to resolve the conflict taking place in the Democrat Party, such as the Law on Political Parties and the Justice and Human Rights Minister Regulation No. 34/2017, which governs political party registrations. During the meeting, they also discussed the legality of the congress held in Deli Serdang, but the President did not reach any conclusions because he had not yet received a complete report on the matter.
Mahfud asked President Jokowi if Moeldoko had reported the congress in Deli Serdang to him. The President said that he had not received any notification, including from Moeldoko, who accompanied him during a working visit to Banten a day before the congress was held. At the end of the meeting, Jokowi ordered his ministers to handle the Democrat Party matter in line with current regulations. "The President emphasized that we not take sides with any camp," said that former chairman of the Constitutional Court.
That same day, Mahfud met with Moeldoko. A government official familiar with that meeting said that Mahfud asked why Moeldoko had not reported the matter to the President. Moeldoko said that the Democrat Party extraordinary congress was his personal business. That same official said that Jokowi had previously met with Moeldoko at least twice to discuss rumors of a coup in the Democrat Party. The President asked about the truth of those rumors and warned Moeldoko against getting involved.
Near the end of February, another accusation that Moeldoko intended to take over the Democrat Party was made, this time by Susilo Bambang Yudhoyono. In this case, Moeldoko, according to that same official, had reported to Jokowi. The President asked him to explain the matter to the public once more. Moeldoko claimed that he was not following the internal developments in the Democrat Party because he was busy taking care of his child's wedding on February 25. He asked to not be put under continual pressure. "I could very well take steps which I am confident of," he said.
RAYMUNDUS RIKANG, HUSSEIN ABRI DONGORAN, BUDIARTI UTAMI PUTRI, DIKO OKTARA, STEFANUS PRAMONO (JAKARTA), ADINDA ZAHRA (MEDAN)