Overcoming the Valley of Death
The Research and Innovation Consortium for the Acceleration of Covid-19 Mitigation developed 50 products. Government institutions involved in handling the pandemic are less enthusiastic in adopting these innovations.
Edition : Monday, March 15, 2021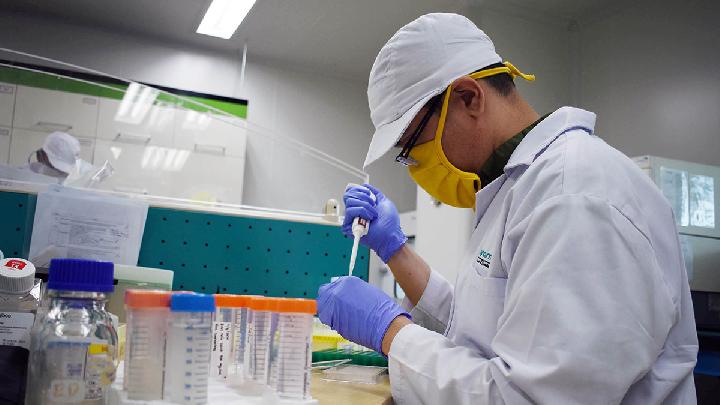 EIGHT products of the Research and Innovation Consortium for the Acceleration of Covid-19 Mitigation were displayed on stage in the Auditorium of B.J. Habibie Building, at the research and technology ministry, Jakarta, Tuesday, March 2. That day marked the one-year of the Covid-19 pandemic in Indonesia. Research and Technology Minister/National Research and Innovation Agency Head Bambang Brodjonegoro said that one of the consortium's main activities is producing Covid-19 vaccine. "Only vaccine can prevent a healthy person from being infected," said Bambang in his speech.

The vaccine Bambang referred to is the Merah Putih (Red and White) vaccine based on recombinant proteins. This vaccine is currently being developed by the Eijkman Institute for Molecular Biology. Eijkman Director Amin Soebandrio said that the institution is cooperating with Bio Farma to transfer the process from research and development to industry. "The handing over of the vaccine seed is not like simply delivering a package. There is technology transfer involved," said Amin when contacted on March 8.
According to Amin, Merah Putih vaccine development is still on schedule. The vaccine seed will be transferred to Bio Farma by the end of March or early April. Clinical trial is scheduled to begin in December, or January 2022 at the latest. The entire clinical trial phases will take eight months to complete. "However, the EUA (emergency use authorization) may be given before completion of the clinical trials. If phase 3 clinical trial is underway and showing promising result, then the EUA may be issued," said Amin.
Minister Bambang said that the Merah Putih vaccine is not designed for the short term, but for the end part of the vaccination program in mid-2022. One of its intended purposes is to maintain the continuity of herd immunity. "We do not know how long the immunity will last, surely not for a lifetime. The Merah Putih vaccine will take up a role as booster or re-vaccination," said Bambang during a video conference on Tuesday, March 9.
Vaccine, said Bambang, is not the end-all be-all. Its development is also not easy or quick. Therefore, before proceeding to the vaccine seed, the consortium had first developed other products of innovation. "The consortium decided to address elements related to the Covid-19 with high dependency on import," said Bambang. One of its first products is the antibody rapid test kit developed by Gadjah Mada University (UGM), Yogyakarta, which is capable of replacing imported kits.
W251bGwsIjIwMjEtMDQtMjIgMDc6MjM6MDIiXQ
Launched during the National Awakening Day on May 20, 2020, the consortium targets 61 products for development. Out of the 61, Bambang said that 50 products have entered final research result or prototype stage, including the eight products displayed in the "Indonesian Innovation for Post-pandemic Recovery" event. Meanwhile, 11 other products of innovation are still being developed.
Bambang said that the consortium's achievement during the pandemic far exceeds expectations when compared to normal situation. He calls it a 'pleasant surprise'. "Surprising because it was never imagined that so many innovations would be conceived. Pleasant because only a relatively short amount of time is required and, after becoming prototype, they much faster to be brought to the downstream line than in normal condition," he said.
According to Bambang, out of the 50 finished products, those that have actually been through downstream or released to market are the Vent-I ventilator by Bandung Institute of Technology's (ITB) Indonesia Portable Ventilator Development Team, the antibody rapid test kit, reagent for polymerase chain reaction or PCR test kit, and CePAD antigen rapid test kit from Padjajaran University (Unpad), and the mobile biosafety level 2 laboratory by the Agency for the Assessment and Application of Technology.
The Vent-I, short for Indonesia Portable Ventilator, entered commercialization or mass production through partnership with Panasonic Health Care, a joint company between Panasonic Japan and Panasonic Gobel Indonesia. Launched by PHC Indonesia on January 27, the Vent-I is a further refinement of the prototype developed by the team from ITB. "The team has proven itself capable of overcoming the valley of death," said Hari Tjahyono, Head of Vent-I Public Communications Team.
'Valley of death', Hari explained, is a term referring to the curve during which an innovation that has entered mass production fails to gain traction and proceed further. The team previously cooperated with Dirgantara Indonesia and Mitra Rajawali Banjaran, subsidiary of Rajawali Nusantara Indonesia. Dirgantara Indonesia mainly produced Vent-I to fulfill a 100-unit order from state-owned enterprises (SOEs). Production was discontinued once SOEs stopped ordering.

Hari added that PHC Indonesia has a commercial production capacity of 3,000 units of Vent-I per month. Head of ITB Indonesia Portable Ventilator Development Team Syarif Hidayat said that their introduction to PHC Indonesia was facilitated by a company which planned to donate Vent-I units. They intended to partner with a world-class company to produce the ventilators. "From several companies being approached, PHC Indonesia expressed interest," said Syarif.
Syarif negotiated and discussed the technical aspects of the partnership with the company's executives in Tokyo, Japan. Intensive teleconferences were held to discuss refinements to the components and other specifications. Some 100 units of prototypes and first version of Vent-I were sent to Japan. Improvements led to the second and third version. "By the end of November 2020, news came from Japan that they are ready for production," he said.
Minister Bambang said that progress to the downstream line is slow because the industries taking in these results of research and innovation are mostly small to medium in size. "Unfortunately, medium-sized industries lack the capital to expand to scale up production," he said. For example, Bambang mentioned the CePAD antigen rapid rest kit by Unpad. "Unpad is requesting assistance to find a partner with larger production capacity."
CePAD researcher, Muhammad Yusuf, said that research for the antigen rapid test kit had been conducted together with Pakar Biomedika Indonesia since the beginning. Now the research team is in the process of transferring technology to the company, which is handling production of CePAD. "To enable production of rapid test kits with similar quality," said Muhammad, a chemistry lecturer in Unpad's Mathematics and Natural Sciences Faculty, on March 9. Large-scale production ranges between hundreds of thousands to 1 million units, depending on order.
Bambang added that he is also talking about production expansion with the GeNose C-19 development team in UGM. According to Bambang, there is currently a very significant difference between what is requested and what is actually shipped. "This is not good because it makes us seem unprepared," he said. "We are negotiating to find a partner better suited to taking GeNose into becoming a large-scale product with guaranteed quality and consistency."
Dian K. Nurputra, a member of the GeNose C-19 development team, said that the product, which detects possible Covid-19 infection through human breath, had been developed through cooperation with industry partners since early on. According to Dian, the collaboration is the key in bringing the product of the innovation downstream. UGM, said Dian, is partnering with Yogya Presisi Tehnikatama Industri (for mechanicals), Hikari Solusindo Sukses (electronics and sensors), Stechoq Robotika Indonesia (pneumatics), Nanosense Instrument Indonesia (artificial intelligence), and Swayasa Prakarsa (assembly and business).
Another issue standing in the way to the downstream, said Bambang, is the lack of sufficient absorption of innovation products by the government. Several government institutions are related to the Covid-19 mitigation efforts, including, among others, the National Disaster Mitigation Agency, the health ministry, and hospitals. "There is not enough enthusiasm in absorbing domestic production. So, only few industries dared to step in," he said.