Fueled by Pipe Purchase
The government overhauled the directors of a Pertamina subsidiary. The decision came after a procurement of refinery project's goods, which was considered not meeting the domestic component requirements.
Edition : Monday, March 22, 2021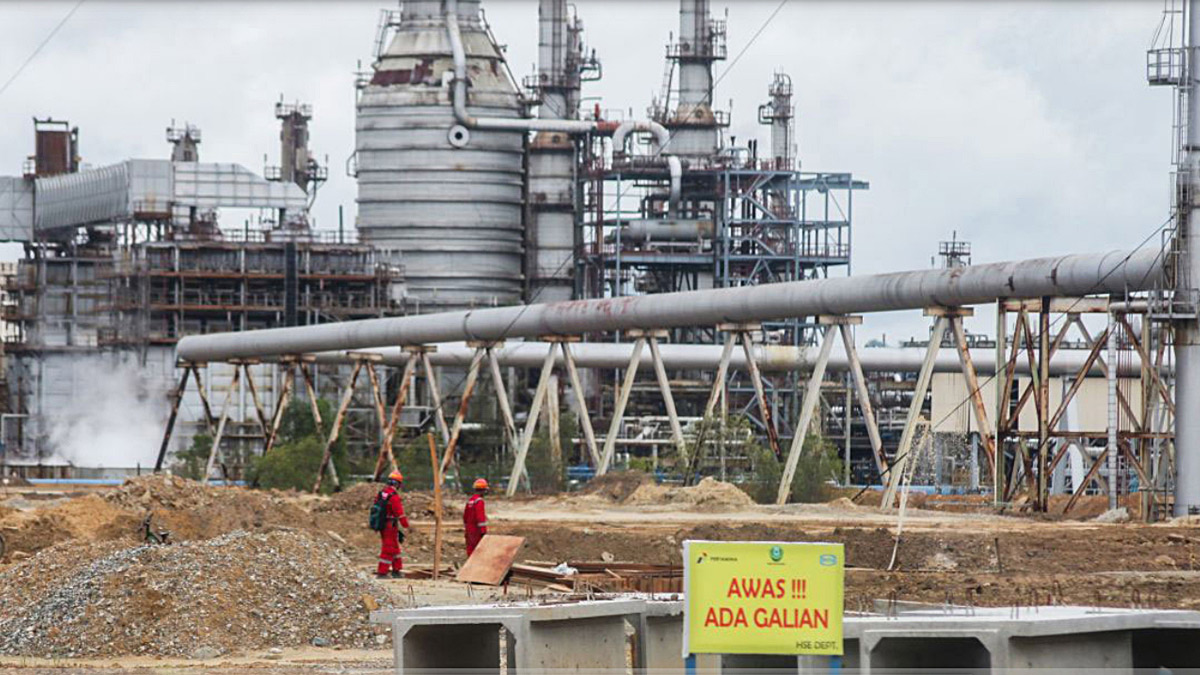 IN early February, notifications came one after another from a WhatsApp chat group, whose members are players in the iron and steel industry. An executive of a steel factory said that, sometime before, a warning came from a Pertamina official who did not want his project delayed because of the mandatory use of domestic products. Another businessman, also a member of the group, said that studies have shown how the supply of domestic iron and steel had not increased even though demand continued to rise over the last five years.
A few days later, there was an uproar after news that State Owned Enterprises (SOEs) Minister Erick Thohir had reshuffled Pertamina's board of directors and board of commissioners member during a shareholders' general meeting on February 5. The reshuffle also took place at Pertamina's subsidiaries. One of the officials dismissed was Ignatius Tallulembang, or Lette, as his friends call him. Lette—dismissed from his position as chief executive officer (CEO) of Kilang Pertamina International to be replaced by Djoko Priyono—was the Pertamina official who became the subject of discussion in the WhatsApp group.
News of Lette's dismissal became clear when Coordinating Minister for Maritime Affairs and Investment Luhut Binsar Pandjaitan said that a state company official had made President Joko Widodo upset. "There was a high-ranking Pertamina official who was directly dismissed by the President the other day," said Luhut during the 2021 National Coordination Meeting of the Technology Assessment and Application Agency on March 9.
According to Luhut, President Jokowi was upset because the official did not follow the regulations on the use of domestic components (TKDN) in the procurement of pipes by company. "Make pipes. Pertamina really messed up. They import pipes, even though we can make pipes in Indonesia. What's with that?" said Luhut. Luhut is the Chairman of the National Team of the Domestic Goods Usage Intensification (P3DN), which provides routine reports on the team's monitoring and evaluation results to the President.
W251bGwsIjIwMjEtMDQtMjIgMDY6NTg6MTYiXQ
A few days earlier, when opening the 2021 Indonesian Young Entrepreneurs Association National Meeting on March 5, Jokowi had actually said that he was upset. He mentioned the nonstop pipe procurement from overseas for domestic projects, even though Indonesia can make its own pipes. "We can mass-produce pipes, but still (we) import them. What for? Government projects, SOE projects. I'm telling you now, you cannot do that," he said "If we prevent this we can increase (local) demand, which is not small. (The demand) is really huge."
Apparently, Jokowi had followed up on a report by the P3DN National Team. The team's Monitoring Working Group Deputy Chair, Bobby Gafur Umar, said his team found many government and SOE projects that use imported products. Not just pipes like what Pertamina did, but also pumps and other construction equipments. He lamented on the high import figures while domestic pipe factories in Batam (Riau Islands), Bekasi (West Java) and Surabaya (East Java) had low utilization rates. "Why do we import pipes from China and other nations when we could have gotten the homemade ones? That made me angry," said Bobby on March 17.
According to Bobby, the P3DN National Team started monitoring after obtaining data and information from business associations and actors. Then, the P3DN National Team Executive Director, Industry Minister Agus Gumiwang Kartasasmita, issued a decree asking the Finance and Development Supervisory Agency to audit several projects.
One of the projects that was audited was the Balikpapan Refinery expansion, a megaproject by Pertamina. The audit that kicked off in the 3rd quarter of 2020 found many projects did not use local products optimally.
At first glance, said Bobby, a number of Pertamina projects looked quite good. The Balikpapan refinery, for example, is reported to have used domestic components of over 40 percent. But when the P3DN National Team conducted further examination, most of them were in the form of services and engineering, which amounted to 82 percent. Meanwhile, the level of domestic products use was only 18 percent.
The Balikpapan Refinery expansion had involved two other SOEs: Rekayasa Industri and Pembangunan Perumahan or PTPP. The two companies worked on the project's engineering, procurement, and construction (EPC). They also worked on the refinery construction, both the inside battery limit (IBL) and outside battery limit (OSBL), together with SK Engineering & Construction Co Ltd and Hyundai Engineering Co Ltd. "The synergy between SOEs will increase the TKDN, where it would prioritize the participation of local human resources and components," said Pertamina spokesperson, Adiatma Sardjito, in his statement on December 10, 2018.
As it turned out, according to Bobby, the P3DN National Team discovered that the project had instead used plenty of products from Korea. Meanwhile, Rekayasa Industri and PTPP were only involved for service and construction works. "Human resources, if they are Indonesians and counted as such, become TKDN," said the former CEO of Bakrie & Brothers.
The industry ministry noted that the pipes needed for Pertamina projects are widely available domestically, with domestic components usage certificates. But most of them are not yet included in the mandatory product category—must be used in government or SOEs projects. "As a result during tenders they have to compete with imported products, which are mostly cheaper, even though local products have received a maximum price preference of 25 percent," said Feby Setyo Hariyono, the Industry Ministry's Chief of Center for Increasing Domestic Products Use, on Thursday, March 18.
•••
REVITALIZING the Balikpapan Refinery is part of a program to develop four oil infrastructures, initiated in 2013. Now, Kilang Pertamina Internasional, a subholding of Pertamina, carries out the Refinery Development Master Plan (RDMP) project and the construction of two new facilities (New Grass Root Refineries).
In addition to the Balikpapan RDMP, there are also the Cilacap RDMP & Biorefinery, Balongan RDMP Phase 1, 2, and 3, and the Plaju RDMP & Green Refine (Biorefinery). The new refinery facilities are located in Tuban, East Java; and in Bontang, East Kalimantan. The work aims at raising Pertamina's fuel oil production capacity from around 1 million barrels per day (bpd) to approximately 2 million bpd.
The expansion of the Balikpapan refinery will raise capacity from 260,000 to 360,000 bpd. This facility is hailed as a way to cut back on diesel imports. The refinery is estimated to have its diesel production capacity increase by 23 percent to 30,000 bpd. In addition, it will produce another product in the form of propylene with a volume of 230,000 tons per year. At the end of January, Pertamina International Refinery's Corporate Secretary Ifki Sukarya said that the progress of the physical construction of the Balikpapan Refinery RDMP project had reached 27.99 percent.
The Balikpapan Refinery RDMP will focus on increasing the production volume of quality and eco-friendly fuel oil that meets Euro V standards. The EPC, IBL and OSBL contracts for Balikpapan Refinery expansion were signed in December 2018, with a contract value of Rp57.8 trillion. Pertamina obtained US$1.5 billion funding from Korea Eximbank. The cooperation framework agreement was signed during the sidelines of the "2019 Partnership Forum—Oil and Gas Downstream Indonesia" meeting in Seoul, South Korea, on July 2, 2019. In total, the project is worth US$6.5 billion, or around Rp94 trillion.
After audit and evaluation, Bobby Gafur Umar said Pertamina had actually fixed the import problem. It, for example, adjusted the components, structures and project contractors. The company now even has a directorate that specializes on handling the usage of domestic components. "So, every project must now go through the directorate," he said.
The problem is, Bobby said, the product specifications for project requirements are prone to being fixed in a way that makes it difficult for domestic producers to supply. Because of that, he said, the P3DN National Team would oversee government and state companies' projects from the planning stage. "To prevent delays. If an ongoing project goes through audits, and then changed, it would cause delays, and the funding would be messy," he said.
Djoko Priyono, the new CEO of Pertamina International Refinery, asserted that the Balikpapan Refinery expansion project was carried out through a lump sum contract for the contractor. The contractor procures the materials by referring to the approved brand/vendor list (AB/VL) documents in the contract. The document contains a list of brands or suppliers approved by the project owner, and must be followed by contractors, including 136 domestic suppliers of goods.
According to Djoko, several local suppliers failed to qualify when the AB/VL document was compiled in 2017. They only met the requirements based on the contract awarding to the EPC contractor at the end of 2018.
Djoko ensured that the Balikpapan RDMP prioritizes the use of domestic pipes that met specifications. The selection of specifications takes into account the process conditions, environmental aspects, and project location—for example onshore or offshore. As an example, he mentioned the procurement of 20-inch onshore and offshore pipes, which had been supplied by KHI Pipe Industries (a subsidiary of Krakatau Steel) and Bakrie Pipe Industries. In addition, there are 52-inch onshore pipes from Indal Steel Pipe and 52-inch offshore pipes made by Dwi Sumber Arca Waja. "Imported pipes are only used if they are not produced by domestic factories, according to the list in the Book of Domestic Product Appreciation," he said on March 20.
Djoko confirmed the news that industry players who are members of the Association of Energy, Oil and Gas Supporting Businesses (Guspenmigas) complained about the Balikpapan RDMP project to the coordinating ministry of maritime affairs in April last year. Pertamina, he said, had followed up on the complaint through coordination with related associations, ministries and institutions. "We accommodate Guspenmigas' complaints by adding domestic manufacturers to the AB/VL," he said.
RETNO SULISTYOWATI