Journalists Will Not Be Silenced
What happened to Nurhadi does not deter us. Instead, the pain that he went through reminds us that we journalists are working for the public.
Edition : Monday, April 5, 2021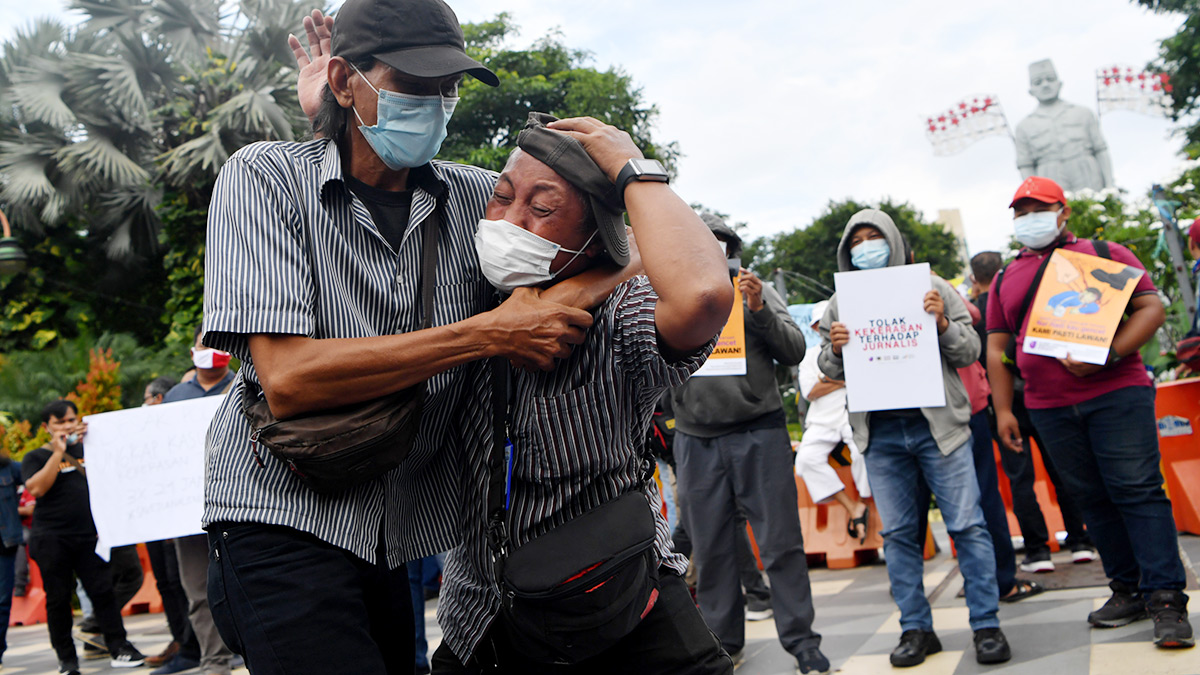 IN June 1976, Don Bolles, a veteran journalist for the Arizona Republic newspaper in the United States, was brutally murdered because of his work. He was investigating an organized crime in Arizona when his car exploded in the parking lot of Hotel Clarendon in Phoenix, after meeting an informant.
Four months after the incident, around 40 journalists from 23 other publications came to Arizona to continue Bolles' work. Supported by the Investigative Reporters and Editors (IRE)—a journalist organization in the United States—in early 1977, they published a long series of news articles chronicling the various corruption and violations of the law by organized crime in the state. This collaboration is known as The Arizona Project.

On October 30, 2017, Laurent Richard, a French investigative journalist, founded Forbidden Stories, a website dedicated to continuing the work of journalists who become victims of violence. The idea is simple: every terror, beating, and even murder against journalists is generally perpetrated by the crime actor, whose motive is to silence the victim. If there was a mechanism that enabled a journalist's work to be continued, despite the person being forced to stop by any means, then the violence would fail to achieve its intended effect. Richard acknowledged that Forbidden Stories was inspired by The Arizona Project.

These stories of solidarity are the reason why we remain undeterred after Nurhadi, a Tempo journalist in Surabaya, was kidnapped and beaten by a number of people—including police officers—on Saturday, March 27. At the time, Nurhadi was attempting to request confirmation from former Finance Ministry's Investigation and Tax Collection Director, Angin Prayitno Aji. Ever since the Corruption Eradication Commission named Angin as suspect in a tax bribery case a month ago, we have not been able to obtain his response.

The perpetrators were clearly aiming to silence Nurhadi. When Nurhadi was cornered and threatened with death, they intended to terrorize him psychologically to prevent him from reporting what occurred that night. But Nurhadi is not afraid. When we talked to Nurhadi a few hours after the assault against him, there was not a hint of fear in his face or voice. Like all of us, Nurhadi is aware that he is working for the public's interest. If he turns silent, it means giving way to violations of the law. Nurhadi's idealism is an inspiration for us all.

The ball is now in the police's court. National Police Chief Gen. Listyo Sigit Prabowo promises to pursue this case to completion. So does the Coordinating Political, Legal, and Security Affairs Minister and National Police Commission Chairperson, Mahfud Md. A number of perpetrators have been examined, although some police officers have not been summoned. The Legal Aid Institute for the Press, the Commission for Missing Persons and Victims of Violence, the Press Council, the Witness and Victim Protection Agency, and a long line of other civil society organizations are also committed to overseeing the case' investigation all the way to court. We are thankful for the solidarity.

Various journalist organizations began moving less than a day after the incident that occurred to Nurhadi was let known to all of Indonesia. Promoted by the Alliance of Independent Journalists (AJI), hundreds of journalists in different cities went to the streets to protest this umpteenth case of violence against reporters. AJI recorded that 84 similar incidents took place in 2020 alone. The momentum from Nurhadi's case should be directed to put an end to that cycle.

Aside from demanding punishment for the perpetrators, another important agenda that must not be ignored is continuing investigation towards the various crimes that become the reason behind violence against journalists. Without it, the attacks on press freedom will keep repeating. Don Bolles' case and Forbidden Stories taught us that solidarity in a case of violence against journalist will be more meaningful if it turns into a collaborative effort to unravel the many violations that are harming the public's interest in the country.
W251bGwsIjIwMjEtMDQtMjMgMTg6MTY6NDEiXQ