Demands Cannot Be Met without Cost Sharing
State Health Care and Social Security Agency's (BPJS Kesehatan) CEO Ali Ghufron Mukti revealed that his agency was still in the red with a deficit of Rp6.3 trillion as of December 2020. The increased premiums starting last January coupled with the decline in the use of BPJS services during the pandemic are expected to help reduce the deficit. Given the pandemic as a non-natural disaster, the government has borne coronavirus treatment costs. Ghufron said that to increase public's participation, BPJS Kesehatan was exploring an innovative funding mechanism via cooperation with philanthropic institutions with the hope to help fund prospective National Health Insurance-Healthy Indonesia Card (JKN-KIS) holders or even assist settle arrears. This way, the entire population will eventually have access to health care.
Edition : Monday, April 12, 2021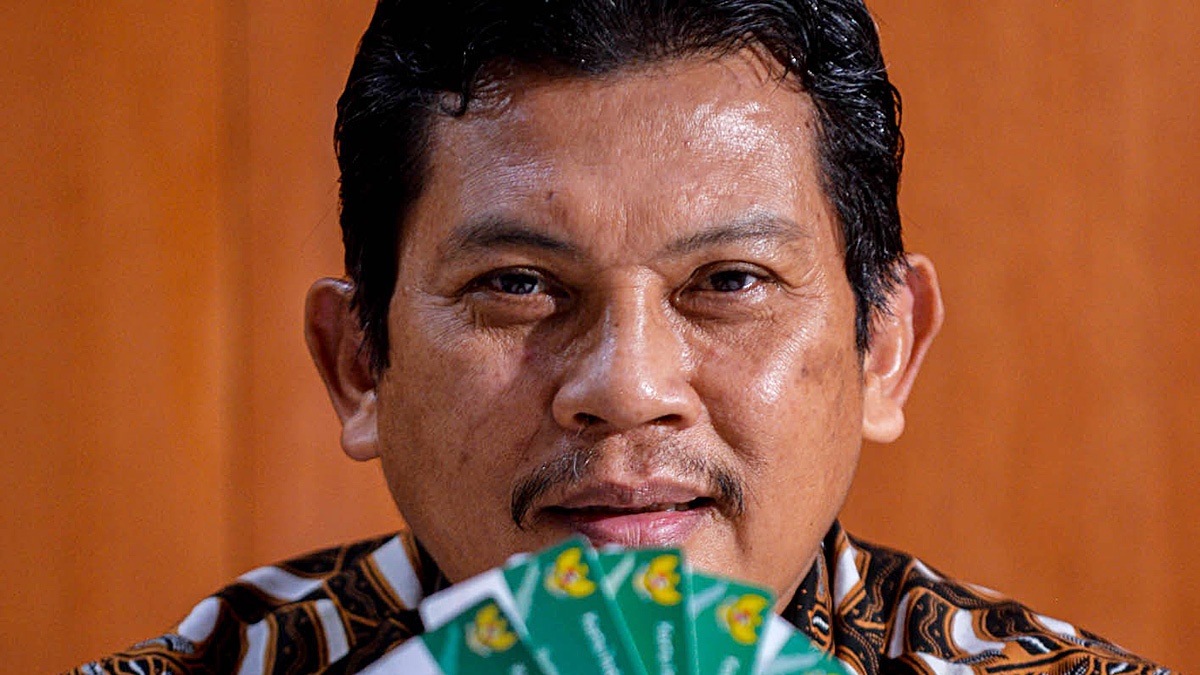 THE Covid-19 pandemic is like a double-edged sword for the Health Care and Social Security Agency (BPJS Kesehatan). It has ravaged the economy rendering the public unable to pay the premiums. On the other hand, it also discouraged people to go to hospitals unless absolutely necessary. Consequently, the number of claims dropped significantly reducing the burden on the agency. "For sure, the cash flow is now better given the decreased use (of health insurance)," said State Health Care and Social Security Agency's (BPJS Kesehatan) CEO Ali Ghufron during a special interview with Tempo at his office on April 7.
Ghufron, 58, said that the pandemic could be a momentum to overhaul the agency's finances. With the epidemic classified as a non-natural disaster, the state has absorbed all Covid-19 related health care costs. The BPJS Kesehatan only needs to take care of administrative matters for claims leaving the premiums intact. It, however, still carried forward a deficit of Rp6.3 trillion despite recording a cash balance of Rp18.7 trillion in 2020.
Soon after succeeding Fachmi Idris on February 22, Ghufron immediately stepped on the gas to ask for input and feedback from various sides. Before he received Tempo, for instance, the former deputy health minister was speaking with representatives of around 3,000 hospitals around the country. One of the issues discussed was unpaid claims by hospitals. "Just let us know. As long as the claims are verified, not disputed ones, we will immediately pay," he said.
Speaking to Tempo journalists, Mahardika Satria Hadi and Nur Alfiyah, Ghufron touched upon various matters, from BPJS Kesehatan's financial condition, his innovation to tackle the deficit, the premium hike, to the pandemic's impact on health care services. He also responded to the questions regarding clients' personal data and explained the importance of cost sharing to fulfill needs and demands.
W251bGwsIjIwMjEtMDUtMDggMjE6MTY6MTYiXQ
You said that the BPJS Kesehatan had a surplus of Rp18.7 trillion at the end of 2020 and also a deficit at the same time. Why called it a surplus if there was a deficit?
Thanks to the efforts of our friends and the government's extraordinary support via regulation changes etc. as well as the Covid-19 pandemic—which we actually didn't expect—that deters people from going to hospitals unless extremely necessary, health care utilization declined and subsequently payouts also decreased. Hence a kind of surplus totaled Rp18.7 trillion in terms of cash flow. It means, we have Rp18.7 trillion in the bank, however, we also have obligations which after calculations amounted to Rp25 trillion.
What really are these obligations?
They include outstanding or unsettled claims, incurred but not reported claims by hospitals for services already rendered, disputed claims, debts and so on. The bottom line is that we have a negative net asset with a deficit of Rp6.3 trillion per December 2020.
Are these what the hospitals are complaining about?
We want to develop BPJS Kesehatan as a jointly-owned entity with hospitals. So, if there's a surplus, it will be a joint surplus; if there's a deficit, it will be a joint deficit. Then we should maintain routine communication because they said previously there wasn't adequate communication between the hospitals and the BPJS. Lastly, the ARSSI (Indonesian Private Hospital Association) has summoned BPJS three times (on claims). They didn't have to summon. Just let us know if we have debts. As long as claims are verified, not disputed ones, we will pay.
What has been done to overcome this financial problem?
A lot. We for sure are trying to manage the finances better. For example, for better investment, we immediately pay off the debts especially after the government assisted us with regulation changes to increase premiums.
Will the premium hike help rein in the deficit?
Premium adjustments put into effect via the Presidential Regulations No. 75/2019 and No. 64/2020 have helped improve the finances and sustain the JKN-KIS (National Health Insurance-Healthy Indonesia Card) program. The challenge is to oversee the budget availability for the premiums in accordance with the regulations. The rationalizations of the state and regional budgets as well as the stagnant economy as a result of the pandemic raised the risks that budgeting for JKN-KIS premiums particularly in the regions may not be optimal.
How much additional revenue BPJS Kesehatan gains from the premium hike?
For PBIs (premium subsidy recipient), a total of 98.6 million people as per December 2020, the premium was increased from Rp25,000 to RP42,000. Not bad, right? Meanwhile, PBPUs (non-salaried participants) pay Rp35,000 a month for class III services. The central and the regional governments subsidize Rp7,000.
What efforts did BPJS Kesehatan make to ensure that the entire population continues to receive health insurance?
We are developing an innovative financing mechanism. We urged participants and various parties to register themselves to fund those who are yet to become JKN-KIS participants. We hope that those who haven't received health insurance and social security protection would promptly enroll in the JKN-KIS program.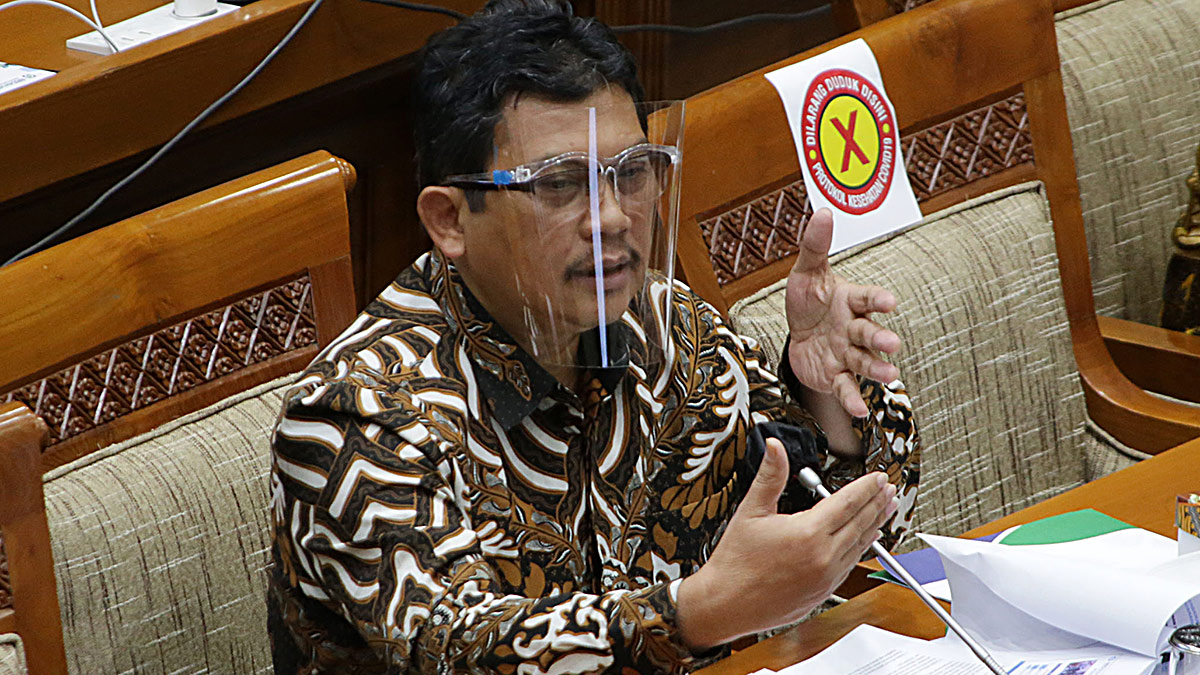 BPJS Kesehatan CEO Ali Ghufron Mukti in a work meeting with DPR's Commission IX at the Parliament Complex, Senayan, Jakarta, March 17. Tempo/M Taufan Rengganis
What is a concrete implementation like?
We plan to collaborate with philanthropic organizations such as Baznas, Lazismu and Lazisnu to help fund those who feel burdened by the premiums or those who have arrears but are not PBIs so they are not subsidized by the government. Arrears can amount to millions of rupiah.
Did you personally approach these philanthropic organizations?
We've met with several organizations including Buddha Tzu Chi. We've also discussed with the Vice President (Ma'ruf Amin), and he is very supportive.
How many participants can the organizations help insure?
It will be gradual. We can't achieve big right away. There used to be a crowdfunding. It just needs to be reinvigorated and the commitment strengthened. In addition to new ones, there are old participants who have troubles paying the premiums because their membership became inactive after not using it for a long time. Their arrears are quite big. They were unable to pay them off when they actually needed to use the BPJS. That's why we made a regulation to ease the burden or to help them settle the arrears with philanthropic fund.
How much do the arrears contribute to BPJS Kesehatan's deficit?
For sure, the number of non-active members has increased due to the pandemic. They have troubles paying the premiums.
Is the public's awareness to support the national health insurance program still low?
The population in the informal sector is still very high. In many countries, for example South Korea, when they developed a system like this, their informal sector had already shrunk to below 10 percent which continued to drop to 5 percent. Meanwhile in Indonesia, it is still huge at more than 50 percent.
Is it hard to rely on the people in the informal sector to fulfill their obligations and pay their shares?
I can understand that they don't have structured and fixed income. It's easy if all of them are government or company employees, right? But they are not. They are meatball noodle sellers, delivery men, and so on.
What about government's assistance so far?
The government has actually been extraordinarily supportive. The poverty rate according to the Central Statistics Agency is around 10.5 percent or 27 million. The government has already paid premiums for 96.8 million BPIs. It's three times the number of the poor population. It means it's imperative we also raise the public awareness.
Why is the public awareness still low?
Some people spend Rp150,000 a month to damage their health, for example, by smoking. They do! So, the issues here are willingness and ability. If they can spend the money for smoking, why can't they pay for their own health? I think (it is about) educating the public and the stakeholders in general concerning the lack of health care resources. That's the crux of the matter.
Compared to other countries, how does BPJS Kesehatan's performance fare?

The impact from the previous premium hike is already visible. The cash flow improved but that is not the only factor. This time, we also have the Covid-19 factor, we may call it a blessing in disguise. The pandemic is a non-natural disaster but it has 'positive sides'. Now people go to hospitals only when they really have to. But our system is different from many countries' which have cost-sharing schemes. Thailand, for instance, has a 30-Baht policy similar to Jamkesmas (Community Health Protection). Everyone pays 30 Baht or around Rp10,000 for hospital services. In Japan, cost-sharing amounts to 30 percent. Likewise, in South Korea and Taiwan. We don't have cost sharing in Indonesia. BPJS holders don't pay. We can never fulfill needs and demands if we don't implement a cost-sharing scheme.
What should be done to be able to implement a cost-sharing concept in Indonesia?

Public should pay when they go to hospitals but on condition that it is not onerous for them. If we refer to WHO's (World Health Organization) definition of universal health coverage, people should have access to health care services anytime and anywhere they need without financial hardship. The point is that people should not be denied access because they can't pay. But at the same time, they should not be reckless either. Because health care is guaranteed, they feel they don't need to take care of their health. 'If we get sick, we can just go to hospital.' That's a wrong attitude.
How much must the public pay under a cost-sharing scheme?
We haven't calculated it thoroughly but in general, it should not be burdensome. I think everyone wants a good service rather than a free service. In other words, it's okay to pay premiums but don't practice discrimination or give bad service.

The Supreme Audit Agency (BPK) reported recurring problems in the BPJS Kesehatan membership management since 2015. Where is the BPJS now with updating and validating membership data?
People often misunderstand. The BPJS Kesehatan is an operational public institution. It is a data user not a producer. So, if you ask about data validation, is it BPJS's job? Does the BPJS have the right to erase data it deems invalid? No, but people think it is BPJS's job. I reiterate that the BPJS Kesehatan is not a data producing agency.
Who is responsible for data validation?
The social affairs ministry has the data related to social issues. In the region, it is definitely the social services departments. The social ministry provides the PBI data to the health ministry which in turn forwards them to the BPJS Kesehatan.
Then what is BPJS Kesehatan's responsibility as regards data?

The BPJS Kesehatan is ready and happy to help verify the data. For example, the Finance and Development Supervisory Agency's (BPKP) finding about the supposedly problematic data of 27.4 million PBIs. We helped check and correct it. There are still the data of around 1.6 million people who are mostly in Papua or other regions that are rather difficult to verify. But the BPJS does not determine who are socially vulnerable or who should be PBI. Therefore, we continue to work with the department of population and civil registration, the social affairs ministry, and particularly the health ministry to verify the data.
The government is preparing a policy to standardize classes for the National Health Insurance. What is the basis for merging hospital room classes?
It is being handled by the health ministry and the National Social Security Council. BPJS Kesehatan is an operational institution so we just wait.
Is designation of classes not working well?
The principle has already been stipulated in the National Social Security System Law and the BPJS Kesehatan Law. That there will be no different classes in future. There will be only one package. In order to do so and to be efficient, we need to recalculate how much basic health care costs. Indirectly for that purpose, one standard class will be applied. In principle, the BPJS Kesehatan only assists and we are not the one that makes regulations or decisions.
---
ALI GHUFRON MUKTI
• Place and Date of Birth: Blitar, East Java, May 17, 1962 • Education: Bachelor of Medicine, Gadjah Mada University, Yogyakarta (1986); General Practitioner, Gadjah Mada University (1988); Master of Science in Tropical Medicine, Mahidol University, Thailand (1991); Doctorate of Medicine, University of Newcastle, Australia (2000); Professor, Gadjah Mada University (2002); Honorary Degree from Coventry University, England (2017) • Career: Dean of the Faculty of Medicine, Gadjah Mada University (2008-2011); Deputy Minister of Health (2011-2014); Acting Minister of Health (May-June 2012); Chairperson, Working Group on Preparation for the Implementation of the BPJS Kesehatan (2012-2015); Director General, Resources for Science, Technology and Higher Education, Ministry of Research, Technology and Higher Education (2015-2019); Expert Staffer to Minister of Infrastructure for the Ministry of Research and Technology/National Research and Innovation Agency (2020-2021); Chair, Covid-19 Research and Innovation Consortium (2020-2021); Expert Staffer to Minister for Research and Innovation Financing (February 2021); Acting Deputy for Strengthening Innovation of the Ministry of Research and Technology/National Research and Innovation Agency (February 2021); Chief Executive Officer of BPJS Kesehatan (since February 2021)
---
What is BPJS Kesehatan's role in managing the Covid-19 pandemic?
Covid-19 has created serious problems as a great number of disputed claims piles up. Since we are in a pandemic, the law says that the BPJS Kesehatan is not responsible for Covid-19 related treatments. But people think it is BPJS Kesehatan's responsibility.
What kind of disputed claims came up during the pandemic?

A lot of hospitals provided Covid-19 related treatments, for instance, by giving the immunoglobulin treatment. Most people infected with Covid-19 develop blood clotting and a certain device can be rented to dissolve the clotting which costs around Rp30 million per day. Meanwhile, the number of infected people is in hundreds of thousands. Just multiply the number. And that raised a question as to whether the BPJS would pay for that. We don't have the ability to say if the immunoglobulin treatment is covered because we only take care of administrative claims.
Who makes the decisions?

The Covid-19 is a clinical matter. The state has already designated institutions which have the ability and the authority for that. For sure it's not BPJS Kesehatan. The public and at times some stakeholders don't understand that.
Then what are BPJS Kesehatan's responsibilities in fighting the pandemic?
The human development and cultural affairs ministry, clearly by the instruction of the President, has tasked us to help process claims. That's where BPJS's expertise and ability lie, not in managing medical problems. The pandemic or disaster mitigation funds also don't come from the BPJS Kesehatan participants. This is where misconceptions often arose.
There was public uproar over news that hospitals were allegedly fabricating Covid-19 cases so they could make larger claims. Did BPJS Kesehatan find cases like that in the field?
I don't know and I haven't seen it personally but the news said there were. So, of course there should be some kind of a team or a medical advisory board to check and see if there are indeed cases like these.