Back From Extinction
Residents of Kotabaru, South Kalimantan, discovered a bird identified as pelanduk kalimantan, or the black-browed babbler. This species has not been seen since it was first discovered in the 1840s.
Edition : Monday, April 12, 2021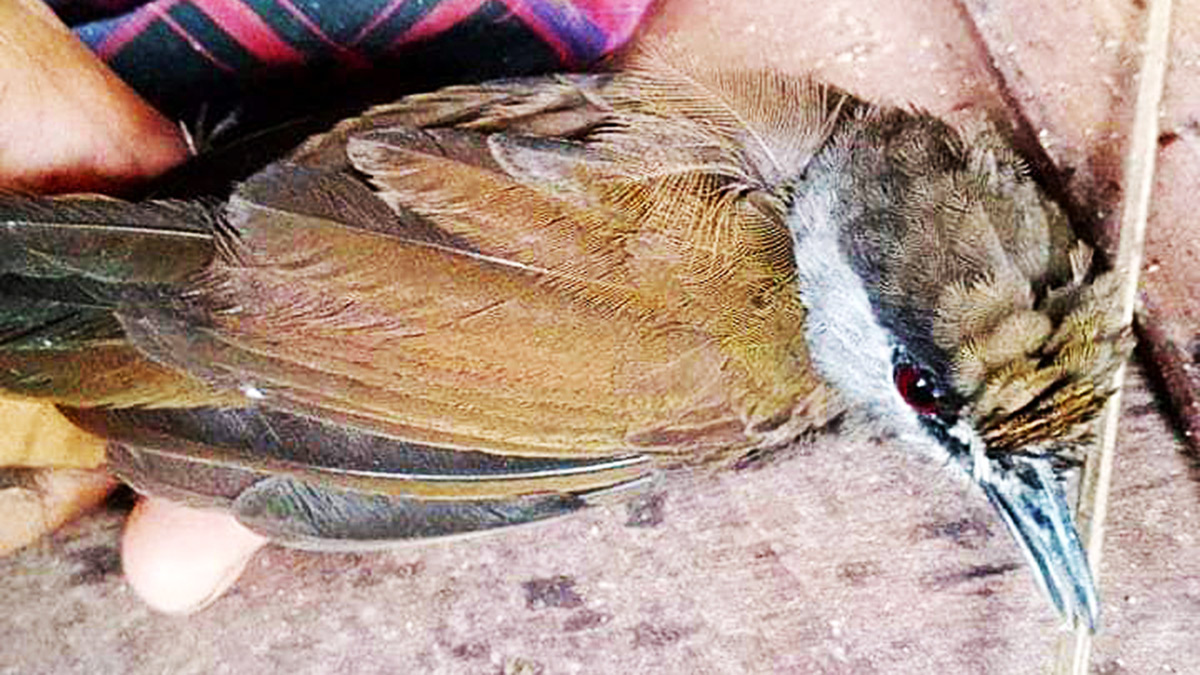 MUHAMMAD Suranto spends his free time looking for birds. The resident of Seronggak, Kotabaru, South Kalimantan, hunts when he is not working—he declined to say what he does for a living. Usually, he catches grey-cheeked bulbuls (cucak jenggot), blue-winged leafbirds (cucak ranti), and hummingbirds. But on Monday, October 5, 2020, he caught an unusual prey. "I had no idea what it was. It was the first time I saw that kind of a bird," he said on Tuesday, April 6, remembering the incident six months ago.
The bird was later identified as a pelanduk Kalimantan, a species that had disappeared since Carl A.L.M. Schwaner, a German geologist and naturalist, first discovered it in 1840s. French ornithologist Charles Lucien Bonaparte then described this new specimen in 1850. Tri Haryoko, researcher at the Indonesian Institute of Sciences (LIPI) confirmed that this was indeed the bird that had been discovered over 170 years ago. "Since it was described, nobody had ever reported seeing it again," he said on Friday, April 9.
Tri was certain that the bird found by Suranto is the pelanduk kalimantan, or Malacocincla perspicillata. It measures between 15 and 16 centimeters, has a brown crown with a black border that goes across its eyes, through its cheeks and all the way to the nape and its neck. Its upper body is brown, and its chest is grayish with thin white lines, and a short tail. "These characteristics were upheld after comparisons with specimens stored at the Naturalis Biodiversity Center in Leiden, the Netherlands," said Tri.
This discovery was completely unexpected. Suranto, who discovered the bird last year, found it when he was hunting in the Batulicin hills in the Tanah Bumbu Regency, some 30 minutes from his house. At that time, he found at least two birds he had never seen before. He caught one of them with a net. Suranto did not know the name of the bird, even though its chirping was similar in sound and form with other pelanduk birds.
W251bGwsIjIwMjEtMDUtMDggMjA6MjI6NTciXQ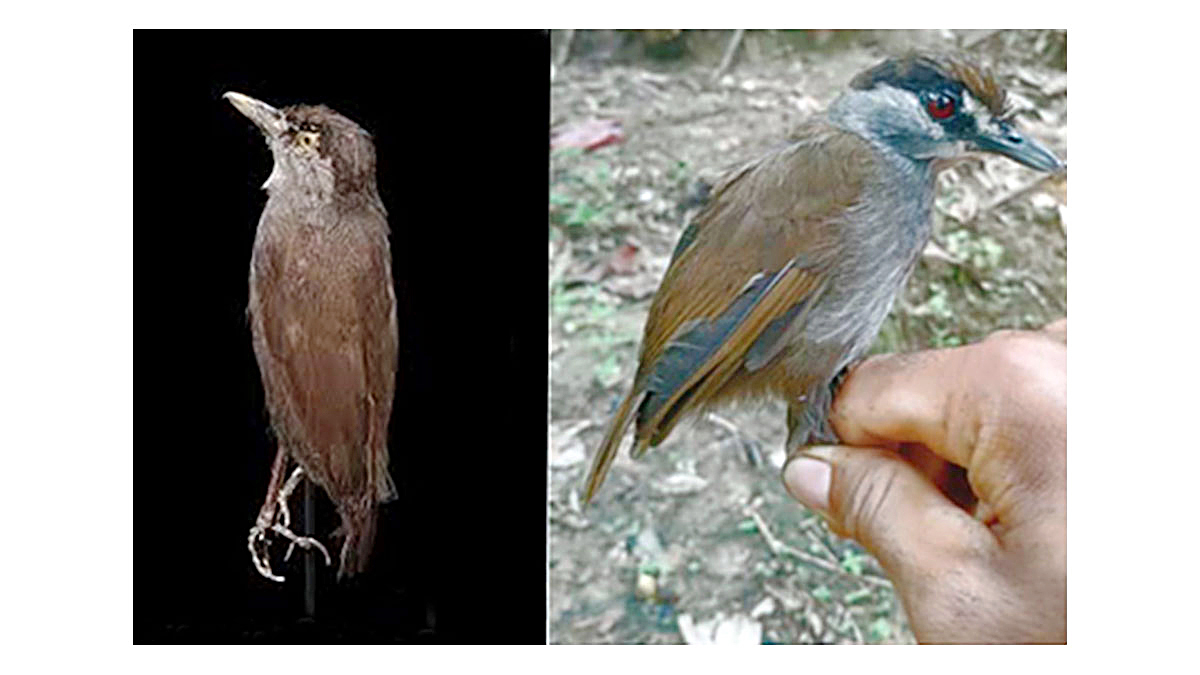 Comparative photo of the Pelanduk Kalimantan in the 1840s (left) and the recently discovered by Muhammad Suranto. Tempo
According to LIPI data, Indonesia has 10 types of pelanduk birds, including the white-chested pelanduk (Trichastoma rostratum), the short-tailed pelanduk (Malacocincla malaccensis), the red pelanduk (Trichastoma pyrrogenys), the bush pelanduk (Malacocincla sepiaria), the pelanduk sulawesi (Trichastoma celebence), and the black-hat pelanduk (Pellorneum capistratum). Curious about his finding, Suranto immediately contacted Muhammad Rizky Fauzan, whom he knew as a bird trader, on October 7, 2020. Suranto also sent photos of the bird through WhatsApp.
Fauzan, who lives in Samarinda, East Kalimantan, has a bird collection. Although he has already been handling birds for many years, Fauzan was unable to answer Suranto's question. "I thought it was a new type of bird," he said when contacted on April 6. Unable to give a satisfactory answer, Fauzan then passed the question on to Doddy Ferdiansyah, a friend of his who is a bird watcher. Doddy is one of the founders of BW Galeatus, a birdwatching group on Facebook.
Doddy and his friends shared information and discussed the bird through Galeatus. Doddy, a graduate of Mulawarman University's Forestry Faculty, also went through all the literature he could get a hold of. As soon as he saw the photo sent by Fauzan, it was as if he had fallen in love. "What type is this? I have never come across something like this before. Is this a new species?" he said on Wednesday, April 7, recalling his first reactions.
Unsure about what he saw, he shared his question with other BW Galeatus organizers. One of them is Teguh Willy Nugroho, who is also an official at the Sebangau National Park's Forestry Ecosystem Controller at Palangkaraya, Central Kalimantan. "At first, we thought it was a new species, as its description did not match any of the literature that we had gathered," Teguh said on April 7.
In order to get alternative views, Teguh contacted Panji Gusti Akbar, his colleague from the Yogyakarta State University, who is known to be active in a birdwatching club. "This bird looks similar to the pelanduk kalimantan, which is often quoted in journals and books," said Panji on April 8, reiterating what he had told Teguh. Panji recognized similarities to the bird's characteristics described by Charles Lucien Bonaparte. This author of Atlas Burung Indonesia (Indonesia's Bird Atlas) asked five other birdwatchers about this, and all of them confirmed his view.
Panji's opinion convinced Suranto, Fauzan, Doddy and Teguh, and they agreed to release their findings through a journal. On October 10, 2020, they started gathering detailed information. Suranto was asked to measure the bird with a ruler, to which Suranto answered that he did not own a ruler. "We all laughed. He does not own a ruler?" said Doddy, recalling their chat.
---
"Maybe its habitat has been destroyed by humans, and that's why they can now be found,"
---
They then tried to be creative and asked Suranto to look for coins, but that did not work either. Suranto then used a soda bottle as a comparison tool. However, that was not deemed adequate, and finally they all agreed on using a Rp5,000 bill. "Finally, we knew that the bird measured between 16 and 17 centimeters," said Doddy. They also asked Suranto to photograph the bird from various angles. In one of the photos, it appeared as if the bird was squeezed hard. Asked about that, Suranto answered: "I squeezed it with my hand."
After gathering the physical data, there was discussion in the team whether the bird should be kept captive or set free. Teguh said that some believed the bird should remain in captivity as it may be the only one of its kind left. Others believed it should be freed. Suranto went for the latter. "I freed the bird as I was planning to travel, and was afraid that no one could take care of it," said Suranto.
One month later, the draft was completed and sent to Birding Asia. After some editing, the piece was published in edition 34 of the journal in December 2020. The authors were Suranto, Fauzan, Doddy, Teguh, Panji, Joko Said Trisiyanto, and Ding Li Yong. Joko is Doddy's colleague at BW Galeatus, while Ding Li Yong is from BirdLife International in Singapore. Panji said that they received numerous comments after the article was published. "Many people congratulated us, and agreed that it was indeed the pelanduk kalimantan. Some even said that they had seen a similar bird behind their house," Panji said.
Doddy sees this discovery as a double-edged sword. While it is a sign that there is still a population of the birds alive, it may also signal a problem. "Maybe its habitat has been destroyed by humans, and that's why they can now be found," he said.
Teguh said that in a webinar on March 2, Indra Eksploitasia, the Environmental Ministry's Director for Biodiversity Conservation, asked for further research into the habitat and population of this rare bird. "Please do the research, so that there is updated information to protect this bird," said Teguh, quoting Indra's message.
Wildlife conservation policies are based on Government Regulation No. 7/1999, regarding the preservation of plants and wildlife. This policy states that an animal can be put into the protected species list if its population is small, its numbers are going down drastically, and it has a limited habitat. "We can use some of the information as a basis to put the pelanduk kalimantan on the protected species list," said Indra Eksploitasia in an environment and forestry ministry broadcast regarding the bird's discovery on Friday, April 2.
Environment and Forestry Ministry Regulation No. P.106 of 2018, said that there are 904 plants and animals which are protected. The pelanduk kalimantan, however, is not on that list. Panji said that he and his friends plan to conduct further research. "With this follow-up research, we hope to assist the government in acquiring population data (of the bird), and give recommendations on the importance of protecting it," he said.
ABDUL MANAN