Bringing Women into the Fold
The involvement of women in terrorism has increased since the influence of ISIS first reached Indonesia in 2015. The government does not yet have a dedicated program for the deradicalization of women.
Edition : Monday, April 12, 2021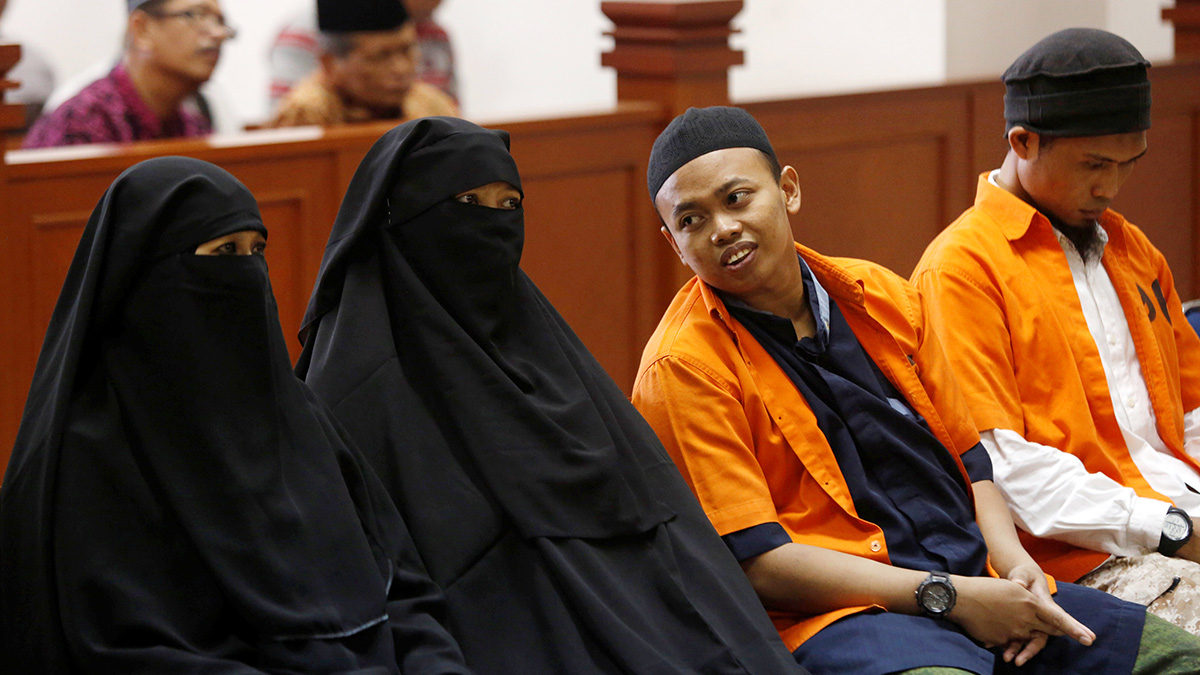 AFTER being incarcerated for more than four years at the Bandung Women's Correctional Facility, Dian Yulia Novi is still closed off. The 31-year-old woman has been reluctant to take part in the parole program because she still believes the Islamic State of Iraq and Syria (ISIS) ideology. "She is still influenced by her husband," said Rizka Nurul Amanah, a researcher from the Prasasti Perdamaian Foundation, on Friday, April 9.
Dian was arrested at the end of 2016 for planning to carry out a suicide bombing at the State Palace in Jakarta together with her husband, Muhammad Nur Solikin alias Abu Ghurob, 30. Dian was sentenced to seven and a half years imprisonment, while Nur Solikin was sentenced to 11 years. Nur is currently incarcerated at the Tangerang Correctional Facility in Banten.
Rizka often meets Dian at the Bandung Correctional Facility as a part of the terrorism convict counseling program. They last met in November 2020. Dian, said Rizka, does not say much. "If she feels uncomfortable she won't talk. Sometimes I get more information from her husband," said Rizka.
Dian is the first woman in Indonesia who intended to become a suicide bomber. At the time of her arrest, she was carrying a pressure cooker bomb. She was two months pregnant at that time. The child is now three years old, and is being raised by Dian's family in Cirebon, West Java.
W251bGwsIjIwMjEtMDUtMTMgMTk6MjA6NDQiXQ
Before becoming an ISIS sympathizer, Dian was a migrant worker in Taiwan. She became interested in ISIS after visiting some groups on Facebook and Telegram. Using the name Ayatul Nissa, she interacted with groups such as Alzaira and Millah Ibrahim.
Dian regularly communicated with ISIS sympathizers in Indonesia and Syria. Contacting a woman named Tutin Sugiarti from Ciamis, West Java, in 2015, she expressed her desire to become a 'bride' or suicide bomber. She said that she wanted to get married before carrying out the bombing, which is referred to as 'amaliyah'.
Nur Solikin took Dian's pledge of allegiance to ISIS, then married her in October 2016 in Ciamis. The two then moved to Bekasi and lived in a rented room, from where they planned the bombing.
Rizka said that Dian decided to become a suicide bomber because she was seeking forgiveness from God. Dian, according to Rizka, thought that being a bomber could result in forgiveness for her parents' sins. Furthermore, she was from a poor family. "Dian also felt a need to prove herself due to a lack of self-actualization," said Rizka.
Siti Darojatul Aliah, Director of the Society Against Radicalism and Violent Extremism (SeRVE), who goes by the nickname Dete, said that Dian's motive was similar to that of the suicide bomber at the Makassar Cathedral, Yogi Safitri Fortuna alias Dewi Juwariya. Dewi detonated a pressure cooker bomb with her husband, Muhammad Lukman Alfarizi, on Sunday, March 28.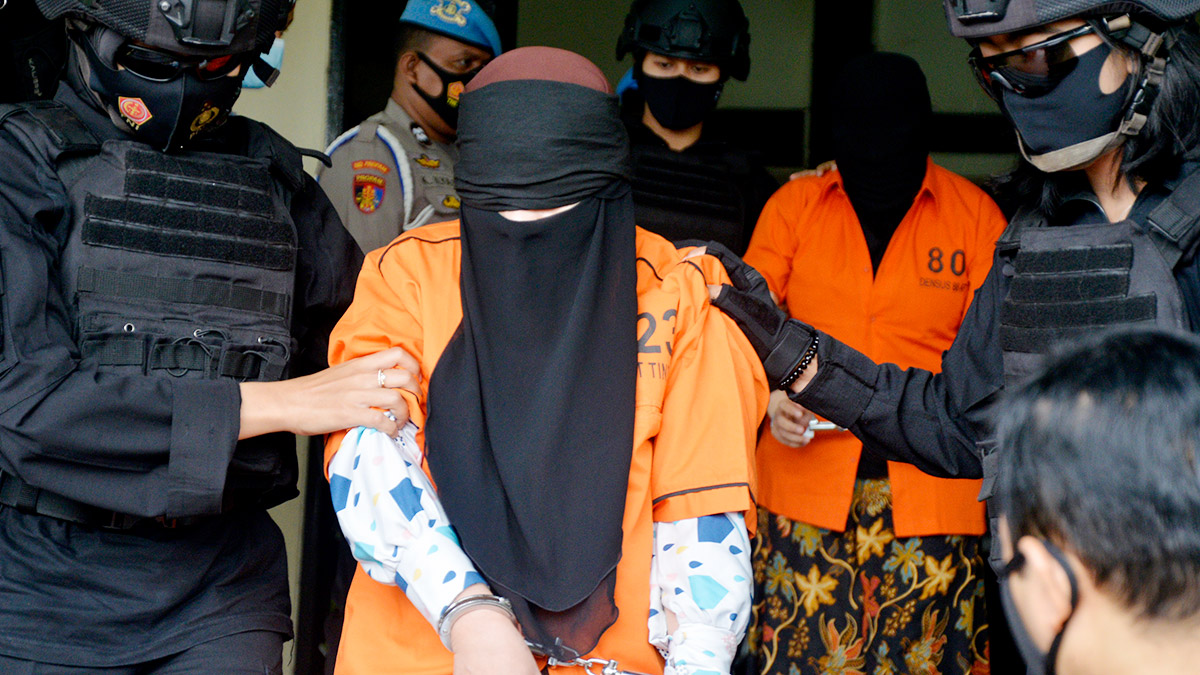 Officers from the Densus 88 anti-terror squad and the South Sulawesi Mobile Brigade escorted suspected terrorists from the Jamaah Ansharut Daulah (JAD) network who was being transferred to Jakarta, at the Sultan Hasanuddin Airport in Maros, South Sulawesi, in February. Antara/Abriawan Abhe
Zakiah Aini, who attacked National Police Headquarters, is believed to have had the same motivation. It is suspected that both pledged loyalty to ISIS, just like Dian did. "They thought that by performing 'jihad' (holy war) they would enter heaven and receive intercession to bring 72 of their family members into heaven," said Dete. So far 41 women have been arrested, accused of being involved in terrorism.
According to Dete, the involvement of women in terrorism had not been encountered before the police arrested Dian Yulia. The Jamaah Islamiyah, the terrorist group which first appeared and is oriented towards Al Qaeda, does not involve women and children in suicide bombing operations. "For that reason, many of the wives were surprised when they found out that their husbands had been arrested on charges of being a part of terrorism movements," said Dete.
This view is different from ISIS propaganda. Adhe Bhakti, a researcher at the Center for Radicalism and Deradicalism Studies, said that ISIS made a fatwa (edicts by Muslim leaders) by misusing a hadith (saying and teaching of Prophet Muhammad) transmitted by Abu Abdurrahman Ahmad Al-Khurasny or Imam An-Nasa'i, an expert in hadith who lived in the 9th century. The hadith contains the words of Prophet Muhammad when he was consulting with the early followers of Islam before the Battle of Uhud. According to Adhe Bhakti, the hadith says that if they encounter them (enemies) in the streets the women should throw stones on them from the tops of the houses.
Adhe Bhakti said that ISIS also cited a fatwa of a scholar who called on everyone to fight back if an enemy attacks a nation. In this view, a woman is allowed to take part in fighting without her husband's permission. "The ISIS ulema obligated women to take part in jihad or amaliyah. They legitimize women taking part in attacks," said Adhe. According to him, another reason ISIS calls on women to engage in violence is to put to shame men who are not brave enough to die for the cause.
Although the number of women involved in terrorism continues to grow, researchers say that the government does not see female terrorists as posing a danger. According to Dete, there are no special deradicalization programs for women in the prisons. "Whereas women also have the potential to commit violence," said Dete.
She cited Ulfa Handayani Saleh. Together with her husband, Rullie Rian Zake, they bombed a church on Jolo Island, the Philippines, in July 2019. At that time, Ulfa had just finished a rehabilitation program at a social care facility in Jakarta. "After being sent home she was still radical, still zealous," said Dete.
Commissioner Gen. Boy Rafli Amar, Chief of the National Counterterrorism Agency (BNPT), said that deradicalization work is done in a systematic, integrated and continuous manner. "There are many dynamics that occur," said Boy.
According to him, the BNPT prioritizes building trust and communication with terrorism convicts. "Of course, each one responds differently. This shows that efforts towards the objective of deradicalization are easier said than done," he said.
Rizka Nurul Amanah suggested that the government involve more women in mentoring terrorism convicts. This is because female convicts feel awkward having male guests. According to Rizka, families can be a key to the success of deradicalization.
Rizka, for instance, always brings news about Dian's child in Cirebon before talking about the deradicalization program. Her eyes light up when she hears her child is doing well. "They are people like anyone else, who want to be loved by their families," she said.
LINDA TRIANITA