President at Atta-Aurel Wedding
Edition : Monday, April 12, 2021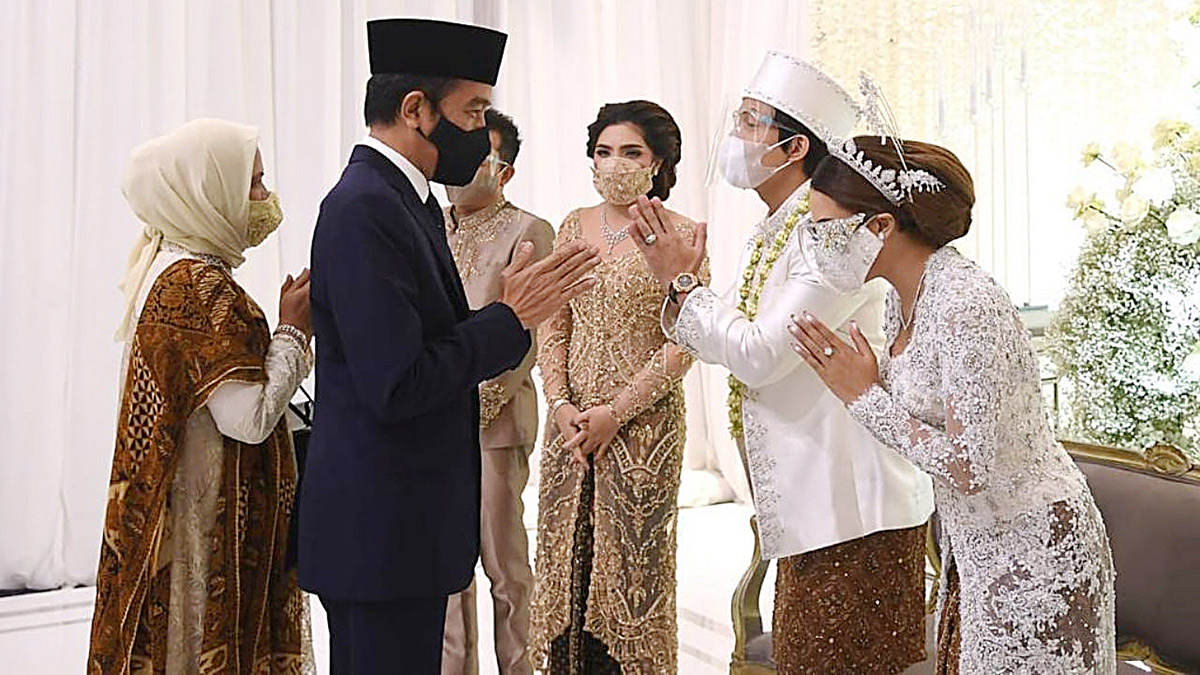 PRESIDENT Joko Widodo and Minister of Defense Prabowo Subianto became witnesses for the wedding of celebrities Muhammad Attamimi Halilintar and Titania Aurelie Nurhermansyah on Saturday, April 3. The State Secretariat website also reported Jokowi's role in the Atta Halilintar-Aurel wedding.
Public Policy Expert Trubus Rahardiansyah questioned the ministry of state secretariat's reason to upload the news. "That is not the state's business," said Trubus on Monday, April 5. Critics also appeared in social media regarding Jokowi's activity. A number of netizens considered the activity as inappropriate amid the Covid-19 pandemic. "Corona (virus) applies to commoners, but not for state officers, artists and rich people."
---
President Merges Research Ministry
W251bGwsIjIwMjEtMDUtMTMgMjA6MDk6MDYiXQ
PRESIDENT Joko Widodo merged ministry of research and technology with ministry of education and culture. Jokowi also made the National Research and Innovation Agency (BRIN) an autonomous institute. The House of Representative (DPR) approved Jokowi's plan which was conveyed through a letter on Tuesday, March 30.
"(The DPR) approves of merging part of tasks and functions of ministry of research and technology (kemenristek) to ministry of education and culture (kemendikbud) to become Kemendikbud and Ristek," said DPR Deputy Speaker Sufmi Dasco Ahmad during plenary meeting on Friday, April 9. In his letter, Jokowi also stated that he would establish investment ministry.
The proposal of separation of research ministry and BRIN also appeared in DPR Energy Commission's meeting with the ministry on March 30. Deputy Chairperson of Energy Commission Bambang Wuryanto said the separation was in line with Law on National System of Science and Technology. In article 48 of the law, BRIN is mentioned as an organization that is established by the president through a presidential regulation.

BRIN is separated from the ministry of research after 16 months of the state research institute operated without fixed organization structure. Minister of Research and Technology Bambang Permadi Soemantri Brodjonegoro confessed that he came back and forth to President Jokowi to ask the clarity of BRIN's status.

Expert on public policy from University of Indonesia, Eko Prasojo, said that the ministry of research and technology should have not been abolished from the cabinet's structure. He explained, tasks and functions of that ministry were still needed to strengthen research and innovation's policy. Meanwhile BRIN, he added, was a research and innovation policy implementation institute. According to Eko, the merging of research ministry would increase ministry of education's burden. "The philosophy of education is different from that of research."

---
KPK's Employee Steals Confiscated Items
A MEMBER of the task force at the directorate of evidence management and execution at the Corruption Eradication Commission (KPK) with initial IGAS was proven to have stolen evidence of gold up to 1.9 kilograms. KPK's Supervisory Board Chairman Tumpak Hatorangan Panggabean said the gold that IGAS stole was pawned with value of Rp900 million. "(It was in) the form of gold bars," said Tumpak on Thursday, April 8.
The gold bars were confiscated items of the corruption case with the convict Yaya Purnomo, an officer at ministry of finance. IGAS took the gold bars gradually since January 2020, but was only revealed in June 2020.
Tumpak said that IGAS stole the confiscated gold because he had many debts from foreign exchange business. The Supervisory Board disrespectfully dismissed the employee and brought the case to court.