Back to Live
The government and event organizers are preparing to bring back live music performances in times of a pandemic. It has been a long and winding road towards the revival of tourism.
Edition : Monday, April 12, 2021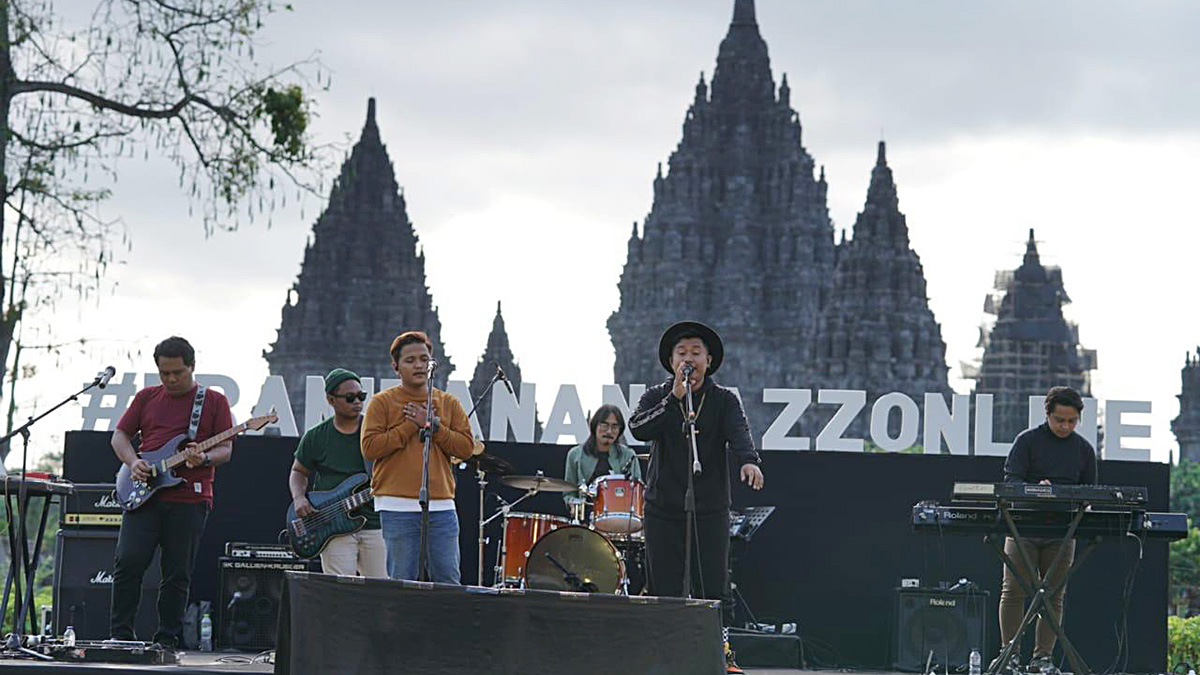 ANAS Syahrul Alimi has three months left. The Chief Executive Officer (CEO) of Syakira Ghyna Rajawali Indonesia Communication is preparing for the Prambanan Jazz Festival, a jazz festival set to happen on July 2-4.
This time around, the preparation is unlike anything Rajawali Indonesia had done before. The July event is set to become a comeback stage for the Prambanan Jazz Festival, its return to Candi Prambanan in Yogyakarta's Sleman Regency. In November last year, the festival—a regular since 2015—had to be live-streamed because of Covid-19.
With the pandemic still ongoing, Anas and his team are now making extra plans. To bring the show back with live audience, there are health protocols to apply. "Everything is being finalized. The concert organizer must get a recommendation from the regional (Covid-19) task force," said Anas on Tuesday, April 6.
Tempo met Anas that day after he had a meeting with his team to discuss the stage design and the audience area. The festival in July would only have one stage, unlike in past events when there were two stages built in front of the temple complex' east side.
W251bGwsIjIwMjEtMDUtMTMgMjA6MTQ6MTEiXQ
For the audience area, Rajawali Indonesia plans to copy the concept used during the first pandemic-era concert in Newcastle, England, in August 2020. Spectators would be separated in boxes. Each box can fit four seats, one meter apart from one another. Anas is also preparing the mechanism to screen visitors, including the process of ensuring they wear masks and show proof that they tested negative for Covid-19.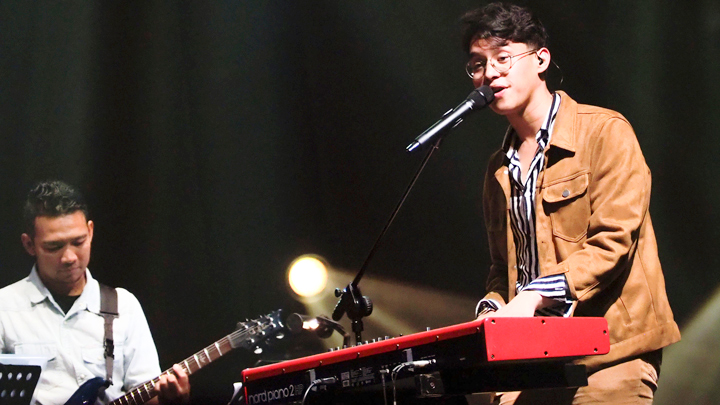 Ardhito Pramono's performance on the second day of the Jakarta International BNI Java Jazz Festival 2020 music concert at the Jakarta International Expo, in February 2020. Tempo/Nurdiansah
All these preparations began after the government said they would allow event and concert organizers to hold live shows. The green light was first turned on by Tourism and Creative Economy Minister Sandiaga Salahuddin Uno in mid-March.
According to Sandiaga, the government needs to save many sectors of the creative economy. "To reactivate economic activities that have had to delay production during the pandemic," said Sandiaga in a written reply to Tempo on Friday, April 9. He said that the government takes into account the vaccinations and declining rate of Covid-19 transmission. "But we must maintain our discipline in following health protocols."
His ministry hopes that tourism will resurrect from the comma condition brought by a pandemic onslaught. Holding live shows, he said, is one of the strategies to revive tourism whilst at the same time supporting the creative economy business.
The last live international concert held in Indonesia was the Java Jazz Festival at the Jakarta International Expo on February 28 to March 1, 2020. Just three days after the event, President Joko Widodo announced the first case of Covid-19 in Indonesia. Since then, numerous performances were postponed, even canceled. Some event organizers turned to virtual platforms to show their programs online. This was what Anas did for the 2020 Prambanan Jazz Online last July. The offline show scheduled to take place in October-November 2020 was also held online.
Rajawali Indonesia's business had turned upside down. Anas said that his company lost nearly Rp80 billion of potential revenue during the pandemic. Instead of being compensating for the production cost, these 'virtual' concerts actually forced them to spend more. "We spent Rp200 million more," said Anas.
•••
STRUGGLING to deal with a business running on life support, seven concert organizing companies resorted to forming the Indonesian Music Promoters Association (APMI) on October 28, 2020. They are Rajawali Indonesia, Java Festival Production, Berlian Entertainment, Nada Promotama, Synchronize Festival, Hype Music Asia, and Ravel Entertainment (Hammersonic).
The pandemic really brought them together, people who previously had difficulty establishing formal communication. Moreover, holding 'virtual events' apparently is not enough to keep the industry afloat, including in terms of providing jobs. "Many parties are affected. That's why we had to move early this year. Events must be held again, adopting new ways," said APMI Chairman Dino Hamid, who is also the CEO of Berlian Entertainment, on April 7. "No one had thought that the impact would last this long. Before all of this, everyone had done things their own ways, independently."
Through APMI, music show veterans joined 14 other creative industry associations and sent an open letter to President Joko Widodo on March 3. They asked his permission to hold shows offline, actual live performances. Three days later, film industry players comprising producers, directors, actors, cinema owners, and association managers also sent an open letter to Jokowi via social media.
The film industry players are facing a similar problem. Their business collapsed as theaters were forced to close its doors. As with online concerts, online film distribution has not been able to sustain the industry.
These issues have sparked discussions among entertainment industry players. APMI has been communicating intensely with the tourism ministry since the beginning of this year, including meeting directly with Minister Sandiaga Uno on January 25. A week later, Sandiaga met with the National Police Chief Gen. Listyo Sigit Prabowo asking his support to bring back live music concerts.
From then on, technical discussions began. On March 8, five days after 15 industry associations submitted their open letters to Jokowi, the tourism ministry invited a number of creative association representatives to meet at Jakarta's Mercure Hotel. Among the people who attended were Gen. Listyo; National Covid-19 Task Force spokesman Wiku Adisasmito; and the Health Ministry's Public Health acting Director-General Kartini Rustandi.
In the meeting, the government said they would determine the locations of live events based on zone classifications: red, yellow and green. Only locations with a green zone status can hold live performances under strict health protocols. Meanwhile, creative industry players are asked to prepare presentations to ensure that the concerts they plan to hold can meet health protocols.
A follow-up technical meeting to discuss the licensing for organizing events—as well as meetings, incentives, conferences and exhibitions (MICE)—was held on March 25. In the last discussion, Dino said, the police stated that they would allow live music concerts. "The important thing is to be really disciplined. An event can be held if the Covid task force approves the mechanisms," said Dino.
Alia Karenina, spokesperson for the Coordinating Ministry for the Economy, said that people are now used to strict health protocols of mandatory wear of masks, avoiding crowds, and maintaining physical distance. Therefore, Alia said, the government is considering plans to reopen a number of arts and cultural activities under certain terms and conditions. "Arts and culture activities are allowed to open for a maximum capacity of 25 percent, provided they implement health protocols during the micro community restrictions until April 19," said Alia on April 8.
•••
DEWI Allice Lydia Gontha is also worried. The CEO of Java Festival Production is making preparations to ensure that all requirements are met, in order to hold the Java Jazz Festival this year.
She said that coordination with various parties can actually be done in organizing international-scale events. "The difference is, nowadays we have to hold discussions with more agencies, all the way to the health ministry and the Covid-19 task force," said Dewi on April 6.
On Wednesday, April 7, Dewi was scheduled to make a video on the simulation of health protocols implementation for the Java Jazz Festival, which is scheduled at the end of July. The video will be one of the items presented to the tourism ministry, the National Police, and the Covid-19 task force.
Like Anas Alimi from Rajawali Indonesia, Dewi was unable to confirm the list of performers for the festival. "What we want first is a license. If we don't have that, everything is useless. We need written permits saying that it's a go," she said. "Because this is crucial, you have to know how many audiences you can bring in, and others."
The green light for organizers to bring back live shows will not answer a number of uncertainties faced by promoters. Implementing health protocols will automatically reduce the number of visitors, thus reducing some revenues.
The hope of getting funds from sponsors also remains a question. Anas revealed that a number of state-owned enterprises (SOEs) had stipulated internal provisions not to cooperate in events that bring in crowds. This is quite a huge problem, as SOEs had been the biggest financier for live performances—their sponsorships accounting for up to 70 percent of the total revenue.
On the other hand, various means to ensure safety and health during a pandemic require additional costs. As a result, a number of business strategies need to be merged. The Prambanan Jazz Festival will be a hybrid show, held before a live audience as well as streamed online. The prices for live show tickets would likely soar, from Rp250,000 to Rp500,000 for the cheapest.
Major adjustments to reduce production costs will also be made by changing musicians' accommodation. Airline tickets, for example, will be changed with road travels where possible. Organizers are also making huge bargains with vendors. Anas estimates that the revenue from concerts during the pandemic will be not more than 20 percent compared to that of normal situations.
The plan to bring back live concerts is also a breath of fresh air for local governments, including the Yogyakarta administration, which in the past year has been struggling with the collapse of tourism. Yogyakarta's Tourism Office Chief, Singgih Raharjo, said that music concerts have been a source of regional income. Spectators, who come from around the country and overseas, would spend money for accommodation, food and drinks. "We just have to keep going," said Singgih.
AISHA SHAIDRA, SHINTA MAHARANI (YOGYAKARTA)