The Dream of Cinema's Recovery
National film business is still reeling from the impact wrought by the Covid-19 pandemic. The government is campaigning for moviegoers to return to cinemas to help the industry recover.
Edition : Monday, April 12, 2021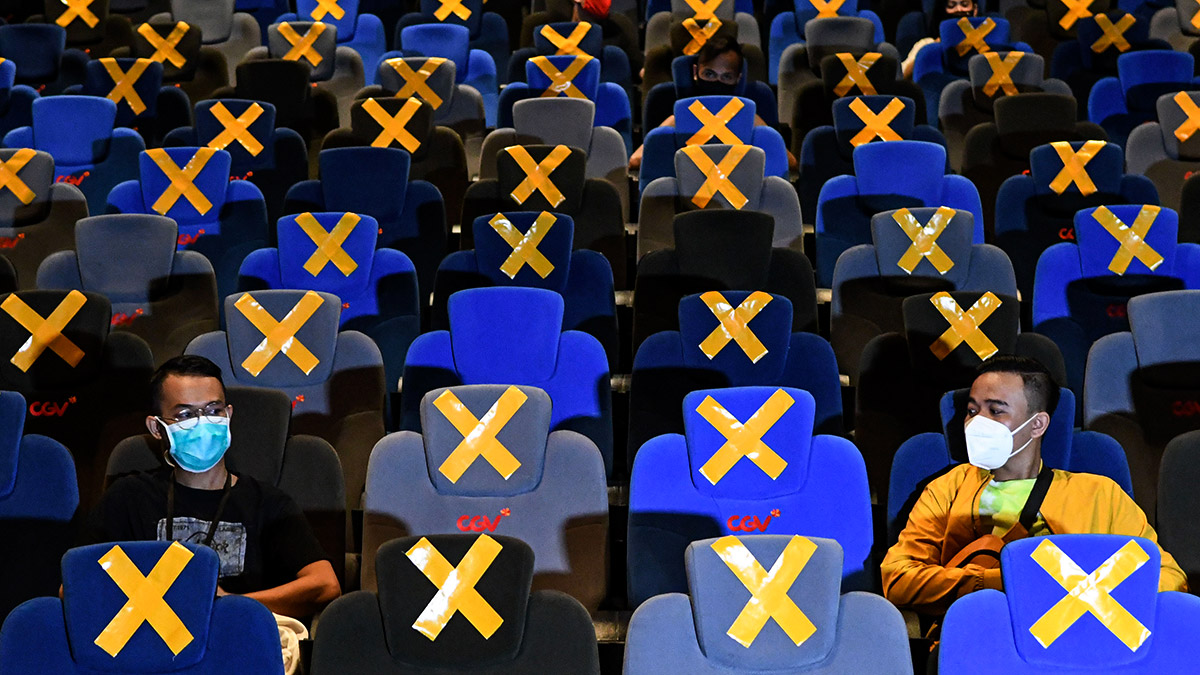 SHANTY Harmayn would now think twice before planning a new movie. The Covid-19 pandemic not only necessitates health protocol to be implemented during production, but also creates a larger problem downstream due to the halted distribution. Ever since the large-scale social restrictions (PSBB) began on March 16, 2020, the government has been limiting the operation of entertainment venues.
Cinemas, from which movie productions earn 90 percent of their revenue, closed their doors. Meanwhile, digital distribution channels that flourish during the pandemic proved to be of not much of a help. "This is the biggest bottleneck in the movie industry," said Shanti, the Chief Executive Officer (CEO) of Base Entertainment, to Tempo on Thursday, April 8.
The downstream problem is affecting every business plan of Base Entertainment. Moreover, the Jakarta and Singapore-based company still has a number of unreleased films, such as Akhirat: A Love Story which has just finished production and is now entering post production, and also Lara Ati, currently in the works.
Base Entertainment is not the only one. According to Shanti, there are more than 50 movies produced by various studios in 2019 or 2020 that remain unpublished. Production houses are having a hard time because their movies cannot be released to cinemas. From business perspective, numerous investments are now sitting idle, unable to yield return. On the other hand, movies generally cost between Rp8-30 billion to produce.
W251bGwsIjIwMjEtMDUtMDggMTk6NDc6NDQiXQ
Some productions are currently still underway because they have been long planned by the producer. Lara Ati was originally scheduled to begin production in early 2021, but it was delayed for several months. Shanti decided she could not take the risk of working on a new film production. "I still have two films. They are not released yet. How am I supposed to make another movie?" she said.
•••
BEFORE the pandemic struck, the national film industry was actually very productive. There were 129 films released to cinemas throughout 2019. The situation was turned upside down when the pandemic arrived. Only seven titles made it to movie theaters in 2020.
This steep decline of the film industry was discussed in an audience between a number of filmmakers and Minister Airlangga Hartarto at the Coordinating Ministry for the Economy, on March 19. The meeting, which was also attended by Industry Minister Agus Gumiwang Kartasasmita, noted that the number of cinemas currently operating has dwindled to 190, from a total of 420.
The situation directly affects numerous workers in the sector who have lost their livelihood. In general, as of 2016, there were 2,418 business units in the sub-sectors of the film, animation, and video industries. In 2019, Indonesia's movie industry with a market capitalization value of around US$500 million or more than Rp7 trillion was listed among the top 10 globally. It was estimated to provide jobs to more than 50,000 people. The tourism ministry reported that the sector contributed Rp15 trillion to the country's gross domestic product in 2019.
Coordinating Minister for the Economy Airlangga Hartarto (second right) after watching the film Ainun & Habibie 3 at the XXI Plaza Senayan Cinema, Jakarta, March 31. Twitter @golkar_id
This significant contribution of the movie industry to the national economy motivates filmmakers to take necessary steps to alleviate the situation. The meeting with Minister Airlangga was the continuation of their efforts to request government support amid business difficulties during the pandemic.
Previously, on March 4, they described the latest situation of the film industry to Tourism and Creative Economy Minister Sandiaga Salahuddin Uno. The next day, social media was abuzz with an "Open letter for President Joko Widodo" uploaded by the creative industry workers, to which Jokowi responded by inviting them to the Presidential Palace on March 9.
MD Pictures CEO Manoj Dharmoo Punjabi, actor Reza Rahadian, and actress Marcella Zalianty were seen among the guests. "We the producers have major titles now. When could we release them to cinema?" said Manoj on March 9. "There is a challenge facing us all here and it always starts from the top. So, if Pak President supports us, feeling comfortable going to the cinema, this will be followed by others."
During that meeting, filmmaker representatives requested the government to launch a "Back to Cinema" campaign to support the movie industry. To avoid the negative stigma of going to cinema during the pandemic, re-opening of movie theaters should be done by coordinating with the Covid-19 task force and health ministry.
They are hoping for a stimulus from the National Economic Recovery funds to help with film distribution as well. The government is also asked to ease the entertainment tax burden on Indonesian movie business, firmly eradicate film piracy, and accelerate vaccination efforts for movie industry workers.
•••
PRESIDENT Joko Widodo has not yet gone to the theater to watch a movie. However, some of his aides have begun answering filmmakers' request for the Palace to help ease public's concern of safety in cinemas during the pandemic.
On Wednesday, March 31, Minister Airlangga, Minister Agus Gumiwang, and Deputy Trade Minister Jerry Sambuaga went to Cinema XXI in Plaza Senayan, Jakarta. The three Golkar Party politicians were there to see Habibie & Ainun 3, a film by director Hanung Bramantyo that was being re-run in Cinema XXI's network as part of a watch-together event.
The event was organized by Golkar Party to commemorate the National Film Day. Golkar held similar events in 26 cities and regencies across Indonesia, which the party's cadres took part in. "Pak President asked to help find ways to restart the film industry," said Airlangga during the event. By inviting the public to return to cinemas, he hopes to speed up recovery of the national film industry.
The Back to Cinema movement is also being campaigned by the tourism and creative economy office in the regions. "It has been realized in several regions. Movie theaters have been reopening with strict and disciplined implementation of health protocol," said Tourism and Creative Economy Minister Sandiaga Uno in his written remarks on Saturday, April 3.
In reality, the government has allowed cinemas to resume operation since October 2020, under recommendation from the corresponding regional administration. The health ministry has also released the guide for cleanliness, health, safety, and environmental sustainability measures (CHSE) for movie theaters. Since then, the Cinema XXI network has reopened half of their theaters, of which there are 221 in total. Maximum number of audience in the studio for every screening varies based on recommendation and instruction from the local administration. "Some are 50, 40, and 30 percent," said Dewinta Hutagaol, Head of Corporate Communications and Brand Management Cinema XXI.
However, the actual number of audience is still minimal. Ever since movie theaters began reopening, Indonesian films have only been watched by 445,000 audiences. Meanwhile, just 12 movies have been released to cinema until March 2021. That is a far cry from the numbers before the pandemic, when audience reached 52 million with 129 titles of movies.
Dewinta affirmed that Cinema XXI is implementing the various health protocol in its movie theaters. "We ensure supply of clean air in our cinema halls, complemented with UV-C rays to optimize the disinfection process against bacteria, viruses, and germs," said Dewinta.
This movie theater network under Nusantara Sejahtera Raya also partners with biotechnology startup company Nusantics to detect the presence of the Covid-19 virus, SARS CoV-2, in the air within their cinema halls. A joint research between March 23 to 27 was done in five Cinema XXI movie theater locations to commemorate the National Film Day and help earn the public's trust to return to cinemas. "No particle of the SARS CoV-2 virus or its mutations such as the B.1.1.7, B.1.351, E484K, and D614G was found in the XXI cinemas being studied," said Dewinta.
RETNO SULISTYOWATI, FRANCISCA CHRISTY ROSANA