Low Tourism, Slow Economy
Central tourism regions are having a hard time recovering after the pandemic struck. New problems emerged in other sectors of the economy.
Edition : Monday, April 12, 2021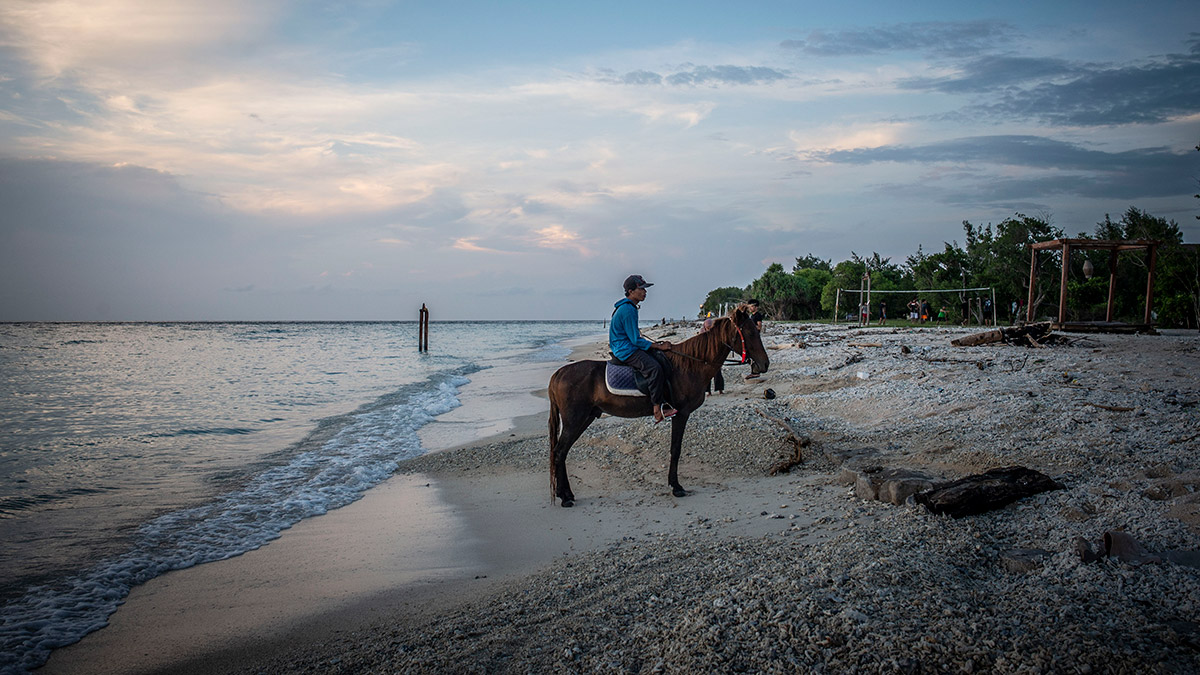 THE thousands of tourist visiting Bali since early 2021 should have given Ahmad Ali and Asmuri a glimmer of hope. Since the Covid-19 pandemic swept the whole world, including Bali—a province highly dependent on tourism—in early 2020, Ali has been switching his profession. This 39-year-old man who used to sell souvenirs in Kuta, Badung Regency, is now peddling coffee and snacks. "Just to survive," said Ali in Kuta, Friday, April 9.
Meanwhile, 40-year-old Asmuri who originally came from Madura, East Java, is still trying to hold on by selling his usual wares: beach shirts, key chains, and sandals. That Friday, Asmuri was waiting for buyers in his rented stall in Legian, Kuta, which he has been occupying for the last five years.
Asmuri is well aware of the slim chance that some foreign tourist would come by and purchase his goods. He is hoping on domestic tourists or construction workers around Kuta looking for a shorts or a hat. "I am cleaning up the store in the meantime," he said.
For Ali and Asmuri, the larger number of people coming to Bali represents a renewed hope that they again will be able to depend on tourism. As of early April, 6,000 passengers arrived at Ngurah Rai International Airport daily. "Previously it was only between 2,600 to 3,000 people," said Bali Tourism Agency Head Putu Astawa. "Normally, before the pandemic, it could be 16,000 people every day."
W251bGwsIjIwMjEtMDUtMDggMjE6MjU6MTYiXQ
The presence of returning visitors has also been noticed in Bali's main tourism destinations. Since early April, between 800 to 1,000 people have been coming to Tanah Lot in Tabanan each day. Although it has not returned to the usual number of 7,000 people per day before the pandemic, it is already much better than during the early stages of the pandemic, when visits plummeted to just 200 to 400 people per day. "Maybe because of the holiday season. We now have vaccines, and a swab test is also much more affordable," said Tanah Lot tourism management spokesperson, Putu Erawan.
Luhur Uluwatu Temple, Badung, recorded 4,000 visitors throughout February. A month later, the number increased to 7,000 people. "In normal times before the pandemic, there could be 7,000 visitors in a day," said Uluwatu Tourism Site Management Assistant Manager, I Wayan Mosin Arjana.
Bali's tourism needs to get back on its feet soon. Among the 34 provinces in Indonesia, the thousand-temple island suffers the worst contraction of economic growth. Its economy was recorded at minus 9.31 percent in 2020 compared to the previous year, three times lower than the next two provinces that also sit on the bottom in terms of economic contraction, Riau Islands (minus 3.80 percent) and Banten (minus 3.38 percent). In the same period, the national economy only contracted by 2.07 percent.
The economic decline of Bali is inseparable from the province's high dependency on tourism. Tourism, represented by the accommodation, food, and beverage sector, contributes 17.56 percent to Bali's economy. Last year, this sector suffered a contraction of 27.52 percent.
Falling accommodation, food, and beverage sectors brought implications to other fields as well. The agriculture sector, which contributes 15.6 percent, was contracted by 1.06 percent. The trade sector with a contribution of 9.05 percent to the economy also dropped at minus 6.95 percent. Meanwhile, the construction sector with a contribution of 10.78 fell 2.49 percent. So did the processing industry with its 6.68 percent contribution, which shrank by 6.78 percent.
The sectors that showed positive growth in the fourth quarter of 2020 were information and communication, also health and social services. "Perhaps this is also the first time Bali recorded a negative growth from quarter to quarter," said Head of Bank Indonesia Representative Office for Bali Trisno Nugroho when speaking in the Bali Economic and Investment Forum 2021: Grand Design of Bali Economic Recovery on Thursday, April 8. "Bali usually records higher growth than the national economic growth."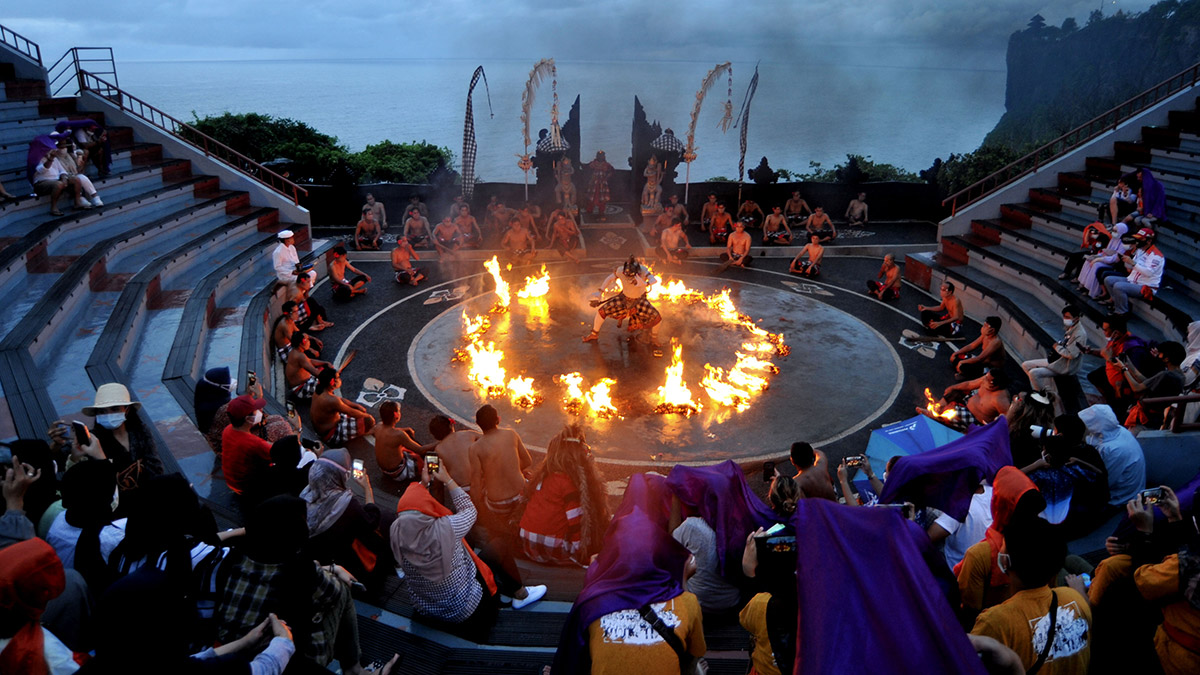 Dancers perform at the last show of the Uluwatu Kecak Dance tourist attraction before it is temporarily canceled in the Uluwatu area, Badung, Bali, in January. Antara/Fikri Yusuf
Open unemployment rate in the province also spiked, from 1.21 percent in February 2020 to 5.63 percent by August. As many as 98,000 people out of the total work force of 2.57 million are left jobless because of the pandemic.
The fall of tourism and its subsequent effects are a cause of concern for Trisno. Bali relies too much on tourism. There has yet to be significant investment in industrialization of intermediaries and processing. Once tourism takes a beating, like what occurs now due to the pandemic, its economy falls apart immediately. Trisno said that Bali should have large-scale grain millings as well as a processing industry for coffee, oranges, salak (snake fruit) and other commodities. "Tourism should not be too much."
While waiting for the diversification of economy to roll out, Trisno advises Bali to attract domestic tourists who are used to traveling abroad. In 2019, some 11.69 million of Indonesian tourists went to overseas destination. Their accumulative spending amounted to US$11.32 billion or around Rp157.35 trillion based on the average exchange rate that same year.
A simulation by Bank Indonesia shows that, if 75 percent or around 8.8 million of these domestic tourists who like to travel outside the country could be directed to Bali instead, the province would earn at least US$8.5 billion. This number is equal to 91 percent of Bali's foreign exchange earnings in 2019 from overseas tourists. "China is now pushing its domestic market, so are India and the United States. Indonesia should be doing the same," said Trisno.
There is now more opportunity to attract domestic tourists as some countries are still restricting entry. "Except for Turkey, which always remains open."
•••
WHILE they are also tourist destinations, West Java and Yogyakarta provinces do not suffer as badly as Bali. West Java's economy, which is also supported by tourism cities like Bandung and Bogor, contracted by only 2.44 percent in 2020.
The accommodation, food, and beverage sectors in West Java are among the worst in terms of contraction, at 5.60 percent. That number is already propped up by the easing of mobility restriction during the Christmas 2020 and New Year 2021 holiday season, which caused this sector to grow by 3.98 percent in the fourth quarter of 2020.
West Java's tourism decline is more apparent when seeing the local revenue performance of Bandung, capital city of the province. In 2020, Bandung only recorded around Rp300 billion of revenue from tourism, compared to an average of Rp700 billion previously. "The decline was almost 50 percent," said Bandung City Tourism Agency Chief Kenny Kania Dewi, on April 7. "But, thank God, we still had 50 percent. It was not completely shut down."
In Yogyakarta, Head of the Yogyakarta Branch of the Indonesian Hotel and Restaurant Association, Deddy Pranowo Eryono, noted that 50 hotels are permanently closed due to the pandemic. Some 100 hotels and restaurants opted to suspend business, while 180 other hotels and restaurants are still holding on. "Almost all of them are barely surviving," said Deddy on April 8.
The closed hotels and restaurants are mostly non-starred, from the middle to lower segments of the market. During the pandemic, they could only earn between 25 to 30 percent of normal income from times prior to that.
Travel agents and guides businesses in Yogyakarta also fall victim to the pandemic. As many as 400 travel guides who used to work with travel agencies under contract are now jobless. Although domestic tourists are still coming to Yogyakarta, most of them drive their own private vehicles in small groups. Some travel guides then decided to switch over to opening food stalls.
Other than that, there has been no foreign tourist visit to the province since April 2020. Those who are still seen going around in Yogyakarta now are expatriates.
Although tourism is not so much the backbone of Yogyakarta's regional economy as in Bali, its decline nonetheless brought subsequent implications to other sectors in the city. Chief of Yogyakarta Tourism Agency, Singgih Raharjo said that the transportation and creative economy sectors are also suffering from the falling tourism. "The pandemic brings everything to a standstill," said Singgih.
Bank Indonesia's Economic Report of the Province of the Special Region of Yogyakarta for February 2021 confirms Singgih's statement. The decline of tourism performance contributed 55.37 percent to the economy of the province in 2020. Tourism, which rests on the accommodation, food, and beverage sector, suffered a contraction of minus 17.10 percent (year-on-year). The downfall spread to the transportation sector (minus 20.26 percent), trade (minus 4.46 percent), and the processing sector (minus 4.37 percent).
The restriction of face-to-face contact in education brought about its own effects to the overall declining economy of the province. According Bank Indonesia in its Survey of College Students Cost of Living in Yogyakarta in 2020, the province has a college student population of 357,554 people with a monthly expense of up to Rp1.044 trillion per month. For students from outside the province specifically, their monthly spending amounted to Rp851.9 billion. Most of them went back to their hometown during the pandemic to follow online classes from home. These series of downturns in various sectors led to Yogyakarta's economic contraction of minus 2.69 percent in 2020.
Bali, West Java, and Yogyakarta have made attempts to soften the blow to their economies. But the pandemic proved to be particularly hard-hitting and persistent. Just like in Bali, the open unemployment rates in both West Java and Yogyakarta jumped to 10.46 percent and 4.57 percent respectively.
Now everyone agrees that the most effective cures for the pandemic are none other than vaccination, tight control of the virus' spread, and a government that would not hesitate to ease the mobility of the public. All of these are a necessity if people are to return to the tourism destinations.
KHAIRUL ANAM, MADE ARGAWA (BADUNG), SHINTA MAHARANI (YOGYAKARTA), AMINUDDIN A.S. (BANDUNG)