Nusantara Vaccine's Illegal Clinical Testing
Edition : Monday, April 19, 2021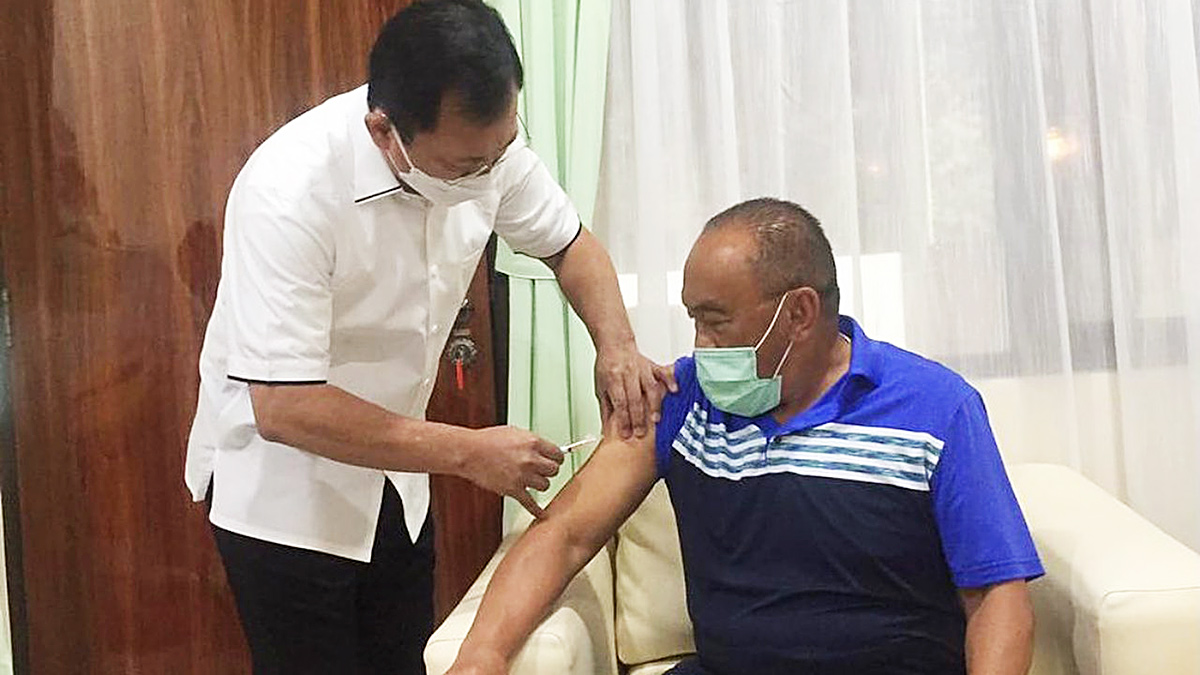 SEVERAL public figures and politicians are involved in the research of the Nusantara vaccine, claimed to be in its second stage of clinical trials. Former Golkar Chairman Aburizal Bakrie received a shot of the dendritic cell-based vaccine, developed by former Health Minister Terawan Agus Putranto, on Friday, April 16. "The shot was done personally by Pak Terawan," said Lalu Mara Satriawangsa, Aburizal Bakrie's spokesperson.
Two days before that, some public figures had their blood taken at the Gatot Soebroto Army Hospital in Jakarta. They included former Indonesian Military Commander Gatot Nurmantyo, Deputy House Speaker Sufmi Dasco Ahmad, Deputy Parliamentary Health Commission Chief Melkiades Laka Lena, and Indonesian Democratic Party of Struggle (PDI-P) politician Adian Napitupulu.
The Nusantara vaccine's clinical trials are ongoing, even though the Food and Drugs Monitoring Agency (BPOM) did not give permission for the second-phase research. BPOM Chair Penny Kusumastuti Lukito said that the vaccine's research team was not up to standard in good laboratory practice, good manufacturing practice, good clinical practice, and good documentary practice. Also, 20 out of the 28 volunteers from the first phase of the vaccine's clinical studies suffered unwanted side effects, such as increase in cholesterol and natrium levels in their blood.
Colonel Jonny, Nusantara vaccine's main researcher, claimed that their clinical trials already meet international standards of research regulations. He said the trial will continue its second phase, while at the same time improving deficiencies in its previous phase.
W251bGwsIjIwMjEtMDUtMTIgMDg6MTc6MjEiXQ
Wiku Adisasmito, spokesman of the Covid-19 task force, explained that the Nusantara vaccine is a vaccine developed in the United States, with trials carried out in Indonesia. He further said that the authority to issue a vaccine usage permit, based on safety, efficacy, and feasibility, is in the hands of the BPOM. "As long as it fulfills those criteria, the government will support it," said Wiku.
The Irregularities
THE BPOM found a number of irregularities when it examined the first phase of the Nusantara vaccine's clinical trial procedures. The Parliamentary Health Commission and the BPOM held a meeting in Senayan, Jakarta, on March 10 to discuss the deficiencies in the research process.
• The research' ethical commission is from the Gatot Soebroto Army Hospital in Jakarta, not from the Kariadi Hospital in Semarang, where the research is located.
• There is no validation and standardization for the examination methods.
• Research results vary even though they were done with the same measuring tools.
• Vaccine products were not made in a sterile environment.
• Antigens utilized were not guaranteed sterile, and are only appropriate for laboratory research purposes, not to be used on humans.
• Several volunteers of this dendritic cell-based vaccine have already been infected with Covid-19, which means they already have antibodies.
Advantages and Disadvantages of Dendritic cell-based Vaccines
+ Personalized as it stems from blood taken from the individual to be vaccinated.
+ It is claimed that it can be given to individuals with comorbid conditions, especially cancer, who are unable to get regular vaccines.
- Dendritic cell technology is too complicated to apply to Covid-19 medication.
- It requires a lengthy process, so it would not fit mass vaccination targets to achieve herd immunity.
- Expensive to produce.
---
Controversy over Prabowo's Special Guards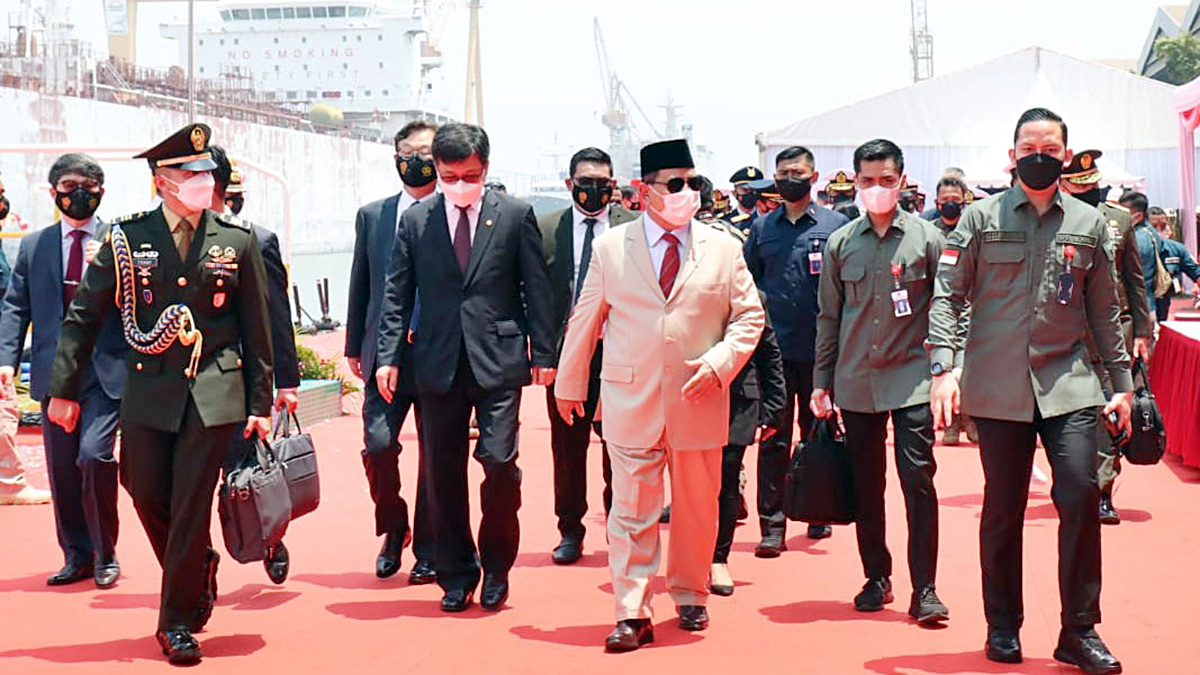 Defense Minister Prabowo Subianto attending the handover of the KRI Alugoro-405 submarine, March 17. kemhan.go.id
DEFENSE Minister Prabowo Subianto has formed a Special Guard Detachment consisting of personnel from elite corpses of Indonesia's army, navy, and air force. This detachment was especially formed to guard Prabowo and his ministry's important guests.
Defense Ministry spokesman Dahnil Anzar Simanjuntak said that Prabowo has asked the Indonesian Military (TNI) Headquarters to provide the special detachment for guest-welcoming ceremonies representing the Indonesian military. "They look dashing, and physically represent tough soldiers," said Dahnil on Monday, April 12.
Syaifullah Tamliha, member of the Parliamentary Defense Commission, questioned the urgency of forming such a special detachment. Syaifullah, member of the United Development Party (PPP), said the defense minister and ministry guests from abroad are already sufficiently protected by TNI's elite forces.
---
YouTubers Who Criticized Police Released
TWO YouTubers from Medan, Benni Hasibuan and Joniar Nainggolan, have been released from the Tanjung Gusta Prison in Deli Serdang, North Sumatra, on Thursday, April 15. They had been given eight-month jail sentences by the Medan District Court for violating the Information and Electronic Transaction (ITE) Law.
Benni and Joniar uploaded a video depicting vehicles owned by the police parked at the North Sumatra Police One-Roof Administrative Office in August 2020. Investigation into tax records brought up suspicion that both cars were undocumented, and it turned out that one of the cars was owned by the child of a police officer.
"The child should have reported that, but it turned out that the father was the one turning in the report," said Muncha, Benni and Joniar's lawyer. Chief Police Comr. Martuasah Lumban Tobing, Chief of Medan's Criminal Investigation Division, said it was not an issue that the one who pressed charges was a police officer.