A Blessing from Ciganjur
Pressure to hold an extraordinary congress is mounting among cadres of the National Awakening Party (PKB). There are indications that Yenny Wahid and Yaqut Cholil Qoumas are gathering support to take over the position of general chair. Muhaimin Iskandar is maneuvering, asking for the support of the Presidential Palace and grooming his older brother to lead the party.
Edition : Monday, April 19, 2021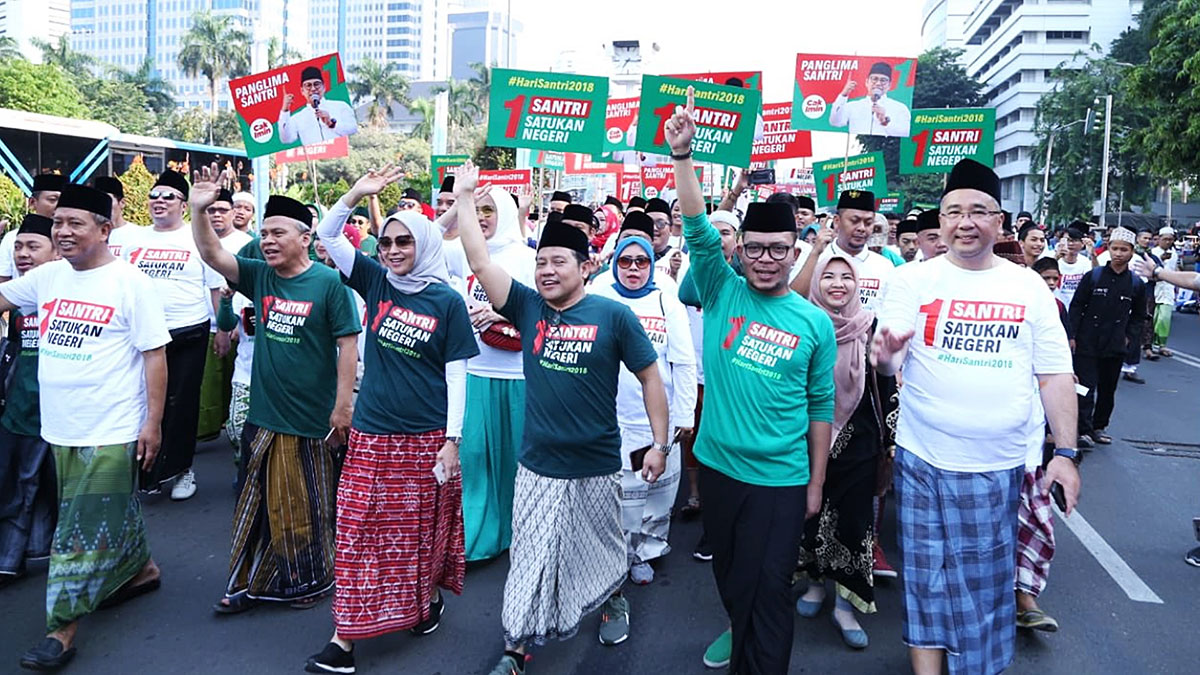 ZANNUBA Ariffah Chafsoh gave some instructions to seven of her confidants in mid-March. During that meeting in Central Jakarta, Yenny Wahid—the name Zannuba commonly goes by—asked them to hold a friendly in-person or online national gathering after the post-Ramadan fasting Idul Fitri holiday with former officials of the National Awakening Party (PKB) from various provinces.
Yenny's spokesman, Imron Rosyadi Hamid, who attended that meeting, said that his boss gave that instruction after she had heard about some turbulence taking place within the PKB, the political party which her father, Abdurrahman Wahid (alias Gus Dur), was involved in establishing. PKB cadres in the regions delivered this news to Yenny's team, in particular about the firing of a number of regional party chairpersons by PKB General Chairman Abdul Muhaimin Iskandar. "The idea for a national friendly gathering came about due to pressure from below," Imron told Tempo on Friday, April 16.
According to Imron, PKB cadres have also asked Yenny to approve of the plan to hold an extraordinary congress to replace Muhaimin Iskandar. In addition to inviting former PKB officials, said Imron, this meeting will be attended by politicians who used to support Gus Dur. Members of Gus Dur's network, such as Gusdurian and the Barisan Kader (Barikade) Gus Dur, will also attend the meeting. Yenny Wahid did not respond to questions submitted by Tempo to her WhatsApp number.
Ahmad Zamakhsyari, a former PKB Chairman for Karawang, West Java, has been in communication with Imron and Yenny Wahid. On the night of Wednesday, April 14, he talked to Yenny by phone. During that conversation, he told how central party officials had asked him for Rp3 billion in order for him to receive a recommendation from the PKB to run in the election for the regional head of Karawang in 2020.
W251bGwsIjIwMjEtMDUtMDggMjA6NTg6NDEiXQ
Ahmad turned them down because he felt that he was a PKB cadre, and his father, Hasan Bisri Syafii, is a figure in the Nahdlatul Ulama (NU) organization. NU is the biggest Islamic organization in Indonesia which has an affiliation with the PKB. Later on, the PKB supported Ahmad as a candidate for regent, but he lost the election. PKB Deputy Treasurer Bambang Susanto said that their party has never asked for money for tickets in regional head elections. "That is a hoax," he said.
In his communications with Yenny, Ahmad said that he also talked about Muhaimin Iskandar interfering in the elections of PKB chairpersons in the regions. He asked Yenny to support the plan to hold an extraordinary PKB congress. However, said Ahmad, Yenny asked him to be patient. "Because (Yenny) is in the process of consolidating things," he said. Imron verified that such discussions took place. He said that they have received similar complaints from numerous regional party officials.
Pressure to hold an extraordinary congress also comes from Gus Dur's followers in West Java. Enjang Hudori, coordinator of the West Java Gusdurian, said that Gus Dur supporters have lobbied PKB officials who are active or who have been fired by Muhaimin to encourage the holding of an extraordinary congress. "All agreed. It only needs a blessing from Ciganjur," said the chairman of the West Java Gus Dur Barricade. Ciganjur is a reference to the area where Gus Dur's family resides.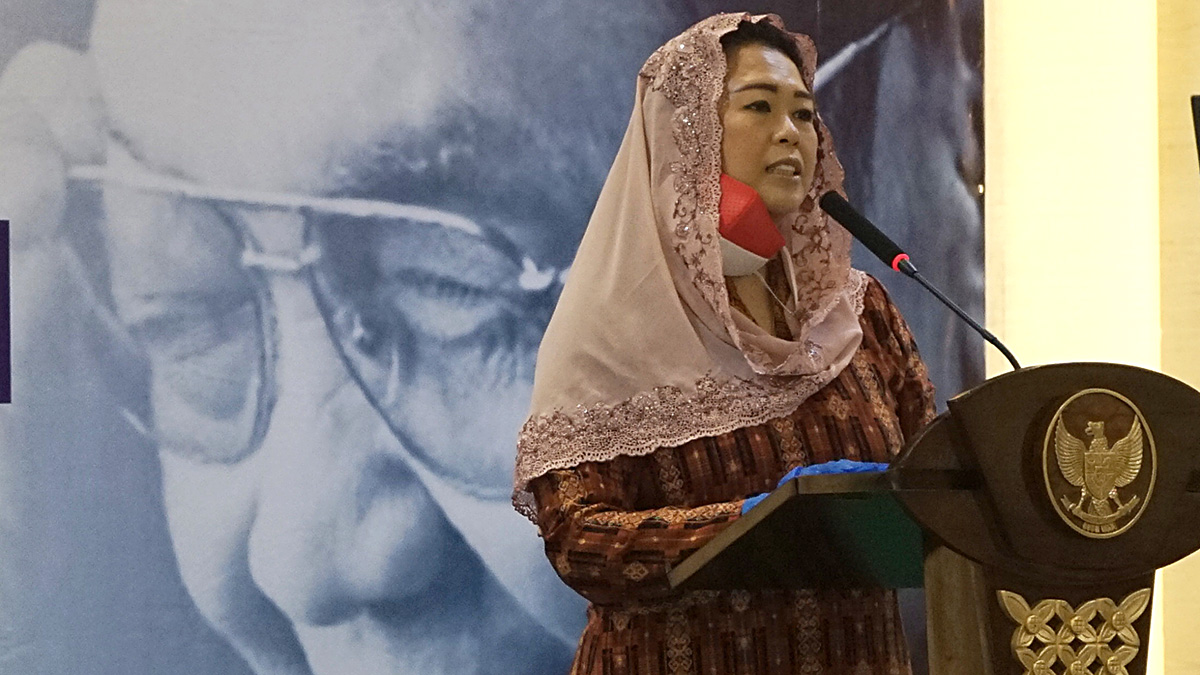 Yenny Wahid during the inauguration of the KH Abdurrahman Wahid Hall and Mosque at the BP2MI Building, Jakarta, in January. Tempo/Muhammad Hidayat
In addition to receiving input from PKB cadres and Gus Dur supporters, of late Yenny has been traveling to the provinces to meet with ulemas of NU, the organization which constitutes PKB's voter base. According to Imron, Yenny has met with the clerics in Yogyakarta, Central Java, and East Java. However, Imron denied that anything specific about the PKB was discussed at those meetings. Despite allowing PKB cadres to go ahead and encourage the holding of an extraordinary congress, said Imron, Yenny does not want to overly interfere in PKB matters.
Ahmad Ariza, chairman of the East Java Gus Dur Barricade, verified meeting with Yenny in Jombang on April 2. At that time, Yenny was visiting the grave of Gus Dur. "There were some clerics as well," he said on April 16.
•••
THERE is an unresolved feud between Muhaimin Iskandar and Abdurrahman Wahid which dates back to 2008. At that time, Gus Dur as chairman of PKB's Advisory Council fired Muhaimin as chairman of the Tanfidz Council—an executive council within the PKB tasked to run operational activities. Muhaimin was fired because it had been deemed that he was too close to Indonesian President Susilo Bambang Yudhoyono. Muhaimin fought back against his uncle's decision. Both camps held an extraordinary congress.
Gus Dur held an extraordinary congress from April 30-May 2008, in Parung, Bogor, West Java. At that event Gus Dur was chosen to be chairman of the Advisory Council, Ali Masykur Musa as general chairman, and Yenny Wahid as secretary-general. The next day, Muhaimin Iskandar held an extraordinary congress in Ancol, Jakarta. However, the courts restored the PKB leadership resulting from the congress held in Semarang in 2005, with Muhaimin and Lukman Edy as the party's general chairman and secretary-general, respectively.
After defeating Gus Dur, Muhaimin fired Yenny Wahid as secretary-general. She had been appointed to that position in 2007, replacing Lukman Edy. According to some PKB politicians, to this day Gus Dur's family and Muhaimin have never seen things eye-to-eye.
Now Yenny Wahid is being touted to replace Muhaimin Iskandar. This information was verified by Ahmad Zamakhsyari. Imron has heard similar requests from regional PKB officials. "There are voices from below who want Yenny to become general chairperson. But she has not thought about it that far," said Imron on April 16.
Yenny Wahid is not the only candidate to potentially replace Muhaimin Iskandar. Ahmad Zamakhsyari mentioned that Yaqut Cholil Qoumas, general chairman of the Ansor Youth Movement—an Islamic youth organization affiliated with NU—who is also Indonesia's Minister of Religious Affairs, is being considered among current and former regional PKB officials. A photograph of Yenny and Yaqut can be seen on a digital poster reading "2021 is the time for PKB to return to Ciganjur."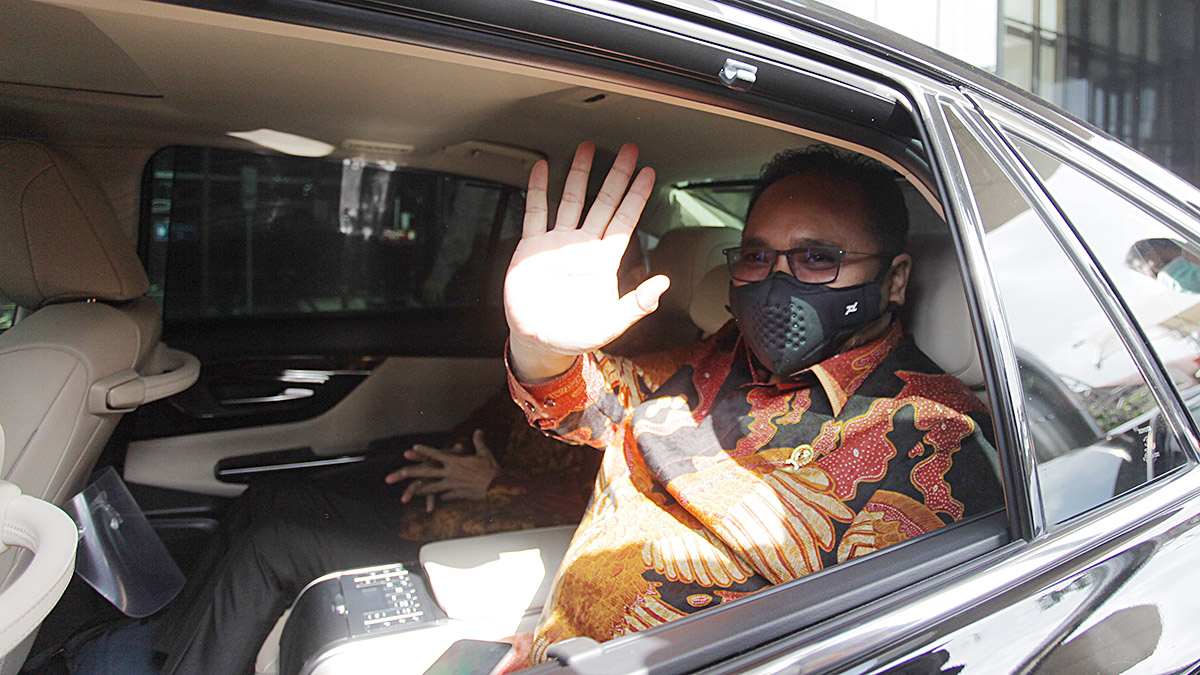 Religious Affairs Minister Yaqut Cholil Qoumas (Gus Yaqut) waves to journalists after a meeting at the Corruption Eradication Commission building, Jakarta, March 3. Antara/Reno Esnir
Three PKB politicians familiar with Yaqut's activity said that he has put together a team to push for the holding of an extraordinary congress. Ahmad said that he was telephoned by Yaqut on April 12. According to him, Yaqut supports him to continue to promote the plan to hold an extraordinary congress. "There were two messages: good work and keep at it," said Ahmad. Yaqut did not respond telephone calls and messages sent by Tempo. Ansor Youth Movement Secretary-General Adung Abdul Rachman was reluctant to comment about the movement to hold an extraordinary PKB congress. He also did not want to comment about Yaqut's communication with PKB cadres.
Yaqut Cholil Qoumas is the son of one of PKB's founders, Muhammad Cholil Bisri. Three PKB politicians said that Yaqut does not have a harmonious relationship with Muhaimin Iskandar. In December 2020, for instance, Muhaimin was against Yaqut becoming minister of religious affairs. The same sources said that Muhaimin had recommended others, including Deputy Speaker of the People's Consultative Assembly (MPR) Jazilul Fawaid. However, President Joko Widodo still appointed Yaqut as minister of religious affairs.
In December 2020, PKB Chairman Faisol Reza refuted that there was a problem with the relationship between Yaqut and Muhaimin. Faisol also denied that Muhaimin did not recommend Yaqut. "We recommended several people, including Yaqut," he said.
•••
ABDUL Muhaimin Iskandar realized that his leadership was on shaky ground. When he summoned Ahmad Zamakhsyari to the official residence of the Deputy Speaker of the House of Representatives (DPR) on March 29, Muhaimin said that he was aware of an effort to oust him via an extraordinary congress. "Muhaimin said it has been that way for a while," said Ahmad, talking about his meeting with Muhaimin, on April 15. During that meeting, they discussed Ahmad's strong comments about Muhaimin's leadership.
Three PKB officials said that Muhaimin has attempted to quell the unrest in the regions which are applying pressure to hold an extraordinary congress. He cancelled the plan to replace some PKB officials in some regions in mid-March. He also held a limited meeting in which he decided to instruct party officials to not comment on questions from reporters regarding the movement to hold an extraordinary congress.
According to three PKB politicians and a cabinet minister, Muhaimin also hopes to win the support of the Presidential Palace. On March 24, he met with Gibran Rakabuming Raka, the Mayor of Solo, who is also the eldest son of President Joko Widodo. He held a National Working Consultation and Consultation of PKB Ulemas in Jakarta on April 8. This event was opened at the Presidential Palace. Those three same politicians said that this meeting was held there in order to seek Jokowi's support.
PKB politician Luqman Hakim refuted the idea that Muhaimin's visit to Solo was in order to get the President's attention. Luqman, who took part in the meeting in Solo, said that Muhaimin entrusted the PKB in Solo to Gibran. "The last time the PKB won a seat in the Solo DPRD (Regional Legislative Council) was in 1999," he said. Regarding the PKB's National Working Consultation and Consultation event, Luqman said it was a routine party agenda. He was reluctant to comment on the movement of some PKB cadres in various regions to hold an extraordinary congress.
Muhaimin's older brother, Abdul Halim Iskandar, also did not say much about that movement. "There is no such thing. That's just copying the Democrat Party," he said in an interview with Tempo on Friday, April 9. Halim was referring to the Democrat Party extraordinary congress held in Deli Serdang, North Sumatra, which appointed Presidential Chief Staff Moeldoko as Democrat Party general chairman to replace Agus Harimurti Yudhoyono. However, later on, the government refused to recognize the Deli Serdang congress.
On the other hand, according to two high-ranking PKB officials, Muhaimin is preparing his successor, even though his term does not end until 2024. This is because he intends to become general chairman of the Nahdlatul Ulama Executive Board (PBNU). Muhaimin is said to encourage his older brother, who is also Minister of Villages, Development of Disadvantaged Regions and Transmigration, Abdul Halim Iskandar, to replace him.
Halim laughed when asked for comment. He said that regeneration in the party will stall if he is put in charge of the PKB. "I am better suited to become a PBNU chairman because I am older, from the aspect of age alone," said Halim.
Muhaimin did not respond to messages or telephone calls from Tempo. He dispatched PKB Deputy General Treasurer Bambang Susanto to give an explanation. According to Bambang, Muhaimin has never said anything about grooming Halim to be his replacement. Bambang also said that there is good communication between Muhaimin and President Joko Widodo. "Before the National Working Consultation and Consultation event, Cak Imin (Muhaimin) met with the President several times," he said.
HUSSEIN ABRI DONGORAN