Angin at Menoreh Hill
The Corruption Eradication Commission KPK is looking into a resort owned by the former director of the Directorate General for Tax Audit and Collection, Angin Prayitno Aji. There is suspicion the money came from tax bribery. Many of the assets are under other people's names.
Edition : Monday, April 26, 2021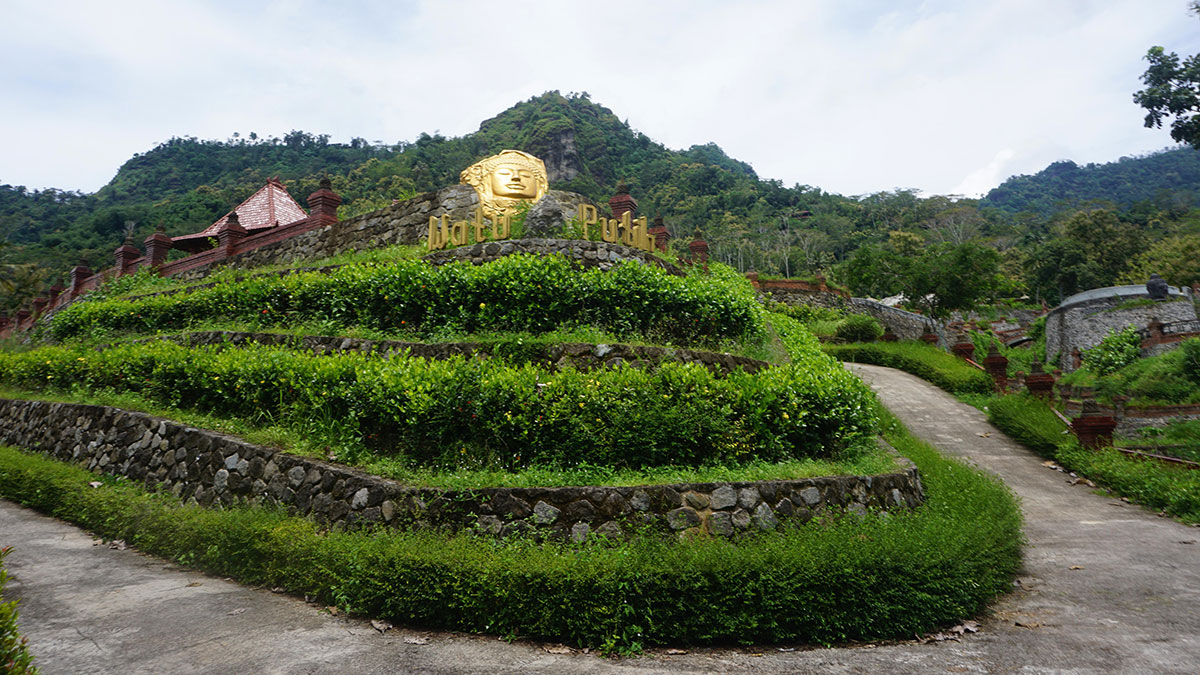 FOUR faces of Buddha in golden yellow are carved on the Watu Putih Resort at the Ngargogondo village in Borobudur, Magelang, Central Java. Three of the images, standing over one meter tall, are carved on a giant rock within the resort. The other image, also substantial in size, is carved on a different stone. This image of Buddha faces the resort's garden, welcoming the guests.
Located on ten hectares of land by Bukit Menoreh (Menoreh Hill), the Watu Putih Resort started constructions in 2018. The hotel includes a building with a roof replicating the Borobudur Temple, and an open pavilion with the Javanese joglo architecture. Stones from the river are used as steps around the cliffs on the hilly location.

A steel gate borders the resort's entrance. The post by the gates are secured by sturdy men with short-cropped hair. Anyone passing the post must have a permit given out by its manager, Ragil Jumedi. However, villagers know the resort owner as an investor with the initials WS, an official from the Finance Ministry's Directorate General for Taxes.

According to a law enforcer, WS is not the real owner. The actual owner is WS' boss: Angin Prayitno Aji, former director of the Directorate General for Tax Audit and Collection. The Corruption Eradication Commission KPK has named Angin as a tax-bribery suspect since early February. He is suspected of accepting bribes worth billions of rupiah when auditing the taxes of PT Gunung Madu Plantations, PT Bank Pan Indonesia Tbk, and PT Jhonlin Baratama between 2017 and 2019. It is believed that the Watu Putih Resort was also constructed using that illegal money.
KPK officials investigated the resort in early March. "KPK has already gone to Watu Putih. The residents were shocked," said Sohir, community head of Malangan, Ngargogondo Village, on Friday, April 23.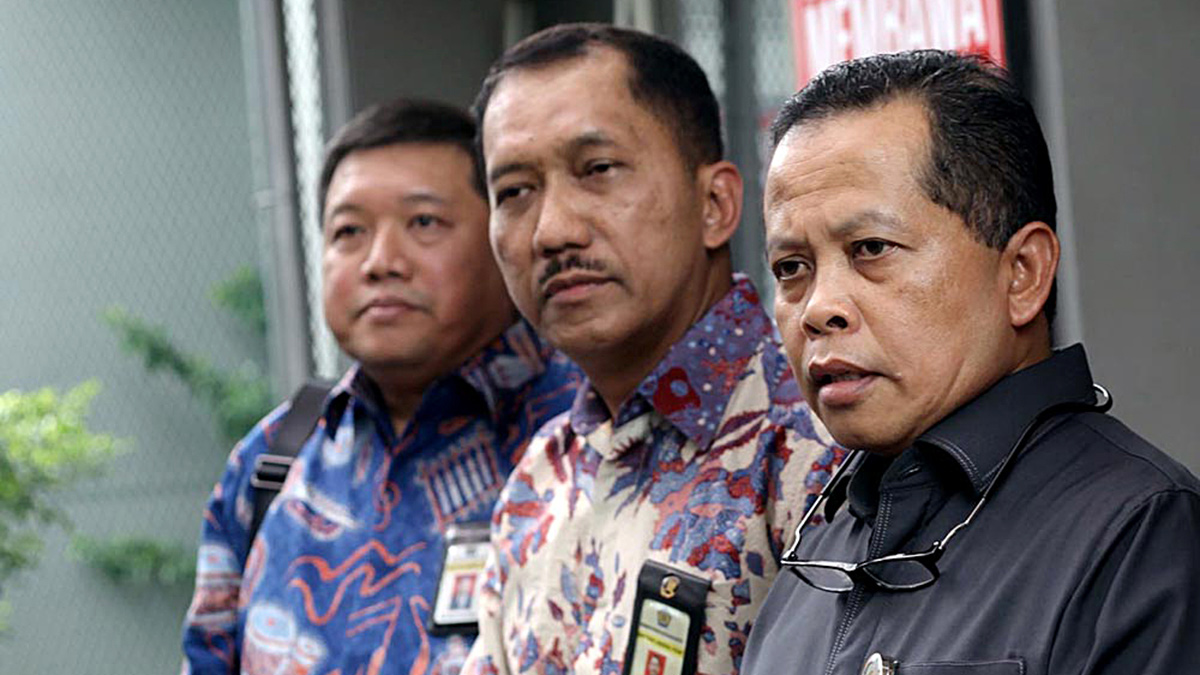 Angin Prayitno Aji (center) while serving as chief of the Central Jakarta Regional Tax Office during a tax arrears press conference at the Salemba Prison, Jakarta, April 2016. Tempo/Dian Triyuli Handoko
W251bGwsIjIwMjEtMDUtMTMgMTk6NDU6MjMiXQ
Angin does not directly manage the resort. Based on information from a law enforcer, Ragil Jumedi – better known as Medi – was given the task for the resort's land procurement in 2018. When buying the land, Medi used two realtors, Candra and Puji, who are also residents of the Borobudur Village nearby the resort.

Villagers sold their land for different prices, ranging from Rp175,000 to Rp500,000 per square meter. The resort started construction after the land changed owners. According to Sohir, Medi had at least 100 people work on Watu Putih's construction. After the KPK came, however, the construction halted.

Jalil, former village head of Malangan, also heard similar information. Jalil said that three years ago, Candra and Puji met with his brother to discuss the land now used for the resort. According to Jalil, Candra and Puji were apparently realtors sent out by Medi to seek villagers' land that could be bought by Medi.

Jalil's brother sold 1,000 square meters of land for Rp250 million. The land had been used for planting. "There were many monkeys here," Jalil recalled.
In Malangan Village, ten people sold their land, ranging between 100 and 2,000 square meters. "I was promised sangu urip (life provision) if all the land is sold. In fact, I haven't received anything," Jalil said. He pointed out that prior to the resort's existence, Medi was a realtor with limited funds.

Candra confirmed that he was sent out by Medi to look for land. Medi met Candra to ask his help seeking land for the resort. To Candra, Medi admitted that he managed and built the resort for a tax official. Candra also said that he has met with the official. "Yes, we met," Candra said without mentioning the official's name.

Meanwhile, Puji claims to be the first person to sell land at Menoreh Hill to Medi. The plot measuring 1,795 square meters was sold at Rp450,000 per square meter. To Puji, Medi had said that the land was bought by an investor working at the tax office.

Puji said he would help Medi as long as the resort's construction would involve the local community. Puji then approached villagers and asked them to sell their land. He declined to expand on the resort land's ownership. "Pak Medi knows about that. I can't say too much about that," he said.
Hari Astanto, head of the Malangan village, heard that the Watu Putih Resort had changed hands because its owner ran into difficulty in continuing its construction. Development of the resort, which has only reached 40%, is no longer under Medi's name. "But I don't know the name of the current owner," Hari said.

Medi had offered Watu Putih's location and buildings for sale for Rp250 billion at real estate sites in late 2020. At the time, the KPK had started investigating briberies which involved Angin. Medi was called in repeatedly for questioning, but has managed to avoid coming, using various excuses.

Similar to Watu Putih, Angin is also believed to own other hotels under other people's names. Two of those hotels are located not far from Watu Putih, and are also under Medi's name. Both hotels are located some 2.5 kilometers from the Borobudur Temple.

The two lodgings, Rumah Dharma 1 and Rumah Dharma 2 Riverside, have also been put under the loop by the KPK. They are located at the Wanurejo Village, Borobudur sub-regency. Buddha statues are also used as ornaments in the elegant lodgings, nestled in a green environment. Rumah Dharma 1 has six rooms with brick walls. The hotel has a bungalow and a swimming pool, and boasts rice field scenery to attract customers.

A kilometer from Dharma 1 is Rumah Dharma Riverside, looking out on a river and a bridge. This second hotel is larger than Rumah Dharma 1, with more rooms: it has ten rooms in joglo style. Every room has a sculpture in the style of the Borobudur Temple's stupa, set on bricks. Buddha statues adorn corners of the swimming pool. It also has bungalows and pendopos.

In Yogyakarta, Medi also 'owns' a hotel with the same characteristics of those in Magelang. Buddha statues are seen in Rumah Dharma 3 in the center of town. This guest house, measuring some 500 square meters, is located on Timoho 2 Street. It has eight rooms in Javanese style. Rates are the same at all three Rumah Dharma hotels: Rp500,000 a day.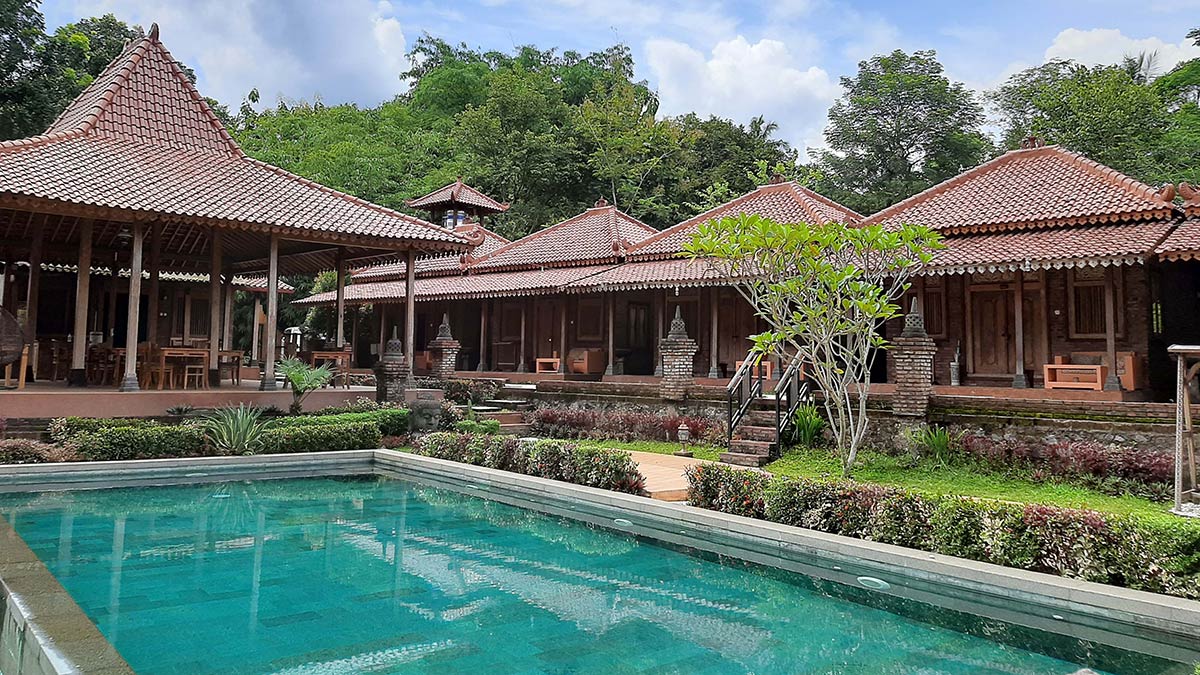 Rumah Dharma 2 Riverside, a guest house in thr Wanurejo hamlet, Borobudur subdistrict, Magelang, Central Java, March 29. The luxury property allegedly belongs to a tax bribery suspect, Angin Prayitno Aji. Tempo/Shinta Maharani
Tempo tried to meet Ragil Jumedi twice at Rumah Dharma 1. At that time, Medi was playing cards with five village residents. However, he slipped out into the kitchen. "He cannot be interviewed," said Budi, a receptionist, on Monday, March 21.
The following day, Tempo tried to meet Medi at his home in Magelang. His wife said her husband was at Rumah Dharma 1. She further said that KPK had visited their home recently and dug out information from Medi. "You want to ask about Angin? Meet up with Mas Medi," said Medi's wife, who declined to say her name. At Rumah Dharma 1, the receptionist said Medi did not want to come out.

KPK Deputy Head Nurul Ghufron said his institution has identified all of Angin's assets in Yogyakarta, Central Java, and Surabaya. KPK officials have also gone through all the ownership documents of those assets through the National Land Agency and the Indonesian Financial Transaction Reports and Analysis Centre. KPK is calculating the total value of those assets. "Sometimes the assets' formal value differs from reality. We need to cross check all parties who have bought and sold them," Ghufron said.
He further said that many corruption suspects use nominees like Medi to hide their wealth. "They use layers, sometimes on two levels. The buyers and sellers are those layers," Ghufron added. He said his institution is considering applying money laundering articles to this tax bribery case.

Asked for confirmation regarding the assets and the case, Angin did not respond to Tempo's messages. An interview request was also sent to Angin's home at Kayu Putih Selatan I in East Jakarta. According to a house employee, Angin no longer resides there. "Bapak has moved," said the employee, who declined to give his name. Efforts to get comments from Angin while he attended his child's wedding reception in Surabaya on March 27 also did not bear results. Some people blocked Tempo reporters from interviewing Angin.

KPK has summoned Angin for questioning as a witness on Wednesday, April 21. KPK acting spokesperson Ali Fikri said Angin did not fulfill the summons. "He said he was unable to come because he was ill, and asked in a written message to reschedule for April 28, 2021," Ali said.
LINDA TRIANITA, SHINTA MAHARANI (YOGYAKARTA, MAGELANG)