The Torturers in Batik Shirts
Although the case has entered the stage of inquiry, the East Java Regional Police have not yet named suspects in the case of torture undergone by Tempo journalist Nur Hadi. There was the involvement of a middle ranking police officer.
Edition : Monday, April 26, 2021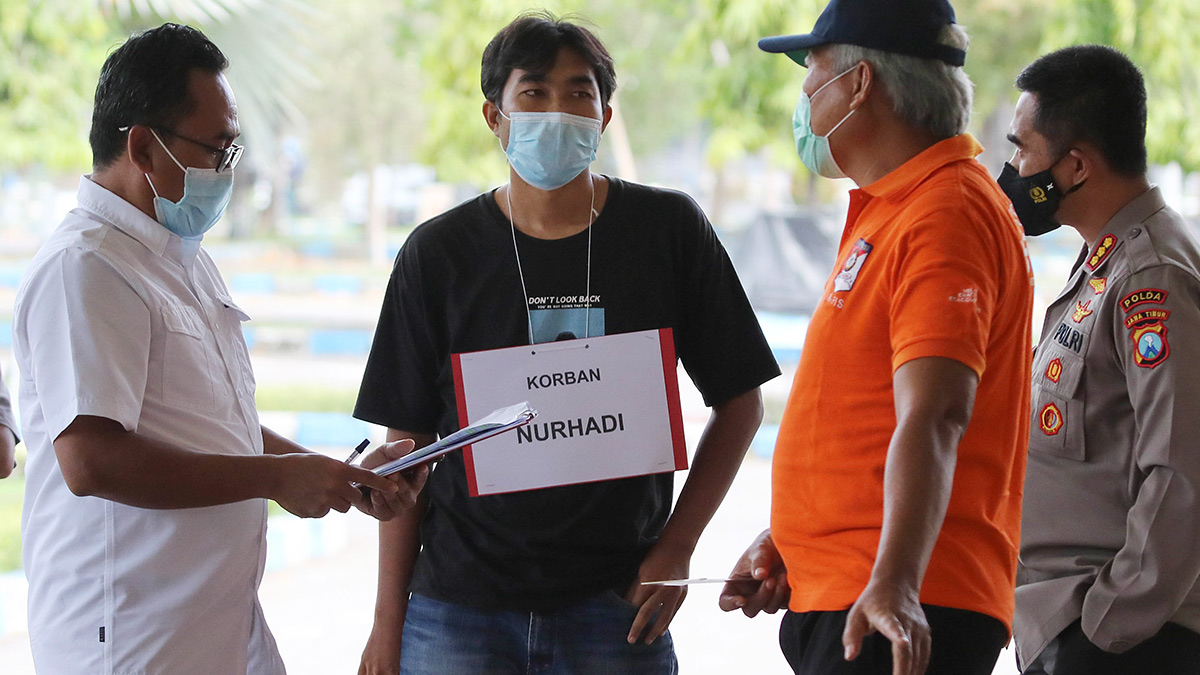 THE interrogation ended at around 21.00 on Friday, April 23. For almost 12 hours, investigators examined Nur Hadi on the third floor of the Directorate of General Criminal Investigation of the East Java Regional Police. "This examination was meant to corroborate a number of statements," said Fatkhul Khoir, an attorney of Nur Hadi from the Commission for Missing Persons and Victims of Violence (Kontras), Surabaya, after the questioning.
The Tempo journalist was examined as an informant in the case of his own confinement and torture. He was victim to violence when he attempted to interview former Assessment Director of the Directorate General of Taxation, Finance Ministry, Angin Prayitno Aji, on Saturday evening, March 27, at Graha Samudera Bumimoro, Surabaya. At the time, Angin was hosting the wedding reception of his son, who was marrying the daughter of former Planning Bureau Head of the East Java Regional Police, Sr. Comr. Ahmad Yani. Ever since being named a suspect in a bribery and bonus recipient case by the Corruption Eradication Commission, Angin has been unwilling to comment on the matter.
Nur Hadi's interrogation was in line with the status of his complaint, which was raised to the level of inquiry. But the police had declared no suspects yet until Saturday, April 24. "It has just entered the inquiry stage," said General Criminal Investigation Director Sr. Comr. Totok Suharyanto. Investigators were preparing Article 18 paragraph 1 of Law No.40/1999 on the Press and Article 170, Article 351 and Article 335 of the Penal Code to indict would-be suspects. The decision was made after a case hearing on Monday, April 19.
A Journalist member of All-Surabaya Journalist Forum holds a poster during a journalist solidarity action in Surabaya, East Java, March 29. Antara/Zabur Karuru
W251bGwsIjIwMjEtMDUtMTMgMTk6MTk6MTQiXQ
In the examination, said Fatkhul, Nur Hadi affirmed a middle ranking police officer, head of the traffic unit, was involved in the act of torturing him. "This middle ranking officer choked and beat him and tried to force Nur Hadi to accept compensation of Rp600,000 and be photographed," said Fatkhul. The money, added Fatkhul, said Nur Hadi, was stealthily put in the car that took him home. Two other policemen, Purwanto and Firman Subkhi, were also reported allegedly lending a hand in the torture.
Fatkhul said Nur Hadi had revealed that Purwanto and Firman were ordered by somebody. The two leaked the identity of the other police officer involved in the torture. "Purwanto and Firman who accompanied Nur Hadi, gave information that the police officer who tortured him was head of the traffic unit and assigned in Kalimantan," said Fatkhul.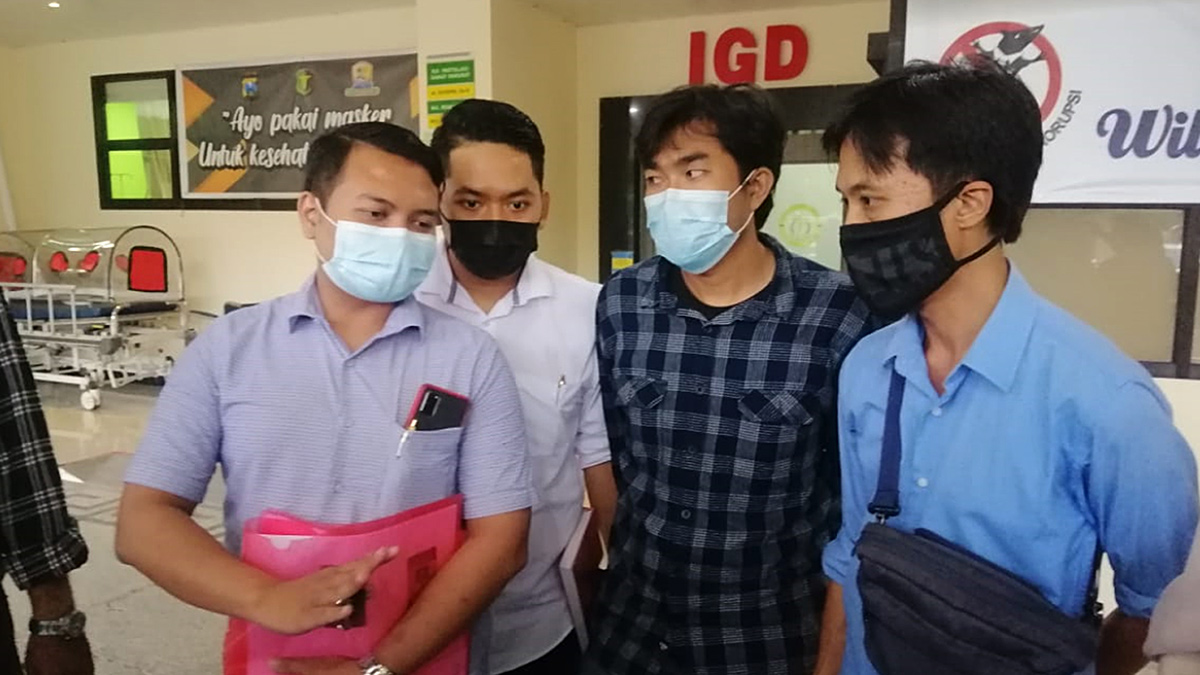 Tempo journalist Nurhadi (second from right) during the forensic examination at the East Java Regional Police Bhayangkara Hospital, March 28. AJI Surabaya
On the same occasion, investigators also questioned F, Nur Hadi's peer. He was key witness for having directly watched several people clad in batik beating up Nur Hadi. One of them covered Nur Hadi's head and face with a plastic bag. Another held the bag firm from behind. "If they are brought in together, Nur Hadi would recognize them," said Salawati Taher, another attorney defending Nur Hadi from the Lentera Legal Aid Institute.
Yet another torturer was mentioned as adjutant of Angin Prayitno Aji. However, Salawati added that Nur Hadi could not ascertain the status. Investigators included the role of this adjutant in the inquiry material. As a former official with the suspect status, Angin should not have an adjutant. "This is also being looked into by investigators," said Salawati.
Up to Saturday, April 24, Angin made no response to an interview request sent to his cell phone. Tempo also sent a letter requesting an interview to his residence in Pulogadung, East Jakarta, on Friday, April 23. Somebody in the house said Angin no longer lived there.
Sr. Comr. Totok Suharyanto did not explain in detail the progress of the inquiry. Chief spokesperson for the East Java Regional Police Sr. Comr. Gatot Repli Handoko made no response either to Tempo's interview request. From various sources of information already learned, the police have examined Angin. They have also gathered dozens of gigabytes of recordings of 24 CCTV cameras around the location where the torture happened.
Kukuh S. Wibowo (Surabaya)