Pledge of Alliance
Gojek and Tokopedia are preparing for a merge, to create a new company to serve as a parent for the two Indonesian giant startups. There is pressure from investors who have been thirsty for profit.
Edition : Monday, April 26, 2021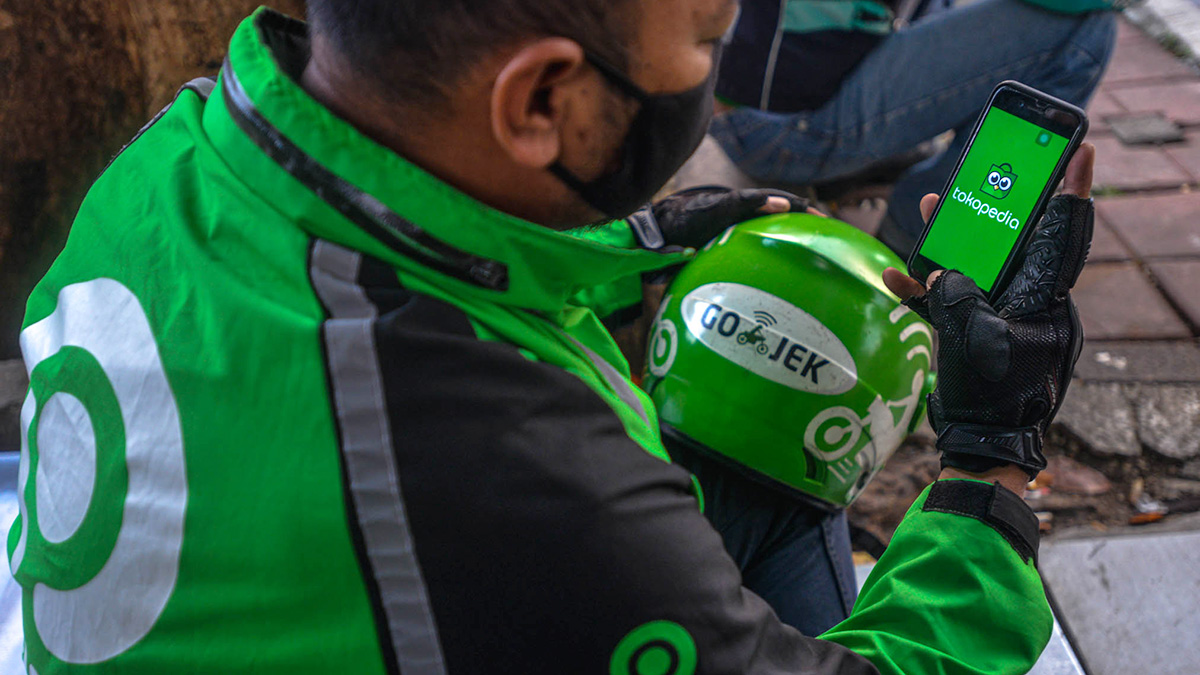 GRAND meetings are a routine among large developing companies such as Gojek. Last year, for example, when it decided to focus on working on its core business and leave non-transportation services like GoLife—including GoMassage and GoClean—the management held 16 large meeting sessions with employees.
But the two major meetings on March 23 and April 9 were rather special. The meetings were to clarify rumors about Gojek's union with Tokopedia. On March 9, the two Indonesian startup giants---developed by Aplikasi Karya Anak Bangsa and Tokopedia—were even reported to have signed a conditional sale and purchase agreement (CSPA).
For the last town hall meeting on April 9, the invitation came rather suddenly. Employees received invitations at noon for a deliberation that was to start hours later. At 16:00, the meeting began and ended in half an hour. "Go-Jek rarely has town hall meetings on Fridays," a source who knew about the meeting said.
The sudden invitation seemed to have meant a lot. In the previous grand meeting, March 23, the management insisted that a merger with Tokopedia was just a rumor. It wasn't until the April 9 big meeting that the management confirmed they were in negotiations with Tokopedia. Nevertheless, the management reminded that no binding decisions have been made. They promised employees would be the first to know if Gojek and Tokopedia are legally united.
W251bGwsIjIwMjEtMDUtMTMgMjA6MDM6MTciXQ
In addition to acknowledging the merger negotiations, the meeting gave a brief explanation about the impact of a merger between the two companies. Gojek's management structure from top to bottom will not change, they said, and the consolidation would only result in producing one new parent company, in charge of Gojek and Tokopedia.
This parent company will be named GoTo. "Let William Tanuwijaya, Kevin Aluwi, and Andre Sulistyo decide what the name is," said an investor within Gojek's circle who knows about the negotiation details.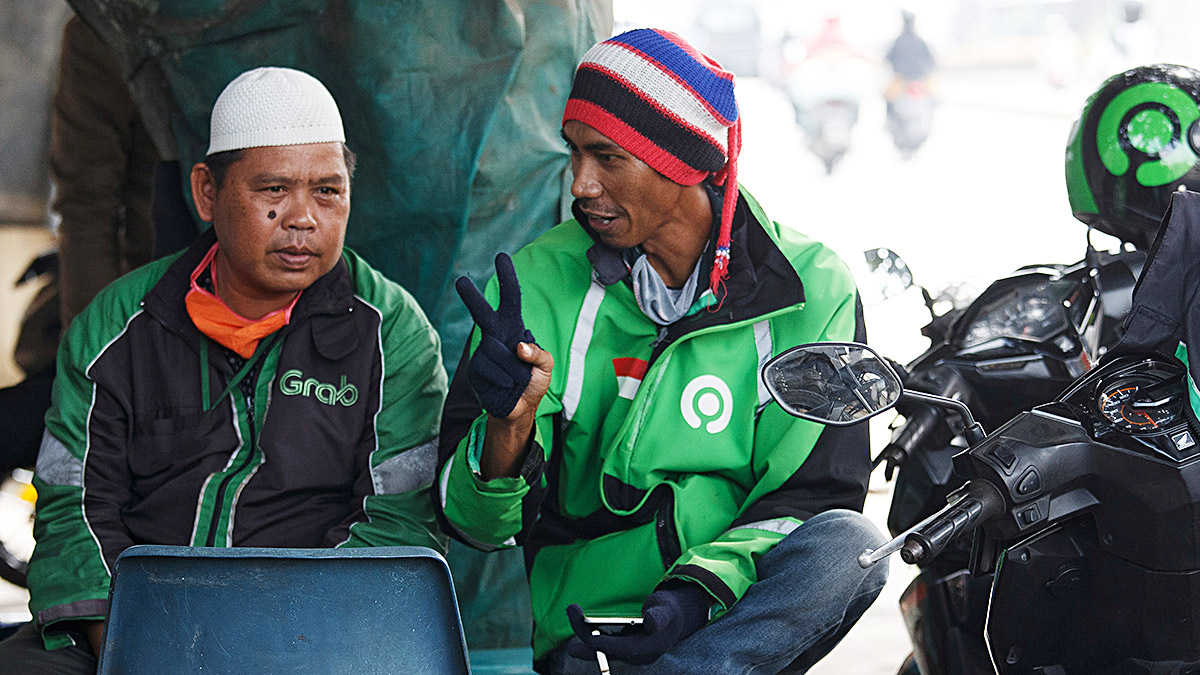 Motorbike taxi drivers chatting while waiting for customers in Depok, West Java. Ride-hailing and financial services firm Gojek is Grab's biggest competitor. Gojek and the country's leading e-commerce business Tokopedia are close to merge ahead of the planned public listing. Reuters/Ajeng Dinar Ulfiana
William Tanuwijaya is the CEO and co-founder of Tokopedia. Meanwhile, Kevin Aluwi and Andre Sulistyo have been at Gojek's helm as Co-CEOs following the departure of Nadiem Makarim, who was appointed as Minister of Education and Culture in October 2019.
Gojek's marriage with Tokopedia is expected to result in a jumbo company. Gojek is currently valued at an estimated US$10.5 billion, making it the first Indonesian decacorn—a startup with more than US$10 billion valuation. Meanwhile, Tokopedia is a unicorn with an estimated worth of US$7.5 billion.
The combined market value of the two companies is predicted to reach between US$35 billion and US$40 billion once it is listed on the Indonesia Stock Exchange (IDX). With this figure, GoTo will become the third largest company in terms of market capitalization, behind Bank Central Asia Tbk (BBCA) and Bank Rakyat Indonesia (Persero) Tbk (BBRI).

•••

AS with past cases, startups' management cannot be expected to provide detailed explanation about each corporate plan. The same goes for Gojek and Tokopedia, neither could explain the details of the merger plan, which was becoming more and more of a hot topic.
When contacted on Friday, April 23, Gojek's chief of corporate affairs Nila Marita said she understood that there were circulating discussions regarding the merger. "But we are unable to comment at this time," Nila said. "If there is information that we can share about the corporate act, we will do so as soon as possible."
One thing for sure, the Gojek-Tokopedia merge plan shut down an earlier rumor; one that began in 2020: a merge between Gojek and Grab. This rumor surfaced after a number of foreign publications reported that SoftBank Group CEO Masayoshi Son was encouraging Grab Holdings Inc.'s co-founder Anthony Tan to hold discussions about merging with his main competitor. SoftBank is Grab's majority shareholder.
Son's wish, according to a top investment manager in Indonesia who has close ties with Gojek's business, was shared by shareholders at the regional level. The shareholders of Gojek, he said, believe that combining the two forces will unite a myriad of businesses in Southeast Asia. That way, funders of jumbo startups would no longer have to deal with the money-burning strategy for too long.
'Burning money' is an expression used to describe startups' tendency to rely on investors' capital support through closed negotiation funding rounds. The capitals are used for various technology developments and market expansion, which often include huge discounts or cashbacks to attract app users. The company's valuation continues to increase, but there was never a certainty about when investors can enjoy profits.
A person close to one of the Gojek investors revealed that shareholders initially agreed to merge with Grab, as the company's plan to hold an IPO and go public was not materializing. "The fact is that the IPO was one of investors' solutions to get their investment return," said the source who requested anonymity.
---
"Competition between the two was already too fierce. It was a no go."
---
An investor with close ties to Gojek claimed to have discussed the possibility of a merger with Grab last year. The merger was intended to create demarcation. Gojek plays in Indonesia, while Grab works on the rest of Southeast Asia's market. "It is impossible to tell two opponents to get married. The parents (shareholders) must reconcile them first," the source said.
According to that source, the idea for a merger came after both companies ran into funding difficulties. With the addition of Covid-19 pandemic, many costs must be cut. The merger was aimed at consolidating their businesses while avoiding "fights" that would only injure them more. But the shareholders' plan did not go anywhere. Gojek and Grab were unable to shake hands. "Competition between the two was already too fierce. It was a no go."
Failing to ally with Grab, Gojek resumed talks with Tokopedia. The same source, the investor, revealed that Gojek and Tokopedia had actually discussed merging two and a half years ago.
At that time, Tokopedia was not yet a shareholder and strategic business partner of OVO, a digital financial service startup developed by the Lippo Group through Visionet Internasional. Grab also has stakes in OVO. Starting from GrabPay, OVO's digital wallet has grown into a strong competitor to GoPay, Gojek's digital wallet.
Unlike the plan of merging with Grab, the Gojek-Tokopedia discussion was relatively straightforward. The long-standing closeness between the founders of the two startups—Nadiem Makarim, Kevin Aluwi, Andre Sulistyo, and William Tanuwijaya—helped the negotiation process. "That's why, when they started exploring the possibility of merger again and asked for support, the shareholders were very supportive," said the investor. "This will create a digital champion that has strong foreign competitors."
To date, Gojek has been competing with Grab. Meanwhile, Tokopedia competes with Shopee, a marketplace owned by the SEA Group, a digital conglomerate from Singapore.
Telekomunikasi Selular (Telkomsel) is one of the shareholders who believes in the bright future of Gojek's merger with Tokopedia. This subsidiary of Telkom Indonesia (Persero) Tbk disbursed US$150 million worth of share conversion debt, the equivalent of 1.5 percent shares in Gojek, in November 2020. This year, Telkomsel added another US$300 million to last year's price agreement.
Telkomsel president director Setyanto Hantoro said Gojek and Tokopedia have different types of users. Gojek users tend to use the app frequently but in short durations. Meanwhile, Tokopedia users tend to open the app rarely, but spend a long time when they do. The collaboration between the two is expected to be very good. "In terms of business, it is also very good because e-commerce will need logistics and this will definitely benefit all parties," Setyanto said on Friday, April 16. "As shareholders, we definitely approve."
As of November 2020, Gojek has 20 million drivers and 900,000 merchant partners. The number of their active users in Southeast Asia was 38 million per month. Based on the E-Commerce Map of Indonesia compiled by Iprice Group, Tokopedia's monthly visitors in June 2020 was around 86.1 million. The number of Tokopedia merchants reached 9.9 million as of December 2020.
If the merger plan with Gojek pushes through, the number of active users combined would reach 124.1 million—even though there is that possibility of multiple unique users. This figure far exceeds Shopee's average monthly users, which is around 93.4 million. This is because merging the two companies will result in a collaboration' Tokopedia offers services to Gojek users and vice versa.

•••
THE truth is, the huge number of Gojek and Tokopedia users does not guarantee that investors would be able to enjoy profits immediately. That's why, an official working for one of Gojek's strategic partners' said, Gojek's collaboration with Tokopedia is part of an effort to support the digital financial service ecosystem.
"Investors are becoming more aware that startups that rely solely on funding will not sustain," the official said. "The main demand now is profit, and the most likely way to get that is by strengthening financial services."
So far, Gojek and Tokopedia have been holding closed funding rounds in strategic investor circles. The last one that Gojek reported was funding from Facebook and PayPal on June 3, 2020. After that, Telkomsel brought in US$150 million through convertible bonds. The digital business realm is accustomed to having large amounts of funds disbursed by investors, without knowing when the capital will return.
The digital business realm only realized this in early 2020. SoftBank Group, one of the world's largest investors in the digital business, incurred a loss in the fiscal year that ended in March 2020. Aggressively disbursing funds to startups—including Tokopedia, the Japanese investor lost 1.36 trillion yen (US$12.7 billion), or about Rp197 trillion, their first loss in 15 years.
The main cause was the collapse of SoftBank's investments in a number of start-ups, mainly from the Vision Fund funding round. At that time, no less than 7,300 employees at a dozen startups owned by SoftBank lost their jobs. One of them is Uber, which had to fire 3,000 workers and closed 45 offices in several countries.
Patrick Sugito Walujo, a commissioner and one of Gojek's shareholders, realized that a digital company that can no longer rely on investors, and must find a way out through the financial sector. At the end of 2019, together with senior banker Jerry Ng, he acquired Bank Artos Indonesia Tbk and turned it into Bank Jago Tbk. In December 2020, Gojek also got hold of Bank Jago, acquiring 22 percent of the digital bank's shares through Dompet Karya Anak Bangsa (GoPay).
Its vision of being a digital bank makes Jago popular, and become a beam of hope for reaping profits—something that investors have been craving for. In March 2020, Bank Jago's market capitalization was a mere Rp1.2 trillion. But things took a turn and by April 1 this year, that cap had soared to Rp137 trillion—making Jago one of IDX's top 10 issuers. "This is extraordinary, it raises hope for profits," the source said.
The source also said that if the Gojek-Tokopedia merger is a success, Bank Jago's channel to attract and distribute funds will expand. In short, Bank Jago will become the financial backbone of the platform as well as the profitmaker. For instance, it could serve as a moneybag for GoPay as well as Gojek's drivers and merchant partners. Bank Jago can also serve as a source of credit for the 9.9 million merchants on Tokopedia.
Patrick Walujo was unwilling to talk about this latest corporate action plan. Patrick is also a controlling shareholder at WealthTrack Technology Limited, a shareholder of Bank Jago.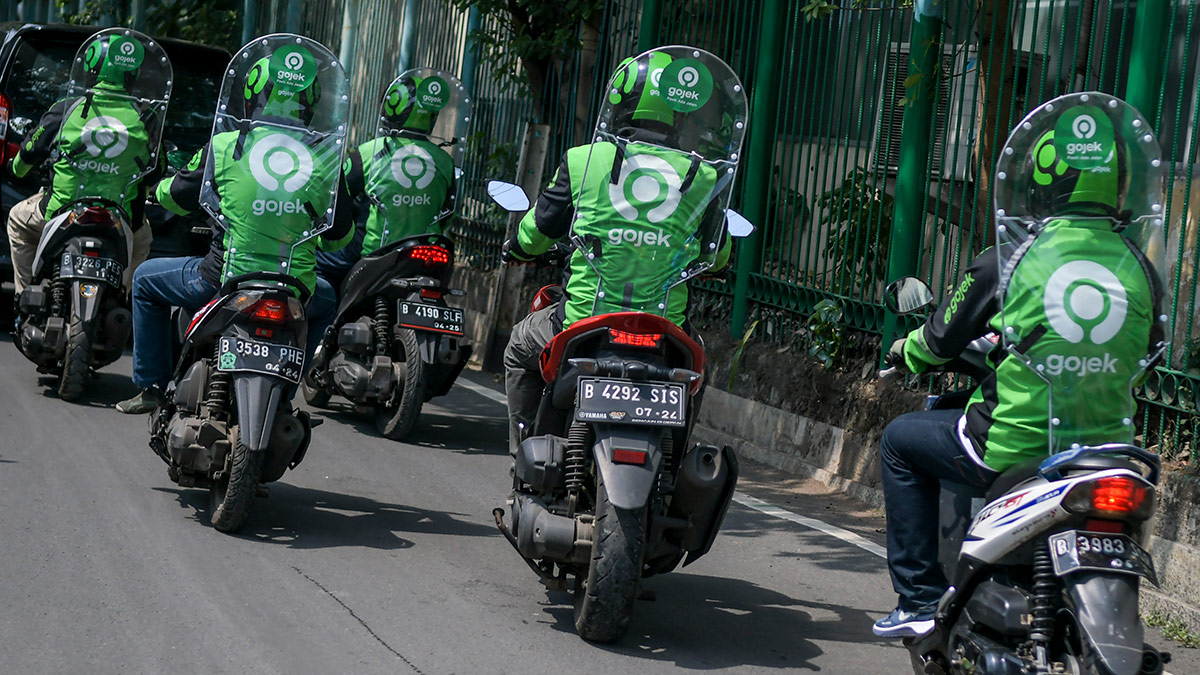 Gojek drivers wearing protective bulkheads pass through Jalan Kendal, Jakarta, last July. Antara/Galih Pradipta
Meanwhile, a number of Gojek shareholders are confident that the merger agreement can be sealed in early May 2021. Gojek and Tokopedia actually shook hands at the end of December 2020. "Now, the only thing left to do is ask for shareholders' signatures," an investor said.
The next step after merging is to hit the stock trading floor. While considering plans to list in a US stock exchange, both agreed that they will go to the Indonesia Stock Exchange or IDX. For this matter, both of them are still waiting for a license from the Financial Services Authority (OJK).
They need the license because the tech-based company implements both vote share and non-vote share systems. It means that company founders who are in management have voting rights, even though they are only minority shareholders. In contrast, non-founding shareholders do not have voting rights in terms of controlling the company. "Moreover, Gojek and Tokopedia have many shareholders, and small ones at that," said the source.
It seems like these investors would be the masterminds—the determining voices that will set course for Gojek and Tokopedia in the future.
KHAIRUL ANAM, AGOENG WIJAYA, BUDI SETYARSO