Terrorist Label for Papuan Armed Group
Edition : Monday, May 3, 2021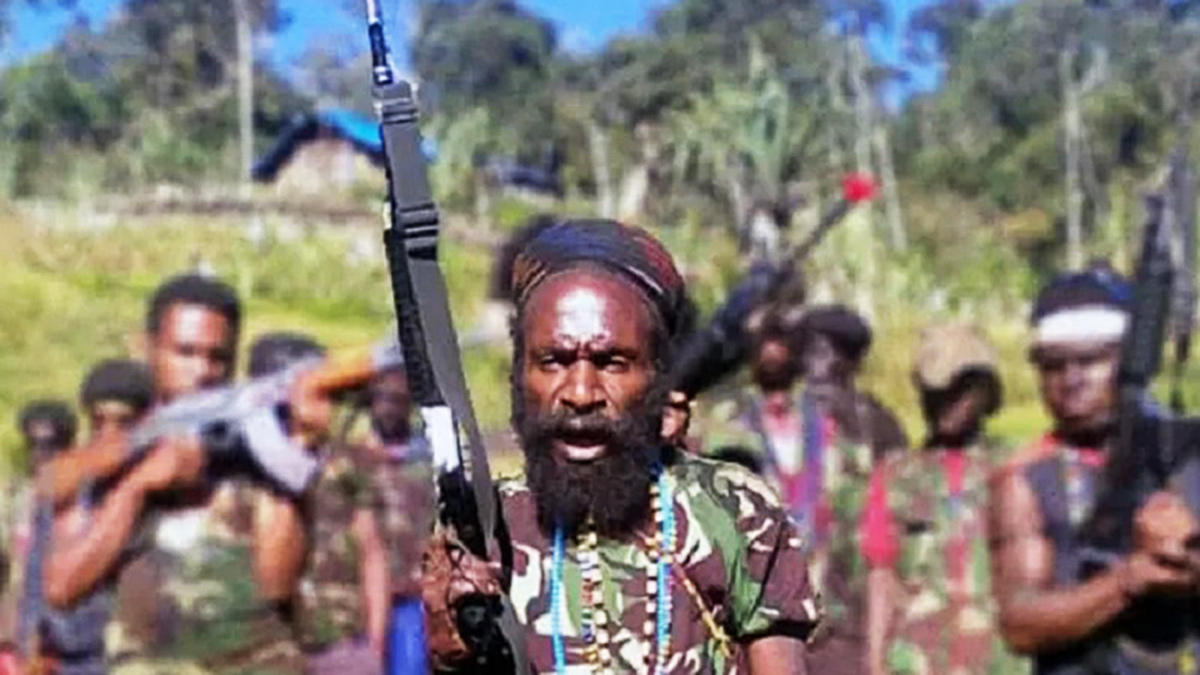 INDONESIAN government declared the armed group in Papua as terrorists on Thursday, April 29. Coordinating Minister for Political, Legal, and Security Affairs Mahfud Md. said the violence committed by the group has met elements of terrorism according to the Terrorism Law. Mahfud further said that terrorism eradication in Papua would not be carried out against Papua's civilian population, but against a small group of people who are rebelling. "Their acts amount to terrorism," said Mahfud.
The change of status from criminal armed group to terrorists followed the death of Maj. Gen. (Posthumous) I Gusti Putu Danny Karya Nugraha, chief of Papua's state intelligence agency, at Dambet village, Beoga District, Puncak Regency, on April 25. Boy Rafli Amar, Chief of the National Counterterrorism Agency, suggested calling the armed group as terrorists at the end of March.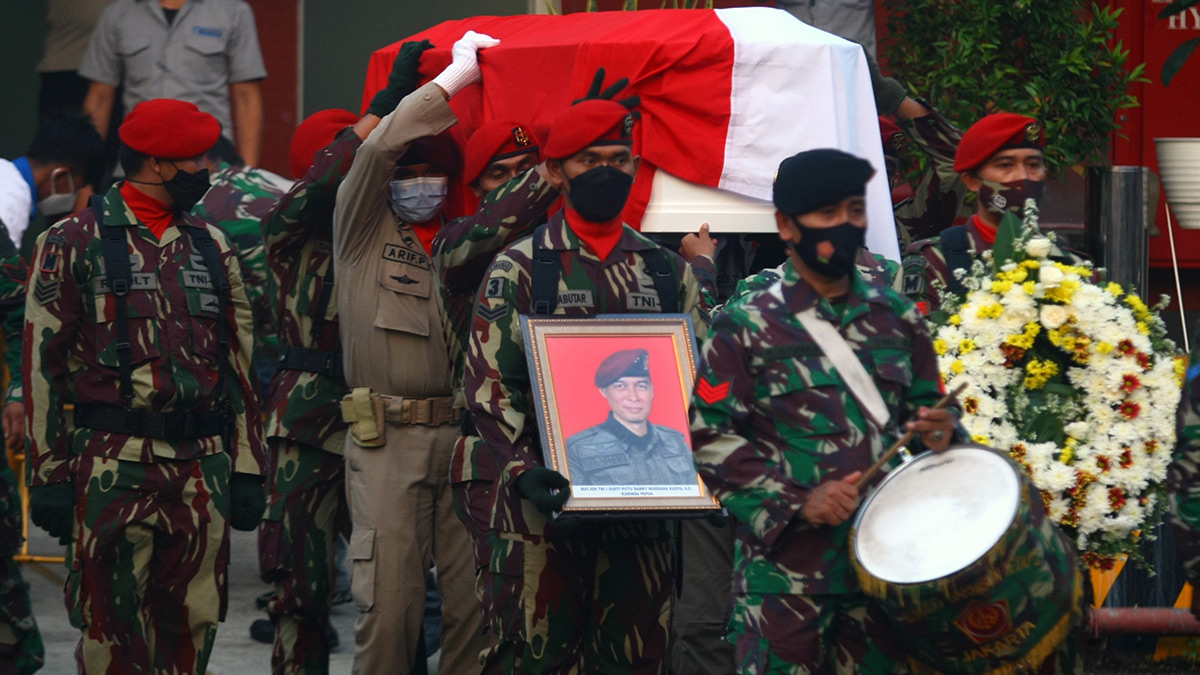 A number of Special Forces Command (Kopasus) soldiers carry the body of Papua Regional Intelligence Agency Chief Maj. Gen. (Posthumous) I Gusti Putu Danny during the ceremony at Soekarno-Hatta Airport, Tangerang, Banten, April 26. Danny was killed during a gun battle with the Papuan armed group. Antara/Muhammad Iqbal
The government's decision has drawn criticism from human right activists. Rivanlee Anandar, Deputy Coordinator for the Commission for Missing Persons and Victims of Violence (KontraS), sees this labeling as the state's effort to silence those who are calling for justice in Papua. He is worried that this decision will legitimize military deployment in the region.
W251bGwsIjIwMjEtMDUtMDggMjA6NDk6MjMiXQ
Bonar Tigor Naipospos, Deputy Coordinator of the Setara Institute, said the government's move will spark questions from the international community. Yan Parmenas Mandenas, member of the House of Representatives' Defense Commission, believes that the terrorist labeling shows the government's weakness in solving the conflict in Papua. "This is not a step forward, but backward," he said.
Meanwhile, Papuan Governor Lukas Enembe asks that the government revisits this decision. He is worried that the terrorist label will have a bad impact on the Papuan community's psychological condition. He also appealed for the Indonesian Military (TNI) and police to map out the armed group's strength and locations, so as not to mistakenly arrest and shoot people.
Besieging Papua
CONFLICT in Papua has intensified since the Indonesian Military (TNI) and police personnel were deployed to the region. After declaring the armed group as terrorists, the number of soldiers and police there are expected to go up.
Number of Security Personnel in Papua
Nemangkawi Operation (January 1-June 30, 2021)
• 235 military personnel in Timika and Tembagapura
• 893 police personnel from Jakarta, Papua, and West Papua
Under Control Operation (Bawah Kendali Operasi- BKO) of the Papua Regional Police Department to secure the sector's police (February 17-July 31, 2021)
• 98 police personnel in the Puncak Regency
• 102 police personnel in the Puncak Jaya Regency
Papua Regional Police BKO to secure social conflicts (February 18-August 31, 2021)
• 100 police personnel at the Sugapa District, Intan Jaya Regency
• 100 police personnel at the Banti village, Tembagapura District.
• From March 10 to September 15, 2021: 100 police personnel at the Kenyam District, Nduga, Timika.
Papua Regional Police BKO to secure Freeport Indonesia (March 8-September 6, 2021)
•404 police personnel
Papuan Regional Police BKO to secure regional elections (April 16-May 31, 2021)
•100 police personnel
Violence in the Past Decade
---
AGO Official Fired for Bribery
ATTORNEY General Sanitiar Burhanuddin dismissed Deputy Attorney General for Civil and State Administration Chairul Amir for misusing his position in cases and allegedly accepting bribes of Rp500 million. "He has committed serious disciplinary violations," said Leonard Eben Ezer Simandjuntak, Spokesperson of the Attorney General's Office (AGO), on Friday, April 30.
Leonard said that Chairul was dismissed from his position for a two-year period. Chairul is also suspected of receiving money from Serly Suganda, 52, who asked that his child, involved in a nickel mine fraud and investment embezzlement case, be released from the East Java Police custody.
While Chairul admitted to meeting with Serly, he denied accusations of fraud and bribery. Indonesia Corruption Watch researcher Kurnia Ramadhana pointed out that Chairul should have been charged with criminal corruption articles for accepting bribes.
---
KPK Investigates Herman Hery
THE Corruption Eradication Commission (KPK) is investigating Herman Hery Adranicus, Chairman of the House of Representatives' (DPR) Legal Commission, on Friday, April 30. This politician from the ruling Indonesian Democratic Party of Struggle (PDI-P) is questioned for information regarding bribery suspicions surrounding the Covid-19 social assistance fund.
The KPK has started a new investigation into alleged corruption in the procurement of social aids in Jakarta, Bogor, Depok, and Bekasi, which involved former social affairs minister Juliari Batubara. Herman Hery allegedly received 7.6 million packages worth Rp2.1 trillion through more than six companies. According to Adi Wahyono, an official at the social affairs ministry, Juliari gave the order to allocate the packages to Herman.
Herman said he went to the KPK to comply with the legal process. "I came to give clarifications," he said.