Capturing Clean Energy
The potential for developing new and renewable energy remains wide open. An ecosystem is required to optimize clean energy in the country.
Edition : Monday, May 3, 2021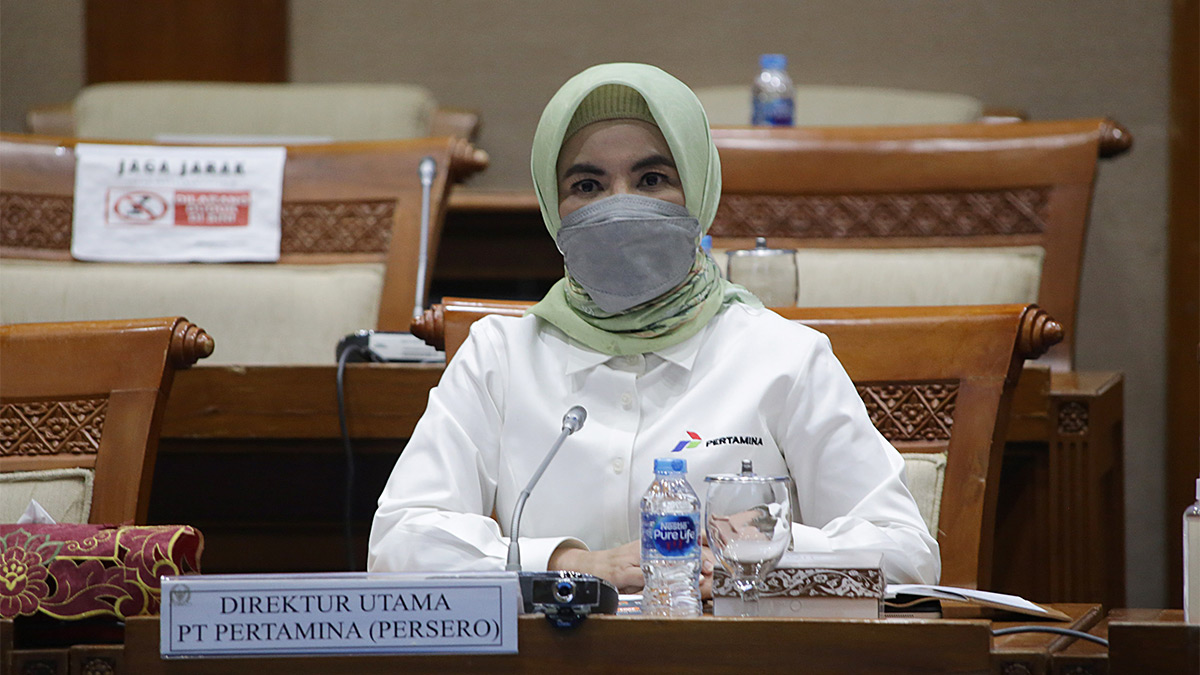 A NUMBER of fossil energy companies are targeting to increase their portions of utilization of new and renewable energy. Corporations hope this policy can contribute to the reduction of carbon emissions.
State oil company Pertamina raises its green business portfolio with the expectation that its portion of renewable energy mix can reach 30 percent in 2035. One of its strategies is the development of bioenergy. The company plans to increase its generator capacity to 153 megawatts (MW) starting from 2020 until 2026.
A project processing biomass into biogas and bioethanol in Sei Mangkei, North Sumatra, is one of its priorities. The company builds a biogas power generator with a capacity of 2.4 MW by utilizing microalgae there. Pertamina Chief Executive Officer (CEO) Nicke Widyawati said domestic microalgae production was the third largest in the Asia-Pacific economic zone. "Pertamina has succeeded in developing a 5,000-liter microalgae photobioreactor facility and is operating to achieve a commercial scale of cultivation and production in 2025," she said on April 29.
Besides, Pertamina utilizes green hydrogen with electricity in a geothermal area whose total potential amounts to 8,600 kilograms per day. Nicke indicated that green hydrogen would start at the geothermal generator of Ulubelu in Lampung to be used in the polypropylene plant of Plaju Refinery in South Sumatra. Until 2025, the company sets the target of total refinery capacity to process hydrogen to increase to 20 MW.
W251bGwsIjIwMjEtMDUtMDggMjE6MDk6NDMiXQ
Pertamina will also raise the capacity of other renewable energy generators in the period of 2020 to 2026. Solar power generators will be elevated in capacity to 910 MW until 2026. The capacity of windmills will increase to 225 MW and hydropower generators to 400 MW.
Workers install solar panels at the Coca-Cola Amatil Indonesia factory, Cibitung, West Java, last December. The 72,000 square meter solar panels are capable of producing 9.6 million kWh for powering manufacturing facilities. Tempo/Tony Hartawan
Meanwhile, Medco Power Indonesia CEO Eka Satria said his company was very serious in developing new and renewable energy. "We are especially very active in utilizing geothermal energy," he said. At present, the company owns the Sarulla Geothermal Power Generator (PLTP) North Tapanuli Regency, North Sumatra, with a capacity of 330 MW. The company also develops the Blawan Ijen PLTP in East Java with a capacity of 110 MW.
The other energy developed by this company is solar energy. Medco has plants in Sumbawa, West Nusa Tenggara, with a capacity of 20.6 MW and in Bali with a 50-MW capacity. Eka revealed that his company also strived to utilize solar energy as a source of electricity in its mines.
The company endeavors to benefit from a lot more renewable energy but the process is not simple. Eka said it would require an ecosystem to optimize clean energy in the country. "(It needs) an ecosystem with regulations that support investment. Without this, people are unwilling to change to renewable energy," he added. Apart from that, support is needed from financial institutions as investment in this sector is huge.
GE Gas Power Indonesia Country Leader George Johan said his company was developing turbine gas technology which is efficient for the production of electricity with lower emissions. "We use this gas technology because its supply in Indonesia is still abundant, even in the future," he said. Turbine gas can also stabilize power networks to balance the intermittent nature of renewable energy. Yet its development faces the challenge of gas distribution currently still difficult in the country.
Manager of the Energy Transformation Program of the Institute for Essential Services Reform, Jannata Giwangkara, said the opportunity for new and renewable energy utilization at home remained big. Today only 2 percent of its potential of 442.4 gigawatts (GW) have been utilized. "The largest share of utilization at present still relies on hydropower, geothermal and bioenergy," he pointed out. The other energy also with the potential of development is the ocean current, which offers up to 17.9 GW but is as yet completely unscathed.
VINDRY FLORENTIN