Royalty Distribution is Not Yet Equal or Fair
Seasoned musician Candra Darusman was again at the center of efforts to fight for the welfare of musicians and songwriters. As the chair of Indonesian Musician Union Federation (Fesmi), his input was solicited for the formulation of Government Regulation No. 56/2021 regarding the management of music royalties. The regulation inked by President Joko Widodo on March 30 not only governs parties responsible to pay royalties but also lays down the basis for the establishment of a data center as well as a music information system. Before he headed Fesmi in 2019, Candra represented Indonesia at World Intellectual Property Organization for 18 years, nine years respectively at the organization's offices in Switzerland and Singapore. After decades of being active in intellectual property rights protection, Candra is determined to improve the lives of musicians and songwriters by, among others, improving royalty management amid new challenges in the digital era.
Edition : Monday, May 3, 2021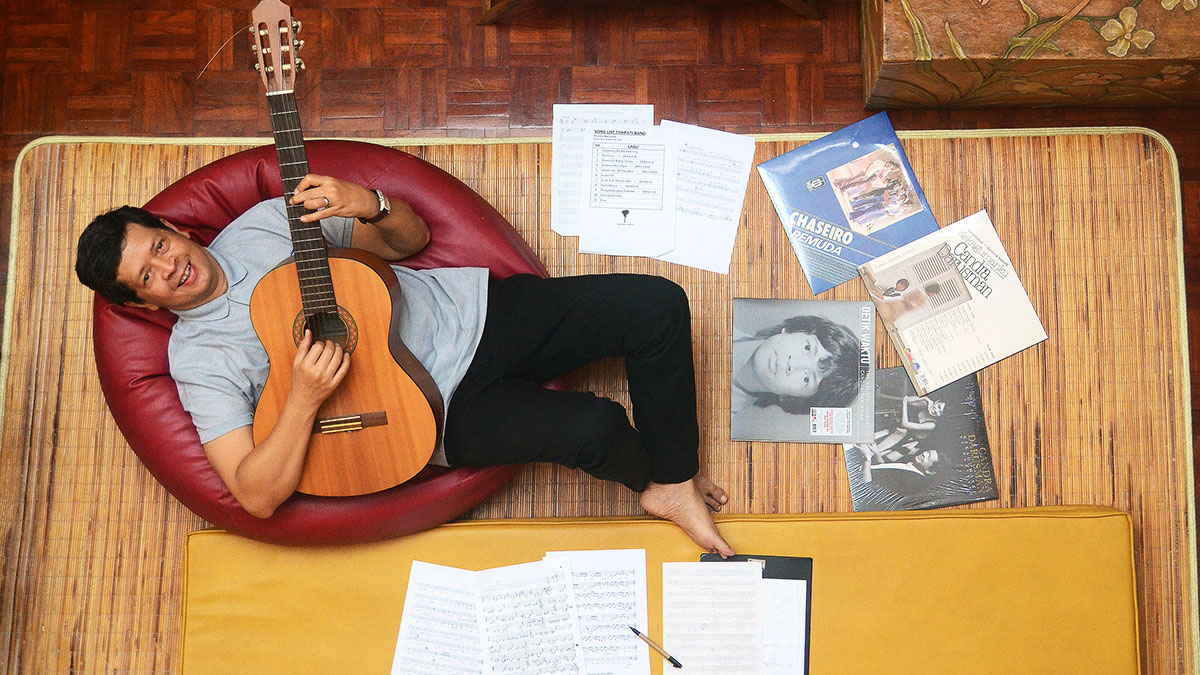 THE discussion on the Government Regulation No. 56/2021 on music property rights was already half-way through when the government sought Candra Darusman's involvement in drawing up the draft last year. "There are pressing circumstances, especially musicians' grievances about unequal distribution of royalties," said Candra, 63, during a special interview with Tempo on April 22.
As the chair of the Indonesian Musicians Union Federation (Fesmi) with a wealth of experience in intellectual property rights protection, Candra offered his input. He said the regulation passed on March 30 governed not only the 14 business sectors and activities that are subject to royalty payments, but also the establishment of a data center and a music information system by the government to create a more effective royalty collection and distribution.
In 2019, National Collective Management Agency (LMKN) set up by the government to oversee eight collective organizations in the country collected royalties totaling Rp80 billion, a sharp increase from the amount garnered by Yayasan Karya Cipta Indonesia (KCI), the first collective management agency, in 1991. "The KCI managed to collect only Rp490 million at the time," recalled Candra, the man responsible for the birth of KCI. The musician and the songwriter who represented Indonesia at World Intellectual Property Organization for almost two decades said the Covid-19 pandemic has reduced the royalties in the last year to half of the year before.
Speaking to Tempo journalists, Sapto Yunus and Mahardika Satria Hadi, Candra talked about the importance of a song and music data center, the pandemic's effects on musicians as well as the planned song licensing regulation. As member of the popular music bands in the 70s and 80s, Chaseiro and Karimata, Candra did not deny that some of his musician friends were reluctant to follow the system out of misgivings about LMKN's performance.
W251bGwsIjIwMjEtMDUtMDggMjA6NDc6MDciXQ
How did you come to get involved in the formulation of the Government Regulation No. 56/2021?

I was brought in mid-way through the discussion around the third quarter of last year. It was a fairly speedy discussion because the aim was to provide at the soonest a foundation to improve the infrastructure, that is a database and the application, which would take at least two to three years to create. I was there to give my input but eventually I was asked to stay on until the conclusion.
What crucial points became the bones of contention during the discussion?
The matter of database and application triggered many questions, among others, as to who would fund them. Copyright holders don't want to be burdened. That is the government's initiative, so, well, the government should bear the costs.
What was the solution?

Finally, a compromise was reached. The government would build the database and copyright holders would handle the application called Music and Song Information System and the LMKN.
What are government's considerations behind this regulation?
There are pressing circumstances including musicians' grievances about unequal, unfair and unscientific distribution of royalties. Royalty distribution is not an easy process. Tens of thousands of songs need to be matched with thousands of owners. Without a sophisticated IT infrastructure, the results will be bad, leading to confusion like 'how come I get this much while you get this much'.
The regulation was issued at the height of the pandemic that paralyzed the entertainment industry. Was it the right time?

We can't deny the fact that the regulation has drawn a myriad of reactions. Actually, the content of the regulation is something that has been ongoing since 1991. The first collective management agency (LMK) called Yayasan Karya Cipta Indonesia was founded in 1991 to collect and distribute royalties.
If royalties are already managed, why did the government need to issue a new regulation?

To remind those who haven't paid yet. Particularly in this pandemic when everyone is suffering. The business sector is suffering and so are artists. But in my opinion, the breakthrough is in the article that says the government will build a national song and music database and the application.
What are the technicalities like?
There are currently eight LMKs, each with its own database. They will be amalgamated to become one solid national database. The objectives are first, to create a single credible data source. Second, to improve royalty distribution. This is not for the LMKN but for the members. So far, the royalty distribution hasn't been accurate, fair or good. The database will enhance it.
What about the fate of musicians and songwriters who are not registered as LMKN members?

They may not receive royalties. As simple as that.
Will the LMKN also collect and pay royalties to foreign musicians and songwriters?
Yes, if indeed their songs are used. Royalty fee collection is like a blanket license or a package license. A license is given to the user for free use of songs, local or foreign.
What was the reaction of the musicians and songwriters who do not receive royalties?
What they say mostly is, "Why isn't my name mentioned in YouTube videos? It's causing me losses!" Usually I answered with the following analogy. If you register yourself with the neighborhood administration, you will receive social aid packages. If not, you won't. So, we should proactively register ourselves with the LMKN because collected royalties are temporarily held by the organization. For instance, a royalty fee for a song by a given writer who is not yet a member, the LMKN will give him or her two years to claim the fee.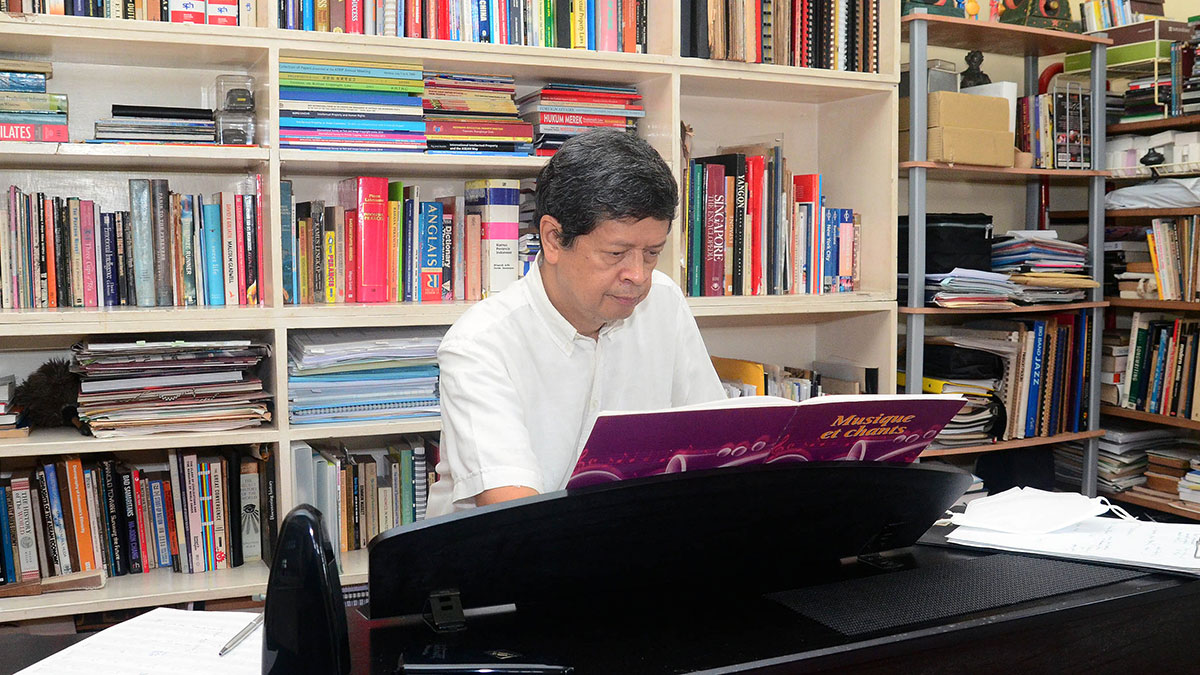 Candra Darusman, musician and chairman of the Federation of Indonesian Musicians Union (FESMI), at his office in his residence in South Tangerang, April 23. Tempo/STR/Nurdiansah
Will all the musicians, songwriters and producers automatically be pooled together in the LMK?

The law says so. If you want to receive royalties, please register yourself with the LMK. For example, I'm a songwriter who hasn't registered myself at the LMK. Then I go and personally bill radio stations. Of course, they will turn me away. Even though songwriters have the right as holders of the exclusive rights to their songs.
Are there any who directly bill royalty fees?

Yes, and that poses problems for the system that is being constructed. Why don't they just get into the LMK? They would say, "But I don't have faith in the LMK." You see? (chuckles)...The LMK must work well to earn that trust so that musicians who haven't become members will join the system en masse.
How many singers, songwriters and producers have already joined the LMKN?

If I'm not wrong, the total number of current members of eight LMKs is close to 5,000. They are the active ones, whose songs are played in public spaces. Of course, there are many writers who haven't been registered or singers who are perhaps not active.
Are the inspirations and interests of musicians already accommodated in the regulation?

Yes, they are but we must continue to ensure its success because there are many people who are cynical or suspicious about it. Well, that's normal in Indonesia where a lot of people embezzle money for all kinds of excuses. This condition affects LMKN's state of mind and state of play. It is LMKN's duty to earn trust.
How do you ascertain that the royalty collection and distribution will go in a transparent and accountable manner?
Law No. 56 has a sequel in the form of a ministerial regulation which underlines that the LMK and LMKN must be audited.
How much royalty fees has the LMKN collected up to now?
In 2019, it managed to net Rp80 billion. But last year, it dropped to less than half of that (due to Covid 19).
Out of the total fees collected, how much did a musician bag?

It varies widely. Some get only Rp500,000 a year while others may pocket Rp50 million. Some might even earn more than 100 million if the song hits the charts. Some can depend on their songs for livelihood while some can't.
So far where have the largest royalty fees come from?
Karaoke bars. The karaoke business was extraordinary before the pandemic.
What is the main source of livelihood for musicians?

Concerts. That's why they have been crippled by this pandemic. Long time ago, they could rely on the sale of CDs (compact disc). For instance, 300,000 copies of my albums, Detik Waktu, Perjalanan Karya Cipta Candra Darusman were sold at KFC (Kentucky Fries Chicken) outlets for a few hundred million rupiah. For sure, I got only a little (chuckles)…Now CDs are almost non-existent and being replaced by digital media but you earn very little from digital platforms such as streaming.
How little?

As an example, Raisa the other day announced that her song was played 20 million times. If it is streamed on Spotify, the songwriter can earn at least Rp80 million with the singer earning much more. But it has to be 20 million streaming. Who can achieve that except Raisa? (laughs)...
How many royalties do you usually receive?
It varies too. Sometimes, Rp15 million a year. Sometimes, Rp100 million. It depends on whether my work is also used in ads or not. I am not a top songwriter given the 18 years of absence from the music world. And I've just begun to make music again. I'm not a good example, (laughs)...
Some cafe and restaurant owners are lamenting because the new regulation was issued during the pandemic...
Some are indeed groaning, 'More levies in a time like this!' But they have to be aware that songs are part of their business. The restaurant can survive without music but music can attract more visitors because of the nice atmosphere it helps create.
How much royalties a cafe or a restaurant owner must pay?

A 100-seat restaurant must pay Rp12 million per year, about Rp38,000 per day. It can choose from millions of songs. Everything is settled for the cost of a bowl of meatball noodle soup (chuckles)...
From your communication with musicians and songwriters, how far has the pandemic affected their livelihood?
Fesmi has done surveys and research starting from the pandemic down to the last two months. It is found that a lot of musicians had to find career outside music because they, particularly cafe musicians, no longer rely on music for income. Their contracts with restaurants and cafes were terminated as live music is banned. Some had to sell their instruments because their savings ran dry, and switched to other line of work, for example, selling chips, vegetables or even PPE (personal protective equipment). They had to. Their talents are being wasted like that.
What has Fesmi done to help them?

What these musicians want is opportunities to work in cafes, restaurants, and hotels are reopened under strict protocols. For example, no more than 50 percent capacity. The number of band members must also be limited. Little by little, we need to create employment opportunities. We are coordinating with the tourism and creative economic ministry, the regional governments, the police and the Covid-19 task force to reach a compromise. We don't want a second wave or new clusters. But cafe musicians are increasingly down in the doldrums.
What is the government's response?
The police are still adamant about not issuing permits.
Do musicians with access to the recording industry fare better?

They can continue. They are great. Sometimes, recording musicians are quite resilient. They keep on creating singles and circulate them via YouTube, Spotify. But, yes, incomes vary, some good, some not.
In terms of regulations and royalty management, which country can serve as an ideal standard for Indonesia?

For sure, advanced countries such as the United States and United Kingdom. But conditions in Indonesia are somewhat unique because we have eight LMKs. In other countries, there are generally one or two: one for copyrights or for songwriters, and another for related rights or for singers or producers. There is one country that is similar to Indonesia, that is Brazil which has many LMKs. They have one central agency called the ECAD to coordinate the many LMKs.
Government Regulation No. 56 has not yet included regulations for songs and music on the digital platforms. How can this regulation protect copyrights and economic interests of musicians amid rapidly advancing technology?

There will be a new government regulation on song licensing for the digital era. It is a fact that we can't resist innovations or new ways of exploring music via Spotify, YouTube or other digital platforms. There is an exponential increase in the ways people enjoy music with ease. But the aspect of commercialization must not be forgotten and that will be managed better.
---
CANDRA NAZARUDIN DARUSMAN
• Place and Date of Birth: Bogor, West Java, August 21, 1957 • Education: Bachelor of Economics, University of Indonesia (1976) • Career: Employee, Citibank; Lecturer, Faculty of Economics, University of Indonesia; Researcher, Institute for Economic and Community Research, University of Indonesia; Indonesian Representative to World Intellectual Property Organization (2001-2019); Chairman, Indonesian Musicians Union Federation (since 2019); Musician, Songwriter, Music Arranger, Singer, and Book Writer (1978-present) • Organization: Director, Association of Indonesian Songwriting Artists, Recording Music Arrangers (1987-2001); General Manager, Karya Cipta Indonesia Foundation (1991-2001); Secretary-General, Yayasan Musisi Indonesia (1995-2001); Member, Copyright Council; Member, Piracy Control Team; Member, Cultural Law Drafting Team; Member, Copyright Law Drafting Team • Discography: Solo Album: Indahnya Sepi (1981), Kekagumanku (1983); Compilation: Detik Waktu: Perjalanan Karya Cipta Candra Darusman (2018); With Chaseiro: Pemuda (1979), Bila (1979), Vol. 3 (1981), Ceria (1982), Persembahan (2001), Retro (2011), Retro 2 (2014)); With Karimata: Pasti (1985), Lima (1987), Biting (1989), Karimata-Dave Valentin (1990), Jezz (1991) • Awards: Best Music Album 2018 AMI Awards for Detik Waktu.
---
What different approaches will be used in the new regulation?
Before the digital era, songwriters and singers sat across the record company or 'label' at the negotiation table. They 'fought over' royalties and other matters. Nowadays, on one side are songwriters, singers and producers while technology and digital platform companies are on the other side. So, the battle has changed. The constellations have changed. What makes it difficult is sometimes label owners collaborate with technology companies. So which side do they want to be on?
Record companies shouldn't be on the same side with digital platforms?
There's nothing wrong with that. I don't want to criticize. It is just a development, political dynamics in the music world. Record labels and digital platforms usually have a fairly tight collaboration. What's desirable is to include songwriters and singers in their negotiations. But at the same time, we can't blame them because sometimes record labels represent singers whom they have contracts with. But sometimes, there are also independent singers who have their own labels. That's why the new regulation later will try to balance each party's position. We don't want lopsided positions.
Is it true that the emergence of digital platforms has made royalty distribution and payment more complicated?

More complicated and trickier because the technology keeps on evolving. New ways of exploitation of music via TikTok, Twitch or even Facebook will also become rampant. All parties want to make regulations but against a moving target.