No Zero Emission Promises
President Joko Widodo made no mention of a time frame to achieve net zero emission at the Leader Summit on Climate 2021 initiated by the US President. Indonesia's target is deemed far below expectations.
Edition : Monday, May 3, 2021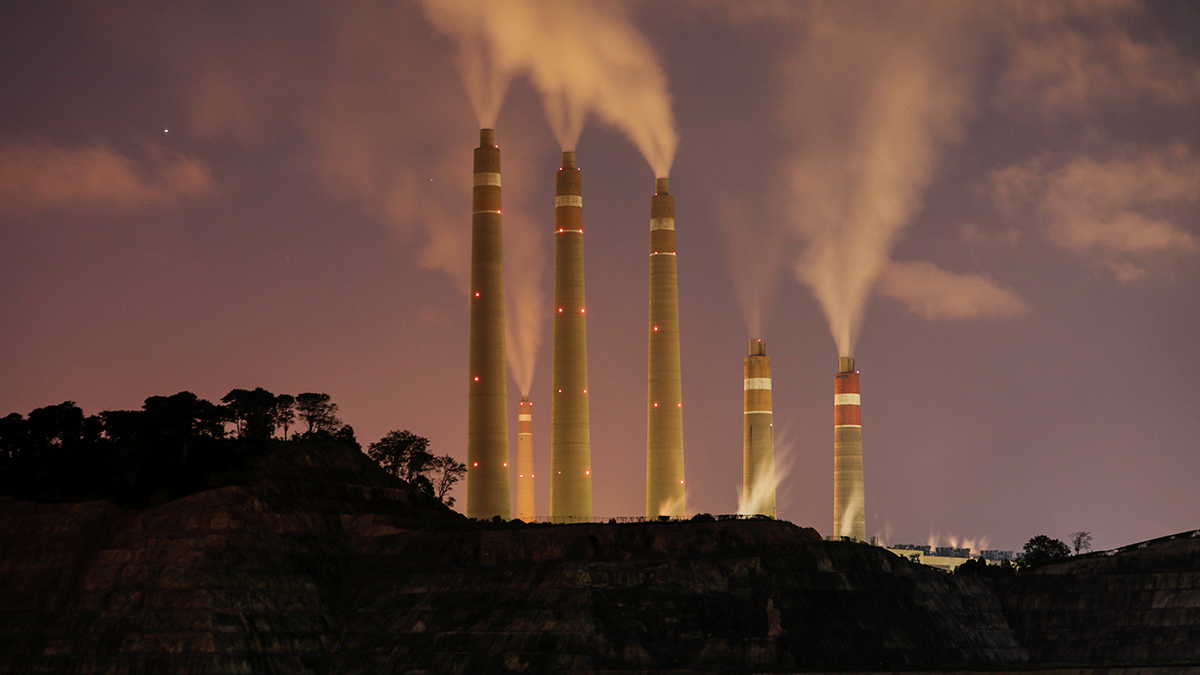 DIRECTOR of Madani Berkelanjutan (Sustainable Civil Society) Nadia Hadad admitted to not being too surprised regarding President Joko Widodo's stance at the Leader Summit on Climate 2021 on April 22. In the forum initiated by the President of the United States of America Joe Biden, Indonesia made no time commitment towards achieving net zero emission. "Indeed, our government is not too ambitious. In our long-term strategy, the target is 2070. At least he could have mentioned that in his speech," she said on Friday, April 28.

Madani, said Nadia, has for a while now advocated for the government to increase to 29 percent the target for decreasing green house gas emissions under Indonesia's own steam, or to 41 percent with international support. Upon receiving information that President Jokowi would be attending the Leader Summit on Climate, Madani with 37 other institutions and scores of engaged individuals wrote an open letter conveying eight aspirations. One of them was the hope that Jokowi would make a statement committing to achievement of net zero emission by 2050, or 2045.

The aspiration went unfulfilled. Jokowi conveyed three statements, but made no mention of a time frame target for achieving the goal. Jokowi stated how serious Indonesia is in tackling climate change and urged the world leaders to take concrete action. He gave illustration of the country's success in impeding deforestation and installing a moratorium on conversion of natural forestry and peatlands encompassing 66 million hectares. He also urged the world to boost green development and strengthen global partnerships to achieve the targets of the Paris Agreement.

In the warm-up meeting towards the 26th UN Conference of Parties on Climate Change (COP-26) in Glasgow, Scotland, this November, a number of heads of states renewed their commitment to decreasing climate change, including time frame targets to achieving net zero emission. According to data compiled by Reuters, the US doubled their target time frames for zero emission against their previous commitment, from 26 to 28 percent to 50 to 52 percent between 2005 to 2030; Russia is targeting net zero emission by 2060; and Brazil by 2050.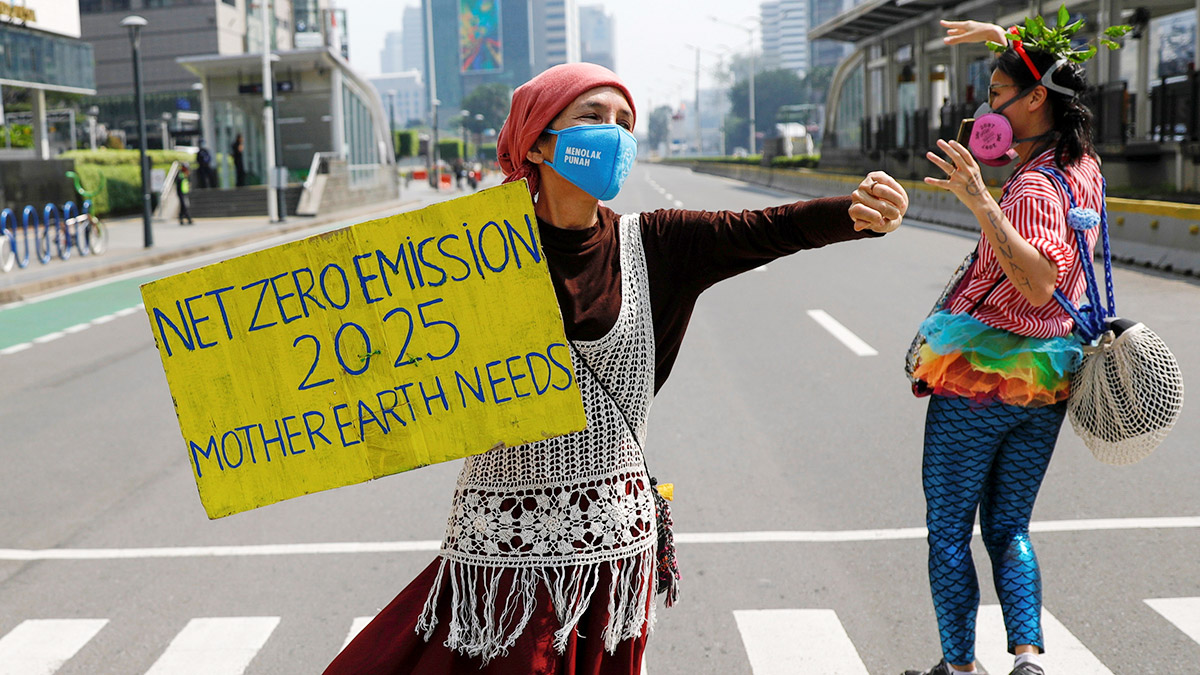 A woman carrying a placard taking part on a protest during the Earth Day in Jakarta, April 22. Dozens of activists gathered to denounce the slow government initiatives to tackle the climate crisis, calling on local authorities to declare a climate emergency, restore 600,000 hectares of Indonesian forests per year, and cut coal production to zero by 2030, among other things. Last year, Indonesia has received US$103.8 million fund from the United Nation's Green Climate Fund to help reduce carbon emissions and tackle forest fires. Reuters/Willy Kurniawan
Yuyun Harmono, Campaign Manager for Climate Justice of the Indonesian Environmental Forum (Walhi), made issue regarding Jokowi's non-mention of our zero emission target. He compared the stance with Brazil, a country with similar huge tracts of forestland. In fact, he said, Indonesia has enough natural capital to have the courage to mention a target. The high number of permits issued for usage of primary forest and peatland and raging forest fires in 2019 had decreased by 2020. "We have the supporting conditions to aim for net zero emission by 2050," said Yuyun.

Sarwono Kusumaatmadja, senior advisor to the minister of environment and forestry, assessed there was no obligation for President Jokowi to mention a net zero emission promise in the Leader Summit. "More important are putting in place principles of governance, with one of the outputs being zero emission," he said on Saturday, May 1. The facts show that deforestation and forest and land fires have decreased, he said. "We are also preparing an ecosystem restoration program, and one for peatland and mangrove conservation."

The environmental and forestry ministry with ministries and organizations of other countries began compilation of a Long-Term Strategy on Low Carbon and Climate Resilience 2050 document (LTS-LCCR 2050) in 2020. Towards this, the environmental ministry held a public consultation on March 24. Environment and Forestry Minister Siti Nurbaya, upon opening the online event said the document is compiled taking into consideration many aspects, including the economic situation and national policies regarding all sectors up to 2050.

According to Siti, all sectors are compelled to reducing greenhouse gas emission by 2050. In that year, the energy outlook for coal is estimated at 39 percent, gas at 12 percent, crude oil at 17 percent, and new and renewable energy at 32 percent. This situation can be achieved through reduction of coal consumption, transformation of energy systems, and implementation of technologies that have significant impact for reducing emissions. "Our projections are, Indonesia can achieve net zero emission by 2070," said Siti.

Environmental activists are criticizing the time frame drawn up in the ministry's long-term strategy as being too far below expectation. "The target implies the government is going about business as usual and that there is no climate crisis," said Yuyun. He referred to an alternative scenario compiled by the National Development Planning Agency (Bappenas) which offers four zero emission scenarios, namely by 2045, 2050, 2060, and 2070.

The Development Planning Minister/Head of Bappenas Suharso Monoarfa conveyed the four Bappenas scenarios in an online discussion held by the Foreign Policy Community of Indonesia on April 19. According to Suharso, the four scenarios have implications for development models and implementation policies. According to Bappenas simulations, net zero emission is achievable by 2045. "If we are looking at current issues we face with new and renewable energy, then net zero emission will be achieved by 2060 or 2070," said Suharso.

Executive Director of the Institute for Essential Services Reform (IESR) Fabby Tumiwa also criticized the environmental ministry's strategy for still being dependent on fossil energy. "Reading the report, a total of 50 percent of the energy mix in 2050 still derives from fossil energy, like coal and gas," said Fabby on April 27. "This shows a desire to continuing with coal," he added.

Wahjudi Wardojo, senior advisor to the environmental and forestry minister, pointed out that zero emission targets do not only concern the environmental ministry. The energy sector, said Wahjudi, is responsible for over 11 percent of it, also the agriculture sector and the plantation subsector. "The environmental ministry cannot just increase and decrease figures at will. The ministry has to take into consideration commitments by all the other sectors," said Wahjudi on April 28.

Fabby added that the IESR also developed a net zero emission mode for Indonesia. "Our conclusion from a technical economic point of view is that we can achieve net zero emission by 2050," he said. To act on the scenario, certain recommendations need to be carried out. For instance, renewable energy has to be 100 percent—85 percent coming from solar energy. Total renewable energy sources need to be readied by 2050 and estimated at 1,500 gigawatts (GW), twice the current energy needs. This takes into account per capita consumption in 2050 totaling 8,000 kilowatts per hour (kWh).

W251bGwsIjIwMjEtMDUtMDggMTk6Mjc6MzUiXQ
Besides renewable energy, said Fabby, the electricity power grid needs to be enhanced, power storage capacities boosted, energy source compositions being made more flexible, and hydrogen developed after 2040, with electrification of transportation. "Changes have to be made in investment policies," he said. He pointed to Vietnam as an example, which in one year built a 10 GW electricity power generator using solar energy in 2020. "If we're serious about net zeo emission, we cannot go about doing business as usual. Consequently, it is imperative to leave fossil energy like coal behind."

Fabby said the four scenarios produced by Bappenas indeed wished to convey the message of the impacts of a low carbon economy. If zero emission is achieved by 2045-2050, the economy will grow by so many percent. If it is done by 2070, it will decline by 3 to 4 percent. The message of the Bappenas study is, said Fabby, the longer we defer achieving decarbonization, the more it will hit the economic growth.

Nadia said, according to calculations by several institutions, Indonesia can very possibly achieve zero emission before 2070. "But there has to be political will, and support from the various sectors. Development has to be designed towards that aim," she said. Yuyun added, the government has to look at the matter from an inter-generational justice perspective. "Climate policy cannot only be looked at in the interests of this present generation, but also those of the future."
ABDUL MANAN