Textile King's Tangled Web of Debts
Sritex is entangled in debts of up to Rp17 trillion. Its debt restructuring chaos has even reached legal courts.
Edition : Monday, May 3, 2021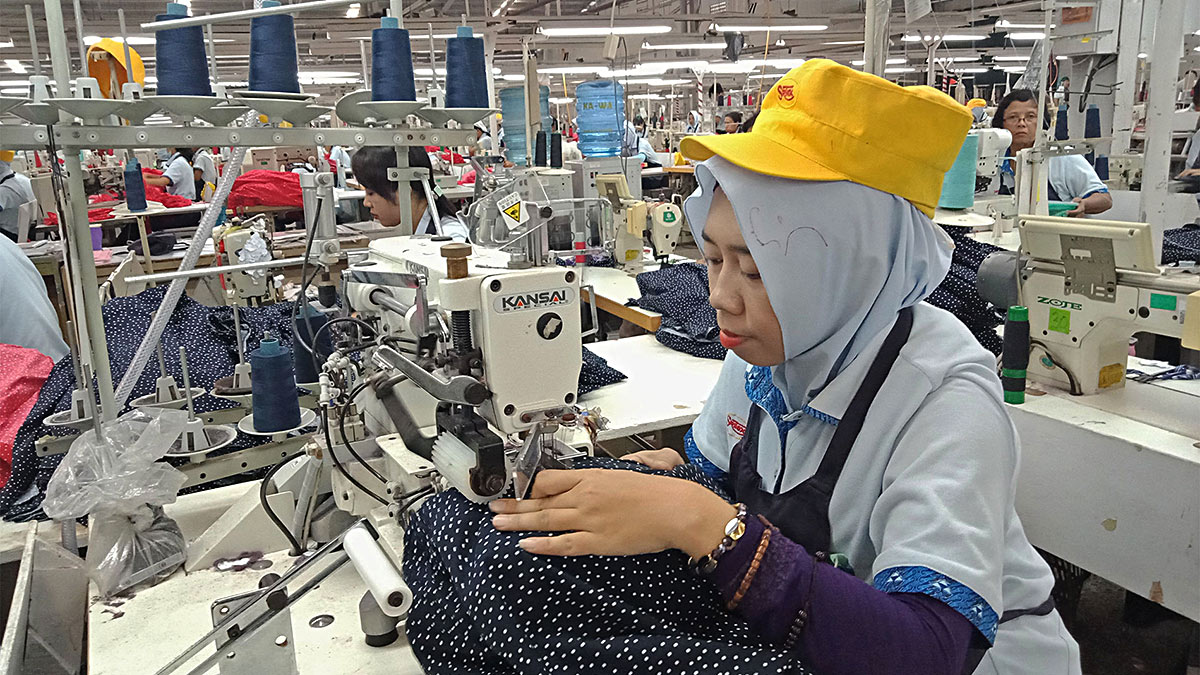 PRIMA Karya stands behind three-meter-high steel orange gates. Around noon on Thursday, April 29, the construction company's office in Jalan Juanda, Surakarta, Central Java, was securely locked. Only one motorcycle was seen parked behind the gates.
Prima Karya is a small contractor caught in the web of huge debts of Sri Rejeki Isman, or Sritex. On Wednesday, April 19, this firm owned by Djoko Prananto has submitted a lawsuit for a debt payment postponement (PKPU) in the Semarang District Court. The same lawsuits were submitted for three Sritex subsidiaries: Sinar Pantja Djaja, Bitratex Industries, and Primayudha Mandirijaya.
Prima Karya submitted the PKPU lawsuit amidst financial problems suffered by Sritex. SRIL—the code for Sritex at the Indonesian Stock Exchange—has debts totaling Rp17 trillion. The company is attempting to restructure part of its debts, which will be due soon.
Prima Karya's appearance has sparked questions among bankers providing credits for Sritex. The PKPU application is suspected to be a front to strengthen the bargaining position of Sritex, Southeast Asia's biggest textile company, towards creditors. The long business and personal relationship between Djoko and Lukminto, Sritex' founder, is the basis of these suspicions.
W251bGwsIjIwMjEtMDUtMDggMTk6NTA6MzIiXQ
Sumartono Hadinoto, deputy head of the Solo Community Association (PMS), has witnessed that close relationship. "We were all in Hoo Hap together," said Sumartono when contacted on Tuesday, April 27.
Hoo Hap is the name of a Chinese community organization in Surakarta, which then merged into the PMS. "Pak Luk—Lukminto's nickname—was the funder," said Sumartono.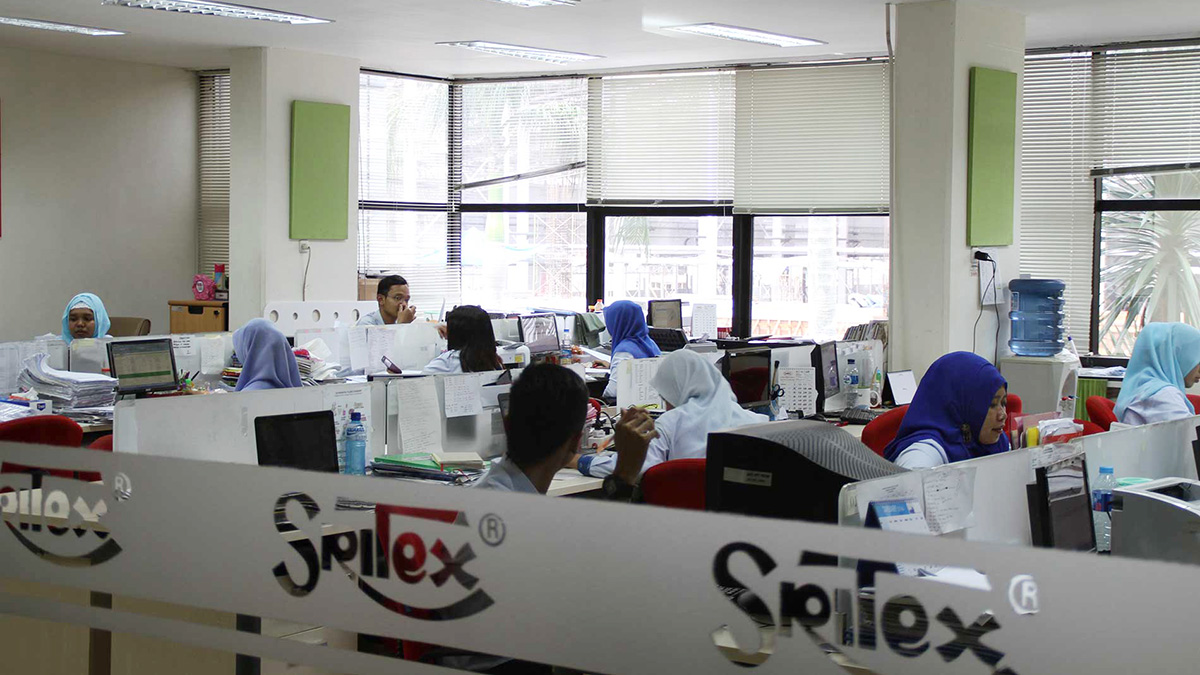 Sri Rejeki Isman's (Sritex) office in Sukoharjo, Central Java. sritex.co.id
Djoko and Lukminto's children were also members of the same organization: Bhinneka Sritex, a basketball club management foundation. Lukminto, who is known as a basketball fan, acquired the club and sports stadium Sritex Arena from Halim Sugiarto, another textile businessman in Surakarta. The relationship between Djoko and Sritex continued after Lukminto passed away in 2014, succeeded by his son Iwan Setiawan Lukminto.
Prima Karya's credit to Sritex, used as the basis of the PKPU lawsuit, only amounts to Rp5.5 billion. Prima Karya's PKPU suit was submitted to the court only a week after a banking syndicate rejected Sritex' request for a standstill: a pause in paying out the principal and interest payments of its working capital debt.
As per December 31, 2020, Sritex' outstanding short-term debt reached US$277.5 million. Most of the debts are due in early and mid-2021.
Noting the irregularity of the PKPU, Swandy Halim, legal representative of Bank QNB Indonesia and Bank HSBC Indonesia, sent a note to the Semarang District Court on April 28. That happened to be the day a procedural hearing in court was scheduled.
Swandy asked that the court reject Prima Karya's PKPU lawsuit. "Sritex, according to their 2020 financial report, has cash equivalents worth US$187 million or Rp2.7 trillion. If a contractor asks for a debt payment of Rp5.5 billion, of course they are able to pay that amount," said Swandy when contacted on April 30. "We have already conveyed the message from HSBC and QNB. Now it's up to the court."
The Semarang District Court will issue its verdict on the Prima Karya PKPU case on May 6. If Prima Karya's suit were granted, the 15 creditor banks which gave the short-term US$277.5 million loan to Sritex would feel its impact. The banks would not be able to demand the debt payment from Sritex and its subsidiaries as long as the company is bound by the PKPU. "If that's the case, then we won't be able to force them to pay," said Swandy.
Sritex Chief Executive Officer (CEO) Iwan Setiawan Lukminto did not reply to questions from Tempo since Wednesday, April 28. Sritex Head of Corporate Communications Joy Citradewi had promised a written answer, but until Saturday, May 1, that did not arrive. Joy did send a company press release on Friday, April 30. "Maybe this will answer some of your questions," she said through a written message.
In the press release, Sritex denied report saying that Prima Karya's PKPU was engineered by the company. Sritex also denied information that Djoko is Iwan's acquaintance.
However, Sritex admitted that Djoko had once been a secretary at the Sritex Arena sports facilities. "(Djoko) had been involved in fundraising activities for a sport event at the Sritex Arena GOR. That event was organized in 2012 with the knowledge of the late Mr. Lukminto," the press release said. Prima Karya, Sritex said, only became a partner company in 2017.
•••

SRITEX' mounting debts already came in the news late last year. In November 2020, the company suggested a two-year extension on their syndicated debt of US$350 million, which had been due on January 2022. The banking syndication rejected that request.
But in the press release of April 24, Joy Citradewi lamented the banks' rejection on the extension. While there were plans to further negotiate that matter in March, Joy said, the extension agreement which was supposed to be signed on March 19 was recalled at the last minute. "That delay has put the company's fate into the hands of the banks and rating agencies, which in turn spreads more concern," said Joy.
In fact, on December 23, 2020, credit rating agency Moody's lowered Sritex' rating from Ba3 to B1 due to its debt structure and tightening liquidity. A month after that—in January 2021—Sritex postponed the release of a debt note of US$325 million that was meant to pay its debts.
On the other hand, since the beginning of this year, a number of creditors have frozen and lowered their working capital facilities for Sritex. This, Joy said, happened when Sritex' operations and market started recovering. She then accused that the banks' policies are not integrated with the government's vision or banking authorities, which all support credit flow to recover the national economy.
Swandy Halim, the attorney for HSBC and QNB, pointed out that all of his clients' business decisions are based on Sritex' conditions. "Banks follow the company's conditions, if it has problems or not. Are the credits according to its needs or not," said Swandy, commenting on the frozen and lowered credit to Sritex.
Unable to obtain a payment extension from the credit syndication, Sritex sent out letters to some of the creditors, asking for relief on the debt payment. On March 29, for example, Sritex wrote to QNB, asking for a debt restructuring. Swandy said that Sritex asked for some relief for operational reasons due to the impact of the Covid-19 pandemic. "That was for the restructuring of their working capital," said Swandy.
As of December 31, 2020, as noted in its financial report, Sritex has short-term debts to QNB worth US$35.4 million, or Rp512 billion at the rate of Rp14,400 to US dollar. That debt was supposed to be due on April 1. Both parties had agreed to extend the payment until July 1.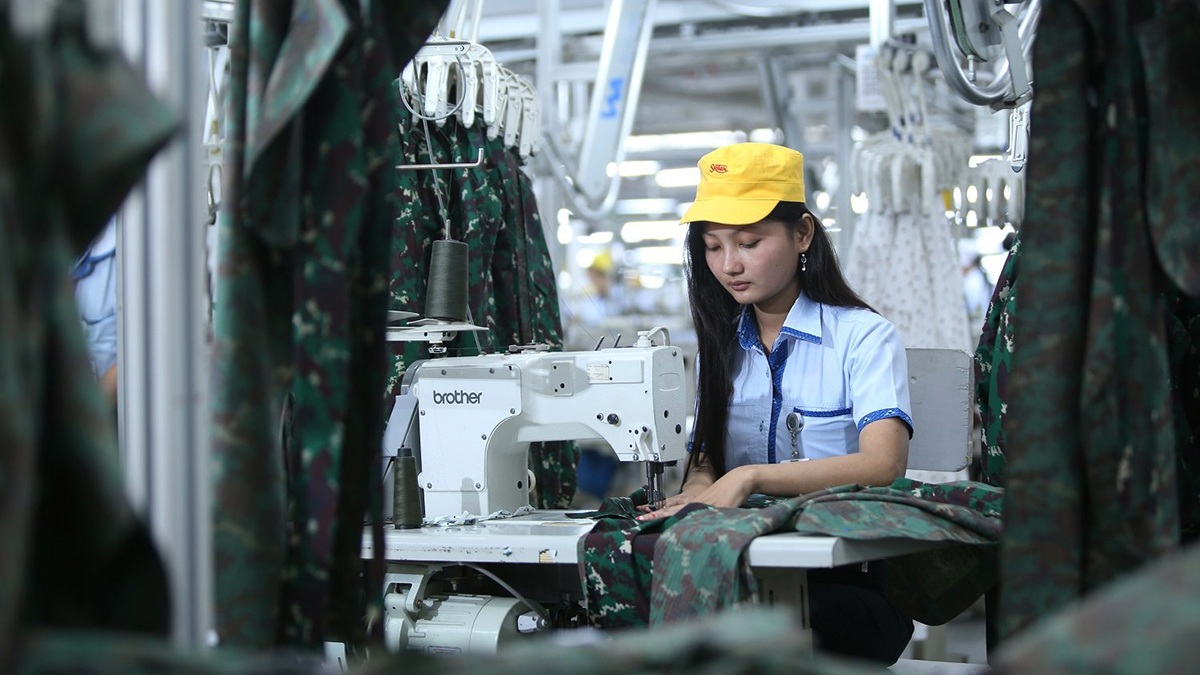 A worker sews military uniforms, at the Sri Rejeki Isman's (Sritex) factory in Sukoharjo, Central Java sritex.go.id
The company's claim to its creditors—that it is in trouble due to the pandemic—is actually in contrast with Sritex' public statement. In its press statement on Friday, April 30, Sritex said its 2020 sales increased by 8.52 percent to US$1.28 billion. Out of that, 59.4 percent—or US$762 million—came from exports. "We are proud of this achievement, in the midst of slow market demand and logistics problems worldwide," said the company statement.
The company's cash and cash equivalents also increased from US$168.3 million, or Rp2.4 trillion, on December 31, 2019, to US$187.6 million or Rp2.7 trillion a year later.
It seems that the jump in income was paired with a jump in debt. Sritex' short-term debts as of December 31, 2020, reached US$277.5 million, up 410 percent from only US$67.5 million a year earlier. That jump led to total debts of US$1.179 billion, or Rp17 trillion, at the end of 2020. In the same period a year earlier, its total debts were only US$966.5 million, or Rp13.9 trillion.
Sritex' largest long-term debt is to HSBC Indonesia for some US$42.8 million, or Rp619 billion. The company's other long-term debts are at Bank Pembangunan Daerah Jawa Barat and Banten (US$38.8 million), QNB Indonesia (US$35.4 million), Bank Muamalat Indonesia (US$29.6 million), MUFG Bank (US$26.6 million), Standard Chartered Bank (US$26.2 million), and Taipei Fubon Commercial Bank Co Ltd. (US$20 million).
Sritex also has other debts at other banks, such as at the Bank of China (Hong Kong) Limited (US$15 million), Bank Negara Indonesia (US$12 million), and Bank Pembangunan DKI Jakarta (US$10.6 million). Meanwhile, Sritex has debts of under US$10 million from each of the following banks: Bank Central Asia, Bank Woori Saudara Indonesia 1906, Bank DBS Indonesia, Emirates NBD, and Cathay United Bank. The majority of the short-term loans are due in 2021.
Aside from these, Sritex has a syndication debt from a number of banks totaling US$350 million, or Rp5.052 trillion, due on January 2, 2022. Citigroup Global Markets Asia Limited, DBS Bank Ltd, HSBC Indonesia, and The Hongkong and Shanghai Banking Corporation Limited are the mandated lead arranger and bookrunner of those loans without collateral.
From the syndication's 29 creditors, HSBC Indonesia and DBS Indonesia are the biggest with US$40 million each. Then there are Citibank Indonesia (US$25 million), State Bank of India's Singapore branch (US$24 million), Bank of China in Jakarta (US$23.5 million), and Bank Permata (US$20 million). Twenty-three other banks, a majority of them private foreign banks, offered debt facilities of between US$5 and US$15 million.
After sending letters to its creditors, Sritex held a major discussion with its bilateral and syndicated creditors in early April. The company was represented by its Financial Director Allan Moran Severino, accompanied by Helios Capital. Actually, on April 3, Sritex had appointed Helios Capital and Assegaf Hamzah as financial and legal consultants in the restructuring process.
During the virtual meeting, Sritex explained its financial problems due to the credit facilities freeze by its creditors. Other creditors have also reduced their credit facilities. Based on these conditions, Sritex asked for a debt restructuring. One of its requests was a standstill for its debts' principal and interest payments.
The company also explained the remains of its cash equivalents, which are less than US$100 million as of March 31. This means that in three months' time, the company's liquidity has shrunk by more than US$80 million from December 31, 2020, when it was still at US$189 million. This situation shocked the bankers. "Our clients (QNB and HSBC) were also surprised to hear this," said Swandy.
The problem is that all of Sritex' capital work credits are without collateral. Their loan agreement with Sritex was on a clean basis. Creditors usually only hold of a letter of credit, Sritex' giant brand name, and the owners' goodwill.
Thus, no conclusion came from the meeting. Everything was on hold, until Prima Karya came with its PKPU lawsuit.
One day after that, QNB Indonesia came with a PKPU request. However, this was not towards Sritex, but for Senang Kharisma Textile (SKT). This company actually is not part of the consolidated Sritex Group, but is controlled by the same person: Iwan Setiawan Lukminto. In credits worth Rp100 billion for SKT, QNB apparently clinched a personal guarantee from Iwan and his wife Megawati Boediono. "SKT has not paid since April 3. The principal is Rp100 billion, and they still have arrears of Rp900 million," said Swandy.
Through the Indonesian Stock Exchange's public information, Financial Director Allan Moran Severino confirmed reports that his boss, Iwan Setiawan, had given personal guarantees for the SKT loan. "The lawsuit against Senang Kharisma is correct," said Allan on April 26.
•••

ONE week before appointing Helios Capital as its financial advisor, Sritex in early April contacted a number of external suppliers. An official of one of the companies supplying Sritex divulged that Iwan Setiawan personally called the heads of the suppliers. "Pak Iwan asked the suppliers to continue sending stock to Sritex, and promised to continue paying them," said the official, who declined to be named.
Sritex is known as the most comprehensive textile company. Its production runs from upstream to downstream. Sritex also has the biggest annual production capacity, with spinning reaching 1.1 million thread balls, greige cloth of 179.9 million meters, cloth of 240 million yards, and 30 million pieces of garments.
However, Sritex still needs middle-level material suppliers. For rayon production, for example, supply from its affiliated Rayon Utama Makmur, is not sufficient. The same is the case with fabrics and polyester. As of December 31, 2020, Sritex' debts to third parties, including suppliers, reached US$33.4 million, or Rp482.5 billion. Joy Citradewi declined to comment on Tempo's questions regarding Iwan's efforts to persuade his partners to keep providing them with supplies for their production.
Sritex is actually more conservative in its business expansions, compared to companies such as Duniatex Group, which failed to pay its Rp19.1 trillion debts in 2019, and went bankrupt due to its property expansions.
Sritex does have a hotel chain from the time of Lukminto's reign, such as Diamond, Grand Orchid, @Hom, and Solo Center Point condotel in Surakarta, and Hotel Grand Quality in Yogyakarta.
Nevertheless, Sritex has been aggressive in expanding its core textile business. According to A&M Financial Advisory, between 2014 and 2020, Sritex has spent US$590 million for capital and acquisitions. The majority of those activities were funded by corporate loans. Funding from company equities only amounted to US$45 million.
For example, Sritex acquired Sinar Pantja Djaja in November 2013 from Kapas Agung Abadi and Iwan Kurniawan Lukminto, Iwan Setiawan's brother, for Rp723 billion. In February 2018, Sritex bought two companies: Primayudha Mandirijaya and Bitratex Industries. At that time, Sritex paid up to Rp1.14 trillion for both companies, expected to strengthen its export market and increase its sales by up to 30 percent.
Sritex also regularly acquired and set up companies which were to become its main suppliers. One of them is Rayon Utama Makmur, a rayon supplier. Sritex has collected many related suppliers. As of December 31, 2020, Sritex' debts at these relations reached US$67.4 million, or Rp973 billion.
Sritex indeed still has debts at these suppliers and relations which are not consolidated in the company's financial report. One of those debts is at Bank Negara Indonesia or BNI. In its consolidated report, Sritex reported a debt of only US$12 million at BNI. However, if its debts at suppliers and relations are added up, the total would be in the trillions of rupiah.
Rayon Utama Makmur, for example, has a credit limit of Rp2.6 trillion at BNI. Meanwhile, credit facilities for Kencana Terang Abadi is US$35.3 million, Sriwahana Adityakarta (Rp580 billion), Mitra Adhikarya Plasindo (Rp68.7 billion), and Garuda Prima Sentosa (Rp96.5 billion). Then there are debts at New Bloom (Hong Kong) for US$15 million, Golden Mountain (Singapore) for US$30 million, and LHD London for US$14.8 million.
Sritex management is also submitting restructurization requests for those debts. "We are looking into the overall conditions of that customer," said Mucharom, BNI's Corporate Secretary, when contacted on May 1. "We are conducting a prudent assessment, including looking into opportunities, risks, and the debtors' capacity and capabilities in repaying its debts."
The company's debt obligation at BNI is similar to that of SKT's at QNB: not consolidated at Sritex, but focused on the same actor, which is the person controlling the company.
Since the virtual meeting in early April, no follow-up meeting has taken place. Sritex' restructuring proposal has yet to be sent. In its press statement on Saturday, April 24, Sritex said it has asked stakeholders to brace for the current situation.
KHAIRUL ANAM, AHMAD RAFIQ (SUARAKARTA)