The Fight for Survival
The textile industry is hit by the pandemic. Big factories are stricken in debt, while the smaller ones are not getting orders.
Edition : Monday, May 3, 2021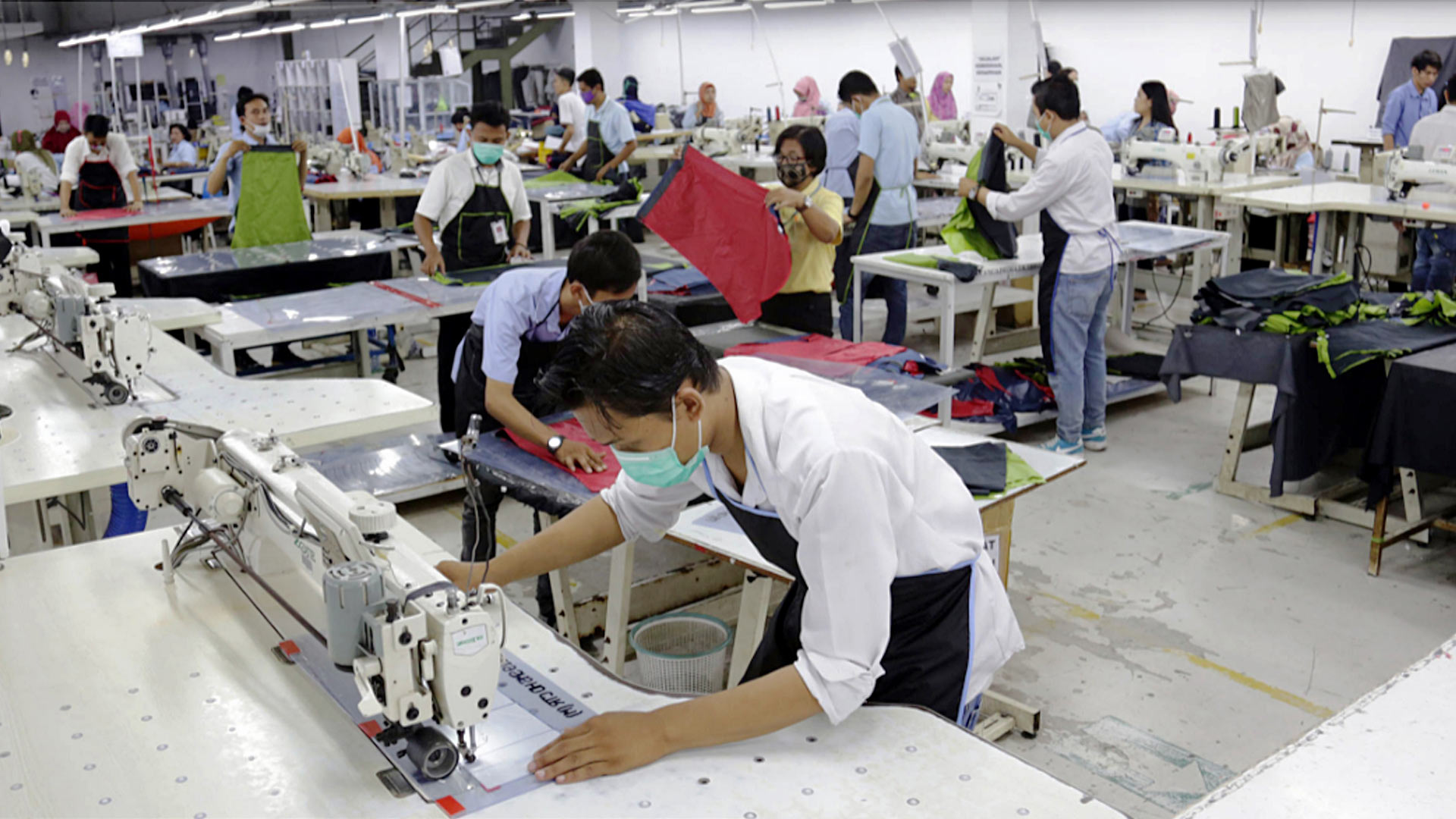 UNTIL Thursday evening on April 29, Anne Patricia has been struggling with training material on digital transformation. Anne, Pan Brothers' Deputy Chief Executive Officer, has been following a short course guided by experts from renowned universities such as the Massachusetts Institute of Technology in the Unites States, and China's Tsinghua University.
Pan Brothers is intensifying the digitization of its factory machinery. This textile and garment producer is applying computer-based automated systems. "We are pioneers of industry 4.0. We must be able to do this, and the next stage is to be the 5.0 pioneer," Anne told Tempo that evening.
This year, Pan Brothers has allocated US$10 million, or Rp140.5 billion, for automation, digitization, and added machinery for business expansions. Anne further said that the 4.0 industry application is aimed at increasing productivity. Efficiency would also be ongoing without having to execute mass firings, which has occurred in most industries which are under pressure during the Covid-19 pandemic.
Until Saturday, May 1, PBRX—Pan Brothers' code at the Indonesian Stock Exchange—has yet to release its 2020 annual report. However, as of September 2020, the company posted profits of US$18.3 million, or Rp265.6 billion, up 9 percent from the same period in 2019.
W251bGwsIjIwMjEtMDUtMDggMjA6NDg6NTIiXQ
However, this positive achievement does not necessarily guarantee smooth dealings with banks. Credit flow for Pan Brothers have been sluggish. Bilateral working capital facilities, Anne said, has gone down. "Total facilities of US$250 million have continued to be reduced down to US$70 million. Can you imagine?" she said.
That was not all. One of the big banks—Anne declined to divulge the name—froze its loan facilities, pointing to the sluggish market due to the pandemic. "I told them that macro demand has gone down. On the micro side, Pan Brothers has not suffered a decline," she said. "We are socially and environmentally compliant, and this is why a lot of demand has been switched to us from other countries. We have received quite a bit."
This lowering of loan ceilings has shaken the company's finances. PBRX has made efforts, including refinancing, for things including covering its long-term debts of US$133 million, or some Rp1.9 trillion, which was due on February 1.
Signed on October 9, 2015, this credit agreement involved seven foreign banks, with Bank ANZ Indonesia as a mandated lead arranger and book runner, the Hongkong and Shanghai Banking Corporation Limited (HSBC) as facility agent, and Bank UOB Indonesia as security agent. In addition to those three banks, the syndication comprised of Bank CIMB Niaga, Citibank NA, Standard Chartered Bank, and Bank Maybank Indonesia.
At first, the ceiling for the syndicated loan amounted to US$270 million. However, on September 27, 2017, the agreement was revised, lowering the ceiling to US$110 million with an accordion of US$40 million. But in November 2018, the company has only received added loans of US$28.5 million, which increased the ceiling to US$138.5 million.
PBRX also issued a global note worth US$200 million on January 26, 2017. This bond enjoyed strong demand, obtaining US$800 million from 106 investors. Listed on the Singapore Stock Exchange, the bond with an annual interest rate of 7.625 percent with a due date of January 26, 2022, was used to pay short-term debts and expansion funding.
These two major debts due on February 2021 and January 2022 have sparked creditors' concern. In early February, PBRX obtained a standstill agreement for two weeks: from January 27 to February 12. This condition has resulted in Fitch Rating lowering the company's debt ratings from CC to C, mirroring its early default potential. Fitch assessed that the long negotiations and short standstill period reflected the company's tight liquidity. Fitch evaluated that the resolution towards the company's capital structure could only be done through restructurings.
Pan Brothers' management has actually received approval at its extraordinary shareholders' meeting on January 26 to issue a global note of US$350 million. This global bond is listed at the Singapore Stock Exchange and is due in 2026. The funds will be used to pay off the company and subsidiaries' debts worth US$171.08 million, due in January 2022, and refinance syndicated debts of US$138.5 million. The remaining amount will be used for working capital.
On the other hand, refinancing negotiations are ongoing until a new agreement can be made with the syndicated banks. Pan Brothers has submitted an extension request from January 2021 to January 2023. "It is almost granted. I have reported this to the Financial Services Authority (OJK) so that it's protected," said Anne.
Teguh Supangkat, OJK's Deputy Commissioner for Banking Supervision, said that his institution has been regulating funding in the times of the pandemic. Those regulations are summarized in the OJK Regulation No. 11/POJK.03/2020 regarding stimulus for the national economy to counter the impact of the Covid-19 pandemic, renewed with the OJK Regulation No. 48/2020. On March 29, the OJK also sent letters to conventional and sharia banks as a guideline for the banking industry to implement those regulations.
Teguh said that those regulations aim to assist the real sector, so that it can continue to move forward during the pandemic. "Also to help the banks," said Teguh on April 30.
The industry ministry was worried that there would be a negative stigma in the banking business in relation to the textile and textile products' industries, seen as sunset industries. Muhammad Khayam, the Ministry's Director-General for the Chemicals, Pharmaceuticals, and Textiles Industries, said that the facts has proven otherwise. Until now, he said, the textile industry's performance has been reasonable, despite the pandemic. "This sector is still a source of employment and foreign reserves."
Contrary to the major players, mid and small-sized textile companies have barely survived amidst a slump in demand due to a weaker economy and the pandemic. For most factories in Majalaya, Bandung Regency, West Java, the opening and closing of operations has become a regular occurrence, while in fact in the past, this center of sarongs had always been bustling with customers, especially during and at the end of the Ramadan fasting month.
Citra Sandang Textile (Cisatex) Director Agus Ruslan is now also marketing sarongs. Cisatex is actually a textile factory, but very low demand has resulted in his factory not being able to operate on a daily basis. At first, Agus was able to sell up to 500 kodis (1 kodi=20 pieces) of sarongs a day. "That fits into one vehicle. Now it's only between five and 10 kodis, which can be delivered by motorcycle taxis," he said.
In the past three weeks, Cisatex' machinery have remained silent. Agus has been unable to operate them, as the company has only received orders for 50,000 meters of fabric, or about half of the factory's capacity.
For Agus, these conditions pose a plethora of dilemmas. If the orders are taken now, they will not be included in business calculations. Besides high operational costs, the company also has to pay out Ramadan bonuses for its employees. This is why he chose to postpone production until after Ramadan.
Agus further said that Cisatex has gone through times when there was zero demand. At that time, a few months into the pandemic, the factory was at a standstill. The company was unable to pay for electricity, resulting in state electric company PLN cut the power. It was reconnected after Agus received orders again, and used the money to pay his energy bill.
Agus, who is also the Deputy Chair of Majalaya's Small and Mid-Sized Textile and Textile Products Association, questioned a number of state assistance programs for small and mid-sized enterprises, which have been widely reported in the media. He pointed out that nothing has reached Majalaya's small industries. He said that he has gathered a group of entrepreneurs to submit a proposal to the cooperatives and small and medium enterprises ministry. "We received no answers until now," said Agus.
According to Muhammad Khayam, the industry ministry is making an effort to guard the domestic market. Securing the textile and textile products' industries is done through market demand, which in the past years have faced stiff competition from imports. Possible options in preparations are instruments to safeguard trade, and controlling import trading systems.
RETNO SULISTYOWATI