Last Words from Nanggala-402
The sinking of KRI Nanggala-402 leaves sorrow and a question: why was a vessel unfit for operations forced to sail? The large-scale procurement of arms is not an answer to the problems with military equipment.
Edition : Monday, May 3, 2021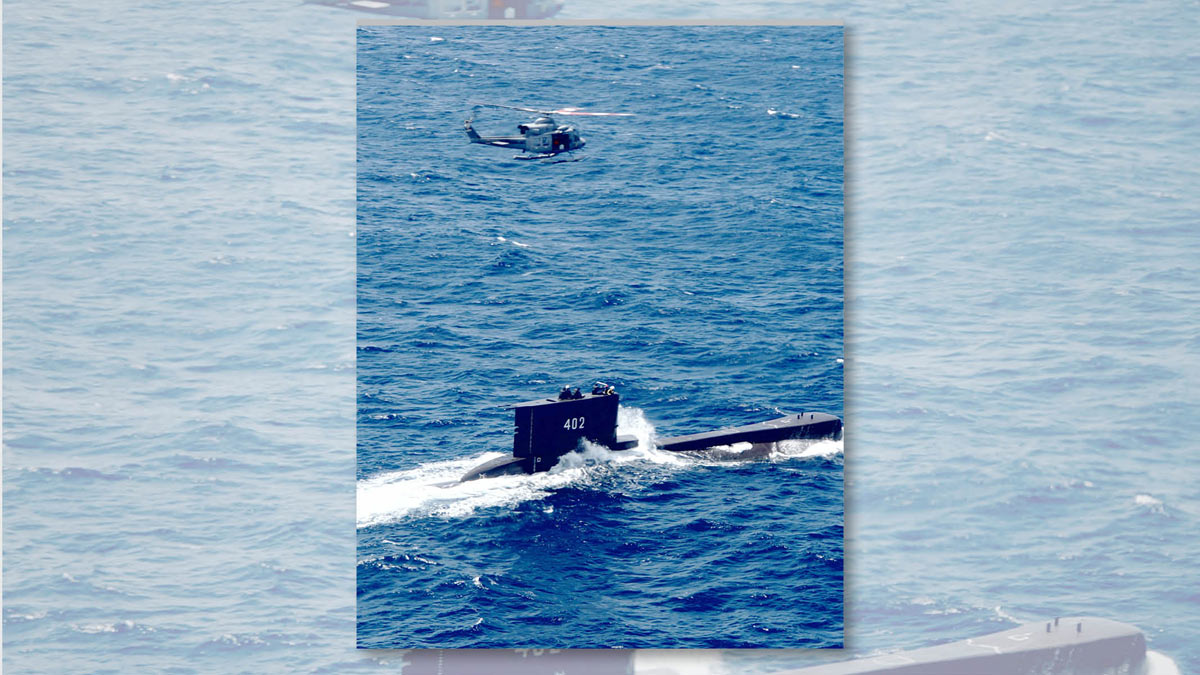 FOR those whose fathers went down with the KRI Nanggala-402 in the Bali Sea in the early hours of April 21, 2021.
Perhaps it will be several years before some of you are able to read these words. You are in our hearts. We prayed for the safety of your fathers when news broke of the disappearance of the Nanggala-402 submarine on that fateful Thursday. At that time, the crew members—53 men including your fathers—could no longer be contacted from land. The limited oxygen in the vessel meant that every minute that passed in the rescue operation made our hearts beat faster.

When Indonesian Military (TNI) Commander Marshall Hadi Tjahjanto confirmed three days later that the Nanggala-402 had sunk in an 838-meter trench, we were truly saddened. Everybody was stricken by grief. This is the saddest tragedy in the history of the Indonesian Navy since the start of the reformasi era.

Now, two weeks after the incident, your families will still be in mourning. But in the midst of this grief, perhaps now is the right time to begin to ask: why? Was there something wrong with the handling of the Nanggala-402 submarine that led to its sinking? Was there something that should have been done but was not?

In the last six years, there have been dozens of accidents involving military aircraft and ships in this nation. Hundreds of military personnel have died, not because of war or special operations, but because of equipment failures. A C-130 Hercules airplane crashed in Medan in June 2015 killing 122 passengers. The plane was half a century old, almost as old as the Nanggala-402.

A year later, there was a series of accidents with TNI helicopters. In July 2016, a TNI Bell-205 helicopter crashed in Yogyakarta killing three people. The same year, a TNI Bell-412 EP helicopter went down in Poso, Central Sulawesi, killing 13. Three years later a Navy Mi-17 helicopter crashed in Papua resulting in 12 deaths.

As if this were not enough, last year a Hawk Mk-209 fighter plane crashed in Kampar, Riau. Almost every year there are accidents with naval ships. In 2018, KRI Rencong-622 broke down at sea and last year, the same thing happened with KRI Teluk Jakarta-541. Fortunately, all the crews were saved.

Accidents continue to happen despite defense spending continually being increased. Last year it totaled Rp137 trillion, an increase of 14 percent over the previous year. The age of equipment is always used as a reason to increase spending, but accidents continue to happen. The public is never told whether the maintenance of our weapons systems is in line with safety standards or not.

On April 21, 2021, Nanggala-402—a submarine built in Germany in 1979 by Howaldtswerke Deutsche Werft—was in the waters north of Bali practicing firing strategic naval weapons. This should not be a tough mission for the submarine crewed by your fathers, especially since the in 2012 Nanggala underwent a refit at the Daewoo Shipbuilding & Marine Engineering shipyard in South Korea.

However, subsequent information has come to light that the Nanggala was not in top condition. In a preparation meeting, it was stated that the service ability level of the vessel was under 50 percent. Senior Navy officers even said that last year the vessel lost all power in the waters of Bawean, East Java. Two weeks before the meeting, there was a malfunction of the Nanggala's steering mechanism.

Death is a part of fate—like birth. But the sinking of the Nanggala-402 must not be simply allowed to pass by. It is time there is a detailed explanation of the chronology and causes of this tragic accident. There needs to be a proper military investigation and the results should be published. If it is true that a vessel unfit for operations was forced to sail, those responsible for the decision must be tried and punished.

This is our debt to your fathers. Any nation that values the lives of its military personnel would do the same. Last year a US Navy commander was dismissed for failing to report damage to the engine of the destroyer USS Decatur. This is important to ensure that mistakes, no matter how small, do not lead to the death of personnel.

Because of this, calls from a number of people for the nation to immediately buy new military equipment following this incident seem illogical. After all, as is well known from similar practices in the past, procurement of weapons is not always conducted transparently and often leads to violations of the rules.

Time will tell what lessons the government has learned from the tragedy of the Nanggala-402. What is certain is that you should be proud because your fathers are now patrolling the eternal ocean.
W251bGwsIjIwMjEtMDUtMDggMjA6Mjg6MjYiXQ