Terrorist Branded from Merdeka Barat
The plan to name armed groups in Papua as terrorist organizations is spurred with the death of the Papua State Intelligence Agency Chief. The government is taking steps to prevent Papuan independence.
Edition : Monday, May 10, 2021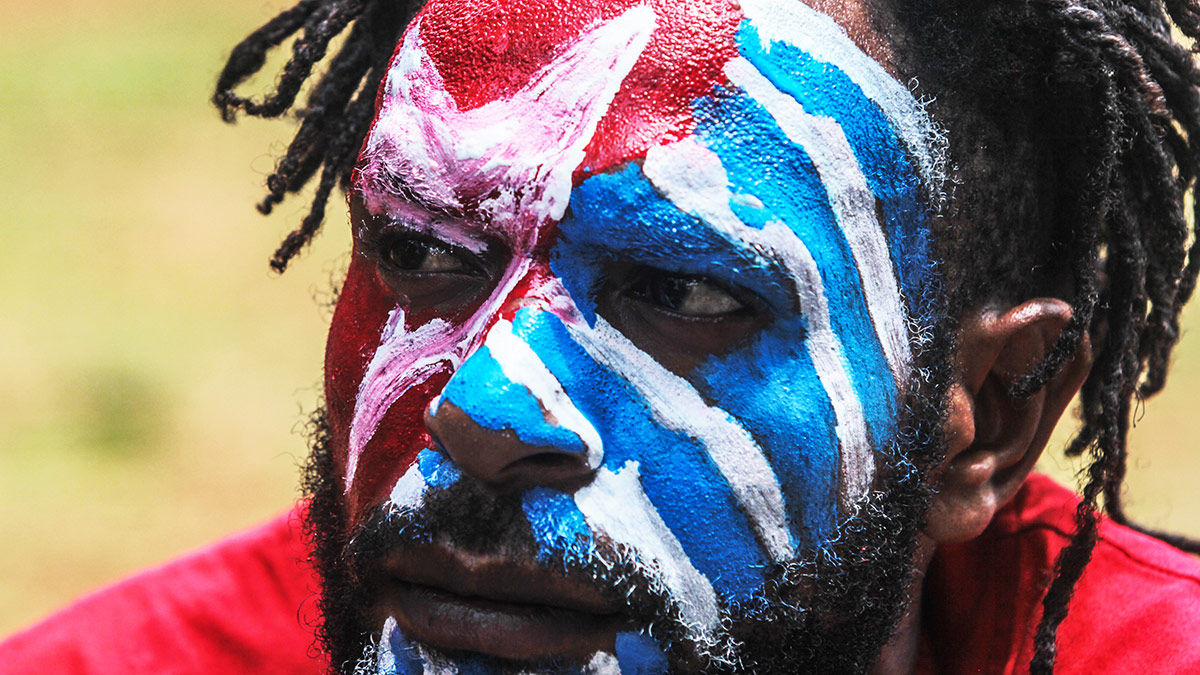 THE meeting chaired by President Joko Widodo at the Merdeka Palace in Jakarta, on Monday, April 26, discussed the death of Maj. Gen. (Posthumous) I Gusti Putu Danny Nugraha Karya, Chief of the Papua Office of the State Intelligence Agency (BIN), the day earlier. Coordinating Minister for Political, Legal and Security Affairs Mahfud Md said that the President ordered his aides to take firm action against the armed criminal group that had shot Putu Danny. "The President asked them to be hunted down," Mahfud told Tempo at his office on Friday, May 7.
According to Mahfud, Jokowi also asked that no human rights violations be committed in the hunt for that armed groups. This meeting was also attended by other government officials in the fields of politics, law, and security. This included BIN Chief Budi Gunawan, Indonesian Military (TNI) Commander Air Marshall Hadi Tjahjanto, National Police Chief Gen. Listyo Sigit Prabowo, Minister of Defense Prabowo Subianto, Minister of Foreign Affairs Retno Lestari Priansari Marsudi, and Presidential Chief of Staff Moeldoko.
Putu Danny died after being shot on the back of his head while visiting Kampung Dambet, Beoga District, Puncak Regency, Papua. BIN Deputy for Communication and Information Wawan Hari Purwanto said that Danny was involved in a shootout with an armed group while observing security in the region.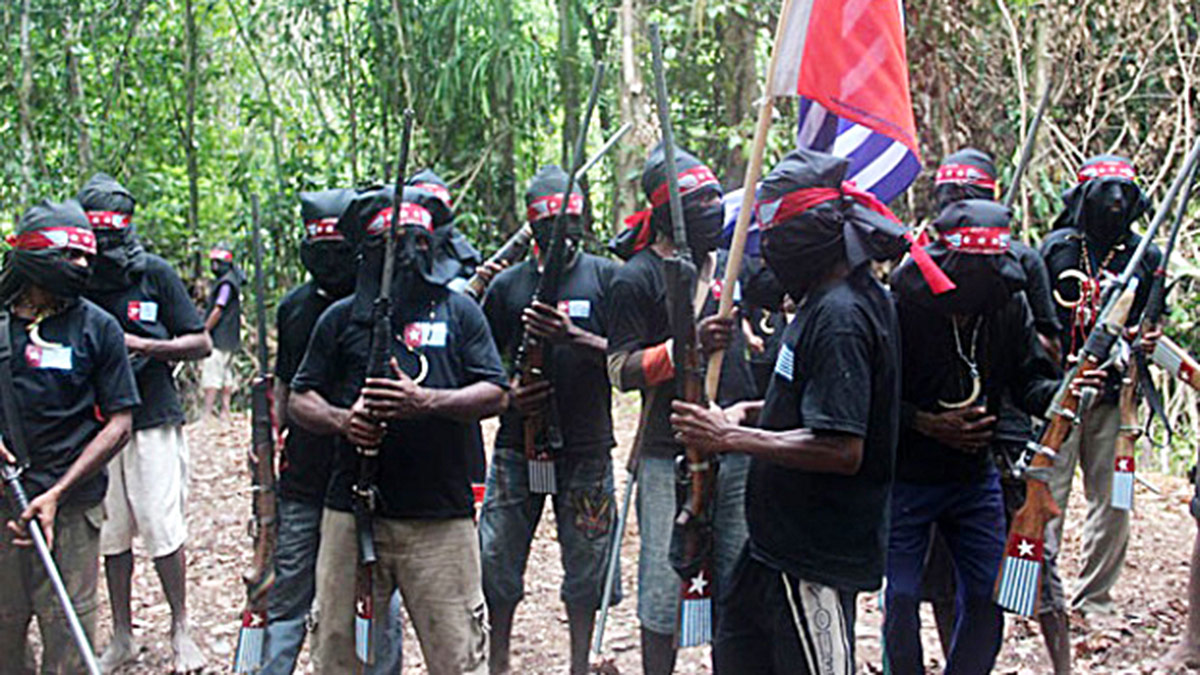 The Armed Group of the Free Papua Movement (OPM). Tempo/Jerry Omona
W251bGwsIjIwMjEtMDYtMjIgMTU6MTE6MzgiXQ
Moeldoko, who attended that meeting, said that the President's instruction to hunt down the armed group was followed up with a coordination meeting with some representatives of state institutions at his office. "We translated the President's order and evaluated the conditions in Papua," he said. One meeting participant said that one topic of discussion was the plan to name the West Papua Liberation Army of the Free Papua Organization (TPNPB-OPM) a terrorist organization.
Boy Rafli Amar, Chief of the National Counter-terrorism Agency (BNPT), said that he gave a presentation about issuing terrorist status. He had brought up that plan in the fourth week of March. After receiving input from several parties, Boy assessed that the actions of the armed group had met the elements of terrorist crimes. "By issuing terrorist status, we could track down the assets of the parties providing them assistance," he said.
There are pros and cons for this plan. According to two meeting participants, representatives of some institutions did not agree with this measure. One of them was the police, which considered that the armed groups in Papua do not have a terrorist ideology such as Al Qaeda or the Islamic State of Iraq and Syria (ISIS).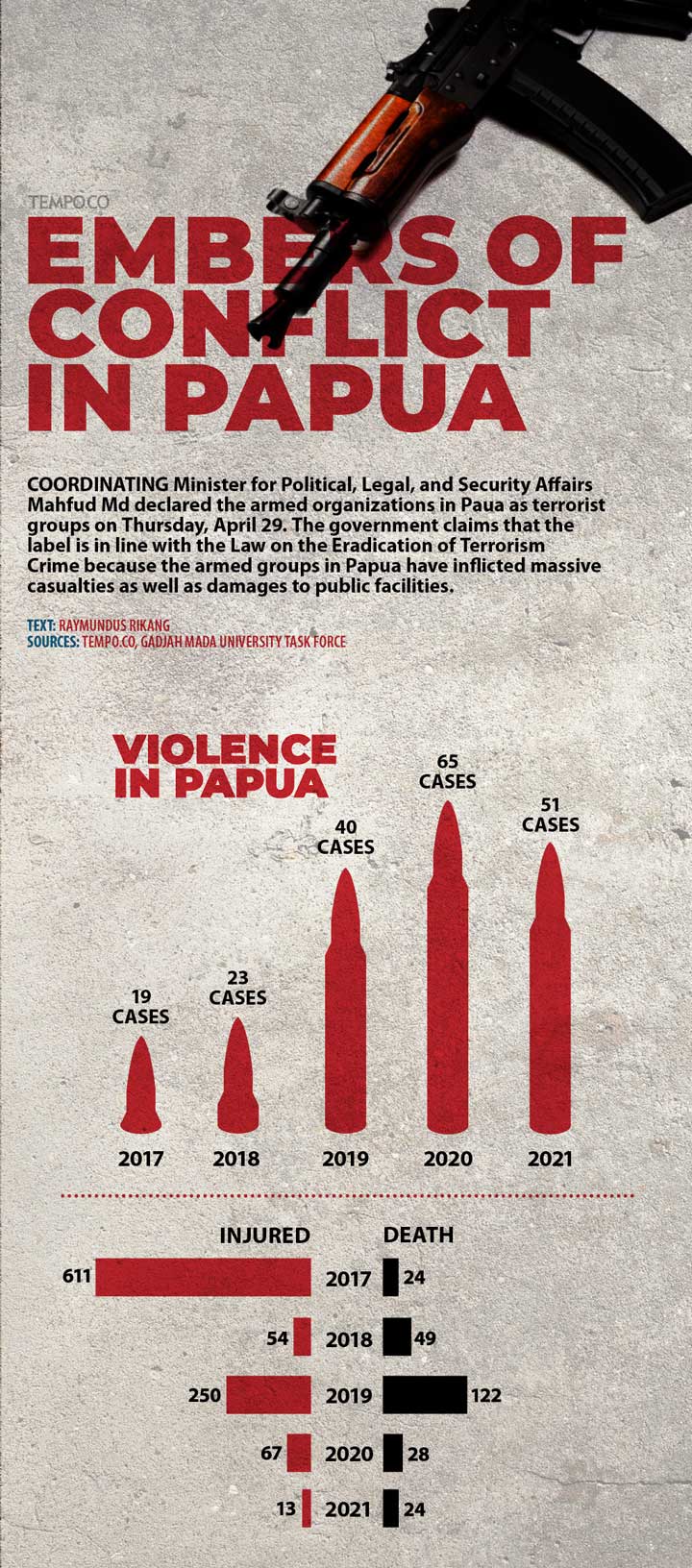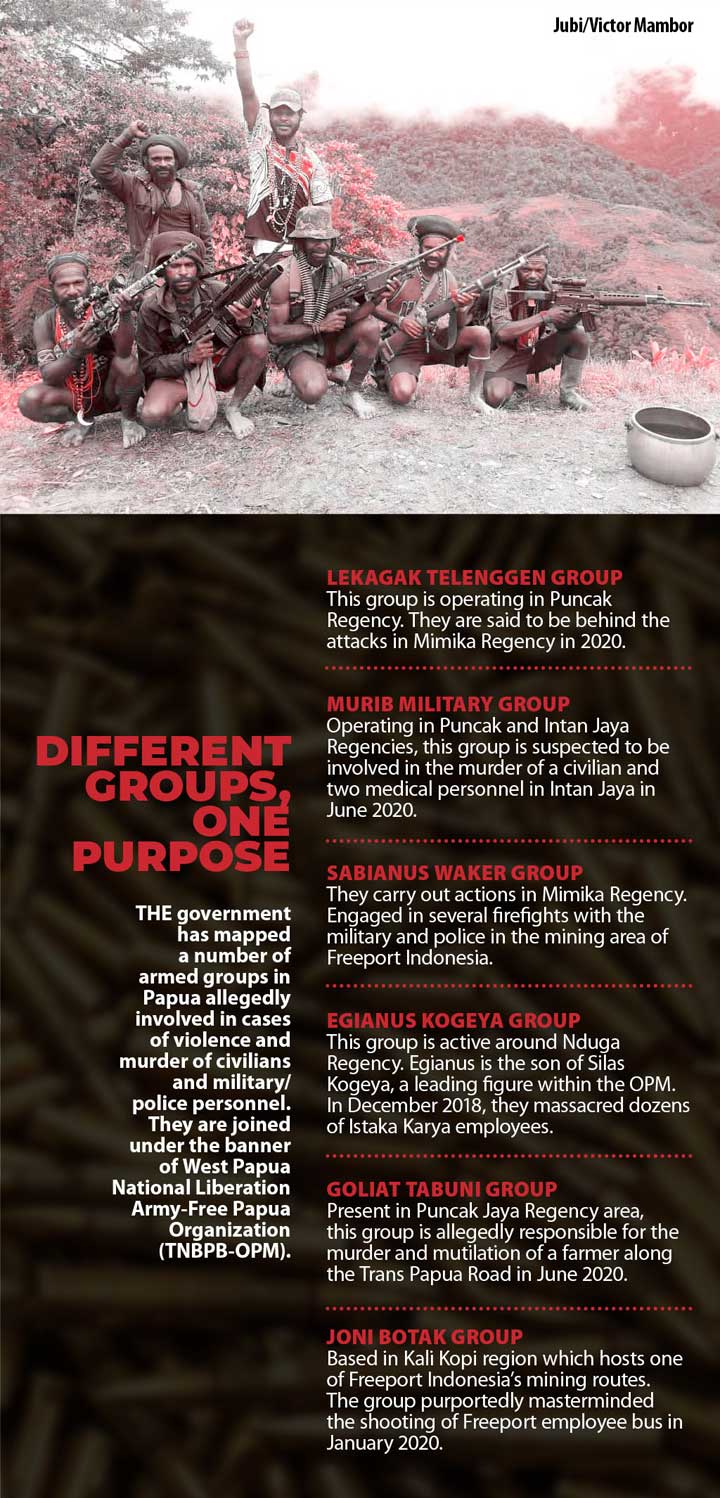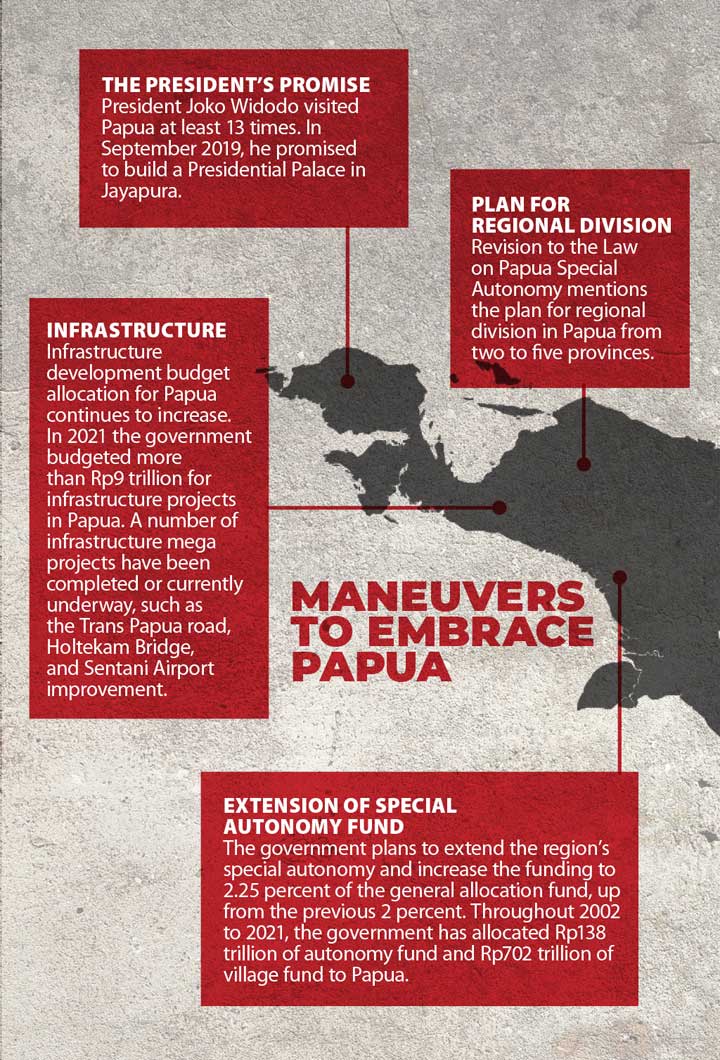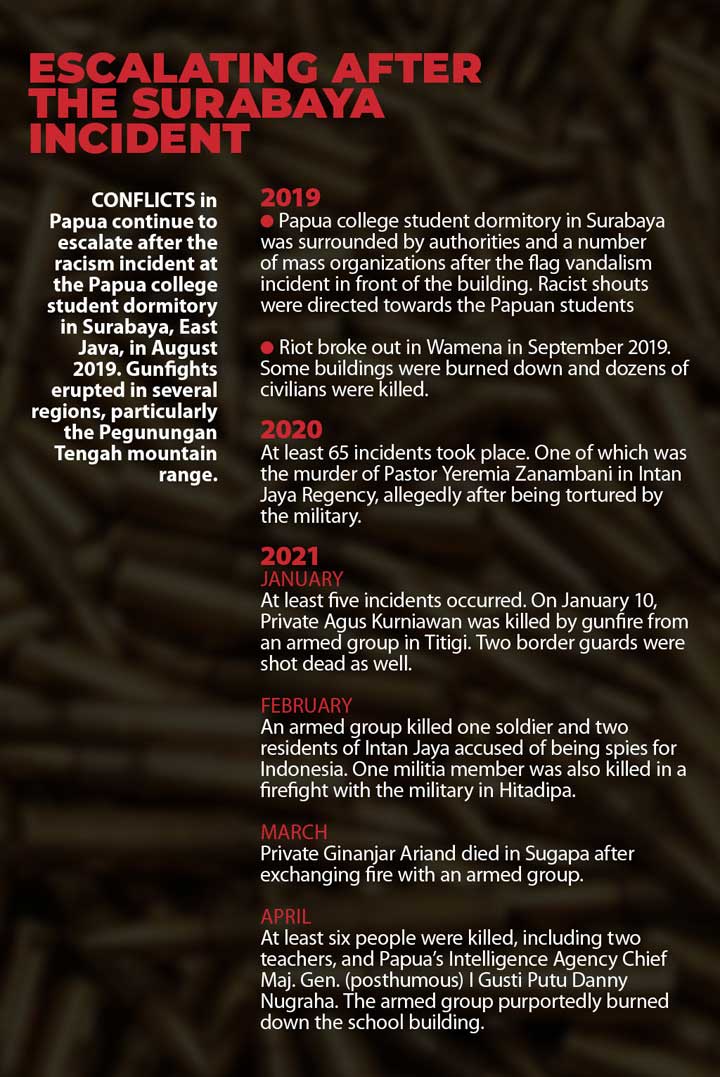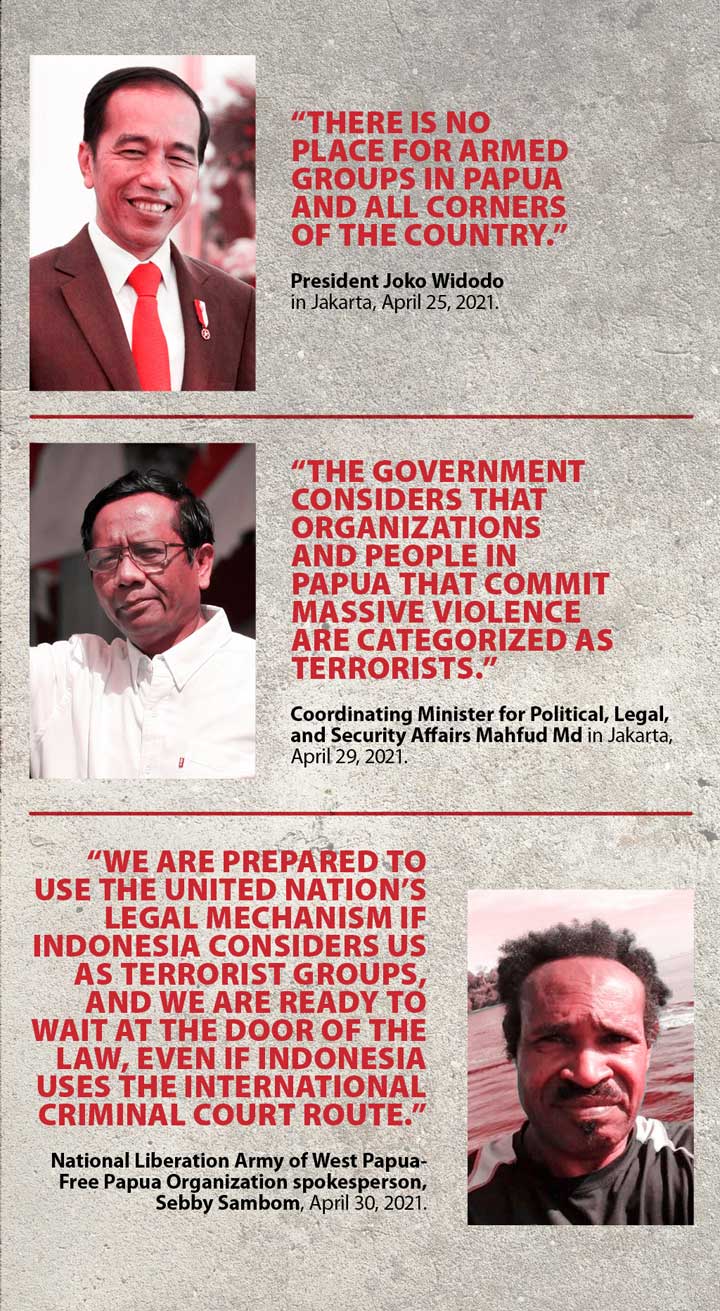 Inspector Gen. Imam Sugianto, Assistant of Operations to the National Police Chief, refuted that the police had disagreed with the planned application of terrorist organization status. Imam said that they did discuss a law enforcement operation for Papua. However, he was reluctant to explain his institution's study regarding terrorist organization status for the Papuan armed groups. "If the government makes a decision, then the policy must be secured," he said.
Minister Mahfud Md said that terrorist organization status was also discussed several times at his office. "The idea has been around for a long time," he said. The Presidential Staff Office website mentioned that BIN Deputy Chief Teddy Lhaksmana also conveyed that the term "armed groups" is no longer appropriate. Some parties have suggested defining them as "separatist-terrorist" groups. When asked about his support for labeling militias in Papua as terrorists, Teddy was reluctant to comment.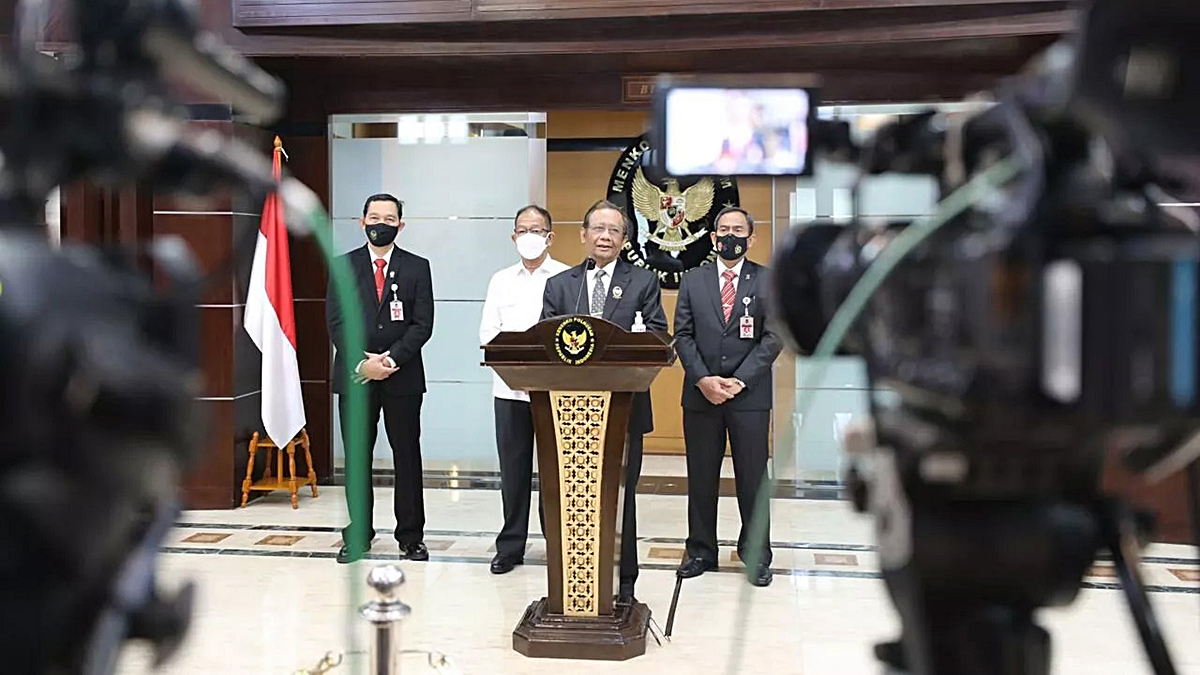 Coordinating Minister for Political, Legal and Security Affairs Mahfud Md announces the government's stance towards the Papuan armed criminal group (KKB) at his office, Jakarta, April 29. polkam.go.id
Mahfud Md refuted the idea that the government is not unanimous on this issue. He said that in a meeting held at his office on May 29, all those present reached a unanimous decision, namely that armed groups could be dealt with by using Law No. 5/2018 regarding the eradication of terrorism. One reason for this is that the groups have spread terror by killing civilians and security forces, in addition to damaging and burning down government buildings and schools.
Ida Bagus Made Bimantara, Director of Europe I at the Ministry of Foreign Affairs, considers applying terrorist organization status to be an appropriate measure. He referred to the Resolution 1373 of the United Nations Security Council, which encourages each nation to take steps to prevent and deal with terrorism. According to Made, as of Friday, May 7, neither the UN Security Council nor other nations were taking issue with that measure. "It would actually be ironic in the eyes of the international community if Indonesia did not take up law enforcement measures against acts of terrorism," he said.
***
ONCE armed groups in Papua were named terrorist organizations, the TNI send additional troops there. In addition to personnel brought together under the Nemangkawi Operation, the TNI has readied 400 soldiers from the Troubled Region Security Task Force of Garuda 315th Infantry Battalion. According to one high-ranking military official, 200 personnel from the Special Forces Command are also assisting in Papua.
In the Intan Jaya Regency, Frits Ramandey, Chair of the Papua Office of the National Commission on Human Rights, observed the increase in the number security personnel a few days after terrorist group status was issued. "There are new security posts on the regency's main road," he said. He also received a report that similar things are happening in other areas regarded as conflict-probe areas, such as in the Mimika, Nduga, and Puncak Regencies. Fritz concerns that those forces will increase the number of human rights violation cases and lead to a wave of people take refugee.
However, Mahfud Md said that the security forces are implementing a strategy to avoid the occurrence of human rights violations. This is in part being done by mapping the armed groups and not considering all Papuans to be terrorists. There are at least 19 armed groups which have been categorized as terrorist organizations. The forces in the field, according to Mahfud, have been warned to not fire indiscriminately.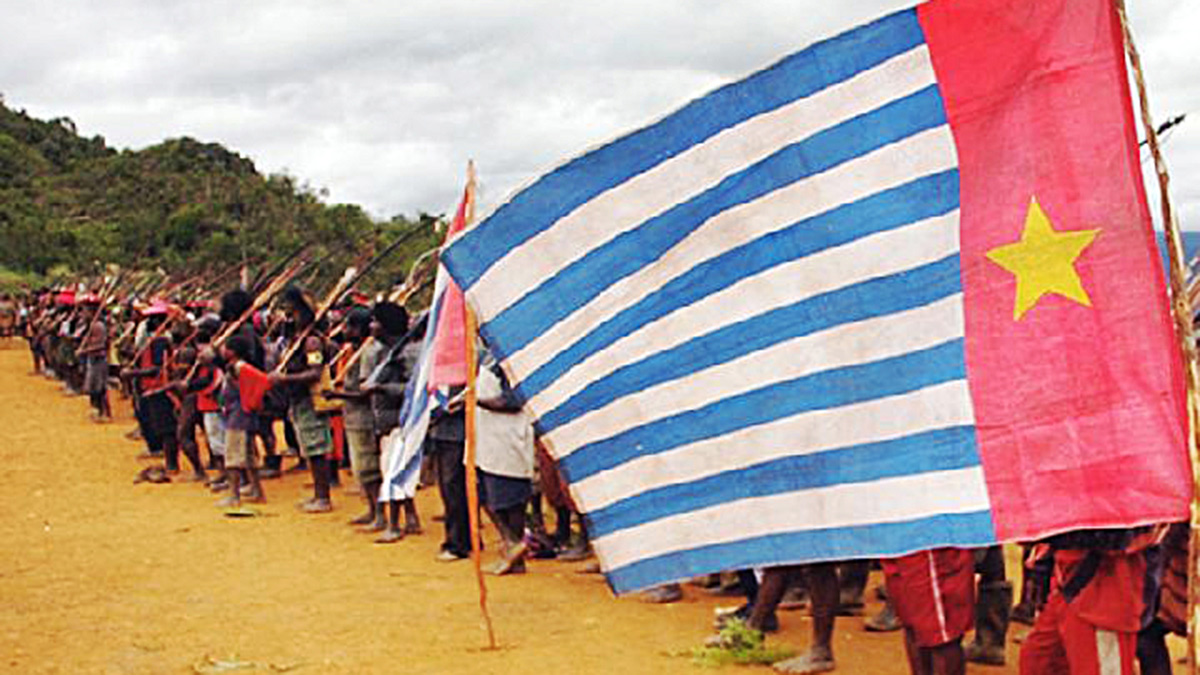 The Division II Paniai of the Free Papua Movement (OPM) Militia, West Papua, August 2012. Tempo/Jerry Omona
Issuing terrorist organization status has led to a wave of disapproval from various circles. National Commission on Human Rights Commissioner Chairul Anam said that the terrorist label decreases room for peaceful dialogue in Papua. "There is a small possibility of resolving the conflict in Papua through peaceful means because the government will not hold dialogue with terrorist groups," said Anam. Papua Governor Lukas Enembe asked that the government review the issuing of that status.
To create room for dialogue, Frits Ramandey, Chair of the Papua Office of the National Human Rights Commission, met four key TPNPB figures in multiple areas. According to him, they conveyed three positions, namely: rejecting being labeled terrorists, opening room for dialogue, and having the National Commission on Human Rights mediate that dialogue. "So actually they also want to hold a dialogue," said Frits.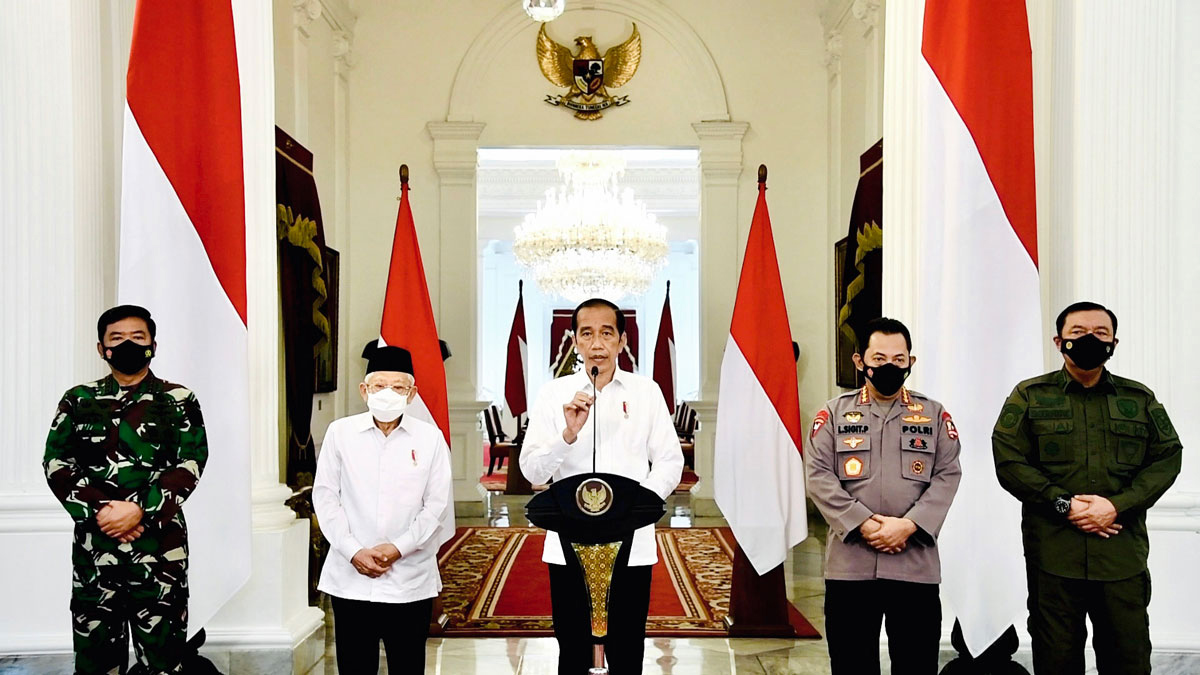 President Joko Widodo delivers a press statement regarding the death of the Papua Regional Intelligence Agency Chief Maj. Gen. (Posthumous) I Putu Danny, at the Merdeka Palace, Jakarta, April 26. BPMI Presidential Secretariat
However, TPNPB spokesman Sebby Sambom said that the pro-independence groups are ready to fight against the military and police stationed in Papua. He also asked all regional government heads and government workers in Papua to take their official uniforms off and to join in the struggle for Papuan independence. "We all want to be free," he said.
***
THE measures being taken by the Indonesian government to prevent Papuan independence are not limited to opposing armed groups. The government is also working to get approval for an extension of the special autonomy status there, as it is set to expire in November. Yan Permenas Mandenas, Deputy Chairman of the House of Representatives' Special Committee for Revising the Law on Special Autonomy for Papua, from the Gerindra Party Faction, said that on April 8 the minister of home affairs asked that the draft be completed and deliberated in June. "However, we set the target for its completion in early July," said Yan on May 5.
In order to speed up the deliberations, some members of that special committee visited several regions in Papua and West Papua on May 2-3. Guspardi Gaus, a Special Committee member from the National Mandate Party (PAN) Faction, said that during a meeting at the office of the West Papua governor in Manokwari, there was debate regarding the increasing the amount of special autonomy funds from 2 percent to 2.25 percent of the national general-allocation funds (DAU). The government officials who attended that meeting also asked the absence of Papua representatives in the deliberations on special autonomy. However, Guspardi answered diplomatically that such aspirations would be discussed in meetings with the government.
Coordination meeting for the development of the latest Papua security situation with the Presidential Chief of Staff Moeldoko (center) at the Bina Graha Building, Jakarta, April 26. ksp.go.id
Yan Permenas added that, aside from the issue of special autonomy, government officials in Papua asked about the central government's plan to subdivide the region. Previously, in a meeting at the House of Representatives (DPR) on April 8, Minister of Home Affairs Tito Karnavian said that Papua would be divided into six provinces, namely: Southwest Papua, West Papua, Central Papua, Pegunungan Tengah (Central Mountains), South Papua, and Tabi Saireri Papua. He also asked that this subdividing be done by the central government, without asking the views of the Papua and West Papua People's Councils.
However, this plan has been opposed by a number of circles in Papua. Alfred Fredy Anouw, Secretary of the Joint II Faction in the Papua Legislative Council (DPRD), said that opposition to special autonomy and regional subdivision has risen in some areas. Earlier on, Papua People's Council Chairman Timotius Murib asked that the subdivision process involve his institution in order to ensure that the aspirations of the people of Papua are guaranteed.
DEVY ERNIS, HUSSEIN ABRI DONGORAN, RAYMUNDUS RIKANG, JUBI TABLOID