General Danny's Final Operation
The Chief of the Papua Office of the State Intelligence Agency (BIN) was killed while inspecting a checkpoint in the Beoga District, Puncak Regency. He had been raising public support in the area of operation.
Edition : Monday, May 10, 2021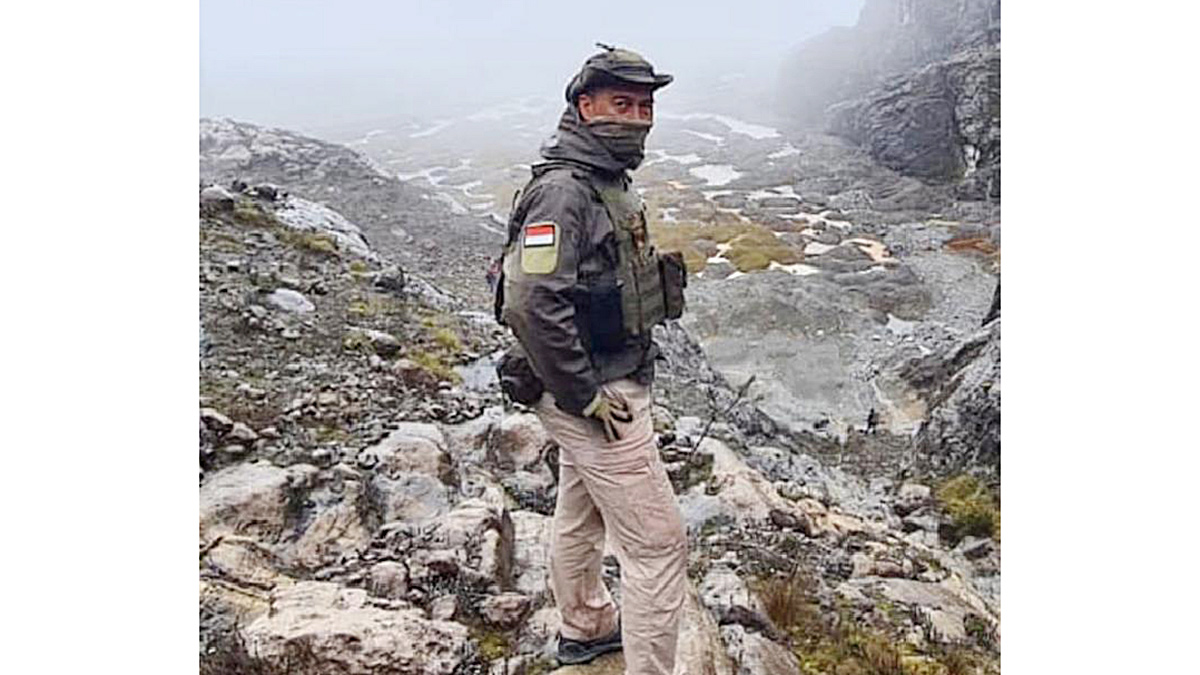 YAN Permenas Mandenas, accompanied by Brig. Gen. I Gusti Putu Danny Nugraha Karya, Chief of the Papua Office of the State Intelligence Agency (BIN), flew to Ilaga Airport in the Puncak Regency of Papua with a Caravan airplane. At the time, in mid-October 2020, that member of the Defense Affairs Commission of the House of Representatives (DPR) was going to hold a discussion with the people of Ilaga about telecommunication signals problem in the mountains.
According to Yan, Danny was always a part of his entourage when meeting the public. In addition to talking about infrastructure, he advised the public to not get involved in the movements of armed groups in the Puncak Regency. "He was the type of person who took up matters at ground level," this Gerindra Party politician told Tempo on Wednesday, May 5.
That event in Ilaga was the last time Yan met Danny. On Sunday, April 25, Danny was killed in Kampung Dambet, Beoga District, Puncak Regency. He was shot in the head when he was with his team, observing and finding armed group ambush points. The state posthumously raised his rank to major general.
Three weeks earlier, tensions in the Beoga District had heated up. On April 8, Oktovianus Rayo and Yonatan Renden, two teachers in that district, were killed by the West Papua Liberation Army of the Free Papua Organization (TPNPB-OPM). That day, an armed group also burned down a school. On April 11 and 13, the No. 2 State Junior High School and No. 2 State High School of Beoga, along with the homes of the school principal and members of the Puncak Regency Legislative Council (DPRD) were burned down.
W251bGwsIjIwMjEtMDYtMjIgMTU6MTk6MzEiXQ
Wawan Purwanto, BIN's Deputy VII for Communication and Information, said that Danny visited Kampung Dambet after a series of incidents had taken place in the Beoga District. "The regional BIN chief went there to speed up the restoration of security in the wake of the brutal acts of separatist groups and terrorists in the region," he said.
A joint report, which was confirmed by Chief of Information of the Cenderawasih 17th Regional Military Command Lt. Col. Reza Nur Patria, mentioned that Danny was getting ready to travel to Kampung Dambet at 9:20am Eastern Indonesian Time. He went there with a team from the Elang and Delta Task Forces as well as personnel from the Beoga District Military Command. Driving a motorcycle, Danny and his team arrived in Kampung Dambet at 3:50pm. In that neighborhood, the group was ambushed by an armed group. Danny was shot and died at the location.
Two high-ranking Indonesian Military (TNI) officers said that the Beoga District is not actually an area of operations for Papuan armed groups. It is a through route for troops traveling from the Puncak Jaya and Intan Jaya Regency—the two most volatile areas in Pegunungan Tengah (Central Mountains) Papua. More recently, Beoga turned into a battlefield after security forces claimed it had put pressure on pro-independence forces in those two regencies. A high-ranking official at the Presidential Palace and two military officials said that Danny and his group intended to monitor the military posts that had been set up along that through route. He set out with a small group of no more than eight people which was outnumbered by the armed group.
Two military officials and a former high-ranking intelligence official questioned why Danny went to Kampung Dambet on a motorcycle. According to them, BIN members should not take part in battle intelligence duties. In a special interview with Tempo on May 7, Coordinating Minister for Political, Legal and Security Affairs Mahfud Md said that President Joko Widodo has emphasized that intelligence duties are limited to surveillance, mapping and raising public support. "This means that they do not use weapons, and information on the whereabouts of those terrorists must be conveyed to a task force, and should not be fought by themselves," he said.
The West Papua Liberation Army (TPNPB) claimed responsibility for Danny's death. TPNPB spokesman Sebby Sambom claimed that pro-independence forces under the command of Lekagak Telenggen opened fire on Danny's group. "The TPNPB led by Maj. Gen. Lekagak Telenggen is responsible for the shooting of two TNI personnel," said Sebby.
Having graduated from the Military Academy as a company-level officer in the infantry in 1993, Danny developed his career in the Army's elite Special Forces Command (Kopassus) unit. A high-ranking Special Forces official said that Danny was initially a part of Group I of Kopassus, which functions as a para-commando brigade. Danny later earned a Sandi Yudha qualification, indicating ability in battle intelligence.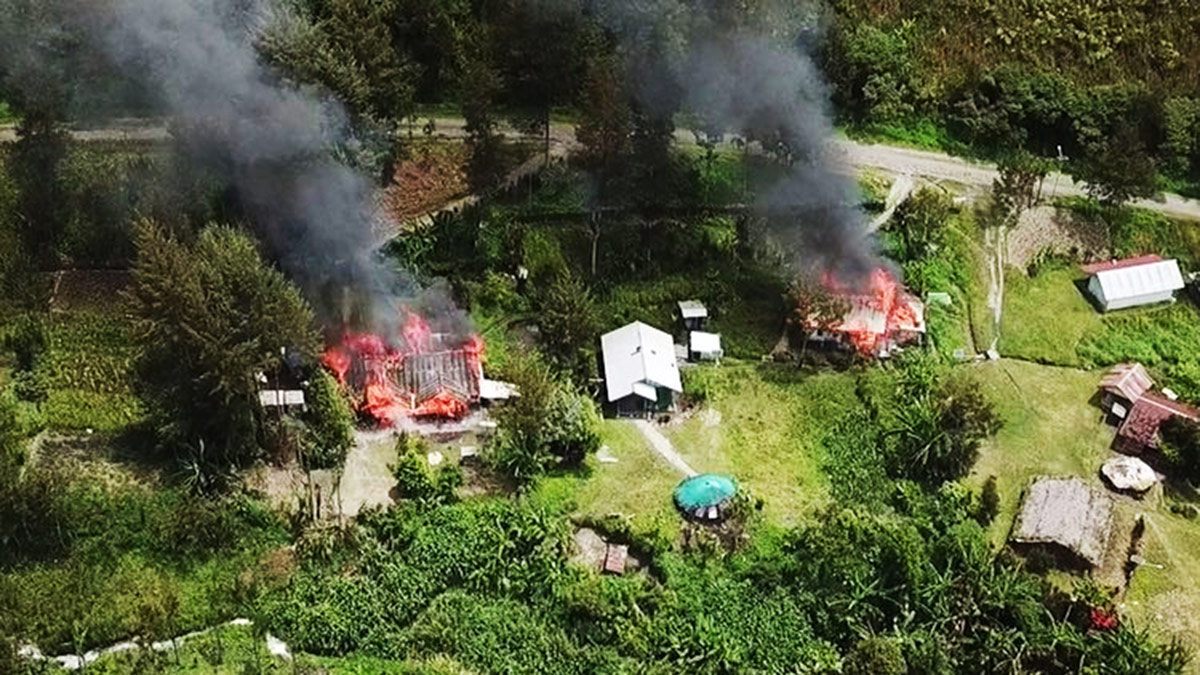 Armed Criminal Group (KKB) allegedly burn houses in Beoga District, Puncak Regency, April 13. Papua Police Public Relations Doc.
A fellow in Danny's class in the Military Academy said that Danny's first official assignment was to Papua in 1999. That source said that they worked with Danny to raise support among the people of Papua in a trust-building program, approaching the public through social activities such as farming. Two graduates of the Military Academy Class of 1993 said that Danny often went into the field while in operational areas in order to raise public support. One colleague of his who also was assigned to Papua said that they often warned Danny to not randomly go into the field if he had not mapped out the security situation.
After becoming chief of BIN for Papua, Danny was raising public support related to the extension of regional autonomy status for Papua, which will end in November. In October 29, 2020, Danny wrote to some high-ranking officials at the Papua Police Department and the Cenderawasih Regional Military Command. Those letters were regarding anticipating unrest during a public hearing of the Papua and the West Papua People's Councils. It was mentioned in those letters that Papua BIN Office, a BIN task force, and the Papua Regional Intelligence Community had worked with public figures and natives of Papua to get them to support the continuation of special autonomy.
The intelligence team had also empowered and strengthened public organizations which were pro-Indonesian, in order to counteract the narratives of groups supporting independence. They also ran a social conditioning operation with the regent and figures of Papua before the public hearing in the Biak Numfor Regency on November 22-23, 2020. "In order to be able to prepare those pro-Indonesia people who will be attending that public hearing," read that classified letter with R/052/X/2020 registration number.
After nearly three decades of official duty in the military, Danny was assigned to the State Intelligence Agency in June last year. It has been reported that it was BIN Deputy Chief Teddy Lhaksmana who asked Danny to take up a career at the agency. Teddy and Danny both came from Kopassus. Presidential Chief of Staff Moeldoko verified that information. "He was the one who asked Danny to go there," said that former TNI Commander.
When contacted on May 8, Teddy was reluctant to comment about Danny's death. "Please ask our spokesman," said that retired lieutenant general. Wawan Purwanto, BIN's Deputy VII for Communication and Information, did not respond to confirmation requests sent via WhatsApp to two of his personal numbers.
RAYMUNDUS RIKANG, HUSSEIN ABRI DONGORAN, DEVY ERNIS, BUDIARTI UTAMI PUTRI