Chasing After 9.99 Seconds
Sprinter Lalu Muhammad Zohri did a test run on the New National Stadium that will be used for the 100-meter race in Tokyo Olympics. His ambition is to cross the finish line in less than 10 seconds.
Edition : Monday, May 17, 2021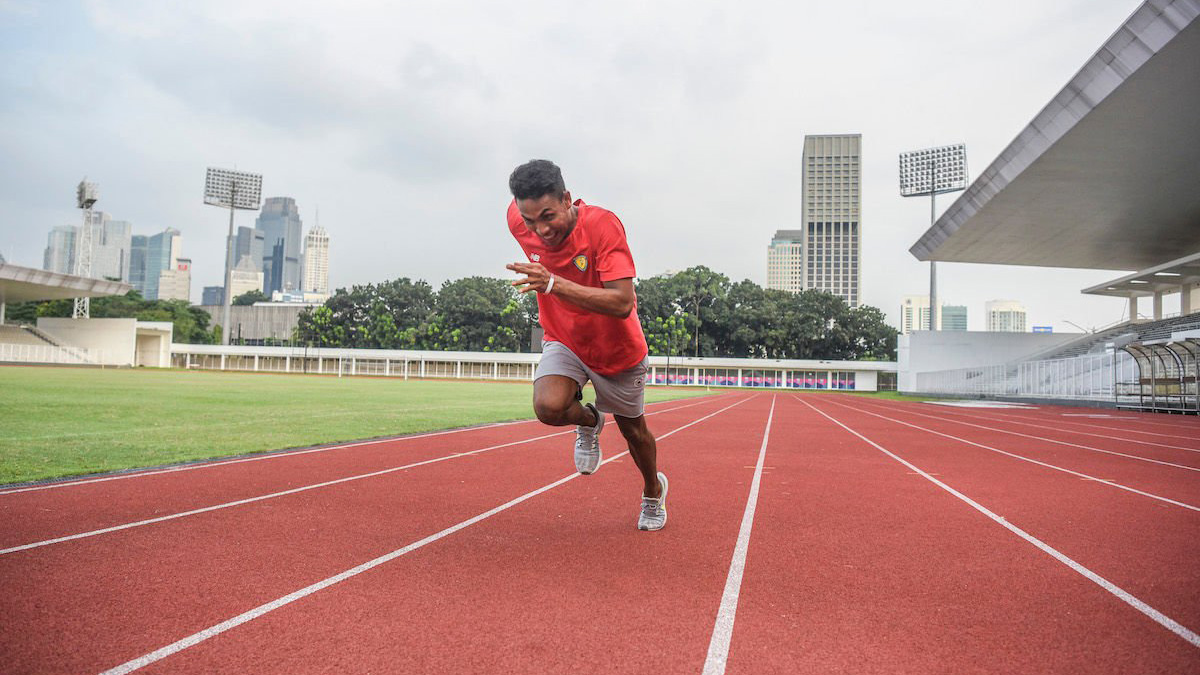 STARTING in lane two in the New National Stadium, Tokyo, Japan, Lalu Muhammad Zohri stood out because of the red-white shirt and red shorts he was wearing. The other six sprinters, five from Japan and the 100-meter world champion of 2017, Justin Gatlin from the United States of America, wore dark-blue uniforms. Zohri finished seventh in that 100-meter World Athletics Continental Tour Gold Tokyo 2021 final race on Sunday afternoon, May 9.

Zohri recorded a time of 10.45 seconds, 0.21 seconds behind Gatlin who won the race with 10.24 seconds. Previously, during the elimination round, Zohri scored his best time of this season with 10.34 seconds. "Thank you for the support and prayers from all of Indonesian people. I apologize for not being able to give my best in this test event race," said Zohri in a video he sent through WhatsApp on Sunday evening, May 9.
For Zohri, the opportunity to participate in an international athletic competition such as the Ready Steady Tokyo, which was a test event for the 2021 Tokyo Olympics, is something that he is truly thankful for. It was his first race following a year and a half of hiatus due to the pandemic. "During the Covid-19 pandemic, we were sent home (to the regions)," he said. "Thank God we were called to return for preparation, and we are also very much in need of a race to test the result of our practice," said Zohri, a gold medalist in the 2018 World Athletics U20 Championships, Finland.
Muhammad Zohri (second to right) in action during the World Athletics Continental Tour Gold Tokyo 2021 at the New National Stadium, Tokyo, Japan, May 9. worldathletics.org
This test run is important for Zohri to warm up before competing in the actual championship between July 23 to August 8. Moreover, both races take place at the same sports stadium in Kasumigaoka-machi district, Shinjuku. "I am glad I could try the track, to get a feel of it first," he said. Zohri qualified for the Tokyo Olympics after placing third in Seiko Golden Grand Prix Osaka, on May 19, 2019. His time was 10.03 seconds, faster than the qualification limit of 10.05 seconds.
W251bGwsIjIwMjEtMDYtMjMgMTA6MjY6NDkiXQ
Since Wednesday, May 5, Zohri has been staying at the Shibuya Excel Hotel Tokyo, which serves as the athlete's lodging for participants of the Olympics test event. Zohri is there with his coach, Arya Yuliawan, and long jump athlete Sapwaturrahman. During his stay in Tokyo, Zohri said he is kept under tight supervision by the Tokyo Olympics organizers. "Here we are only allowed to stay in our rooms and go to the dining hall to pick up food for eating back in the room," he said.
Other than in their lodgings, according to Zohri, participants are also tightly monitored when visiting the training grounds. Athletes and officials are supervised to ensure proper implementation of Covid-19 prevention protocol. For example, on Friday, May 7, Zohri was scheduled to practice at the New National Stadium from 1:30pm to 4:30pm. The 20 minutes commute between the hotel and stadium was already included in that time allotment. "We were being guarded during the trip to the field and back," said Zohri via WhatsApp on May 7.
Wearing black shorts and shirt, as well as shoes and leggings with matching color, Zohri did his stretching routine. He also ran on the track and tried using the starting block—a device used in the sport of track and field to brace the athlete's feet at the start of a race. "The weather in Tokyo is a cool, 20 degrees (Celsius) with good winds. Hopefully everything goes well," said Zohri just before starting his practice. Correct use of the starting block is one of the 'homeworks' that Zohri needs to get done right.
Lalu Muhammad Zohri (L) and Bruno Dede from Japan in action at a men's 100m World Athletics Continental Tour Gold round 1 heat 2 during the Tokyo 2020 Olympic Games Test Event at the Athletics Olympic Stadium, Tokyo, Japan, May 9. Reuters/Kim Kyung-Hoon
National track and field coach Eni Nuraeni said that technical improvements continue to be pushed in order to maximize Zohri's potential. These include the use of the starting block. Although he is improving, Eni said that Zohri sometimes still hunches a bit too much. "A 100-meter race with flying start is timed at 9.56 seconds. While a 100-meter race with the starting block is a little over 10 (seconds)," she said.
Despite having been qualified for the Olympics, Zohri has his own ambition for the test event. The 20-year-old runner is determined to record a time of less than 10 seconds. "My target in any event is to score under 10 seconds. At least 9.99 seconds," said Zohri, who was born in West Pemenang village in North Lombok, West Nusa Tenggara, on July 1, 2000. Zohri remains committed to his goal. "I hope I will be able to give my maximum effort in the coming championship, do better, my best," he said.

Eni told Zohri to not push himself too much during the test event, considering that Zohri has just recovered from injury to his left knee suffered when participating in the 2019 Seiko Golden Grand Prix Osaka. Zohri had his surgery in October 2020. "We asked him not to push it, just do the best that he could manage, because the climax will be in the Tokyo Olympics," said Eni. "Pushing too hard may lead to injury. So we have to safeguard against that," said Eni, recalling her instruction to Zohri.
According to Eni, Zohri has now recovered up to 90 percent of his original performance. She even said that Zohri has returned to his best shape before the knee injury. "We always monitor using the stopwatch during training, and indeed he has gotten back to how he was before the injury. We have not tested it, but he managed 6.63 seconds during 60-meter run. That is already good," said Eni, who was named as the best athletic coach in Asia 2019 by the Asian Athletic Association.
Zohri himself said he is back at 100 percent and ready to race. "The important thing is mental and technique readiness," said Zohri, who won a silver medal in the 100-meter run in the 2019 Asian Athletics Championship in Doha, Qatar. "Maybe my coach and I have different wishes. I personally have been wanting to record a time below 10 seconds. So I am hoping to achieve the number in any championship," said Zohri who, along with Fadlin, Eko Rimbawan, and Bayu Kertanegara, is also the silver medalist in the men's 4 x 100 relay at the 2018 Asian Games in Jakarta-Palembang.
Indonesian Athletic Association Central Board Chairman Luhut Binsar Pandjaitan said he prepares a bonus for Zohri if he manages to achieve the target time of under 10 seconds. "Lalu has a speed of 10.03 seconds. I think he could get to the semifinals (of the Olympics)," said Luhut when visiting Zohri's training session in Madya Stadium, Senayan, Jakarta, Monday, May 3, prior to the later's departure to Tokyo. "Because this would also be the first time for Indonesia to score below 10 seconds," Luhut added.

As for the bonus itself, Zohri is rather indifferent. What matters most for him is to get back to his peak performance. He hopes that the test event will be an effective warming up. In the test event finals, Zohri will be competing against Gatlin who, as of May 4, 2021, sits on second place in the Men's Overall Ranking released by the World Athletics—the international governing body for the sports of athletics (formerly the IAAF). Gatlin won the Seiko Golden Grand Prix Osaka 2019 with a time of 10.00 seconds, followed closely by Japanese runner Yoshihide Kiryu with 10.01 seconds.
The Japanese athletes taking part in the test event finals rank much higher than Zohri. They include Yuki Koike who ranks 26th, Shuhei Tada (46th), Ryuichiro Sakai (132nd), Daisuke Miyamoto (186th), and Bruno Dede (286th). Aska Cambridge (187th) did not start (DNS) in the test event finals. Meanwhile, Zohri ranks 1,487th in the Men's Overall Ranking World Athletics with a score of 1,155. "I don't feel nervous, because I have competed against seniors and elite runners several times. Maybe just a little bit nervous," said Zohri.
IRSYAN HASYIM