The Long Wait for Digital TV
The government decides on who will execute multiplexing in 22 provinces. The battle will continue until the migration deadline onto digital broadcasting in November 2022.
Edition : Monday, May 17, 2021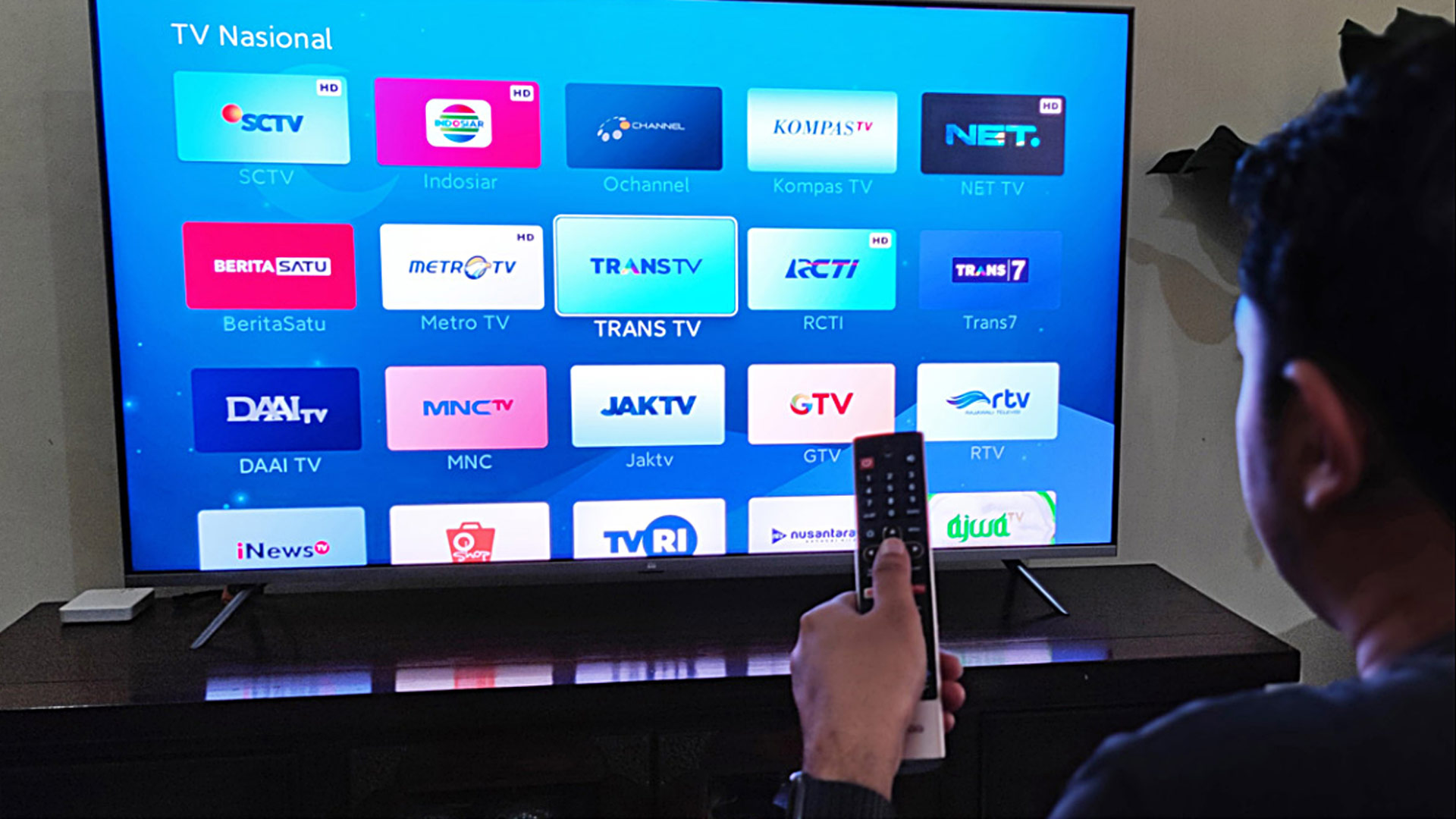 THE commotion surrounding the selection of which parties will be allowed to organize multiplexing (mux) for digital television in 22 provinces has reached all the way to the Communication and Informatics (Kominfo) Ministry. On Monday, May 10, a group representing four major private television stations came there to plead their case.
The four stations, members of the Indonesian Association of Private Television Stations (ATVSI), want all multiplexing slots in every region to be auctioned at the same time. A fifth ATVSI member, Media Televisi Indonesia (Metro TV), was not present as it was already satisfied with the selection results. "The last discussions occurred last Monday with the Kominfo team," said Ahmad Mujahid Ramli, communication ministry's Director-General for Postal and Information Technology Affairs, on Tuesday, May 11.
Big players in the terrestrial broadcasting industry are trying to become the mux organizers in all regions. In the selection results for the 22 provinces, announced on April 26, they were only allotted a portion of the broadcasting territory.
For example, Rajawali Citra Televisi Indonesia (RCTI), part of Media Nusantara Citra (MNC Group) owned by Hary Tanoesoedibjo, only has mux organizing rights in nine regions. The Trans Corp Group owned by Chairul Tanjung also got the mux rights for nine regions through its Trans TV and Trans7.
W251bGwsIjIwMjEtMDYtMjMgMDk6Mjc6NDIiXQ
Business group Elang Mahkota Teknologi (Emtek), owned by the Suriaatmadja family, also clinched nine regions through its Surya Citra Televisi (SCTV) and Indosiar Visual Mandiri (Indosiar). Meanwhile, the Visi Media Asia (Viva Group) owned by the Bakrie family only received rights for five regions through its Cakrawala Andalas Televisi (ANTV) and Lativi Mediakarya (tvOne).
The organizer in every region has the right to use 50 percent of the mux capacity, with one slot able to accommodate 12 digital television channels at the same time with standard definition broadcast quality. It is mandatory to lease the remaining capacity to digital broadcasting institution which are not mux organizers, with leasing prices set by the government. In addition to leasing mux space from private broadcasters, digital broadcasting parties could also share mux space managed by state broadcaster TVRI, similar to what is being done now for digital broadcasting in the Jakarta-Bogor-Depok-Tangerang-Bekasi region.
The four big groups have actually lodged their objections against the selection decision on April 27, one day after the communication ministry announcement. Headed by the MNC group, the objection mainly focused on the appointment of Nusantara TV (NTV) as the mux organizer in Bali and Lampung.
NTV is a digital television station operating under Nusantara Media Mandiri, part of NT Corp Media. The company's name derives from the owner's initials: Nurdin Tampubolon, a politician from the Hanura Party. After Hanura failed to clinch seats in the 2019 general elections, Nurdin, who was a House of Representatives (DPR) member in the previous period and member of the DPR's Broadcasting Commission, became a member of Vice President Ma'ruf Amin's expert team.
ATVSI Chair Syafril Nasution, pointed out that Government Regulation No. 46/2021 regarding post, telecommunication, and broadcasting states that mux organizers must have experience and has carried out infrastructure construction. "What kind of infrastructure has NTV ever built?" Syafril questioned when contacted on Wednesday, May 6. Syafril is the MNC Group's Corporate Secretary Director. He is also the deputy chair for the United Indonesian Party (Perindo), a political party led by Hary Tanoesoedibjo.
Syafril further said that established private broadcasting institutions have invested substantial amounts into the analog television ecosystem. These investments were done by constructing broadcast towers in many regions. In Government Regulation No. 46/2021 Article 78, Paragraph 11 d and h, it says that the minister appoints multiplexing organizers through evaluations and selections for those that have done investments, and investment security. "We already have infrastructure that has been used for analog (system). That's the connection," said Syafril, who has expressed his disappointment in the selection results of mux organizers.
Although it received objections from four major groups, the communication ministry is going ahead with its selection decision. On Monday, May 3, Communication and Informatics Minister Johnny Gerard Plate reiterated the selection results for mux organizers, which was similar to its announcement on April 26.
Johnny said that Government Regulation No. 46/2021, Article 78, Chapter 11 d and h, was set up to establish the evaluation scheme for 12 provinces which already have organizers. "Meanwhile, Nusantara TV was among those not evaluated in the 12 regions. So, what is the problem?" said Johnny when contacted on May 7. "It is not possible to please everyone."
Regarding ATVSI's request that the government opens all the mux slots simultaneously, Ramli said that his ministry will listen to those aspirations. Even so, Ramli continued, slots that have been opened up by the ministry are sufficient to accommodate all digital television players. "If they collaborate, it should be enough. Why should we open up more? It would be a pity if the mux slots are each in the hands of one party. Too much would remain idle," said Ramli.
Ramli admitted that every region actually has slots for six mux organizers. Four of them are allocated for private broadcasters, while the other two are for public institutions. Only private party mux slots are established through a selection process, while those for state broadcaster TVRI is set by the government. This hybrid scheme—a mux combination of public and private broadcasters—was finally chosen by the government to roll out free terrestrial digital television.
During the selection process in the 22 provinces, the government only opened up between one and three mux slots. This takes population density into account: in Lampung and Bali, for example, three mux slots are made available, while in West Papua only one. "What is the point of getting mux access if one is already able to broadcast with the existing slots?" said Ramli. "If all television stations must have mux slots, the model would be similar to analog."
•••
AHMAD Mujahid Ramli does not want to look back. In the last decade, the government has continuously failed to migrate television broadcasting from analog to digital. "Now the Job Creation Law has been established, and is the legal basis of the analog switch off," he said.
The Job Creation Law, better known as the omnibus law, was ratified last year and changed Law No. 32/2002 on broadcasting. One significant change to the Broadcasting Law is a deadline for the analog switch off (ASO) of November 2, 2022, or two years after the new law is ratified.
"The Job Creation Law is a turning point. Without it, we would never be able to execute the ASO. It would have been continuously delayed," said Minister Johnny Gerard Plate.
The communication ministry has started the migration planning through a number of regulations issued in 2011 and 2012. However, these regulations were contested all the way up to the Supreme Court, which recently favored the plaintiff, which are the Indonesian Association of Local Television Stations (ATVLI) and the Indonesian Association of Television Networks (ATVJI).
The Court canceled the communication ministry's regulations, and stipulated that the analog-to-digital migration must be set in a law. Meanwhile, the Broadcast Law issued in 2002 does not have a deadline for the migration.
The digital migration plan became a contentious issue along with the sluggish revision process of the Broadcasting Law. As a result, Indonesia is left far behind Singapore and Malaysia, which have already migrated to digital broadcasting in 2019. Due to this delay, Malaysia has repeatedly questioned when Indonesia would go digital. Both countries have a stake in this, as Indonesian analog transmissions often cross with Malaysian digital broadcast in the latter's region.
The Regional Radio Communication Conference organized by the International Telecommunication Union (ITU) in Geneva, Switzerland, in 2006 had already approved the migration from analog to digital at the latest by June 17, 2015. Indonesia was one of the countries which ratified this agreement. Later, a number of Asian countries requested an extension in its implementation until 2020.
The government already has plans that the frequencies left behind by the analog programming—on a spectrum of 700 megahertz (MHz) —would be used for calamities and fast-speed Internet such as 5G. These are the best frequencies as it has a wide reach, and can penetrate mountainous regions and bad weather.
Until now, the frequencies are under the control of 14 national television stations. In order to operate in analog, they 'plot' a spectrum of 328 MHz at frequencies of between 478 and 806 MHz. These broadcasters, grouped in ATVSI, have also dominated television advertising worth some Rp110.46 trillion in 2018.
When the migration to digital occurs, the government has calculated that the frequency spectrum for both analog and digital broadcasting is only 176 MHz. For digital, one frequency spectrum in the form of multiplexing could accommodate 12 to 13 channels with standard imaging quality.
The era when televisions had to compete to build broadcasting towers has come to a close, as now they only need to get space in multiplexing. Viewers must have smart televisions, although owners of analog TV sets can still receive digital programming by acquiring a set-top box.
The government has prepared digital programming at the frequencies of between 518 and 694 MHz. It has also set aside 40 MHz at the frequencies between 478 and 518 MHz for digital programming development. After this refurbishing, there is still space available of 112 MHz in the middle of frequencies between 694 and 806 MHz. This remaining space is the result of migration efficiency from analog to digital, dubbed as digital dividend.
Global management consulting firm Boston Consulting Group has calculated Indonesia's digital dividend. If the migration had started in 2020, there would be an addition of Rp443.8 trillion the country's Gross Domestic Product until 2026. The state's tax and non-tax income could potentially rise by Rp77 trillion, and the potential of some 181,000 new companies, creating 232,000 new employment.
Ahmad Ramli said that the newest report from the Global System for Mobile Communications Association pointed out that unless Indonesia frees up its 700 MHz frequency for 4G and 5G networks, the country could potentially suffer economic losses amounting to US$10.5 billion, or Rp142.9 trillion. "Sufficient exclusive allocation from the 700MHz band is the key for telecommunication operators to establish 4G and 5G services that can reach all of Indonesia," said Ramli.
The 700 MHz frequency is trusted to provide better reach with less infrastructure. This means that operators will need less base transceiver stations (BTS) to reach a certain width of territory. "Meanwhile, placing 5G at a higher frequency will require operators to set up more BTS," Ramli explained.
Some government and digital broadcasting institution officials, as well as broadcast industry observers, have in recent years pointed the finger to those who have kept delaying the ASO process: those in control of frequencies, which are the private television stations grouped in the ATVSI. Minister Johnny did not deny these accusations. "You know who they are. No need to mention them," he said. "Some have agreed, others have not."
Eris Munandar, Chairman of the Indonesian Association of Digital Television Broadcasting (ATSDI) said that some ATVSI members have consistently asked for a postponement of the ASO, and for the revision of the Broadcasting Law as well as the omnibus law. "They use all kinds of excuses," said Eris in a video conference on May 5.
Eris suspects that ATVSI's efforts are based on worries of increased competition in the digital television ecosystem. They would have to share their advertising income, which is already under pressure by over-the-top digital media services. "The presence of new stations would cut into their ad income. It's just a worry," said Eris.
During discussions surrounding the omnibus law last year, the ATVSI continued to request that the migration deadline be set for five years from the law's ratification. ATVSI's excuse for this: they need adjustment time before migrating.
Syafril Nasution said television stations' income have gone down sharply. "We need time to breathe and gather funds to set up infrastructure," said Syafril, explaining ATVSI's reason to ask a deadline extension for the migration.
He denied accusations that the ATVSI, part of the MNC Group, is afraid of competition from the potentially numerous new digital television stations. "Can they compete? That's not necessarily the case," Syafril added. The ATVSI also contends that the digital television's supporting industry is not yet ready, and that most viewers still use analog TV sets.
Hartono Istana Teknologi, with its acclaimed brand Polytron, rejected Syafril's statement that the supporting industry is not yet ready for a migration. The electronics company, controlled by the Djarum Group, has developed a set-top box which would allow analog sets to receive digital programs. "We have already been preparing supporting products for terrestrial digital T2 programs," said Polytron CEO Eddy Ariawan when contacted on May 5.
Finally, the government and the House of Representatives agreed that migration must occur within two years after the omnibus law is ratified. Thus, analog TV must close its curtains on November 2, 2022. "Now the ATVSI as well as the MNC Group have been very supportive of the migration to digital programming in its statements in the media and in coordinating meetings with the government," said Ramli.
The course has been set, and migration is imminent. "If it is in the law, then we must follow it," Syafril said. He denied that MNC and the ATVSI have blocked the migration process. "MNC has already gone digital in 12 provinces which had been tendered earlier. If we don't support this, then why would we do the programming?"
While waiting for preparations of appointed mux organizers, the government is calculating the need of set-top-boxes for low-income viewers. The government plans to cover that need if support from television stations proves to be insufficient. Just like the migration scheme from kerosene to gas in 2007.
KHAIRUL ANAM