Rock and Roll Documentary for Earth
Pulau Plastik (Plastic Island) becomes one of a few documentary films about plastic waste made with Indonesia's perspective.
Edition : Monday, May 17, 2021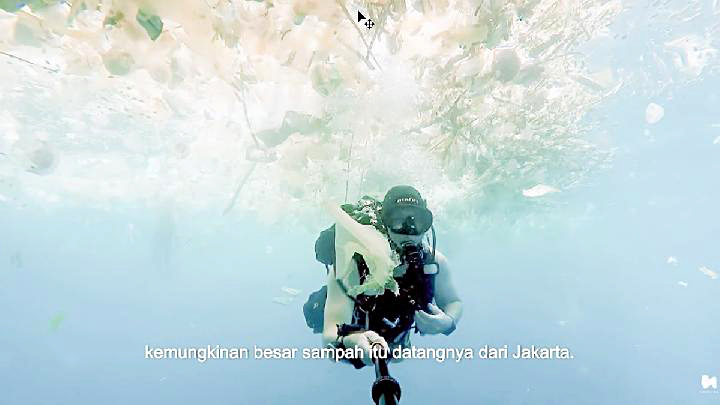 DENSE black smokes rise highly from dozens of chimneys of close proximity in a village in Sidoarjo, East Java. On a clear day and with a capture from a camera drone, the view of the billowing haze is too unsettling. What is happening beneath is also sickening. The smoke comes from furnaces used by tofu factories. The fuel is a plastic heap, which is easily shoved into the furnace.
Nevertheless, the tofus cooked with plastic as the fuel is merely one of the problems within a long chaotic chain. It is suffocating to imagine where to start unraveling it. The documentary film Pulau Plastik, which was released at the end of April, attempts to investigate this chain, to bring around how we are almost choked within, and—hopefully—show a way out that we can take even though the gap is still too small.
The documentary film which was completed in approximately two years is focused on three stories of environment fighters. There is Gede Robi in Bali, vocalist of Navicula band who consistently campaigns for social and environmental concerns through their songs and activities. Furthermore, there is Prigi Arisandi, a biologist and founder of the Ecological Observation and Wetlands Conservation or Ecoton in Surabaya, East Java. Then Tiza Mafira, a lawyer in Jakarta and initiator of the Indonesia without plastic bags movement. "We encourage solutions to this problems from various angles according to their respective professions. Here we try to combine different skills," said Tiza in a virtual interview, in early April.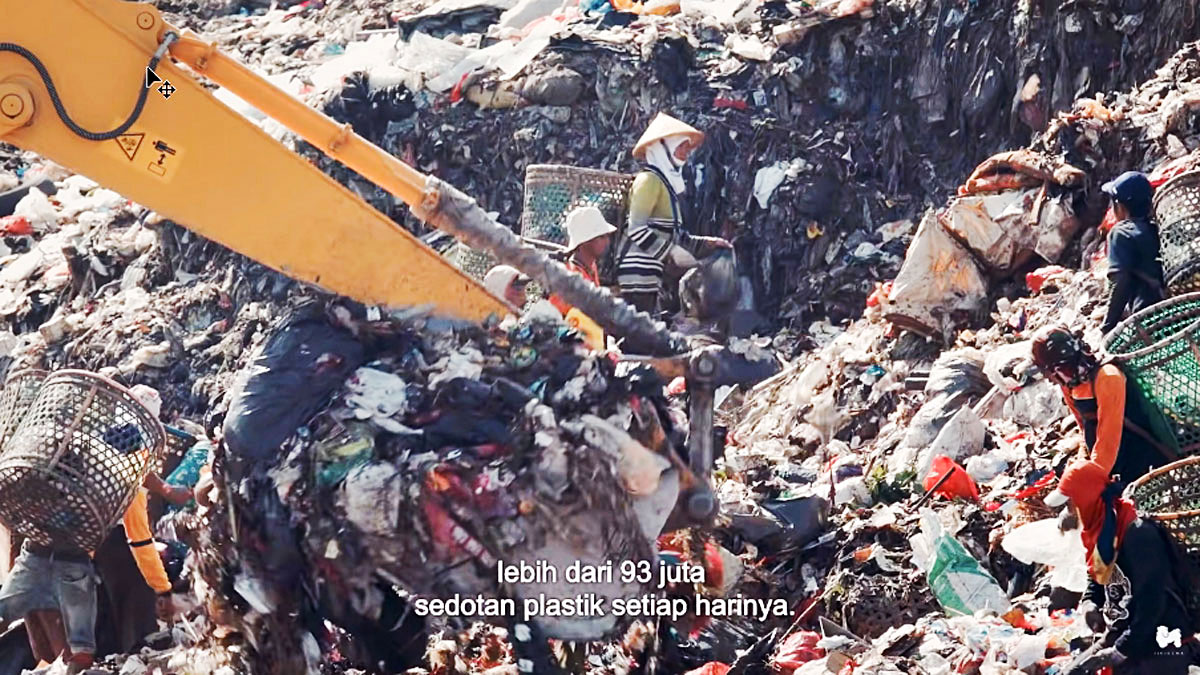 Scavengers hunting for plastic trash in Plastic Island, a documentary produced by Visinema. Visinema Doc.
W251bGwsIjIwMjEtMDYtMjMgMDk6Mjc6MDEiXQ
The film is opened by Robi, and he is the character that unites the story. Beginning in Bali, Robi rides a truck down the asphalt to Jakarta. The orange truck is splendidly decorated. One of its sides is written: "Every minute, plastic waste as much as 1 truck is thrown into our sea." On the other side: "Reject Disposable Plastic." Together with the truck, Robi stops in several cities and shows various problems related to the plastic waste in the region.
The opening issue in the film is an attack against a misleading environment campaign. Is it true that the plastic alternative products claimed to be environmentally friendly is actually "friendly?" These products are increasingly circulating in the market in parallel to the increasing awareness about the danger of disposable plastics. Among others are plastic bags supposedly made from cassava and packaging that are claimed to be easily degradable and printed with huge writings "I am Not Plastic."
At the beginning of the film, we see a group of environmental activists bringing a package of such products into the seabed in Bali. Six months later, the package will be retrieved to test its easy-to- decompose claim. The answer will be revealed at the end of the film. Nonetheless, we reveal it now. The claim is not true. The packaging under the guise of biodegradable, made of natural ingredients, and so on, equally lasts like regular plastics. Therefore, the alternative solution is only a pseudo step that may end up as a new disaster.
Moreover, various layers of plastic waste issues that the protagonists in the movie attempt to approach differently are presented to us. In Jakarta, Tiza tries to encourage from the top, in policy formulation. Tiza found Gerakan Indonesia Diet Kantong Plastik (Indonesia Movement of Plastic Bags Diet) in 2013. She initiated a petition #pay4plastic to push the implementation of paid plastic bag policy. The policy has been adopted by almost 40 cities. In addition, Tiza has initiated a program that aimed at the urbanites in the capital city. In Rampok Plastik (Plastic Rob) for instance, she and her team approach the Jakartans who are still carrying disposable plastic bags and offer reusable cloth bags as a replacement.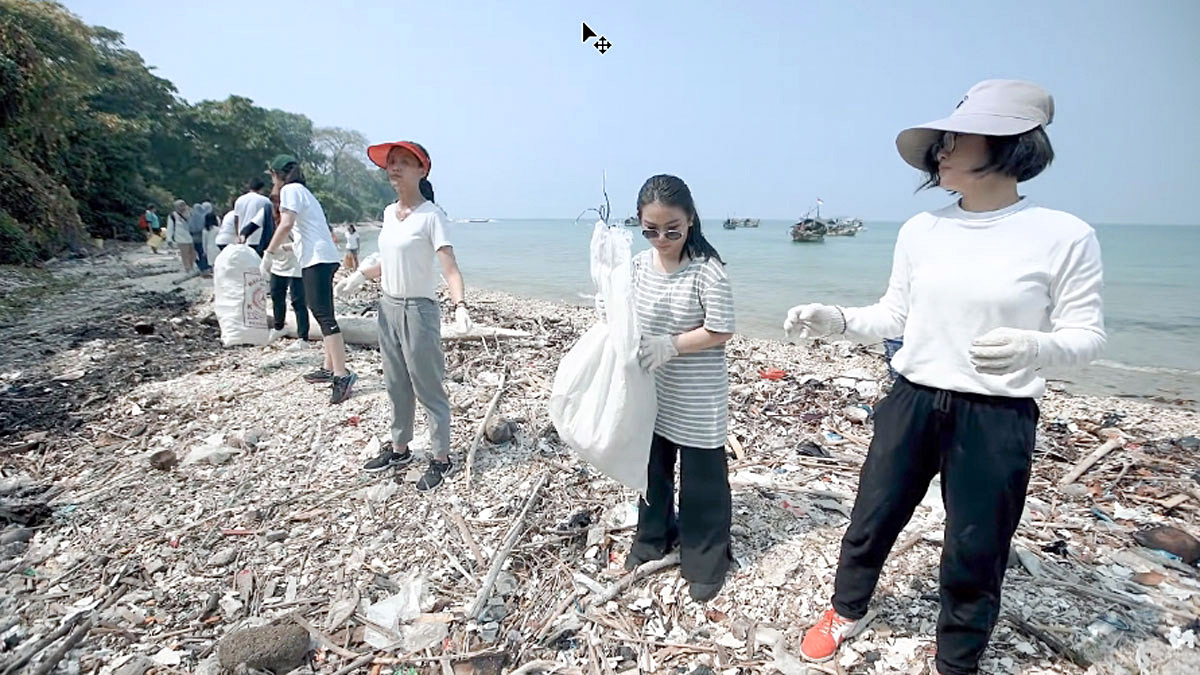 Volunteers cleaning a beach from plastic trash in Plastic Island, a documentary produced by Visinema. Visinema Doc.
Meanwhile, Prigi in Surabaya protests loudly against the arrival of plastic waste from developed countries to Indonesia. He demonstrates in front of the United States Consulate General in Surabaya, carrying various American plastic waste that reached Surabaya. Besides that, Prigi scrutinizes the waste issues by scientific study. He collects various samples, from river water, fish, to human feces, to prove that microplastic has spread in all directions, including our bodies. "From hundred samples of human feces that we have examined, everything contains microplastic," said Prigi. "It means that rivers and our food have contained plastic waste."
With Dandhy Laksono in the director's chair, it is not surprising that this film is filled with investigative moments. In a part, Robi and Prigi peek at a small gap on a high fence protecting an imported paper waste stockpile area. Prigi explains that the permit to import paper waste is used to include plastic waste from developed countries. To prove it, Robi pretends to be a waste buyer. He manages to enter the limited area with his truck and get several kilograms of trash. One kilogram costs Rp1,200. After that, Prigi and Robi immediately unload their cargo and find plastic trash among the paper waste.
The film also moves into the very private realm of its protagonists. We meet Robi in his bedroom, playing together with his endearing daughter called Rimba. We also enter Tiza's kitchen and see her daughters. Likewise with Prigi who brings his child along in action. The three agree that their biggest power in the fight against plastic waste is their children. Showing these children is the right choice to evoke emotions.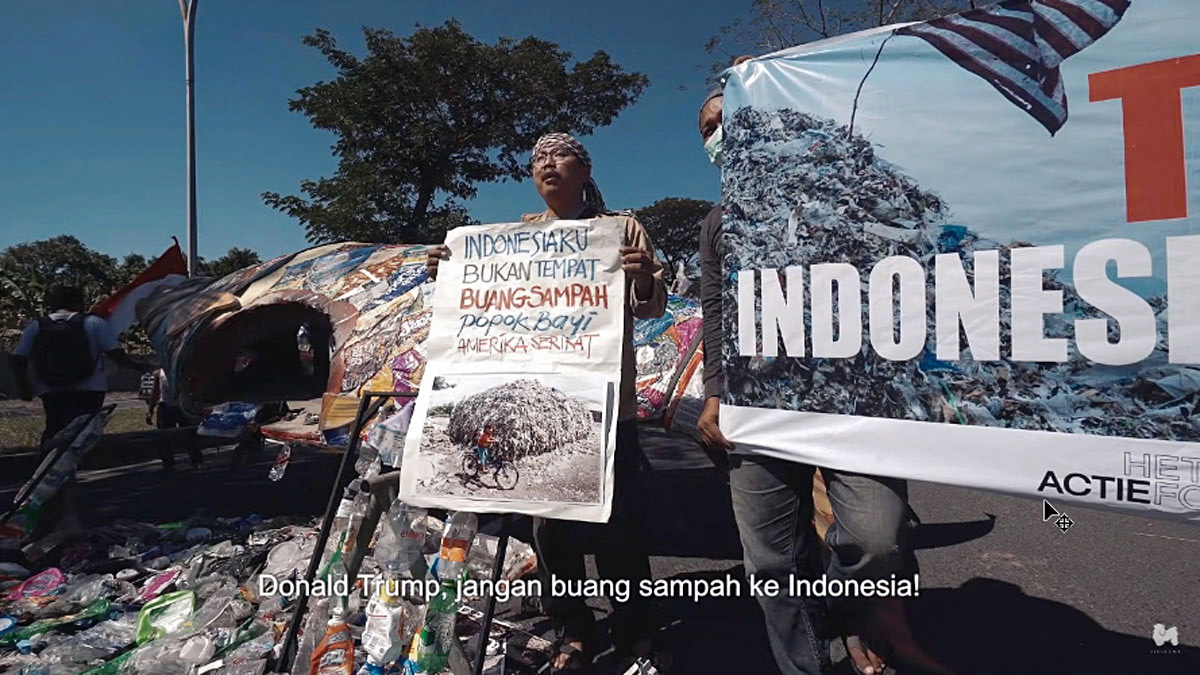 A scene in Plastic Island, a documentary produced by Visinema. Visinema Doc.
Part of the data and facts conveyed in the film is not something new. However, what makes it powerful is the narrative represented by Robi's journey. Each finding is personally absorbed by Robi. Between the songs and jokes he throws throughout the journey, there is a big concern over the problem that seems to have no way out. We also feel Robi's anxiety when he tries to break the presidential security protocol to demand President Joko Widodo's commitment to tackle the plastic waste issue. We also contemplate together with Robi when he realizes that our country is no more than a trash bin for developed countries that are praised for their waste management.
However, Pulau Plastik is not deep enough to explore practical steps that we can do to contribute to the solution of the plastic waste issue. It spends the bigger portion of the movie to present of the existing problems. The solutions that they offer include a call to shop without plastic bags. Robi exemplifies it by shopping in traditional markets, meanwhile Tiza in a bulk store in the capital city. Tiza also touches on local wisdoms in waste management but does not really show in details their forms.
Nonetheless, this film remains very important to be watched. To date, documentary films on environmental campaigns are mostly filmed overseas with a global approach. "Pulau Plastik is truly made in the country. The director is Indonesian, also the protagonists. The presented problems and solutions are also for Indonesian people," Tiza uttered.
Prigi mentions the film as a scientific rock and roll documentary. On one side, the narrative is very scientific because it shows various experts and professors providing data and studies. However, on the other side, with a touch of a rock star, the film becomes light, easy to take in, but also knocks the logic.
MOYANG KASIH DEWIMERDEKA
Pulau Plastik
Director:
Dhandy Laksono and Rahung Nasution
Actors:
Gede Robi, Tiza Mafira, Prigi Arisandi
Production:
Visinema Pictures, Kopernik, Akarumput, Watchdoc