BRIN Needs Political Support
After three years at the helm of the Indonesian Institute of Sciences (LIPI), Laksana Tri Handoko is entrusted with a new job: to lead the National Research and Innovation Agency (BRIN). The Japan-educated scientist is given a mandate by President Joko Widodo to integrate five major national research institutes. He is tasked to catch up lags in science and technology, to create technological independence and to focus on exploring the digital economy as well as green and blue economy. He would also continue his efforts which he initiated in LIPI to bring back a diaspora of Indonesian researchers to strengthen BRIN. Handoko said BRIN also needed political support to realize research as one of the main pillars of the national economy.
Edition : Monday, May 24, 2021
FOLLOWING his appointment as BRIN's Chief on April 28, Laksana Handoko immediately set out to bring together the agencies. He met with the officials and employees to explain about BRIN which now serves as Indonesia's only research agency. "Many asked. 'What will happen to us now?'," Handoko, 53, quoted during a special interview with Tempo at B.J. Habibie Building in Central Jakarta last Tuesday, May 11.
The government has finally separated BRIN from the research and technology ministry two years after the idea was first floated by the then research and technology minister, Bambang Brodjonegoro, to place BRIN directly under the supervision of the president and to integrate the research and technology into the education and culture ministry. BRIN is now a single entity overseeing the country's five science and research institutions, namely Indonesian Institute of Sciences (LIPI), Technology Assessment and Application Agency (BPPT), National Nuclear Energy Agency (Batan), National Aeronautics and Space Institute (Lapan) as well as Eijkman Institute of Molecular Biology which was previously under the research and technology ministry.
Consolidation is something Handoko is good at. In the skillful hands of the Japan-trained scientist, LIPI, the country's oldest and largest research institution underwent an impressive transformation to become a more effective, efficient and productive research agency. Handoko acknowledged that internal resistance, including from his researcher colleagues, was quite strong at the initial period of the overhaul. "There's no more problem now. They are happy as they understand. 'Oh yes, that kid (Handoko)'s right'. You see I was still young compared to them," Handoko recounted with a chuckle.
To Tempo journalists Sapto Yunus and Mahardika Satria Hadi, Handoko explained his efforts to integrate the major research agencies under BRIN, a diaspora of Indonesian researchers as well as the importance of private research entities. He also responded to concerns over potential politicization of BRIN.
W251bGwsIjIwMjEtMDYtMjMgMTA6MzA6NTEiXQ
BRIN now supervises the established major research agencies. How do you ensure a smooth inter-agency coordination?
We are in the process. In particular, we first consolidated the budgets because that is the starting point. At the moment we are focusing on consolidating the former research and technology ministry and four LPNK (non-ministerial government institutions) namely LIPI, BPPT, Batan, Lapan, as well as Eijkman.
After being merged into BRIN, will the five institutions still maintain their individual entities?
What's important is that the jobs and functions are not disrupted. Entity is a matter of branding. It can be created, that's no problem. The bottom line is that we change the business process so as to consolidate separate resources for research, infrastructure as well as budgets into one as that is the fundamental problem.
What does the position of each agency in the new BRIN structure look like?
We plan to make them non-structural organizations so they will be functional organizations. As such they can focus solely on research.
What is the fate of the leaderships of these agencies?
I want to hold an open bidding for everyone so it's fair. I know they are all professionals. We are open to anyone who wants to join us.
Is there any rejection by officials or staff?
I haven't seen any rejection so far but many are asking, 'What will happen to us now?' We are civil servants, right? You think I'm not sad to be the last LIPI chief, for example?
How many researchers are there in BRIN?
The total number of employees of the five agencies is around 10,000 out of which about 6,000 are researchers.
Please describe our country's research and innovation under BRIN?
It will be easier to collaborate after we become one. The fundamental problem of our research sector has been a lack of critical mass. Critical mass of superior human resource, excellent infrastructure and budget. They will grow when they are combined. The human resource is 1,071 people per one million citizens and with a budget of Rp37 trillion. But it still seems not enough because they're scattered everywhere so it's not possible for them (the agencies) to be competitive. Research doesn't have to be all over the places.
Given the said challenge, what will be BRIN's innovation and research strategies?
With consolidation, we can at least correct the government's critical mass as we hardly have any private research entities although we should have many. In fact, we only need one or two government agencies. Many countries don't even have government research agencies (chuckles). Meanwhile, it's the opposite in our country. This is reflected in GERD (gross expenditure on research and development) data which shows that 80 percent of the research and development funding comes from the government although UNESCO said that 80 percent should be from the private sector and the 20 percent from the government. Like in Malaysia, 75 percent from the private sector and 25 percent from the government. It means our private sector is not developing. Government has huge research institutes but they are not coordinated.
Are research and innovation problems could be resolved if critical mass is achieved?
No. We have many smart people but research is not that simple. Research must be comprehensive in all aspects and we can't achieve that. Because the more learned people are, the more specific they become. I, for instance, understand theoretical physics. But I don't know much about materials physics, so I can't research that field. We still have a lot of gaps in this aspect, you see.
What is the solution?
The next strategy is to attract as many talents as possible as, out of the three components mentioned before, high quality human resource is the largest with 70 percent, followed by infrastructure (20 percent) and budget (10 percent). Although the budget component is smallest, it is the ultimate enabler, so we consolidated it first.
Who are high quality talents that are still working in other countries?
I believe that 30 percent of those who received doctoral degrees most likely have the passion to become researchers. Otherwise, they wouldn't have studied for doctoral degrees. I'm counting on that potential. I always say that we can't recruit these talents in the same way we recruit civil servants. We make announcements and wait to receive applications from 30,000 applicants. We can't do that. We have to hunt them. When I headed LIPI, I held weekly discussions with Indonesian student associations in South Korea, the United States and Germany.
How will you attract these talents who are still overseas?
We can't attract high quality human resources, if we don't have the infrastructure. That's what I experienced. I was also abroad. Half of my friends didn't return to Indonesia.
What motivates them to stay in other countries?
A lot of things. But in general, they can't continue to work according to their passion (if they return). There are no 'toys' here. They would be miserable without their 'toys'.
How many talents did you manage to persuade back to return home during your tenure at LIPI?
Not many. Around 150, although I opened 100 slots every year. Our last slot was for 118 posts but only 60 people came. It's not easy to attract high quality people, even more so if we don't do anything. They won't come back.
Is it about salaries?
I guess our current salaries are already decent at least compared with Malaysia's. We are comparable, you know. After all, they can only work on contract overseas whereas they can become permanent employees here. So, we already have a comparative advantage.
How will BRIN support the development of private sector research?
BRIN must act as an enabler to facilitate the private sector to enter R&D (research and development) because that is a fundamental issue. The private sector's contribution to R&D is still low because it is indeed a high risk and high cost sector. It needs high investment but the return is not certain.
How will the government help bridge the research and innovation sector with the downstream industry sector?
The term downstream is used when we apply linear thinking. I research, I don't know where I get my fund from and after I get result, I offer it to the industry. That is the current downstream concept. But in global best practices, it happens naturally because the industry and those involved in research have interactions. The industry has problems and researchers have potential solutions.
Then why can't the two sides function like that here?
Because the research institutes here are run by the government. "This is mine, this is my authority. If you want to use, pay Rp2 million a day, and post it as PNBP (non-tax revenues). You can't do like that. Let the industry come in, and share the patents. After that, distribute royalties according to specified percentages.
Please give us an example.
For example, the Gerlink LIPI High Flow Nasal Cannula ventilator. It is a fruit of the cooperation between a researcher of Bandung LIPI and Gerlink Utama Mandiri. The total revenue from the sale during the period December 2020 till March 2021 was Rp22 billion. The royalty from 40 percent of the sales would already give us Rp1 billion. But we got 60 percent or around Rp1.6 billion. It happened naturally. It should be mutually beneficial to all sides.
How did you communicate this concept to researchers who still hold on to old ways of thinking?
We don't have to. Just do it. It's all about system. That's what I did in LIPI. If you still need to do familiarization, we would never accomplish. The money will be gone after being spent on briefing sessions which are usually done in hotels.
The public are scrutinizing BRIN's steering committee. Based on Article 7, paragraph 2 of Presidential Regulation No. 33/2021, the chair of the committee will be appointed ex officio from among the steering committee of the Pancasila Ideology Education Agency (BPIP). What is your view?
Well, that's okay. It's actually good. Did you forget that our former research and technology minister was the chairman of a political party? While in fact the research and technology minister is the executor. Pak Habibie was also a political party leader. So were Pak Suharna (Surapranata) and Pak Hatta Rajasa. Now BRIN chair is a professional. I just look at it in a positive light. It is in accordance with the Law No. 11/2019. If you read it carefully, research will be one of the main pillars of our economy in the future. That's why, we must support it. It's not enough to support the technocrats or technocratic aspects only. It's not like I'm appointed and then left to fight on my own to do research and innovations. It's not like that, you see.
So, BRIN needs political support?
Precisely. It had an extraordinary support during Pak Habibie's time. Isn't it great?
How huge is the role of BRIN's steering committee?
Just to give directions.
Does it include determining what research BRIN should work on?
Of course not. We have control over technical aspects. You think they (the committee) have the time? But it's good for us too. Whatever we decide here could have immediate support from the finance minister, Bappenas (National Development Planning Agency). There will be political support. We have to look at it from that aspect because we want research to become one of the economic pillars. We've never seen a country that can progress without advanced research, science and technology.
What about the concerns that the steering committee would determine which search can or cannot be done?
We had research and technology minister who were political party chairs but nobody made a fuss. They were active chairs, you know. That's the reality.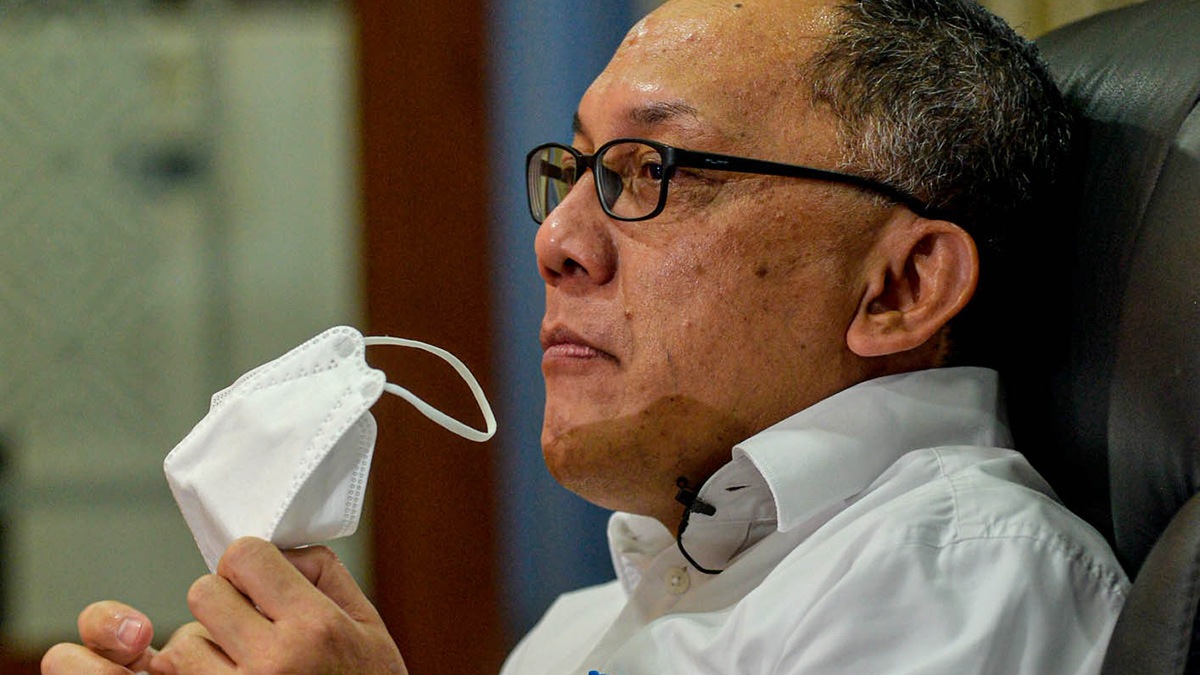 National Research and Innovation Agency Chair, Laksana Tri Handoko, during an interview with Tempo at the BBPT Building, Jakarta, May 11. Tempo/Tony Hartawan
Is it true that the chair of the steering committee of the BPIP, Megawati Soekarnoputri, will be appointed as the chair of BRIN's steering committee?
There is no presidential decree on it yet. I have no idea. I haven't received anything. As far as I know, there hasn't been any appointment yet.
Should the chair of the steering committee ideally be a scientist?
It doesn't matter whether or not he or she is a scientist. What's important is how far that person can support. What I want is practicality. Someone who can support from the aspect of macro policy because it is the area where I may experience difficulties.
Is there any possibility where BRIN could run into a hurdle and need political support of the steering committee?
For sure because research is a cross-ministerial and institutional field. Other ministries have been extremely cooperative. But there needs to be something above, well, perhaps the president. We definitely need a political support. It's the same in every country. Generally, science councils are chaired by heads of the states. In Japan, it is headed by the prime minister.
You are reportedly close to Indonesian Democratic Party of Struggle (PDI-P). Did this tie facilitate your appointment as BRIN's chief?
I honestly don't know. I'm close with everybody. In fact, I was closer to Pak Habibie, you know. He called me his oldest grandson.
From your experience transforming LIPI, are you optimistic to be able pull off the same change in BRIN?
During the discussion on the Law No. 11/2019, as LIPI's chief, I tried to explain the problems of our research sector. Because these were the problems I found since I returned (from Japan). They were my concerns and I tried to resolve them. LIPI is a miniature of research problems in Indonesia. After consolidation, we would have a huge capacity for investment, maintenance, operations and so on. I always conveyed this idea during the law drafting discussions.
Is it true that budget has been one of the stumbling blocks for the research world?
Not for me. I've never lamented LIPI had lack of funds during my tenure as LIPI's chief.
Then what is the problem?
Mismanagement. That's why research management and business process need to be improved. That's the top priority. Evidently, we could build all kinds of things in LIPI during the past three years. With the existing infrastructure, we expedited recruitment. It was open so those from campuses could participate. They could even get budget from external sources and that became our KPI (Key Performance Indicator). Each research group must have external budget. Otherwise they would be shut down in the next year because it means they are not going anywhere. Why should they make a group if they don't have external budget?
From where do the researchers get external budget?
They can collaborate with the industry. If a given research is a pure basic science research, they can apply for research grants from abroad. That never happened in Indonesia, and in LIPI I showed that we could do that. So, research is a source of revenues, not cost center.
When did the President summon you to offer you this post?
Tuesday afternoon (April 27, 2021), the day before the inauguration ceremony.
Did he give you any reasons why he picked you?
I didn't ask and he didn't tell me either. We discussed a lot. I asked what he wanted me to do. What the targets are (chuckles)…I asked these questions first. We need to gauge our own capacity, right? I had to think quick in a short time, you see. He said, first, consolidate. Second, refocus towards digital, green and blue economy based on the natural sources and local diversity. We already have local competitiveness so we don't need to start from zero, at least for the short and medium terms.
Which area has the most attention from the President?
Green economy. That's the basis of our country, right?
---
LAKSANA TRI HANDOKO | Place and Date of Birth: Malang, East Java, May 7, 1968 | Education: Bachelor in Physics, Kumamoto University, Japan (1993); Master of Theoretical Elementary Particle Physics, Hiroshima University, Japan (1995); PhD in Theoretical Elementary Particle Physics, Hiroshima University, Japan (1998) | Career: Chair of Theoretical and Computational Physics Group, Physics Research Center, Indonesian Institute of Sciences (2002-2012), Chair of LIPI Informatics Research Center (2012-2014), Deputy, LIPI Engineering Sciences (2014-2018), Chair, LIPI (2018-April 2021), Chair, National Research and Innovation Agency (since April 28, 2021) | Awards: Habibie Award for Basic Science (2004), Achmad Bakrie Award for Science (2008), Satyalancana Wira Karya for Science (2009), Outstanding Intellectual Property Award for Science (2009), New Inventions that Benefit the State (2010) , ICTP Simons Regular Associate (2014-2019)