Bathing Ritual by the Cleric's Son
A key witness in the case of alleged sexual harassment in Shiddiqiyyah Islamic boarding school in Jombang, East Java, is being prosecuted. The school owner's son has not been arrested despite being named as suspect.
Edition : Monday, May 24, 2021
THE Qur'an recital in a house in Pandanblole village, Jombang Regency, East Java, on Sunday morning, May 9, was abruptly stopped as six men appeared. They were looking for a woman who was participating in that khatam (from beginning to end) Qur'an recital. Her initial is TAM, or Rani—not her real name. The six men are suspected to be members and security guards of Majma'al Bahroin Hubbul Wathon Minal Iman Shiddiqiyyah Islamic Boarding School.

Upon meeting Rani, one of the men, Zainun, the school security guard, yelled at her and seized her cell phone. "They were upset over a status uploaded by Rani on her Facebook," said Jombang Woman Crisis Center (WCC) Director Ana Abdillah, who is also Rani's counsel, on Tuesday, May 20.
A day before, the 23-year-old Rani posted a status update on her Facebook account. In it, she criticizes Kiai Haji Muchtar Muthi alias Kiai Tar, a religious teacher of Shiddiqiyyah Tarekat (spiritual fraternity) and founder of the Shiddiqiyyah Organization, who claimed to have millions of followers from both Indonesia and abroad. Rani wrote about the victims of sexual violence in Shiddiqiyyah which Tar founded. Tar's eldest son, 40-year-old Mochammad Subchi Azal Tsani or Gus Bechi, is accused of molesting five female students. Rani is one of the key witnesses in the case. (Read: 20 Years of Evil)
Zainun told Rani that her phone was seized so that she could not delete the Facebook post, which would be used as evidence in filing a defamation report. Unwilling to let Zainun take her phone, Rani resisted. However, said Ana Abdillah, Zainun banged Rani's head against the wall for four times, before returning with his friends to their car. Rani retaliated by throwing a rock to the black car.
The Office of the Shiddiqiyyah Organization (Orshid) as well as the Majma'al Bahroin Hubbul Wathan Minal Iman Pesantren at Losari village, Jombang Regency, East Java, May 21. Tempo/ISHOMUDDIN
W251bGwsIjIwMjEtMDYtMjMgMDk6MDI6MDkiXQ
In his written remarks, Zainun said that he and his friends came by to clarify Rani's statement on Facebook. However, according to Zainun, Rani yelled at him. Zainun admitted that she took Rani's phone. "But it needs to be underlined that no persecution whatsoever occurred," wrote Zainun on Monday, May 10. (Read:

Head of Shiddiqiyyah Organization Central Leadership Council Inter-Organization Relations Department Joko Herwanto said that his institution did seize Rani's cell phone. "The phone was then handed over to the Ploso Sub-precinct Police as evidence of her defamation against the Kiai (cleric)," said Joko on Friday, May 21. Joko denied the allegation of persecution. "According to information, one individual did cover her mouth. Perhaps she was pushed and banged her head."
After the incident, Rani went to Ana Abdillah. They rode a motorcycle to the Jombang Resort Police to file a report. However, instead of receiving their report, officers there instructed Rani to report to Ploso Police because she did not bring any evidence.

In Ploso Police Office, Rani was advised not to file the report. "An officer in the Sub-precinct Police repeatedly told us, 'Are you sure you wish to report? What if you were reported back for defamation?'," said Ana, retelling what the Ploso police told them. Ani was still determined to report Zainun and his friends for persecution. Meanwhile, Zainun's report to the Jombang Police on Monday, May 10, was immediately received by officers.

That evening, a number of men came to Rani's house. Ana said that they asked Rani to withdraw her report. The men intimidated a number of eye witnesses. Rani then reported to the Witness and Victim Protection Agency (LPSK). She is currently under full protection by the LPSK.
Chief of Jombang Police Criminal Investigation Unit Adj. Comr. Teguh Setiawan said that the police have received reports from both sides. "We still need additional information from other witnesses," he said. The witness examination, said Teguh, is paused because the reports came in just before the Lebaran end-of-fasting-month holiday season. It is scheduled to resume in early June.

•••
A STUDENT of the Majma'al Bahroin Hubbul Wathon Minal Iman Shiddiqiyyah Islamic Boarding School, who is identified with the initial IP, came to the Jombang Women Crisis Center in 2017. To the WCC team, the underage female student from Central Java said that she had been molested by the son of the boarding school owner, Mochammad Subchi Azal Tsani alias Gus Bechi. After hearing the chronology of the event, IP and WCC organizers agreed to gather evidence and file a report to the police.

However, after that initial meeting, IP never returned to the WCC's office. WCC Director Ana Abdillah had forgotten about the case until TAM alias Rani who, at the time, was a student in Shiddiqiyyah, came by in mid-2018 to report that Bechi had molested three of her friends who were also students in the Islamic boarding school. "Rani is a witness in that case of sexual abuse," said Ana.
The molestation purportedly occurred when the female students took part in the health worker selection process in a clinic owned by Shiddiqiyyah in 2017. Bechi was planned to inaugurate the clinic. According to Ana, Bechi asked the participants to attend a special interview in a part of the boarding school located deep in the forest and away from people. Bechi then allegedly instructed the female students, most of who are estimated to be under 18 years old of age at the time, to take off their clothes in order to follow a bathing ritual as part of the selection process. "Rani took part in that selection, but abstained from the ritual," said Ana.
Rani filed a report to the Jombang Police. However, on October 21, 2019, Jombang Police issued an investigation termination warrant (SP3), citing lack of evidence. Undeterred, Rani convinced the victims to report Gus Bechi to the police. Two victims filed their report eight days after the SP3 issuance.
During examination, Ana told investigators that a former student with the initial IP had previously filed a report against Bechi. The police summoned IP for questioning. "From there, we learned that IP's case was settled outside of court with tens of millions of rupiah given to her family by the boarding school," said Ana. IP then also reported Bechi. Ana is advocating five former students of the boarding school who are allegedly molested by Bechi. They have testified and underwent forensic medical examination twice.

Jombang Police named Bechi as rape suspect on November 12, 2019. However, the case did not make any progress. Together with about 100 of women joined under the Alliance of Santri City Against Sexual Violence, WCC Jombang demonstrated at the Jombang Police Office in early January 2020 and demanded the police to arrest Bechi. They suspect that Bechi remained free because of the close relationship between police leaders and his father, Kiai Tar, who also owns Sehat Tentrem cigarette factory.

The case became a hot topic in Jombang, which is known as the "Santri City" referring to the many Islamic school students in that city. Hundreds of students and alumni of Shiddiqiyyah Islamic Boarding School held a counter demonstration at the Jombang Police office on January 14, 2020. They urged the police to resist intervention in their investigation of the case involving Gus Bechi.
That same month, the East Java Regional Police took over the case. Investigators from the East Java Regional Police twice summoned Bechi, but he was absent both times. In mid-February 2020, a team from the police attempted to pick him up by force, but they were thwarted by supporters of Kiai Tar's son. Until last week, despite promise from the family to hand him over, the police still has not detained Bechi.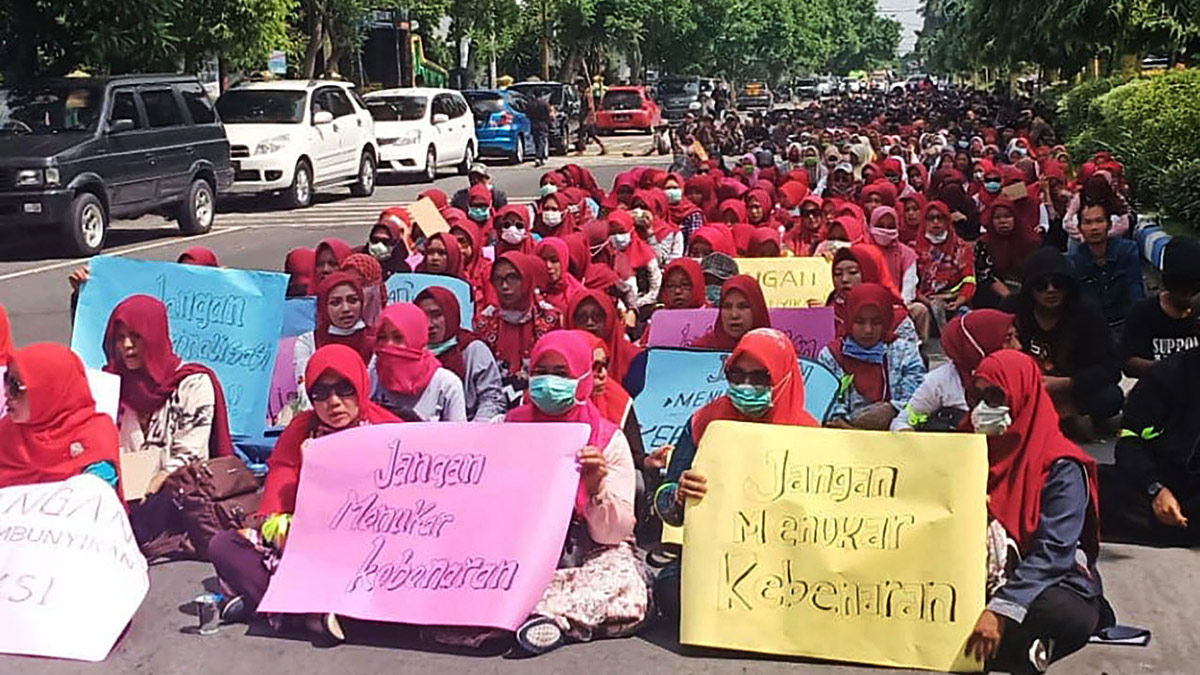 Hundreds of students and alumni of Shiddiqiyyah Pesantren (Islamic boarding school) during a demonstration at the Jombang Resort Police Headquarters, East Java, January 2020. facebook.com
Bechi's legal counsel, Poerwanto, denied the notion that his client is not abiding the law. According to him, investigators have examined Bechi and Kiai Tar in the boarding school. He said that East Java Regional Police investigators have delivered Bechi's case files to the East Java High Prosecutor's Office five times. "They were returned five times due to not meeting requirements, thrice for P-19 (dossier returned to be completed), and twice for coordination issues," he said. Poerwanto claimed that this occurred because of the lack of sufficient evidence from the police's part.
Chief of East Java High Prosecutor's Office Legal Information Section Fathur Rohman explained that the case has not yet been brought to court because investigators are still unable to fulfill the prosecutor's instructions. East Java Regional Police General Criminal Investigation Director Sr. Comr. Totok Suharyanto said that his team is still working to implement the notes from the prosecutor. However, he refused to elaborate on the details of what exactly falls short in the filing. (Read: Parish Priest of St Herkulanus Yosep Sirilus Natet: There Has To Be Justice for the Victims)
Poerwanto suspects that his client was reported to the police because of the internal conflict within Tar's family. He alleges that one of his wives, who is accused of embezzling 44 land certificates belonging to the boarding school, is behind the report. However, Jombang WCC Director Ana Abdillah ascertained that the rape case report is not related to the conflict in Bechi's family. "This is about justice for the victims of sexual violence."
LINDA TRIANITA, ISHOMUDDIN (JOMBANG)