There have to be Concrete Actions against Israel
Palestinian Ambassador to Indonesia, Zuhair al-Shun, urges the international community to take concrete actions against Israel through economic or political blockade which he believes could pressure Israel. Al-Shun says that the ceasefire between Israel and Hamas is not a lasting resolution to bring an end to the conflict in Gaza adding that the United Nations has already passed many resolutions, among others Resolution 181 of 1947, to create free Palestine with East Jerusalem as its capital. He hopes that the United States' new administration under President Joe Biden will take a fairer stance in the issue. Al-Shun also conveys the Palestinian authority's appreciation towards political and humanitarian support given by the Indonesian government and its people and gives advice on how to properly funnel solidarity funds for the Palestinian people.
Edition : Monday, May 31, 2021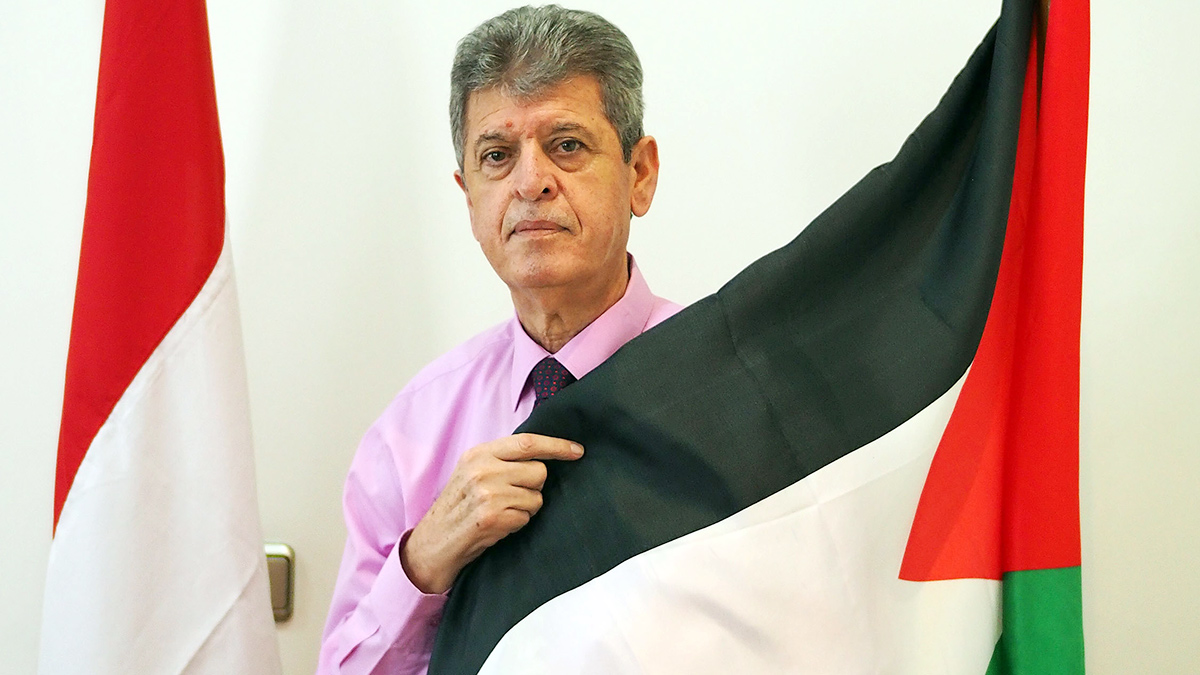 THROUGH the television in his office, Palestinian Ambassador to Indonesia, Zuhair al-Shun, watched the news of the atmosphere in Gaza following the ceasefire between Israel and Hamas. Al-Jazeera showed celebrations by jubilant Palestinians in various areas, among others, Umm al-Fahm. "That is a historical city of Palestine currently occupied by Israel. Although they are now Israeli citizens, Palestinians living there continue to protest and fight against Zionism," Al-Shun said during a special interview with Tempo in his office on May 21.
Al-Shun, 62, said joyful celebrations seen around the Al-Aqsa mosque in Jerusalem, West Bank, as well as on the streets of Gaza are the embodiment of the Palestinian people's victory over Israel. The ceasefire brokered by Egypt took effect on May 21 halting the 11 days of fighting that killed more than 250 Palestinians and 12 Israelis, however, the truce does not automatically end clashes between Israeli security forces and Palestinians in other areas.
The conflict that flared up many times over the years including in Gaza claimed many civilian lives and sparked international outcry. In Indonesia, hundreds of people staged protests to condemn Israel's violence while others raised funds for Palestine. While expressing gratitude for the Indonesian people's generosity, Ambassador Al-Shun cautioned, "Donations should be sent through official channels".
Accompanied by interpreter Ardhika Wahyu Kuncoro, Al-Shun spoke to Tempo's Mahardika Satria Hadi and Gabriel Wahyu Titiyoga and talked about the trigger behind the latest spate of violence, the United States' position in the Israel-Palestine conflict, the Palestinian elections as well as the lack of real actions by the international community to end the Israel-Palestine conflict. He also talked about widespread fund-raising activities around the country in support of Palestine. He answered questions in both English and Arabic.
W251bGwsIjIwMjEtMDYtMjMgMDk6MTc6MjEiXQ
The fighting in the last two weeks before the ceasefire was mostly between the Israeli military and Hamas fighters. What has the Palestinian Authority done to deescalate the situation?
Demonstrations and uprisings occurred not only in the Gaza Strip, but in all of Palestine, also in Jerusalem and the West Bank. All parts of the cities in West Bank clashed with the Israeli army and around 30 Palestinians were killed in the West Bank. Our authority for sure is to control and manage the entire area and try to survive all sorts of circumstances. We also tried to consult with the international community to stop the killings of our civilians by Israeli warplanes, rockets, tanks. Israel has heavy weapons and technology and receives arms assistance from America and other countries. Not like us who only have locally made rockets.
Is it true that several events in East Jerusalem, particularly the closure of the Al-Aqsa mosque and evictions of Palestinian families from Syekh Jarrah were the main catalyst behind the fighting between Hamas and Israel this time?
This last two weeks we call it demonstration and the violence because of Jerusalem. Israel's acts against Jerusalem. They didn't allow Muslims to go to Al-Aqsa for Ramadan prayers. Second, the action against Palestinians in Syekh Jarrah. The Israeli authorities don't seem to understand that Jerusalem will never become Israel's. That is our capital city and we will fight for it till we die.
To what extent was Hamas involved in the ceasefire negotiations?
Egypt initiated it and Israel accepted it. Then all the factions in Gaza also agreed. Not only Hamas, but also Islamic Jihad Movement, Popular Front, Democratic Front, Fatah Movement. All of them in Gaza who are standing and fighting and making efforts against the Israelis military.
Are you optimistic that the ceasefire this time will be effective?
A permanent ceasefire will never happen unless Israel accepts the political solution, withdraw from our territory, accept our nationality, our capital, and agree to peace initiatives. But all of that is impossible because Israel continues to occupy Palestine, impose the blockade, surround Palestine with barriers after barriers and create problems. Again, this isn't the first attack. They carried out killings and destruction daily in 2008, 2014, and in the periods between them. They launched daily assaults on cities and villages in the West Bank, Jerusalem and besieged Gaza. This is Israel's military and mentality.
Are there any requirements by the Palestinian Authority in the ceasefire this time?
For sure, we must work politically and diplomatically to end the occupation. The problem is the occupation. We have to end it and make Palestine a free country and East Jerusalem as our capital. Jerusalem is the 'deadline'. We cannot accept any solution without Jerusalem.
Palestinian Ambassador to Indonesia Zuhair al-Shun (center) welcomes PBNU Chairman KH Said Aqil Siradj (left) and Secretary-General Helmi Faishal Zaini at his residence, Jakarta, May 17. Antara/Indrianto Eko Suwarso
Many countries have condemned Israel but it looks like it will be difficult for Palestine to get support at the United Nations because of America's veto. How does the Palestinian Authority see this situation?
We are getting full support from the international community. We appreciate every political support or assistance but you know that's not enough. We believe, and I believe, that there have to be concrete actions against Israel, for example, economic or political blockade. This way, I am sure Israel will accept and comply with whatever political solutions proposed by the international community. Unfortunately, America always stands behind Israel at the UN Security Council (UNSC). It always uses its veto every time there's a political decision or threat that disadvantages Israel. America hasn't been fair in this.
Do you think the international community should be able to do more to end the Israel-Palestine conflict?
I can say it in one sentence and I'm sorry I have to say that the international community has been absent. They always say, "OK, we support you." Support us at what level? You must take actions against Israel like you do in other parts of the world. Why Israel is the only one allowed to act with impunity? Everyone knows that the Palestine, from the river (in Jordan) to the Mediterranean Sea, is for the Palestinian people.
You seem angered by the situation.
Numerous resolutions have been passed by the UN General Assembly and even the UNSC but Israel rejected them. It seems nothing has been done. The international community shouldn't just say, "Ok, we are with you," and then just stand by or do nothing. This is not acceptable.
What are your hopes for the international community?
After the latest incident, it must act seriously to find a political solution in line with the UN resolution. Everyone knows that Israel is established in 1948 based on the Resolution 181. And there should be two states in the area. But look what Israel did. Why can't the international community enforce the resolution and pressure Israel to acknowledge that the other part belongs to Palestine? That is what we need and seek from the international community.
How was the response of other countries in the Middle East, particularly the Arab League, to Palestine's situation?
All the Arab countries are looking for solutions to end Israel's assaults and killings in Gaza and other parts of Palestine. Saudi Arabia, Qatar, Jordan, Algeria, Tunisia and Morocco, all of them are following the developments and trying politically to stop this war against Palestinians.
Do you think the Arab countries are not speaking out loud enough to show support for Palestine?
I don't agree with you. The Arab League's Ministerial Committee met in Cairo during the crisis and they had reached a strong resolution on this. Even the parliaments of the Arab countries met a few days ago to discuss the same problem and they also agreed on a strong resolution against Israel's occupation, destruction and killing of innocent people in Palestine. Perhaps this (the Palestine matter) is not their top priority, but we can generally say that all the Arab countries are concerned about what is happening in Palestine as Tunisia, Morocco, Iraq, Syria, Lebanon, and even Yemen face their own problems.
Indonesia always declares its support for Palestine in every flare-up. Is Indonesia's supporting adequately this time?
Whatever we ask the Indonesian government to do, it is always ready to stand with Palestine. Palestine's leaders and people truly appreciate this. Indonesia's role is very important for the region. I've seen the joint statement made by President Joko Widodo, Malaysian Prime Minister and the Sultan of Brunei Darussalam as well as the statement by Foreign Minister Retno Marsudi. The members of the House of Representatives also issued a joint statement with me. Palestine must get independence with East Jerusalem in it. This is the principle of Indonesia which is appreciated by Palestine's leaders and people.
Besides the government which provided political support, donations and humanitarian assistance, the Indonesian people also staged demonstrations in solidarity with the Palestinian people. What do you think about that?
Street demonstrations against America and Israel reflected the sentiments of the Indonesian people. They offered us moral support and encouragement. We really appreciate that. Religious leader Said Aqil Siroj came to my residence to declare his stance as well as of Nahdlatul Ulama. They are ready to give any assistance we need. Indonesian Ulema Council also did the same. A lot of people came to express solidarity and gave aid and support, financially and politically.
Some people here have been collecting donation for Palestinian people. Do you have any comment about that?
This is a very important issue. I have officially talked about this many times to everyone and to media that whatever comes through the official channel, through the embassy, will go to Palestine. But I cannot say anything about donation that was collected on the streets or from the other places, because I don't know who collect it, where it goes and who receive it. It is better to channel your donation through the ministry of foreign affairs or directly to the officials in the Palestinian embassy.
Would you suggest Indonesian people to stop collecting donation for Palestine on the streets?
No, no. Whatever being collected that way must be private. It is not official. There are some organizations came to me officially to deliver the donations with receipt and media. It was recorded, no doubt about that. But what happened on the street I don't know.
Do you understand that some Indonesian are planning to go to Gaza to support Palestinian people in the war against Israel?
There are many obstacles and restrictions imposed by the Israel government around Gaza. All of the surrounding areas are guarded by the army. No one can pass through the checkpoint without an Israeli visa. So, we are not calling for our friends and our brothers to come and fight with us. But of course, we need your voice and support against Israeli occupation.
Palestine will hold general elections after President Mahmoud Abbas postponed it last April. What is the cause of the delay?
One of the main problems is Jerusalem. Israel forbids Palestinians living there to vote or be elected. That violates the Oslo Accords between the PLO (Palestinian Liberation Organization) and Israel. That's why the elections for the PNC (Palestinian National Council) which should have been held on May 22 and the presidential elections on July 31 had to be postponed.
What steps has the Palestinian Authority taken to ensure that the elections will take place?
Through a diplomatic route. We urged the entire international community to pressure Israel to allow the Palestinians in Jerusalem to take part in the elections and use their voting rights. If that happens, President Mahmoud Abbas will promptly announce the most appropriate time to hold the elections.
How will the Palestinian Authority facilitate the two major factions, Hamas and Fatah, reconcile to prepare for the elections and face other issues in Palestine?
Palestinians are now united. Hamas accepted (the request to hold) elections. So did Fatah. It means there are no more issues in that respect. But Israel continues to hinder and derail our elections plan.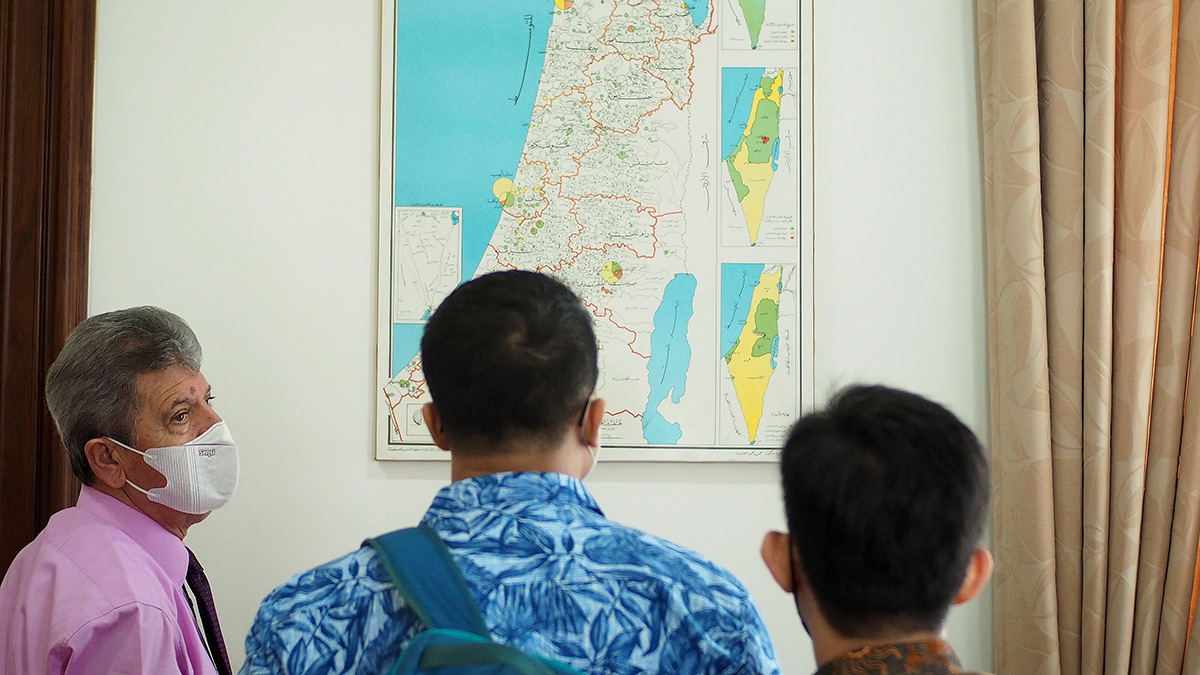 Palestinian Ambassador to Indonesia Zuhair Al-Shun (left) shows a map of Palestine today after being occupied by Israel to Tempo reporters, May 21. Tempo/Nurdiansah
Hamas' leader, Ismail Haniyeh, still lives in exile in Qatar. Was there any communication with him about Palestine's situation?
Ismail Haniyeh and other Hamas leaders are overseas of their own accord. Haniyeh went from Gaza to Turkey, to Doha and to other places for a diplomatic tour and decided to remain abroad. No one forced him to stay out of Palestine. So, he can easily return to Gaza, the place where he came from.
Ismail Haniyeh reportedly wrote to President Joko Widodo some time ago soliciting assistance of the Muslim-majority countries to help pressure Israel. Do you know about that?
I only knew from the media. There's no official information about it either from your government or ours. We don't know through which channel that letter went to President Joko Widodo, or whether if it's true, or who published it.
How is the communication between the Palestinian Authority and Hamas?
The Palestinian embassy represents all Palestinians. I speak on behalf of our president. So, officially, if something needs to be conveyed to your leaders, it should go through me. Not directly.
President Mahmoud Abbas is more open to the Joe Biden administration. Is it part of Palestine's strategy to approach America which has been known to support Israel?
President Joe Biden wrote to President Abbas to discuss the ceasefire. The current US government believes they must approach and broker talks with the PLO and the Palestinian National Authority. There's no alternative. Whoever deals with Israel bypassing the Palestinian Authority, is bound to fail. Look at Donald Trump. He made a grave mistake when he ignored Palestine. He failed in the elections and ousted because of his foreign policy on Palestine.
---
ZUHAIR AL-SHUN | Place and Date of Birth: Irtah, Palestine, July 31, 1958 | Education: Master of Business Administration, University of Rajasthan, Jaipur, India; PhD in Business Administration, University of Rajasthan (1990) | Career: Consular Section, Palestinian Embassy to Tunisia (1991-1995); Director-General for Arab and Islamic Affairs, Political Section, Palestine Liberation Organization (PLO) (1995-2005); Palestinian Ambassador to Bosnia-Herzegovina (2006-2008); Palestinian Ambassador to the Federal Democratic Republic of Ethiopia, Kenya and Uganda (2008-2015); Permanent Representative of the PLO to the African Union (2008-2015); Permanent Representative of the PLO for the United Nations Human Settlements Programme (UN Habitat) and the United Nations Environment Programme (2008-2015); Palestinian Ambassador to the Kingdom of Morocco (2015-2017); Palestinian Ambassador to the Republic of Indonesia (2017-present)